Chromax Golf is no stranger to THP. In 2010, they provided some samples of their golf balls for the very first THP Outing and Demo Day. Since that time, they've also participated in two separate reviews with our forum members. I'll admit to having a bit of a soft spot in my heart for the company. Their shiny little golf balls have been in my bag for some very enjoyable rounds of golf that I'll always remember. Recently, Chromax introduced a third ball to their line called Chromax Distance. Again, twelve of THP's forum members were asked to offer reviews on them and you can their thoughts here.  In addition to that, I'm also going to take some time today to offer my thoughts on this new ball.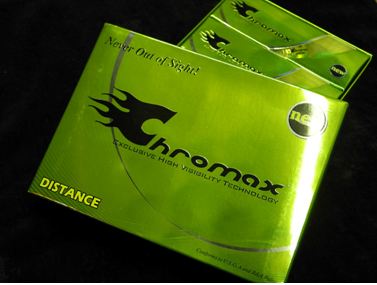 Chromax Distance Features and Benefits
Inner Core
The high-energy large titanium core is made of a poly-butadiene rubber compound blend and molded to create superior feel, durability and elasticity. 
Outer Cover
The translucent soft Durable and stain-resistant Surlyn® cover provides soft feel in and around the green. The High Visibility Technology Metallic layer helps reflect sunlight providing excellent visibility in all lighting conditions allowing golfers to easily track the ball in flight and on the course. The illuminating color assists golfers in seeing the line and improves putting
Dimple Design
The patented 482-dimple design optimizes trajectory, distance and spin while providing optimal control.
Compression and Spin Rate:
90 compression and Medium spin rate
Price and Availability:
The new Chromax Distance ball is available now with a suggested retail price of $42 per dozen.
Colors:
Electric Green and Galactic Gold
Looks, Feel, and Visibility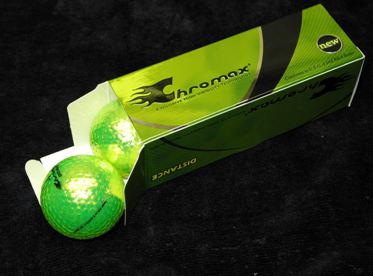 As I mentioned earlier, I've played with Chromax balls in the past. Because of this, I'm not really shocked by their appearance like some others might be at first glance. They are easily one of the most unique looking golf balls ever created. The cover, while tinted, is actually somewhat translucent. Underneath the cover sits a metallic layer that reflects light. These two things come together to make a ball that looks like nothing most of us have ever seen. The cover itself is firm to the touch, a trait that I've found to be typical of any other surlyn ball I've held or used. The dimples are somewhat of a visual mystery to me. The reflection from the metallic layer makes them tough to see clearly, but they seem quite shallow and abundant.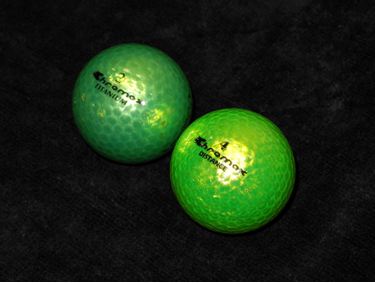 Chromax believes that one key advantage of their golf ball is that it aids visibility on the golf course. While I wasn't convinced that previous lines were as visible as claimed, this line certainly is. Above is a photo of the new green Distance ball (right) next to an older version (left). As you can see, the color is more neon on the Distance ball, which I feel is a big improvement. THP forum testing has shown the gold version to be quite visible as well.
On course testing showed me that the Chromax Distance was easy to spot in just about any location or weather condition. Bright sun really seemed to bring it to life, but it was quite visible on cloudy days as well. I included a couple pictures below to demonstrate what I saw during testing.

I'd characterize the feel of this ball as 'firm' in a general sense. From driver to putter, it wasn't close to what I'd characterize as a soft feeling ball. I wouldn't go so far as to compare it to some of the classic 'rocks', but it possesses a noticeably clicky sound, especially with the putter.
Full Swing Performance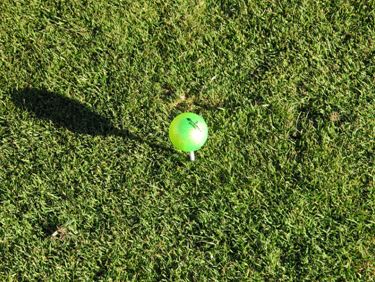 As the name implies, this ball is made for distance. The core is designed with a higher compression rating than previous balls from the company. Their marketing material says, "We tested the Chromax Distance at a highly respected industry testing laboratory in San Diego and the results showed that at a clubhead speed of 90 mph, the total distance (carry and roll) equaled the major brands," said Chromax founder Stuart Lin, the inventor of the Chromax golf ball. "When the Chromax Distance was tested at a field average of 108 mph, it outperformed the major brands."
In ways that is an ambiguous statement, but the point is fairly clear. Chromax expects that this ball will offer similar distance as other balls with lower swing speeds and more distance with higher swing speeds. I fit right in the middle of those two examples, with a driver swing speed that hovers around the 100 mph mark. While testing in calm conditions I didn't notice any increase in distance off the tee. Conversely, I didn't notice a decrease either.
For the most part, my trajectory was similar to other balls I've used recently. Full iron and hybrid swings offered enough height to stop the ball on the green reliably. My driver trajectory is usually in the mid-height range and that's what I saw with the Chromax Distance. Dry fall conditions afforded generous roll that increased my total distance.
The Chromax Distance ball offered me the most advantage when playing in the wind. I can't comment on the exact reason, but I regularly saw more distance out of this ball in windy conditions – as much as 10 yards more with hybrids and irons. That's an aspect of performance that does interest me since 2/3 of my golf season is usually played in windy conditions.
Wedge Performance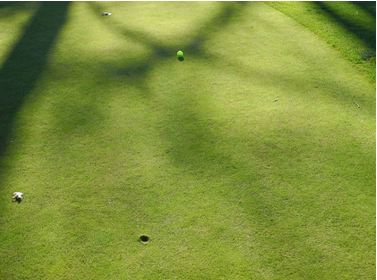 I came into this review with some assumptions when it came to spin. Basically, I wasn't expecting much of it. For the most part, that was what I saw, though I didn't think the ball underperformed here. Surlyn balls aren't designed to offer Tour level spin, so I plan and adjust for this when using them.
Partial wedge swings offered enough stopping performance that I was able to control my distance. In fact, the Chromax Distance performed almost identically to every other surlyn covered ball I tested it against. The picture above shows the results from a 100 yard half-swing with my pitching wedge. The ball stopped about 6 feet from its pitch mark, which was certainly acceptable for my needs. The picture below shows a 90 yard half-swing gap wedge swing in softer conditions. This shot hopped and stopped within a foot of where it landed.  Results on these types of shots can vary widely depending on technique and conditions among other things, but my feeling was that I could work with what I was seeing.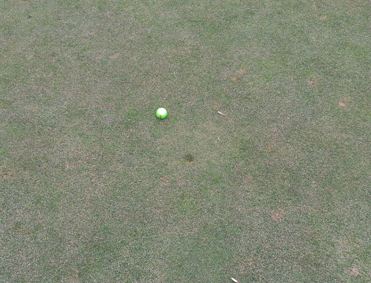 When it came to greenside chip shots, I saw little to no spin from the Chromax Distance. Going back to what I said before, that was something I expected and planned for. In reality, I don't put much spin on the ball for these shots anyway, so I was already comfortable with what I saw. Again, performance was much like other similarly covered balls I've played.
Final Thoughts
I suspect that some readers are going to look at the Chromax Distance with some level of skepticism when it comes to performance. My opinion is that the performance it offers is very close to many other two-piece distance balls on the market. The one aspect, other than the color, that differentiates it a bit is the firmer feel it possesses. The color itself is something I really came to enjoy, both for visibility and for the pure fun of playing something unique. I do believe that this generation of Chromax balls offers solid improvements when it comes to visibility. The biggest detraction I see with the Chromax Distance ball is the price. It's hard to justify premium ball prices when the ball doesn't offer a urethane cover. Regardless, that's a decision that will need to made on the individual level. Interestingly, I shot some of my best scores of the year while testing them. The conditions were quite windy during this time, and as I mentioned, the ball really performed well in that regard. For more information, you can head over to www.chromaxgolf.com.