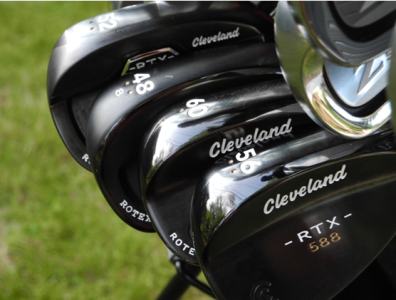 Cleveland Golf's newest wedge offering, the 588 RTX 2.0, is launching in the United States on September 12th, 2014. Building off the success of the first generation RTX, the 2.0 brings with it enhancements to the face, improved versatility through bounce and grind options, and a total of 34 different configurations including both muscle and cavity back heads.
Key Technology
The evolution of the 588 Rotex wedge started by listening to the top players in the world. Listening to the demands a Keegan Bradley, Graeme McDowell or Hideki Matsuyama faces, week in and week out, from 125 yards and in. We then looked at what factors lead everyday players to succeed or fail in the scoring zone. After hundreds of hours of interviews and field testing, we identified a common need for all golfers, regardless of ability level: Versatility.
From that research we developed 3 distinct wedge grinds in two different head designs that are proven to optimize the short game for players of all abilities. For the improving wedge player, a more forgiving cavity back design, and for the better player, a traditional muscle-back head shape.
Add to that three distinct grind options and the 588 Rotex 2.0 becomes our most versatile wedge family ever.
RTX 2.0 Face Technology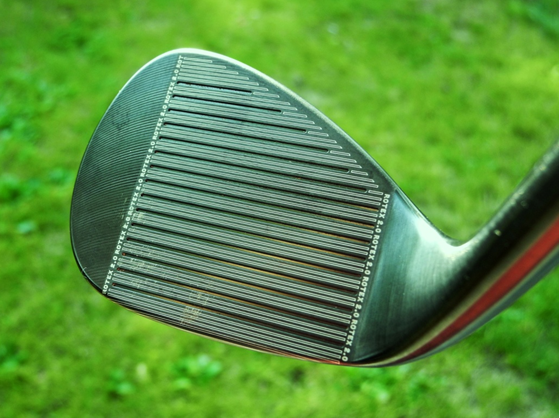 Tour Zip Grooves
Fourth generation Tour Zip Grooves feature 8% larger walls and sharper radii than ever before. Through testing we have seen that more grass, dirt, and moisture are channeled away from the face for cleaner contact and more consistent spin.
Rotex 2.0 Face Pattern
Advanced, 2-pass micro milling pattern provides a strategically designed roughness close to the USGA limit. This leads to increased friction and more spin, especially from inconsistent lies.
Laser Milling
Fine tunes the micro-roughness for more consistency and texture across the face. This allows us to reach the USGA roughness limit, and pushing this boundary lends itself to increased spin on pitch and chip shots.
Sole Design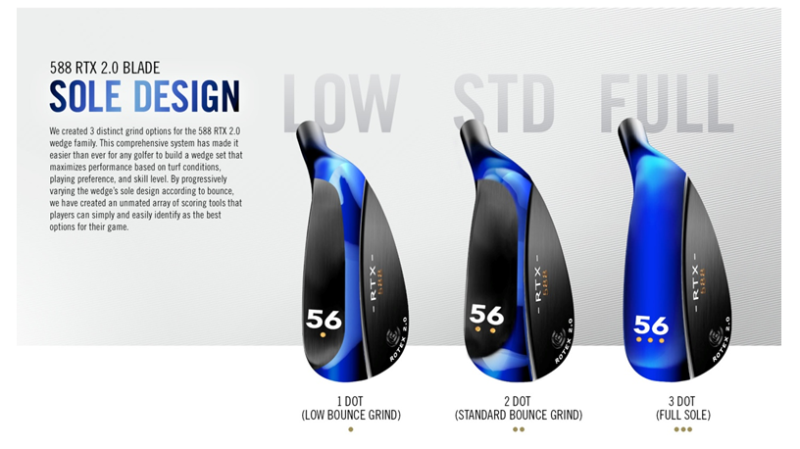 Low Bounce Grind (1 Dot)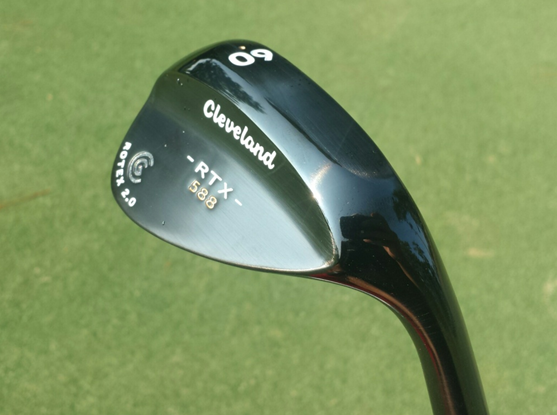 The Low Bounce Grind provides the lowest effective bounce, allowing players to be aggressive from anywhere around the green. The combination of a trailing edge grind and maximum relief from the heel and toe lets the player be creative from even the tightest of lies. Low Bounce Grind is ideal for firm conditions and/or players with a more shallow attack angle.
KEY FEATURES
Trailing Edge Grind + maximum heel/toe relief
Lowest Effective Bounce
Keeps leading edge close to ground for aggressive lob shots, yet provides stability on square-faced full shots
Standard Bounce Grind (2 Dot)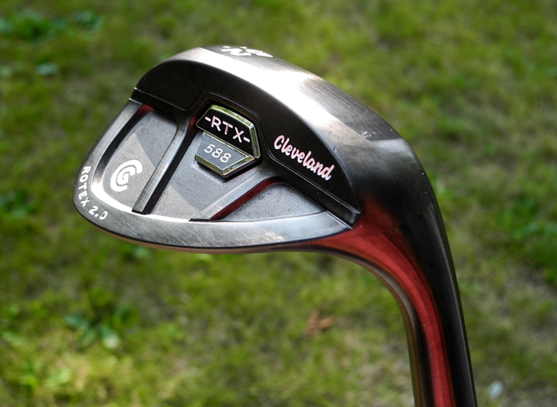 The Standard Bounce Grind provides a mid effective bounce, offering players a wedge that performs well in most conditions. The combination of a trailing edge grind and moderate relief from the heel and toe gives the player the perfect combination of versatility and forgiveness. Standard Bounce Grind is ideal for a wide variety of conditions and/or players with a neutral attack angle.
FEATURES
Trailing Edge Grind + moderate heel/toe relief
Mid Effective Bounce
All-around playability and versatility, allowing golfer to execute a variety of shots from most playing conditions
Full Sole (3 Dot)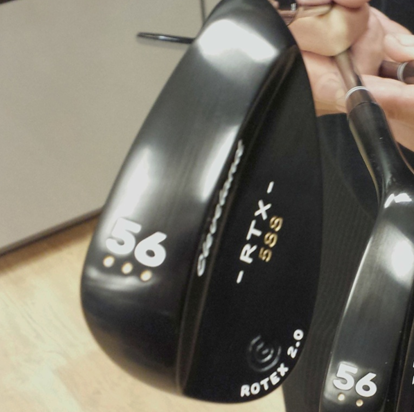 The Full Sole Grind provides a slightly higher effective bounce, allowing players to smoothly glide through any surface with ease. Consistent sole width gives players confidence when striking their ball on full shots while maintaining versatility around the green. Full Sole Grind is ideal for softer conditions and/or players with a steep attack angle.
FEATURES
Constant Sole Width
Higher Effective Bounce
Allows the golfer to use the sole to their advantage around the greens. Full shape gives stability on full shots, however the curvature in the sole still allows player to open the face.
Specifications, Loft and Bounce Options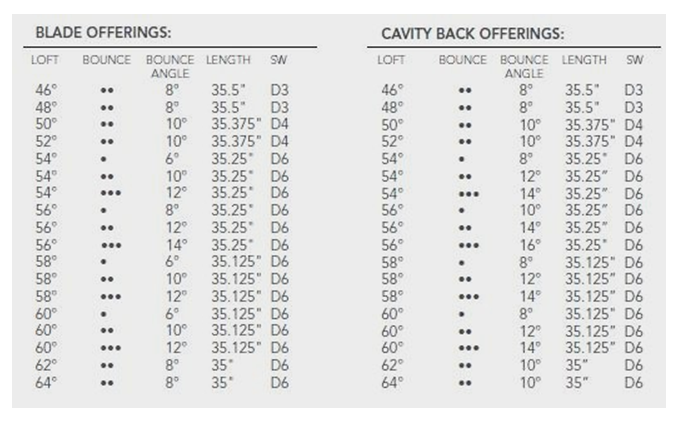 All options available in Blade and Cavity Back, Right Hand and Left Hand

Blade available in Black Satin and Tour Satin finishes

Cavity Back available in Black Satin
Shafts
Standard Steel:  Dynamic Gold

Standard Graphite:  Rotex Wedge Flex (New wedge shaft designed for improved performance and feel for those using graphite iron shafts 90 grams)
MSRP:  $129.99
Aesthetics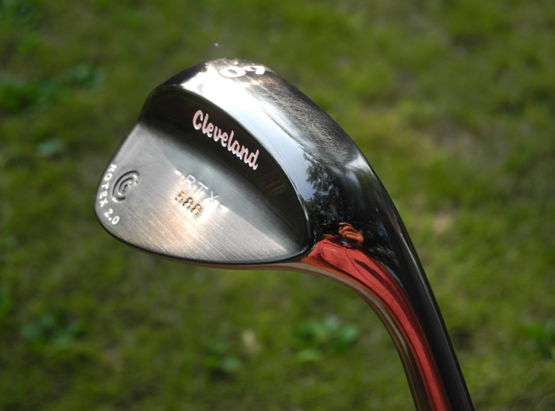 Remaining relatively true to the original 588 design, the cast RTX 2.0 has the same general tear-drop shape and tapered hosel that many have enjoyed for around 25 years now. The leading edge toes the line between rounded and ruler-flat, similar to what we've seen from Cleveland in preceding years.
Though pictured only in the new Black Satin finish in this article, the RTX 2.0 wedges are also available in Tour Satin, which is a conventional steel finish. Both finishes are new takes on old favorites. The Black Satin is especially striking in person, with areas that are almost piano black and others that have a brushed appearance to them (see above). The black finish will wear gradually over time (see below), but will not rust like some raw black finishes on other wedges.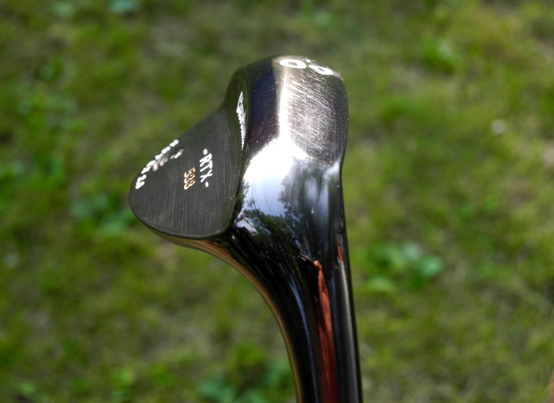 Typical of Cleveland wedges, the RTX 2.0's are generally on the heavier side, with swingweights ascending as the lofts increase. Though a cast wedge, feel at impact is quite a bit plusher than the 2012 588 Forged offering, again showing that manufacturing processes don't always equal better 'feel'.
Versatility and Options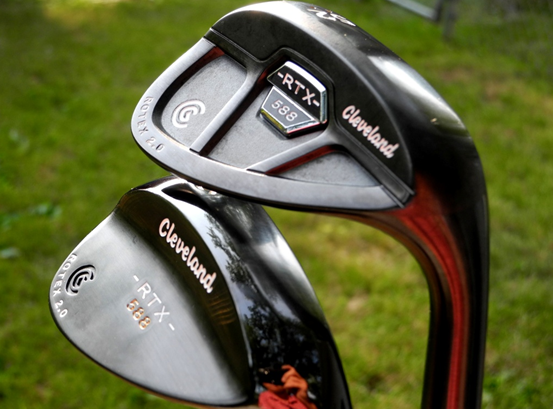 Though spin continues to be the end-all marketing strategy for wedges, the strength of the RTX 2.0 line lies more in versatility and what is available to the consumer.
Though they have offered both cavity and muscle back wedges for some time now, past Cleveland wedge lines typically limited the larger variety of bounce options to the MB's alone. With the RTX 2.0 line however, the bounce and grind selections among the two head types mirror each other. This should come at great benefit to the consumer, as those who seek more forgiveness no longer have to sacrifice versatility.
Grinds seem to be becoming more and more important to the consumer, but it can be a very confusing subject for golfers to tackle. Cleveland has simplified the topic a bit (much as they did with bounce) by pairing their different grind offerings with the easy-to-understand dot system. Simply stated, the more dots on the sole of the wedge, the higher the bounce angle. The higher the bounce angle, the less material that has been ground away. So for example, the 1-Dot wedge pictured below has both the lowest bounce and most aggressive grind, which makes it easier to manipulate for things like open face shots.
Using a variety of lofts, testing showed that the RTX 2.0's worked equally well for full shots, pitches, lobs, chips, bunker shots, and flops from a variety of lies. Both the 1-Dot and 2-Dot versions were easy to open up, but still worked well when presented square.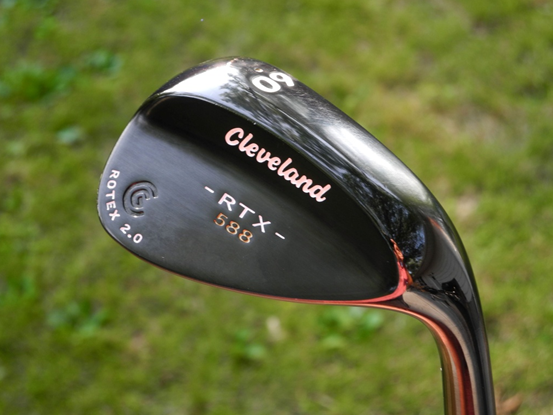 With Cleveland's fitting carts and demo day programs, figuring out a suitable combination of forgiveness, bounce, and loft should be very accessible to almost all golfers in the market.
Spin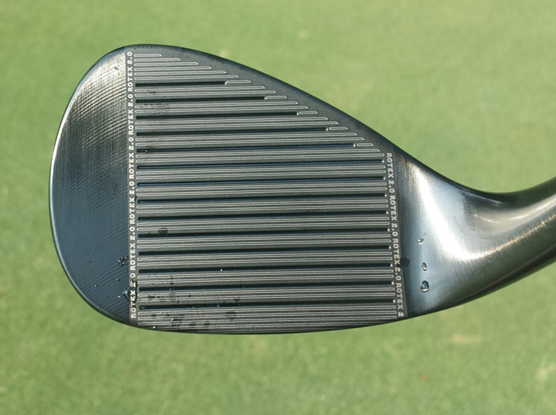 As alluded to earlier, though reliant on a number of factors, spin is the most heavily marketed aspect of wedge performance and a great deal of effort was invested in making sure the RTX 2.0's delivered as much of it as possible. With an enhanced Rotex surface pattern, larger grooves, and laser milling, there appears to be little else Cleveland could have done to promote maximum spin.
With the right technique and conditions, it was quite easy to generate a great deal of stopping power, both from the sand and the turf. Again, this is highly dependent on things like the ball used, the player's technique, and the lie the ball is sitting on. Though to the naked eye there wasn't a discernible difference compared to the RTX 2.0's competitors new out of the box, the new Cleveland offerings performed exactly as one would hope.
Final Thoughts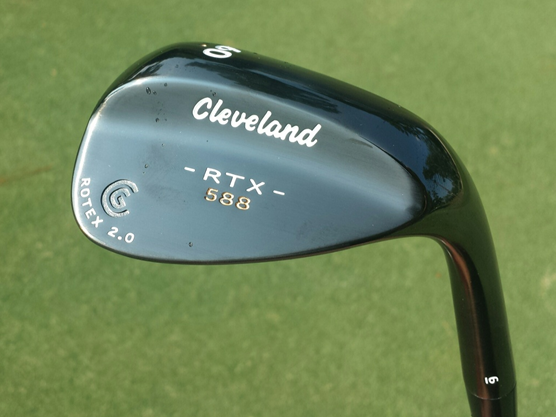 With a focus on versatility and meeting the needs of every player, the RTX 2.0 wedges come to market with abundant options that are still somewhat easy to sift through. By including a fully stocked cavity back line, Cleveland has effectively doubled the number of choices available to consumers and shown that one doesn't necessarily have to sacrifice greenside creativity when in need of a little forgiveness. More information on the RTX 2.0 line is available at Cleveland's website, www.clevelandgolf.com.