Be Long Again
In case you weren't aware, that is Cleveland Golf's tagline for the new CG Black line. It's hard to explain how much those three words speak to me. Struggling with distance can be tough to deal with, especially off the tee. Trust me on that one. If Cleveland had written that tagline with just me in mind, I think it would just read "Be Long", but that's beside the point. THP asked me to review the fairway wood from this new line, and from what I've seen, I'm exactly the type of person the club was designed for. With that in mind, let's take a look at some of the technology built into these clubs and how well it works in the real world.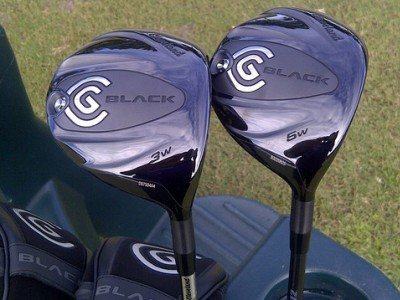 Ultralite Technology
With the proven lightweight performance found in premium Miyazaki graphite shafts and lightweight grips from Golf Pride and Lamkin, players can expect increases in swing speed with the same swing effort.
Cleveland has definitely been towards the front of the pack in the lightweight realm over the last year or so. Much of that has to do with their partnership with Miyazaki Shafts. The CG Black fairway woods come standard with the Miyazaki C Kua 39 Limited Edition series. This shaft is extremely lightweight and seems a little on the softer side. For my swing (normally around 97mph with the driver), it worked very well. It felt nice through the swing and really assisted in obtaining some height and distance. When tested on the launch monitor, the numbers I took were a bit astonishing. I was definitely getting distance from a 5W that I'd never seen before. After this, I ended up using the CG Black in place of my driver for a round and found that it was a viable option for me, which was not something I expected coming into this review.
Finally, a quick note about the Golf Pride grip: In my opinion, this grip is an improvement over the stock option on 2011's FL series. It feels nice in the hand, and provides enough tackiness to keep the club secure without being rough.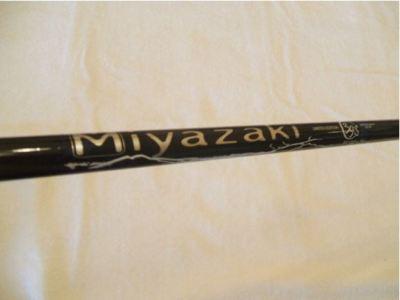 Lower, Deeper Center of Gravity
The center of gravity has been moved lower and deeper toward the back of the club head for higher launch angle with optimal spin and playability. Fairway woods now include a strategically positioned weight insert. This technology helps to maximize distance in all playing conditions.
We hear the preceding terms quite a bit, but in the past I've been left a little disappointed in the results I've seen from other clubs making similar claims. I was pleased to see that the CG Black did actually give me the high ball flight I look for in a fairway wood. The flight was strong, with a low start that climbed very fast and peaked very high. I don't know that I've ever hit a fairway wood quite as high as I hit this one. For me, that higher ball flight resulted in some very nice carry distances. I found shots off the fairway were easy to get airborne as well, with shots off of the tee even higher. Those struggling for height from their fairway wood shots could find this line very useful.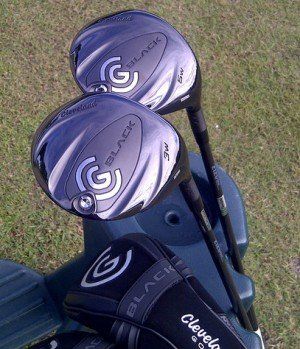 Speed Crown Design
CG Black drivers and fairway woods include Speed Crown Design, the most aerodynamic wood shape Cleveland Golf has ever engineered. A teardrop-inspired profile reduces drag at all angles of airflow during the swing for superior speed.
Obviously, I'm not able to test the aerodynamics of a golf club, but I do want to comment on the head shape of the CG Black fairway wood. This line appears to have a slightly deeper face than the FL series, but the head shape does look to be a bit sleeker. From the top, it appears to be fairly traditional in shape and size. From the side, you can see the aerodynamics a bit more. The club tapers off towards the back and the lines are nicely contoured. Aside from the silver CG and weight on the bottom of the club, the finish is all black. It screams 'speedy' in just about every way. Another feature to note is the sound of the CG Black. It's unique among the Cleveland woods I've tested in that it's quite muted and powerful. It struck me as sounding very different than the FL series and was something I came to really enjoy.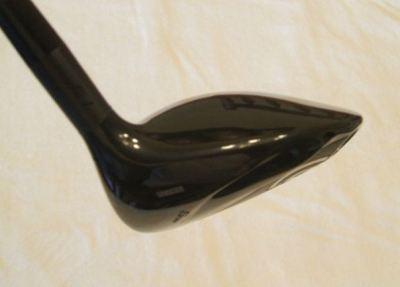 Testing
I've already alluded to some of the results I saw while testing the CG Black fairway wood. I was able to test it on the range, the course, and the launch monitor. I found the distance to be remarkable for a 19° club and I was actually swinging it with as much speed as I do my normal driver. This equated to some nice results off the tee. As I mentioned, I used it exclusively off the tee for one round and was quite comfortable with the distances I was getting. Accuracy off of the tee was definitely acceptable in that I hit a good number of fairways on a fairly tight course. A nice smooth tempo was rewarded the most, which is pretty typical of any club I swing. Over time, my most common miss showed itself to be a pull, which is my 'trying to swing too hard' miss. I did not experience a great deal of sidespin in either direction.
Results off the grass were good when it came to getting the ball up in the air with good distance. I tend to prefer a hybrid in these situations as I am usually more accurate with them and I came away feeling the same after this testing. However, I do realize we are all very different, so definitely take that into consideration. Some swings definitely benefit from a fairway wood more than others when it comes to hitting the ball off of the grass.
Final Thoughts
I don't know why, but there is something satisfying about knowing Cleveland designed a line of clubs with me in mind. I am constantly looking for a few more yards, especially with my woods, and the CG Black series delivers in a big way. These clubs aren't going to be for everybody. Cleveland has been pretty clear about that, but those of you that fit the profile would be very wise to take a few swings with one if you can. For more information, you can listen to a recent In the Rough radio show produced by THP or head over to www.clevelandgolf.com. Also, if you happen to be in the market for something from this line, you should consider talking to the folks at www.Blind9Golf.com as they have been very helpful to our readers in the past. As always, thanks for reading and best of luck out on the course this year.
Ryan H.