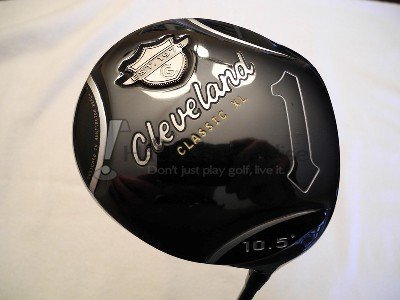 The 2012 Classic was arguably the most exciting driver release from Cleveland Golf in a number of years. It did a few things that were particularly popular among golfers. First, it elicited nostalgia with its retro design, while paying homage to Cleveland's roots as an equipment company. At the same time, the old-school design was packed with tons of modern technology, from the multiple weight options to the variable thickness face design to the C Kua shaft. Lastly, it provided maybe the deepest face in an everyday golfer-friendly driver that we've ever seen.
Headlining Cleveland's 2013 driver line is the all new Classic XL and it's bringing a slightly different feel  and look along with the technology that has been proven effective not only for the weekend warrior, but also on worldwide professional tours. 
Technical Information from Cleveland
More distance. More confidence. More style.
The Classic XL Driver has the largest and deepest club face of any driver in golf, and an even larger sweet spot for maximum forgiveness.
LARGEST, DEEPEST DRIVER FACE AND LARGER SWEET SPOT
The largest, deepest driver face in golf means the largest effective hitting area for incredible confidence on the tee.
Enhanced variable face thickness technology creates incredibly fast ball speed on off-center hits for unprecedented forgiveness.
OPTIMAL CENTER OF GRAVITY
Center of gravity moved deeper in the club head to promote higher launch and more penetrating flight.
PREMIUM MIYAZAKI SHAFT
The high-quality, aftermarket Miyazaki B. Asha shaft produces a mid-high trajectory with added speed.
SPECIFICACTIONS
Available in 9.0°(LH), 10.5°(LH), and 12° lofts
460cc head, 285g weight, 45 inches in length
MSRP $249.99
Aesthetics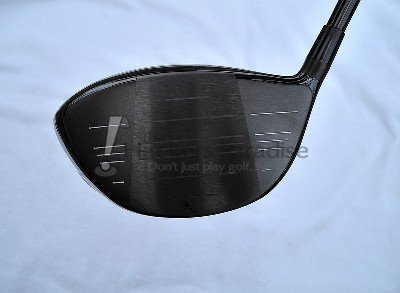 When comparing the Classic XL to the 2012 version, the most obvious difference is in the look of the head. Gone is the extremely bold 'persimmon' design that proved to be somewhat polarizing. In its place is an incredibly sexy looking blacked-out head with the faintest of alignment aids. The head shape itself appears just slightly more pear shaped and a little larger at address than the original. The large '1' remains on the sole, as does the Cleveland Classic badge, but the new black finish gives the XL a look that certainly sets it apart from its older brother. When you combine the head with the specially painted B. Asha shaft (in black), you have an ebony masterpiece that is very hard not to get a little excited about.
Continuing on the retro theme, the leather wide-bottom head cover is back, though it now sports a white top. For some reason that I still haven't figured out, this year's head cover seems a bit more difficult to get on the driver. It's got an elastic band on the inside that just seems a little bit tighter than the original.
The platter-sized face on the XL is worthy of its own paragraph, if not more. Advertised as the largest and deepest in golf, the face truly appears monstrous in person. In the past, deeper faced drivers were often among the least forgiving and hardest for amateurs to elevate and control, but advances in technology related to shafts, weighting and face composition has allowed them to be more user-friendly. Cleveland has taken full advantage of that, starting with the Classic and continuing with the XL. A personal benefit I've seen from the depth and size of the XL's face is the feeling of confidence it creates at address.
One characteristic of the original Classic that remains with the XL is the very unique sound it produces at impact. It's one that some find an acquired taste, but I love it. In fact, I'd go as far as to say that no other driver I've tested this year sounds as nice to my ears. It's muted and lacking much of the metallic sound that is so pervasive in today's drivers. I find it to be a breath of fresh air and I'm glad that it made the 2013 cut.
Miyazaki B Asha 4 Series Shaft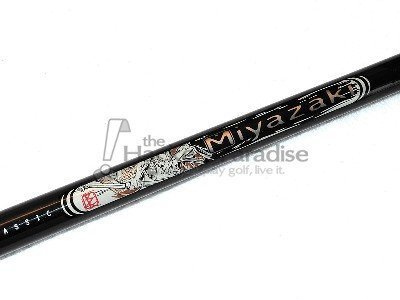 Cleveland has again opted to match their flagship driver with a light weight, high launching shaft in the B Asha 4 Series. There is good reason for this, as the deep face necessitates a shaft that provides a higher launch for most golfers. The B Asha is very much an evolution of Miyazaki's C Kua line, with some notable differences. While it remains a higher launching shaft, it did appear to be more stable in my experience. In addition, the softer upper section delivered a much smoother feel that I appreciated. Also, improvements to the manufacturing process have allowed Miyazaki to eliminate what was one of the most common complaints centered on the C Kua – it's larger than normal butt end.  This should allow for easier re-gripping, among other things.
For my 100+ mph swing speed, the B Asha 4S in the Classic XL provided acceptable control, a smooth feel, and high launch with very low spin rates. Since all swings are different, I'd give the advice to try before you buy. Your results may not exactly mirror mine.
Performance
Testing of the Classic XL was done using the 10.5° version with the B Asha 4S (stiff) shaft, both on the course and with an Accusport Vector X launch monitor. My swing speed typically ranges in the 100 to 103 mph range. Launch monitor numbers below are the average of 10 well struck shots using a Pro V1 golf ball.
Classic XL – 10 shot average

Carry

248 yards

Ball Speed

147 mph

Vertical Launch

16.8°

Back Spin

2,615 rpm

Side Spin

STRT

Horizontal Launch

2.0° (left)

Offline

10 yards (left)
Ball Flight
According to Cleveland's list of product features, the weighting in the Classic XL was tweaked to promote a higher launch than the 2012 version produced. THP was also advised of this fact during the 2013 PGA Show.  Launch monitor testing did back that up for me, with some very high launch angles coming from the 10.5° version. Interestingly, my spin remained quite low, which had the effect of providing some excellent carry distances on good shots. In fact, the Classic XL proved to be the highest launching and lowest spinning driver that I've tested this year. This observation carried over to on-course testing in that I hit some very high, long carrying shots. At times, I did go below what I'd consider an adequate spin threshold, especially if I hit the ball on the top portion of the face towards the toe of the club. The effect of this was a loss of distance. However, decent swings and the right golf ball left me in a range that proved to be very good for maximizing carry.
As far as shot shapes go, my predominant ball flight with the Classic was right to left. At times I did see shots that traveled farther left than I may have liked, but that is not entirely uncommon for my mid-handicap swing. I felt like the Classic XL sat right in the middle of the pack for dispersion and control among the 2013 drivers I've tested.
Distance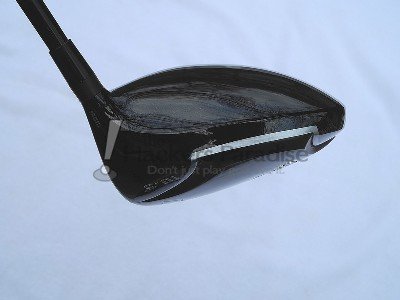 As shown in the table above, the combination of high launch angles and low spin on well struck shots gave the Classic XL the distinction of being one of the longest drivers I've tested this year. I temper that statement by saying that your fitting needs may not match mine, so I cannot guarantee you'll see the same results. Well struck shots were very high flying and carried long distances, though the ball height did limit roll-out quite a bit when combined with the softer spring conditions in my area.
I did find my choice of golf ball very important while using the Classic XL. Due to the very low spin rates I saw, I found a ball that produced more spin gave me better carry numbers. In fact, certain firmer golf balls left me in situations where I lost carry distance due to lack of spin.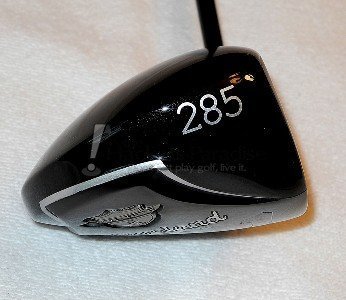 Forgiveness
I found the original Classic to be a very forgiving driver both directionally and for retaining balls speeds on off-center shots and my time with the XL showed me much of the same. The toe side of the face was particularly helpful for me in turning the ball back towards the fairway due to a generous drawing ball flight. In addition, I was able to maintain sufficient ball speeds around the face. The biggest cause of distance loss for me tended to be centered on a drop in spin rates with my typical high toe miss. Again, that's an issue that I think will be less applicable to many players than it is for me, but it is worth mentioning.
Final Thoughts
The Classic XL offered what I'd almost call an unprecedented mixture of high launch and low spin on well struck shots. At the same time, days when my swing was off left me in a bit a pickle due to struggles keeping the ball elevated from lack of spin. I certainly think that many of those concerns are more related to the way it fit me personally as a low spin player as opposed to what many other golfers will experience. I think it could offer great help to those players looking to reduce spin, especially with the right shaft. Regardless, off-center contact was quite good for retaining ball speeds and maintaining control. As an added benefit, the XL comes in a package that should appeal to a wider section of consumers than the original, while keeping the signature sound that I loved so much . The Classic XL comes with an attractive price tag of $249 and is available for sale now. For more information, head to www.clevelandgolf.com.