Since Cleveland Golf launched the MyCustomWedge program in 2011, thousands of golfers have personalized 588 Forged wedges with their own colorful aesthetics and precision performance options. With the launch of MyCustomWedge 2.0, customizing wedges is now more fun and easier than ever before. The redesigned website features a simpler interface and a Community Gallery for golfers to share their designs and be inspired by others.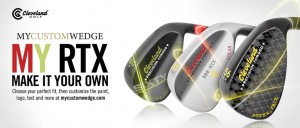 Now featuring 588 Forged RTX heads with the latest Rotex Face Technology – the most advanced spin technology ever created by Cleveland Golf – MyCustomWedge 2.0's wedge customization and personalization options allow consumers the opportunity to create their own uniquely-designed masterpieces at a starting price of $149.99 (increases based on custom option upgrades).
Customization and personalization options include:
• Black Pearl and RTG (raw) finishes
• 24 grind combinations
• 7 logos
• Personalized text inscription
• 20 paint-fill colors
• 5 "Skins" that offer unique surface finishes
• All of the most popular wedge shafts, including logoed shafts of the most well-known NCAA teams
• Grips in various sizes and colors
• Length, loft, and lie modifications
For more details about MyCustomWedge 2.0, please visit www.mycustomwedge.com. For additional information on Cleveland Golf or any of their products, please visit: www.clevelandgolf.com.