For those who are not already familiar, Cleveland Golf released the next generation of RTX into the world of golf last year.  A combination of quality finishes, intriguing technology, and enough options to satisfy even the most selective of players, it will take most golfers quite a bit of time to really dive into what is available in the RTX-4 release.  I think it's best to talk through the technologies and options available while discussing my month with the Cleveland RTX-4 and provide some depth as to what the technology and options mean to my game specifically.  While we go through this experience, I hope I can unravel some of the many benefits of these wedges.
When it comes to set makeup, there are more than a couple ways you can manipulate this release to best serve your tendencies and personal preferences.  I think a graphic might better represent the eighteen (not a typo) unique wedge options available: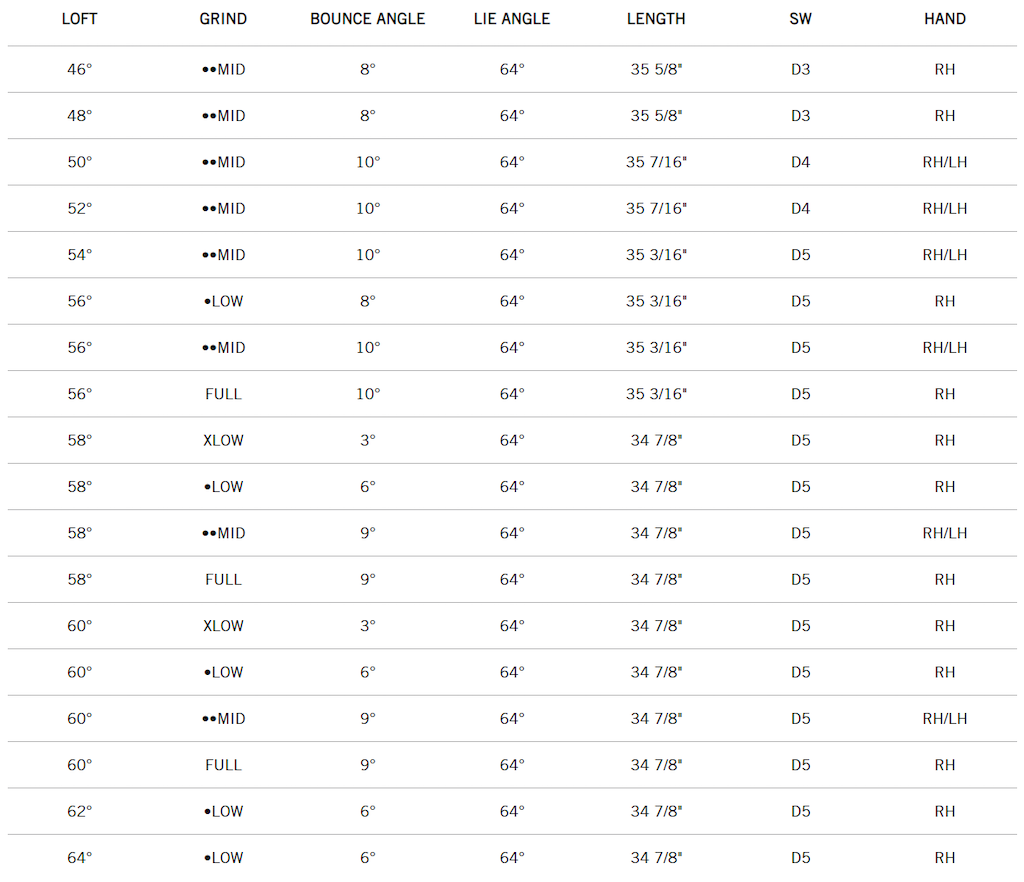 I would make a claim that it would be near impossible to select from such a list, but most golfers I know are as picky as I am and can whittle it down to their best build option fairly quickly.  I settled for the 50 and 54 in the mid grind, and the 58 degree in the low for added versatility around the green.  What excited me about the mid shape is how similar it presents on paper to the highly successful v-sole we have seen in Srixon irons over the last couple releases. Considering how often I hit full swing wedges in the 50 and 54 range, I immediately gravitated towards this grind.
For the 58 degree selection, I pondered the XLOW grind for a while, but Cleveland encourages that design for tight lies and firmer conditions, which are not usually what I experience here in the Midwest.  The versatility of the low won me over.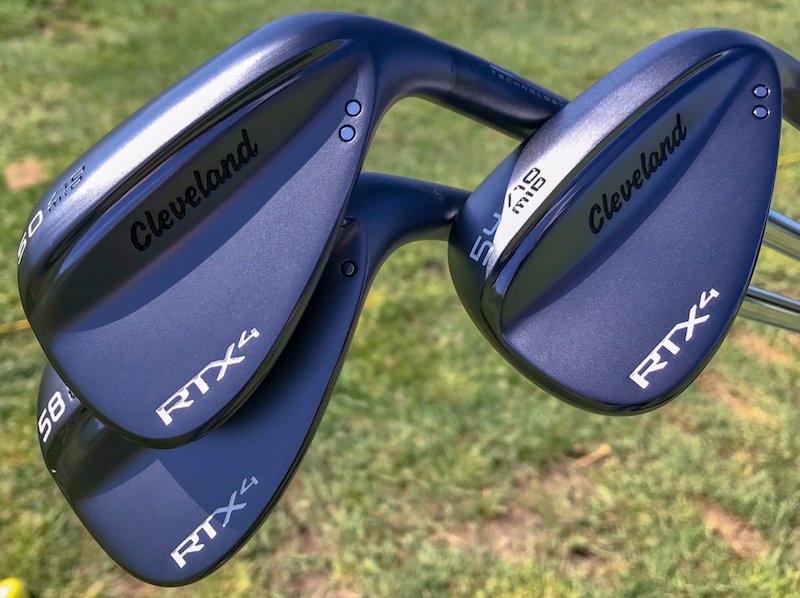 One of my favorite design elements of the RTX-4, which was driven by the feedback of tour players, was to create a better blend between the irons and the wedge design.  Nothing worse in my books than moving away from a pitching wedge to a big old spoon wedge on the eyes.  Enter progressive shaping, which has a very clear element of change moving from the extreme lofts.  I am far more inclined to treat my 50 degree wedge like an iron, and having one that closely resembles my set pitching wedge gives me that visual confidence to swing in the same manner.
I want to transition into some of my experiences with the RTX-4's during the last month, and it will be lead with one of the most visible.  These wedges absolutely chomp on golf balls.  The first ten full swing balls, I kept looking down at the club head and laughing as elements of cover remained on the face, with the ball flying aggressively towards the target.  Cleveland has a combination of Tour Zip Grooves and laser milling that grab onto the ball and flat out send it.  What you get from this tech is a genuinely visual profile on the benefits of the laser etched milling, and just how aggressively the 'teeth' of these wedges are working for your swing.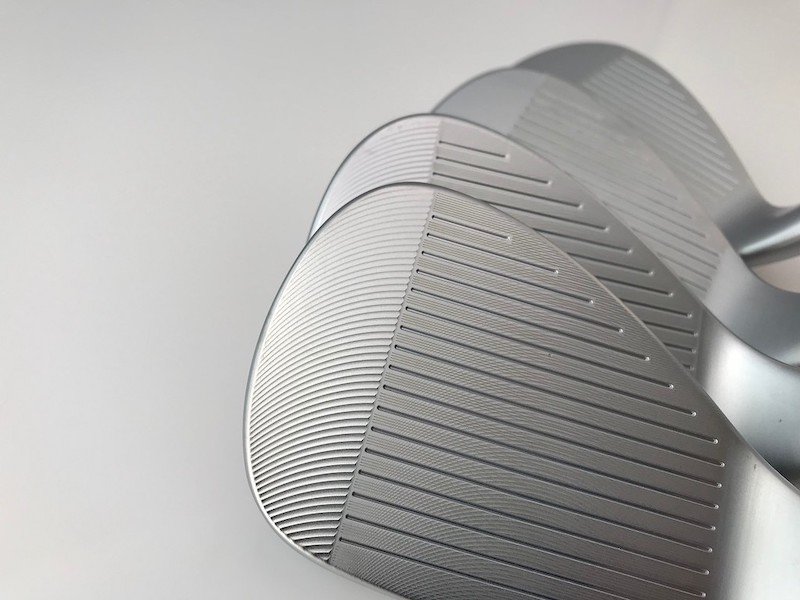 Cleveland also made sure that open faced shots that slide towards the toe also have a chance to get some action.  The milling rolls on a half circle shape starting from the bottom of the head, moving towards the top line and shallowing to be less visible at address.  The month long process with the RTX-4 in play did not present a great deal of experience in this area, but I absolutely saw grass markings about 75% on the groove and 25% off the toe that were bound to have an impact.
The other most obvious experience came from the turf interaction.  Around the green, the ball seemed eager to get off the grass, which made it seem like tight lies were not so tight.  Surely there is a big component of technology in play here with the grind profile and the overall bounce of the head, but subconsciously I was feeling highly confident within one round of getting them in play that I could navigate off any lie around the green.  Moving on into the full swing shots, these wedge have some aggressive leading edges in the mid grind, which should be welcomed in a wedge profile.  Early on, that meant a couple shots that were 'thicker' than I would prefer, but it quickly turned to finding my perfect bottom, and with that, clean contact repeatedly.
Before this spotlight is complete, it is very important to note that Cleveland offers three distinct finishes to their wedges.  A highly durable and low glare tour satin, a tour raw that is baked whiskey brown, and my (stunning) selection, the black satin PVD finish.  While the raw wedges will naturally rust over time depending on care, and the tour satin wedges are all but bullet proof to conditions, the middle of the pack PVD finish of the black satin is proving to promote wear purely based on what the head engages with.  After around 50 bunker shots, there is no question that the black finish is coming off the sole of the 58 degree, while careful wet towel maintenance on the 50 and 54 degree suggest that it will take a long time for the black PVD to fall away from the head, especially on the face.  These three finishes are the perfect blend of preference, and while I would love to see a black solution that does not fall victim to the gnarly grinding of a sand based shot, my expectations were adequately tempered and proven positive overall.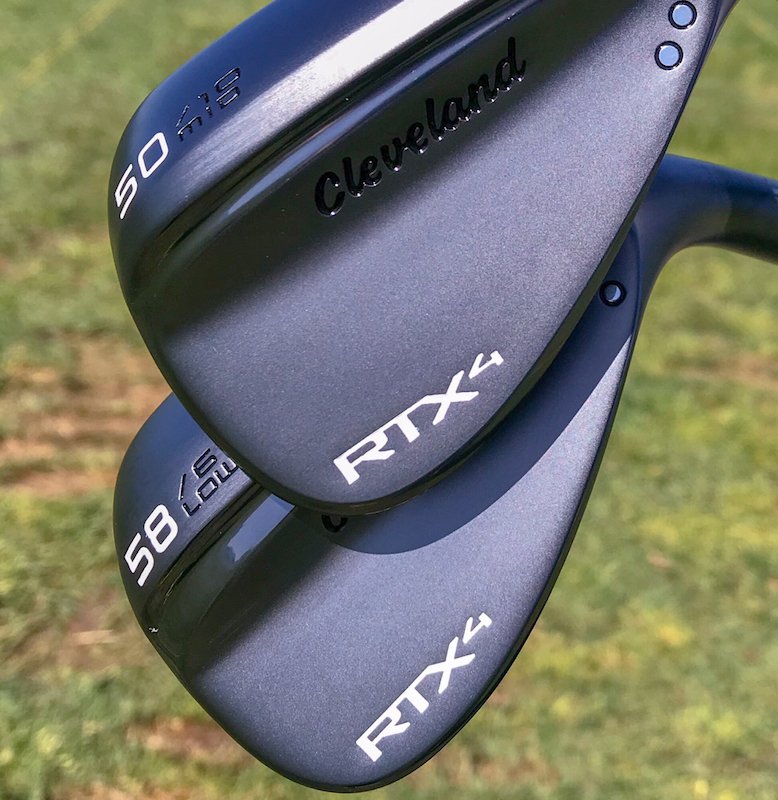 As a parting thought, I want to give Cleveland the nod for adding a shot to my game that was previously on the shelf while playing some low spin wedge heads.  After years of limiting my approach shots to full swings, I find myself sneaking more and more into that 50-75% swing range with the RTX-4 wedges in order to pull off a variety of shots that I would have otherwise not bothered to try.  My current favorite, a low and aggressive pitch that hits the green with a big hop, followed by a second bounce that bites the green hard, often times spinning back a bit.  This pin point shot eliminates most of the variables (like wind) that plague an approach shot, and relies on skill and precision that make for a very rewarding result.  After a month of play with a full set of RTX-4 wedges, I remain confident that Cleveland is among the leaders in wedge design and technology, with both visible and hidden technologies that serve to benefit the spin, sound, and results we desire. For more information on RTX-4, visit www.clevelandgolf.com.  And if you want to purchase these wedges, check out Budget Golf where you can get a 15% discount with a special THP Code, which can be found just to the top right of this article.