2012 is shaping up to be a big year for Cobra Golf. They've settled into their new relationship with Puma and it seems like they are working hard to revitalize their brand. The recent signing of Rickie Fowler was a big part of that, and the release of the AMP line of golf clubs coincided with the announcement. While AMP isn't the only line Cobra is offering in 2012, it does look to be their flagship offering. I was asked to test the AMP driver and will be sharing my thoughts in this review.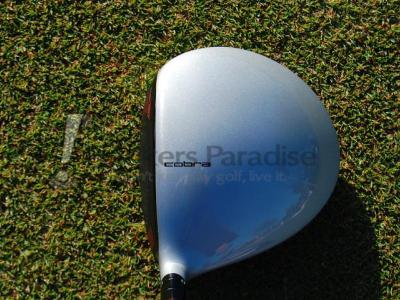 Aesthetics
For testing purposes, I was given the 9.5° driver head with the stock, stiff shaft.
There isn't much about the AMP that one would consider bland. It features a very bold (some would even say polarizing) look that starts at the grip, which is a bright orange Lamkin R.E.L 3Gen. I actually reviewed R.E.L 3GEN earlier this year and quite liked it, though the color featured on the AMP may not have been my first choice. The shaft, an Aldila RIP Speed Tuned, comes in a silver finish that fades to black towards the tip section. The weight ranges from 45 – 65 grams and the swing weight fell within what I'd consider a normal range. The color of the shaft compliments the rest of the AMP package well and seemed to play pretty true to flex for me. Over the course of testing, I did let a higher swing speed player use the driver on a number of occasions and he also felt it held up adequately for the 'stiff' designation.
The crown on the head of the AMP driver is a glossy silver finish with a script alignment aid and the sole continues with the orange/black theme. The face is black, which I personally liked, with a few decorations, namely nine dots that I'm assuming were placed to denote the enlarged 'sweet zone'. Center-struck shots had a nice sound, though I'm having a hard time classifying it. My final stab at it was that the sound was slightly muted with a little high-pitched tone. It wasn't what I'd classify as a loud driver.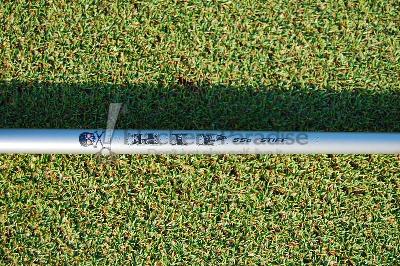 Adjustable Flight Technology
Three simple face-angle settings (Open, Neutral, and Closed) optimize ball flight for increased distance and improved accuracy.

The AMP comes with a 'T" shaped wrench that is similar to what we see with some other adjustable drivers. One thing I noticed right away is that the screw itself protrudes a bit from the head, which I felt made it a little easier to access when adjusting. The negative to that was that the screw seemed to trap dirt behind it and it wasn't that easy to clean out without getting a pipe cleaner or something similar. The settings are definitely easy to understand and I found it quick to adjust.
I will admit to playing another company's adjustable driver for almost a year and rarely adjusting it, but I did want to expand my horizons a little for this review. I tested the AMP mostly on the N setting, but towards the end I ended up using it on the Open setting as well. I did notice some difference in ball flight and direction from this change, namely less of a tendency to hit the ball left of center.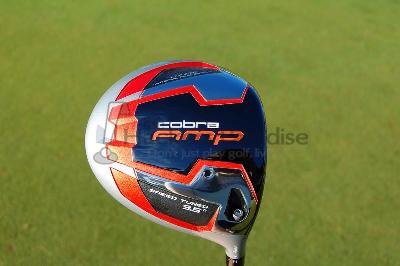 E9 Face Technology with Dual Roll
A 30% Larger Sweet Zone and a new approach to bulge and roll design delivers distance and accuracy.
A quick translation of that statement is that the AMP was designed to retain higher ball speeds on off-center hits; what many people would call forgiveness. My experiences during testing showed that this is a true statement, as the AMP was adequately forgiving on shots that missed the very center of the face. Having played a 420cc driver for a while, it was refreshing to have a little more help on those little misses. Misses well off the center of the face were punished just the same as with any other driver I've hit.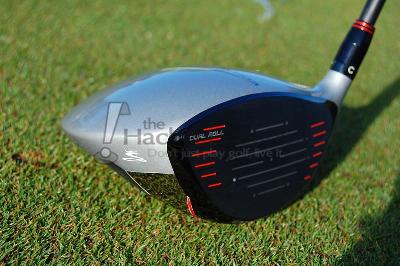 Advanced Material Placement
Sophisticated computer modeling and simulation allow designers to thin walls to save weight and re-distribute up to 15 grams of mass deep and back in the club head, to maximize distance through optimized launch conditions.
This statement alludes to the ever elusive 'high launch/low spin' that seems to be a common theme in today's driver marketing. Launch monitor testing showed that the 9.5° head offered me what I'd call medium backspin rates and an acceptable launch angle. In outdoor testing, I was more impressed with the ball flight and distance I was seeing after opening the face. For me this combination produced a mid/high ball flight that carried well, while allowing for decent roll. This combination also worked well for two playing partners, including one that can be characterized as high swing speed. His ball flight was higher than mine, but lower than what he was seeing with his current driver.
Final Thoughts
Like most things golf, this won't be a club that appeals to everybody. The bold styling makes that statement even truer. I suspect that golfers younger than I am will find the AMP driver far more attractive to the eye than I do. That being said, I found it to be a good offering when it came to performance. The distance I saw was more than acceptable and it offers a good level of forgiveness. The adjustability was easy to maneuver, though it comes at the cost of a dirt trapping crevice. If it looks good to you, I'd recommend giving it some swings. For more information, you can head to www.cobragolf.com. Blind9 Golf, a THP approved retailer, can also assist you, should you be in the market for a new driver. As always, thanks for reading and best of luck on the course this year.