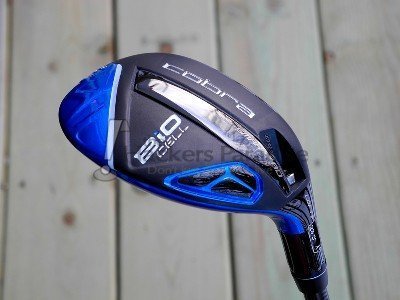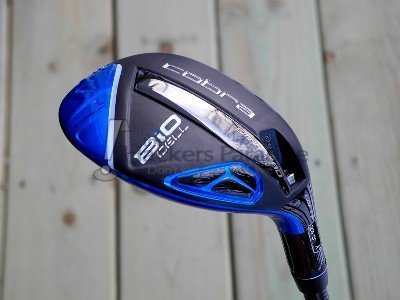 Continuing a recent trend of advancement in both function and form, Cobra Golf has released their 2014 line of metal woods, all sharing the name BiO CELL. THP had a chance to visit Cobra's headquarters in late 2013, a trip that included numerous discussions with the company's R&D experts and Tour staff. The company's excitement surrounding the BiO CELL line was evident during this trip and they shared a great deal of information about the new line.
BiO CELL Hybrid
The BiO CELL Hybrid comes equipped with MyFly8 with SmartPad technology featuring 8 loft options for simple adjustability to maximize distance and optimize yardage gaps. The 17-4 Stainless Steel Body supports a thin, shallow high strength steel face insert with a driver-like construction that creates more face flex and greater ball speeds to deliver exceptional distance. BiO Cells and E9 Face Technology allow weight to be removed from the crown and face for a lower CG and higher MOI, increasing the sweet zone for maximum distance and forgiveness.
Key Technology
HIGH STRENGTH STEEL FACE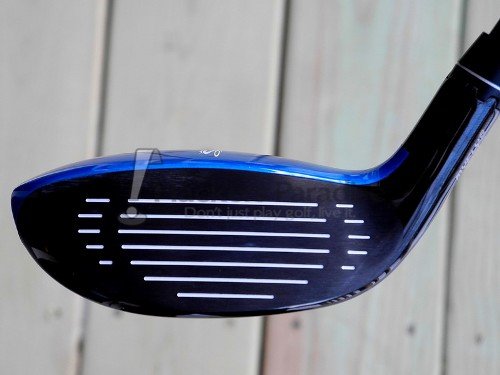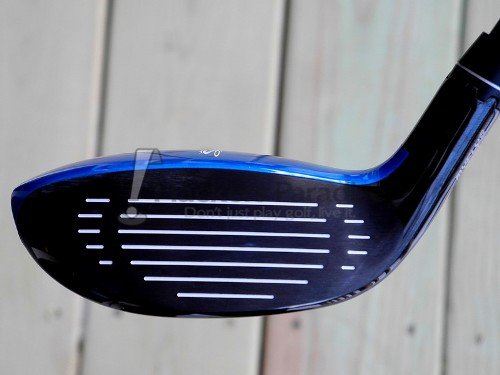 Forged thin, shallow high strength steel face inserts (Driver like construction) enables more face flex for faster ball speeds, longer distance, and higher trajectory.
Similar to driver construction, the BiO CELL hybrids have a steel face insert. The purpose of this design is to deliver a hotter face, and in turn more distance. While testing didn't show the BiO CELL hybrid to be particularly longer than other hybrids on the market today, it did provide comparable ball speeds to others that are often considered the longest on the market.
BIO CELL E9™ FACE TECHNOLOGY
New BiO Cells combined with E9 Face technology removes more weight from the face and crown to reposition it low and back to deliver the best combination of a super low CG and high MOI.
E9 Face technology has been a staple in the Cobra brand for a few years now, and past testing has shown it to be quite effective at delivering a high level of performance both on center and off-center impacts. The introduction of the BiO Cells to this technology is essentially a way to further alter the weighting of the golf club, by removing weight from certain spots in the head (namely the crown) and repositioning it to improve launch conditions.
MYFLY8 TECHNOLOGY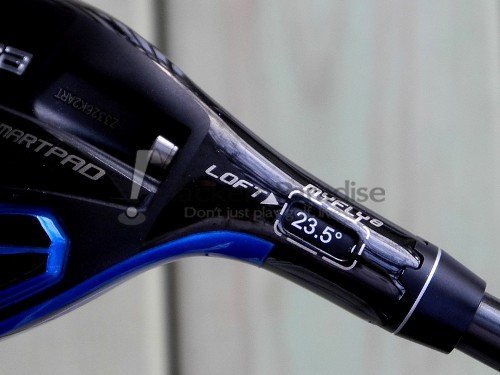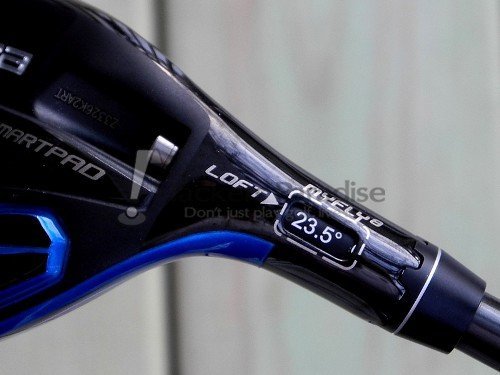 Eight adjustable loft settings to maximize distance, manage trajectory, and optimize yardage gaps.
MyFly technology was introduced by Cobra last year in the AMP CELL line of metal woods, and proved to be quite popular with many of THP's readers. On its face it's just a standard rotating hosel adjustment system, but the addition of the SmartPad on the sole of the clubs allows users to maintain the appearance of a square face angle at address. MyFly8 gives each club in the BiO CELL hybrid line a 3° range of loft adjustment, as well as three 'draw' settings (achieved through lie angle changes).
Testing showed that MyFly8 worked easily and as advertised. Adjustments were quickly made with a few turns of a torque wrench, and face angle did appear to stay constant if the club was soled at address. Loft changes appeared to cause a visual change to trajectory during testing.
Specifications
| | | | | |
| --- | --- | --- | --- | --- |
| Club | Adjustable Lofts | Length | Swing Weight | Flex |
| 2-3H | 16.0° / 16.5° / 16.5°D / 17.5° / 17.5°D / 18.5° / 18.5°D / 19.0° | 41.00 | D2 | X,S,R,L |
| 3-4H | 19.0° / 19.5° / 19.5°D / 20.5° / 20.5°D / 21.5° / 21.5°D / 22.0° | 40.25 | D2 | X,S,R,L |
| 4-5H | 22.0° / 22.5° / 22.5°D / 23.5° / 23.5°D / 24.5° / 24.5°D / 25.0° | 39.50 | D2 | X,S,R,L |
Due to the MyFly8 technology, the BiO CELL hybrids come in three versions, with lofts that are widely adjustable.
Stock shaft is named COBRA BiO Cell, available in 52g, 60g, and 62g weights depending on flex.

Lamkin REL 3Gen 360 Grip

MSRP 189.00
Aesthetics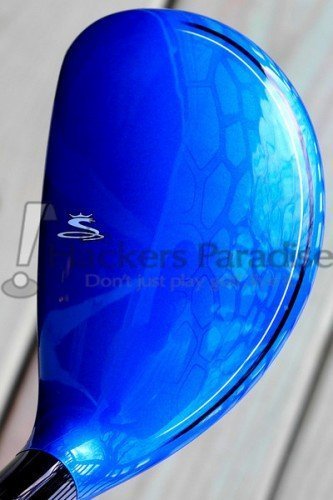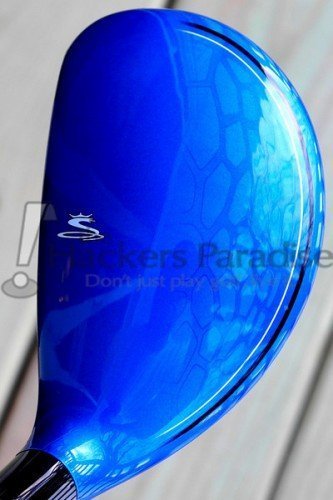 The BiO CELL line features mid-size heads with fairly low profiles, which should appeal to many golfers looking to find a club that gives them confidence from the turf. A lack of offset will also be visually appealing to many, with the loft of the face quite evident at address.
Like the AMP CELL line, color choices remain plentiful in 2014. With the availability of black, Cobra is now offering a somewhat more traditional option in addition to last year's silver, red, blue, and orange. Design details on the head are quite striking, with a faint representation of the cells that lie underneath the crown incorporated into the paint job, as well as a pair of curved lines that frame the back end of the club.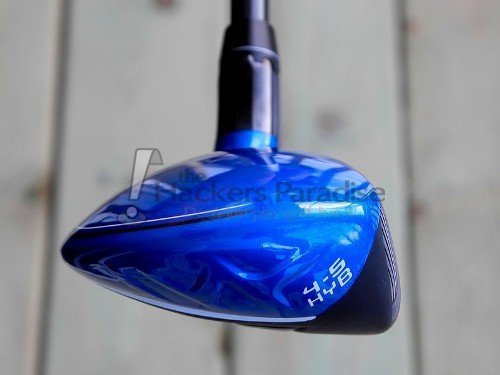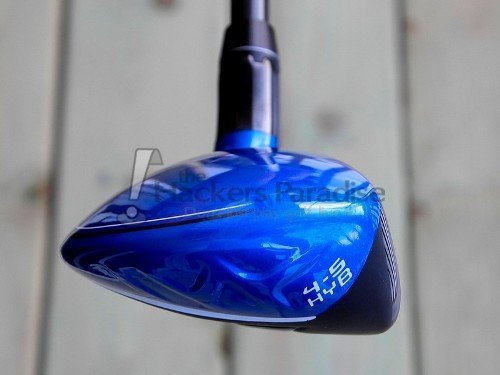 Feel at impact was somewhat metallic, without a hint of hollowness. Still, the sound wasn't an absolute favorite compared to competitors, especially with off-center impact, which felt somewhat tinny and unpleasant. In hand, the BiO CELL is nicely balanced, and at a swingweight of D2 felt fairly hefty in the head, which was appreciated during testing.
The stock shaft in stiff flex seemed to match the club well for an average swing speed, providing sufficient stiffness without feeling boardy.
Performance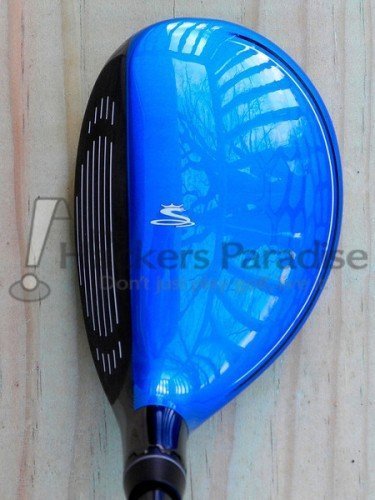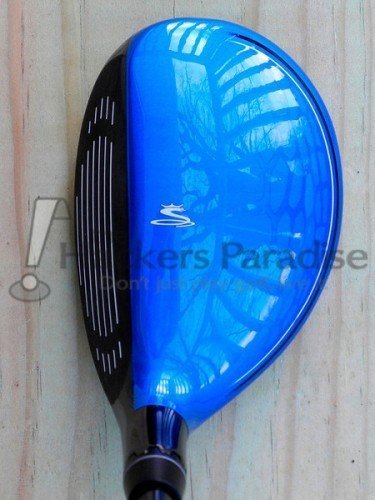 The 4-5H BiO CELL hybrid was tested in stiff flex both indoors using a launch monitor and outdoors.
As noted earlier, launch monitor testing showed the BiO Cell produced comparable ball speeds to its competitors, with slightly higher spin numbers on center impact. This resulted in carry distances that were very much in-line with other modern hybrids, but not noticeably longer.
Trajectory did change based on the settings used with the MyFly8 adapter, but were generally in the mid-high to high range on average, likely thanks to the slightly higher spin numbers the club produced. At its highest loft setting, the BiO CELL did appear to offer a higher trajectory and steeper descent. The need for loft adjustments will vary quite a bit on the individual level, but it does appear that there were noticeable differences in the various lofts available, which should benefit those looking to either maximize distance or find a suitable trajectory.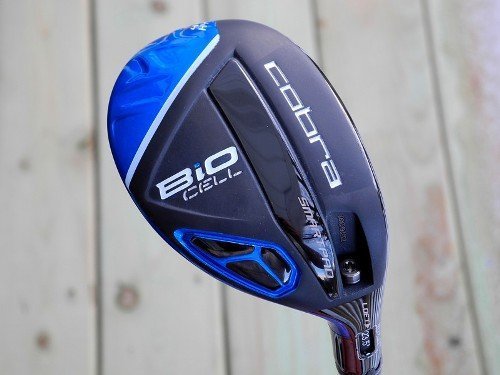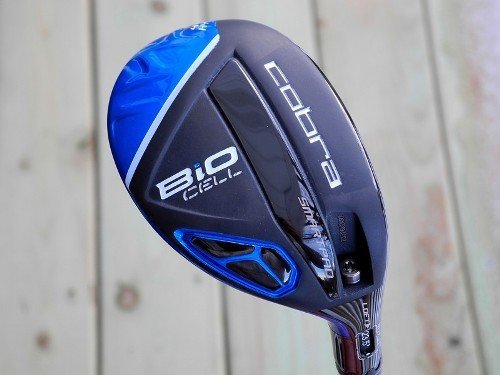 Though the feel on off-center impact wasn't entirely pleasing, the BiO CELL hybrid did perform quite well on these strikes, especially in terms of directional misses. Rather than the feared big-left miss on toe shots, these misses were often met with a ball that started right and came back to either center or just left of center. Side spin was certainly increased on these misses, but it appeared to help more than it hurt in most scenarios. Low-face impacts weren't handled quite as well as shots on the toe, with a noticeable loss of height and carry distance.
Final Thoughts
Whether it's the pleasing shape and lack of offset, the range of color options, the seemingly above average level of forgiveness, or the numerous adjustments the club is capable of, the BiO CELL hybrid comes in a package that will appeal to a broad range of golfers. More information on the Cobra BiO CELL hybrid can be found on the company's website, www.cobragolf.com.