One size fits most.  It's a phrase that consumers have gotten well acquainted with when shopping for a wide magnitude of products, but probably not with golf clubs. Bryson DeChambeau brought some newfound attention to the single length iron setup in 2015 when he won the NCAA individual championship, and followed it up later that summer with the US Amateur title. His performances really did spark a conversation that focused around whether or not more amateurs could benefit from a similar set of irons.  For the 2017 season, Cobra golf has introduced the F7 ONE Length irons. A set that is truly unique from everything else golfers will find on the store shelves, because these irons all measure the length of a 7-iron.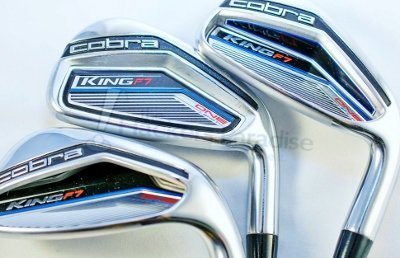 From Cobra
The KING™ F7 ONE Length™ irons make their debut as COBRA's first ever single-length iron set. Inspired by our relationship with PGA TOUR Professional, Bryson DeChambeau, The KING F7 ONE utilizes the same TECFLO constructions as the KING F7 along with PWRSHELL™ Faces and Precision Milled Grooves. However, the KING F7 ONE features constant 7-iron lengths throughout the set and each head has been re-engineered for proper geometry to deliver optimized trajectory and distance gapping from long irons to wedges. The end result? A simpler, easier way to play.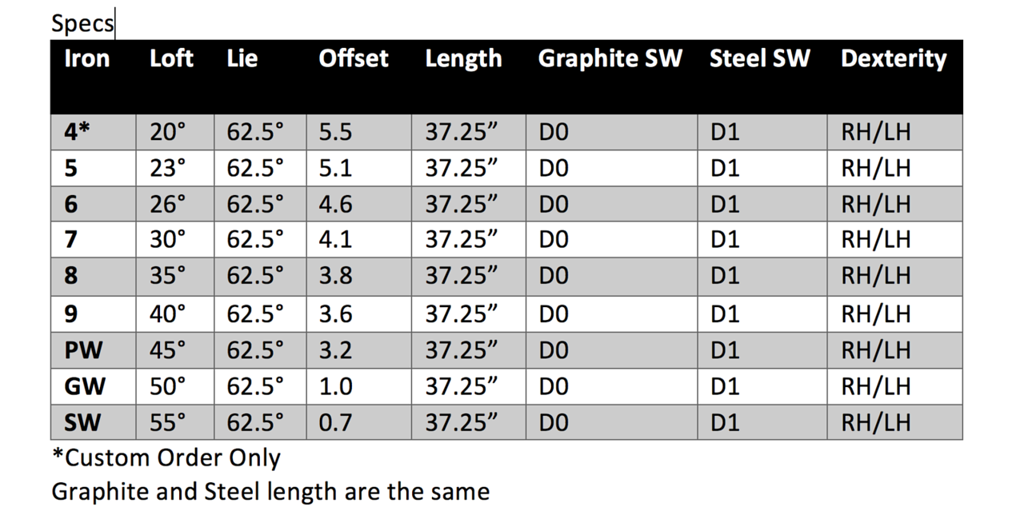 Quick Tech
Even though the distinctive characteristic is featured in the name of these irons, it's wise to remind folks that the F7 ONE Length irons are so much more than just their homogenous shaft lengths. Last year the F6 irons hit the market and offered a really well done progressive iron set, which blended multiple styles of head designs. Thankfully, Cobra has carried over their TECFLO Construction to the F7 iron lineup, to both the ONE Length and tradition length builds. Within the ONE Length set, the TECFLO breakdown brings a full-hollow iron head in the 5-iron (also in the custom only 4-iron). Inside of the 6 and 7-iron there is a half-hollow design, while the scoring irons(8-PW), have more in common with what would be expected from a traditional full-cavity iron. Even though it may turn some heads, the F7 ONE Length irons do offer a gap and sand wedge, which both have a solid body build to them, allowing for a more traditional feel for those touch shots around the green.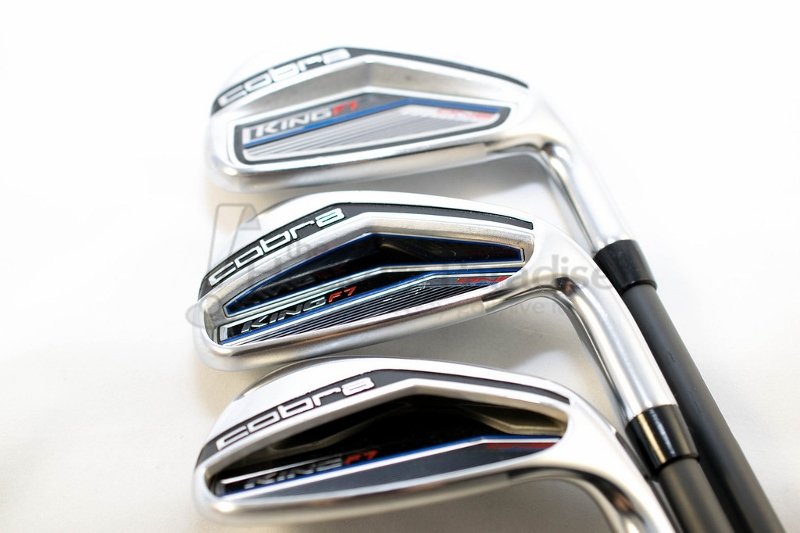 Building a single length set like this is much more than just trimming down the length of the long irons and adding some to the higher lofted clubs. In order to keep every club in this set at a D0(graphite) or D1(steel) swing weight, the weights of each head had to be individually altered. In the absence of the extra length on the long irons, the heads had to gain some extra weight, which means that even though the 5-iron is a hollow-body design, it has to increase mass to meet that specified swing weight. On the opposite end of the spectrum, the scoring irons, which normally are fitted with a shorter length shaft, and tend to carry a bit heavier swing weight, end up shedding some grams in order to keep everything on that level playing field.
Not to be ignored, is the newer take for how Cobra aims to pack some extra forgiveness and ball speed, and that is by utilizing their PWRSHELL Face. PWRSHELL was introduced with the unveiling of the King OS irons. With the use of a PWRSHELL Face, Cobra is able to utilize a thinner face structure that attaches to the topline and wraps more around the sole, with the idea of offering more ball speed retention on those misses.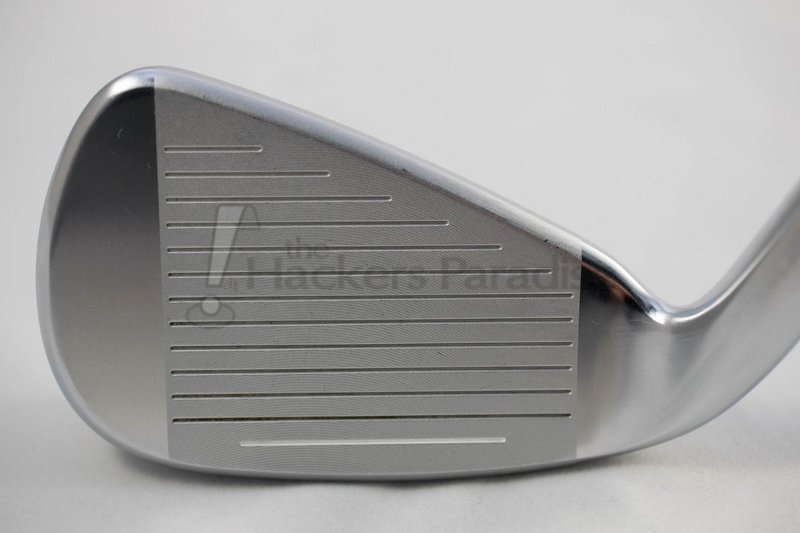 Performance
When hearing about the opportunity to test an iron set that all measured to the length of a 7-iron, the mind quickly goes in many different directions. Questions arise about distances, yardage gaps, and the overall awkwardness that will be felt when staring down at a gap wedge that is about two inches longer in length than normal.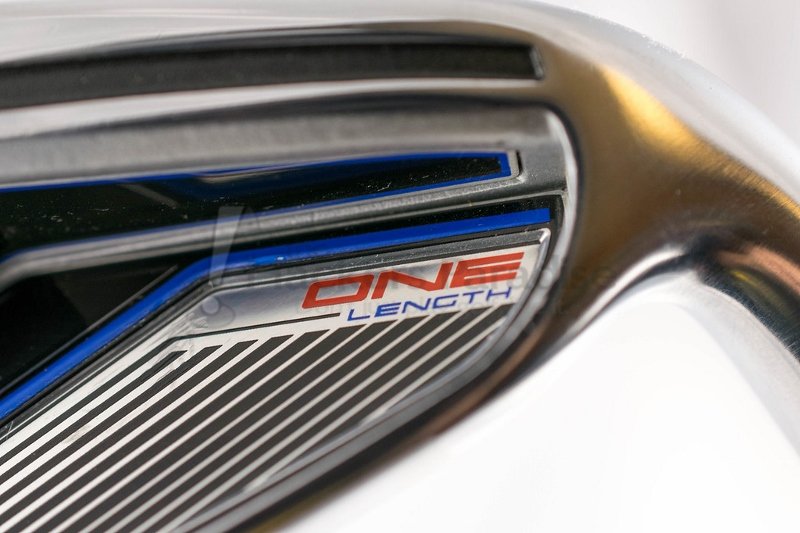 Without beating around the bush, let's be honest, playing a 5-iron and a PW at the same 7-iron length seems downright silly. So much so, that trying to explain this set to any other golfer usually yields a response along the lines of, "I would never be comfortable playing something like that." However, as has been seen throughout history, it can be the crazy and different ideas that end up yielding a positive end result. There certainly is something amusing about grabbing a 5-iron from the bag and knowing that it is a little shorter than one's previous 5-iron. This feeling is similar when getting ready to hit one of the wedges, the entire look at the onset is one that might cause a double take. One of the beautiful things about golf is that when it comes to equipment, it is a performance based business and with all of that in mind, it's time to take a look at how exactly these new Cobra irons performed. For the purpose of this article, the set configuration tested was the Cobra F7 ONE Length 5-GW equipped with the stock Fujikura Pro 63i graphite shaft in stiff flex.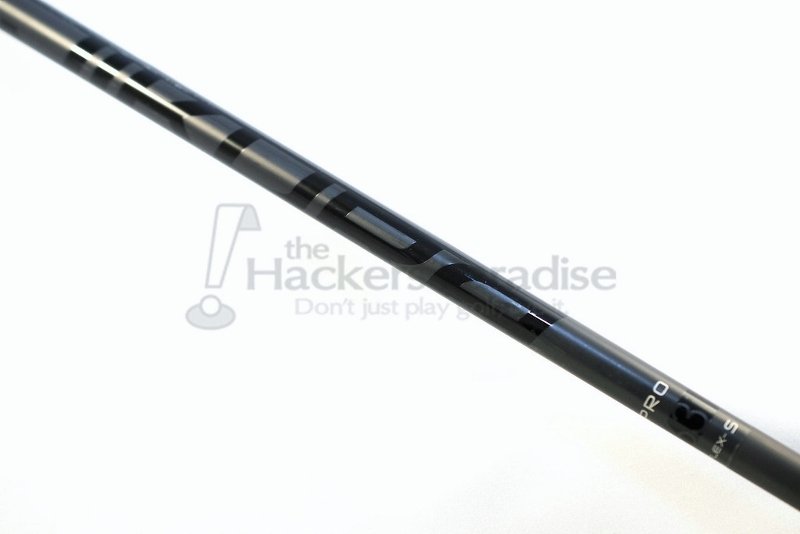 When heading out to the course with these, the number one thought on the mind wasn't if there was going to be any awkwardness (which there was), but instead focusing on yardages and what types of gaps would that leave in the bag. Overall, both areas were pretty well received, although there was a caveat or two.
Cobra has mentioned how this iron set will help golfers achieve a one setup system, which should lead to some more consistent results. Along with that one setup, there was an area in which time was spent tinkering with the ball position. Under the ONE setup, ONE swing philosophy it's feasible to believe that every shot should be played from the same ball position. Through testing though, the best results came when shots were played from a more normal ball position for that particular iron shot. For that player who likes to help control ball flight by adjusting ball position, that was still possible, however when it came to the wedges it was a bit more challenging. Eventually a comfort level was made with those adjustments, and those half swing shots with the GW became a shot that was never feared. Just like with all of the other intricacies with this set, it takes a bit of time to get used to.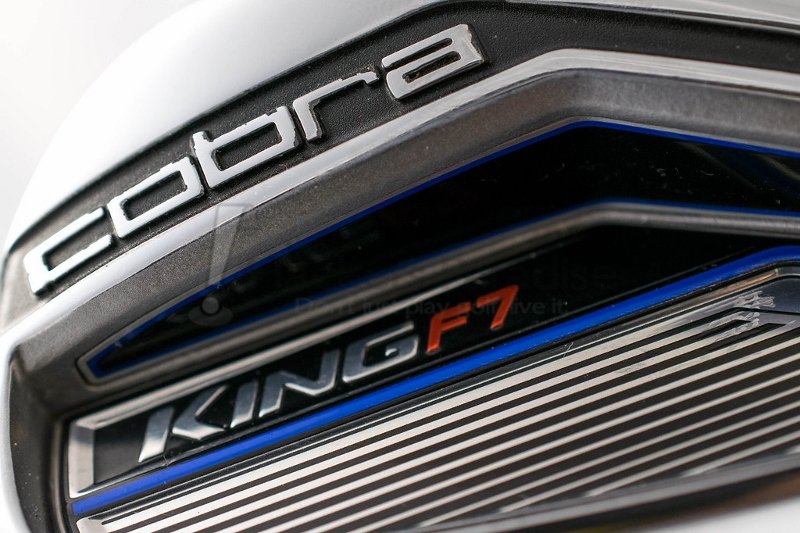 In terms of distance, for the most part clubs hit the numbers that they were expected to. When it came to the 9-iron thru GW, there was a bit of increased height, which helped get shots to land very softly on the greens. To go along with the added height, there were a few extra yards that seemed to come with it, but nothing crazy. Distance and gapping numbers really held their own until the longer irons came in to play. Below is a chart which illustrates how well these clubs did in fact gap with each other. Just going off of this chart, it's pretty easy to tell where things went awry.

Where the struggles came in to play was down towards the bottom part of the set, mainly with the 5-iron. For someone who does not normally play or use a 5-iron all that often, the idea of a single length set ramps up the level of intrigue. Based on the idea that these irons produce a one setup, one swing thought, it should, in theory, help the golfer who might shy away from a longer iron. Unfortunately, testing proved that theory wrong, as this club was still just as mysterious as others of its ilk. Where this one club excelled was that misses were generally straighter than 5-irons hit against it at a traditional length, and that's obviously not a bad thing. However, the struggle became achieving a higher ball flight to produce enough of a distance separation from the 6-iron. On most of the shots with this club, the ball flight was lower, enough so that it was noticeable by the naked eye.
Quite frankly, there is a lot of information to take in about the Cobra F7 ONE Length irons, because after one gets through all the discussion surrounding the one length idea, there is still a progressive iron head design that certainly deserves some focus as well. Earlier in the article the TECFLO head stylings were highlighted for both their body styles and for how the research and development team had to manipulate the weight in each head. To their credit, going from iron to iron, Cobra has done a fantastic job of making the iron set flow together nicely, not just in looks, but also in the sound/feel department. Shot after shot, the sensation that is provided is so similar, that golfers will be hard pressed to tell what kind of club construction they are hitting. Even with graphite shafts, the feel from these irons is a bit on the firm side, but stop short of being harsh.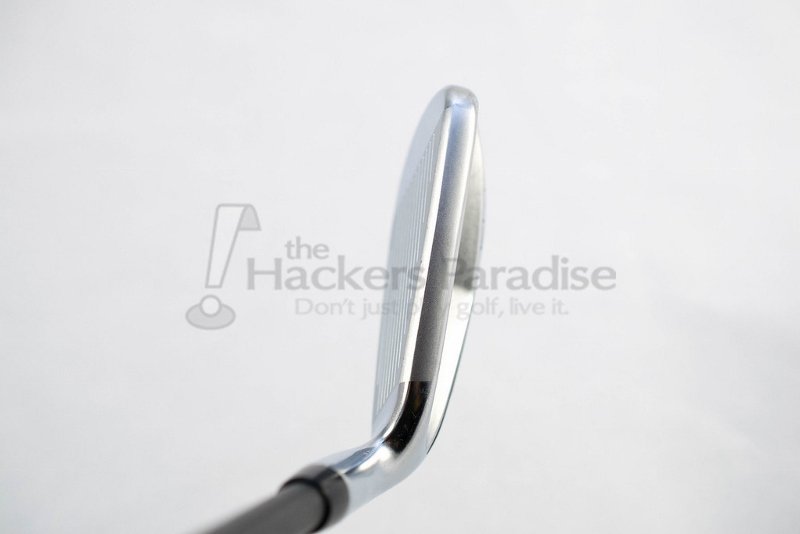 Conclusion
Perhaps there is not an iron set on the market that requires a proper trial or demo period like the F7 ONE Length irons.  Seeing the different reactions to everyone who has taken a swing with these, some enjoy how the long irons play and look while not enjoying the scoring clubs, and others are the exact opposite. Even though Cobra is talking about how this set breeds a consistent shot setup, everybody who has spent time on the course knows how much a mental game golf is.  So now the question is, are you the type of golfer who can clear the mental hurdle of playing a set of irons that is completely different than you ever have before? If that answer is yes, then these irons are absolutely a must try. If not, Cobra has the same F7 irons available in traditional lengths as well, with both sets coming in at a price of $699.99. More information on these irons and rest of the F7 lineup can be found at www.cobragolf.com.