Back in August of last year, Cobra introduced a new collection to their lineup called F-MAX that offered what they called their most forgiving line of clubs the company has ever created. Today they are unveiling the next iteration of that lineup called F-MAX Superlite. Building off the success of the original F-MAX family, the new lineup is designed to be the lightest and easiest hit collection of clubs on the market. The goal being more speed and easy launch brings more distance than ever before. Before we get into each piece or piece of equipment, let's take a look at what is available.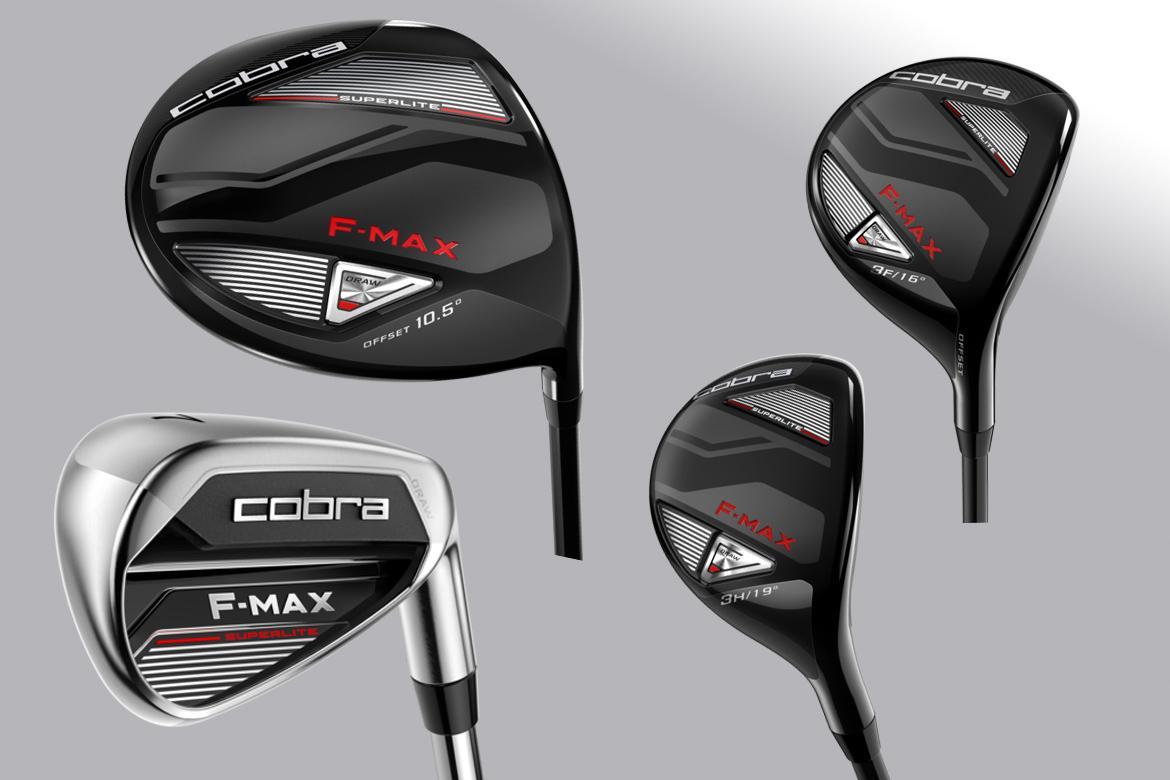 Cobra F-MAX Superlite Driver
Coming in at 6 grams lighter, while still maintaining higher MOI, the F-MAX Superlite is the lightest driver head Cobra has in their product line. Combining that with a lighter shaft and a lighter grip has brought this driver to a full 18 grams less than the previous model. Here is a look at the features.
Oversized Clubhead Shape
An oversized address profile increases forgiveness by reducing twisting of the clubface on miss-hits, for more consistent, accurate drives.
Forged Titanium E9 Face Insert
A thin forged 6-4 Titanium face insert is designed with E9 Technology, a variable thickness face structure that enhances ball speed and distance on centered and off centered hits.
Crown Alignment Feature
A subtle crown alignment design assists players with a square set up at address without being a visual distraction.
Back/Heel CG Weighting
An internal weight pad strategically positions weight low, back and towards the heel to deliver higher launching trajectories and straighter ball flights.
Hosel Options
F-MAX Superlite Driver is offered in player's choice of an offset hosel that promotes a draw-biased ball flight, or in the straight-neck design for golfers preferring a more traditional look at address.
"We are very excited about this driver; we've been able to engineer an incredibly forgiving, powerful club and keep the overall clubhead weight to less than 300 grams," said Tom Olsavsky, Vice President of R&D for COBRA Golf. "The F-MAX Superlite Driver will be the perfect solution for players who need the added speed of lightweight design without sacrificing forgiveness; those that will benefit from having a club that allows them to maximize their swing speed and launch angle."
Available in both right and left-hand versions with a 45-gram Superlite shaft in stiff, regular and lite flex. Comes in a sleek black/red colorway. Player's choice of offset or straight neck hosel comes standard. Available lofts include 9.5°, 10.5° and 11.5° in right-hand and 10.5° in left-hand. Cost $299.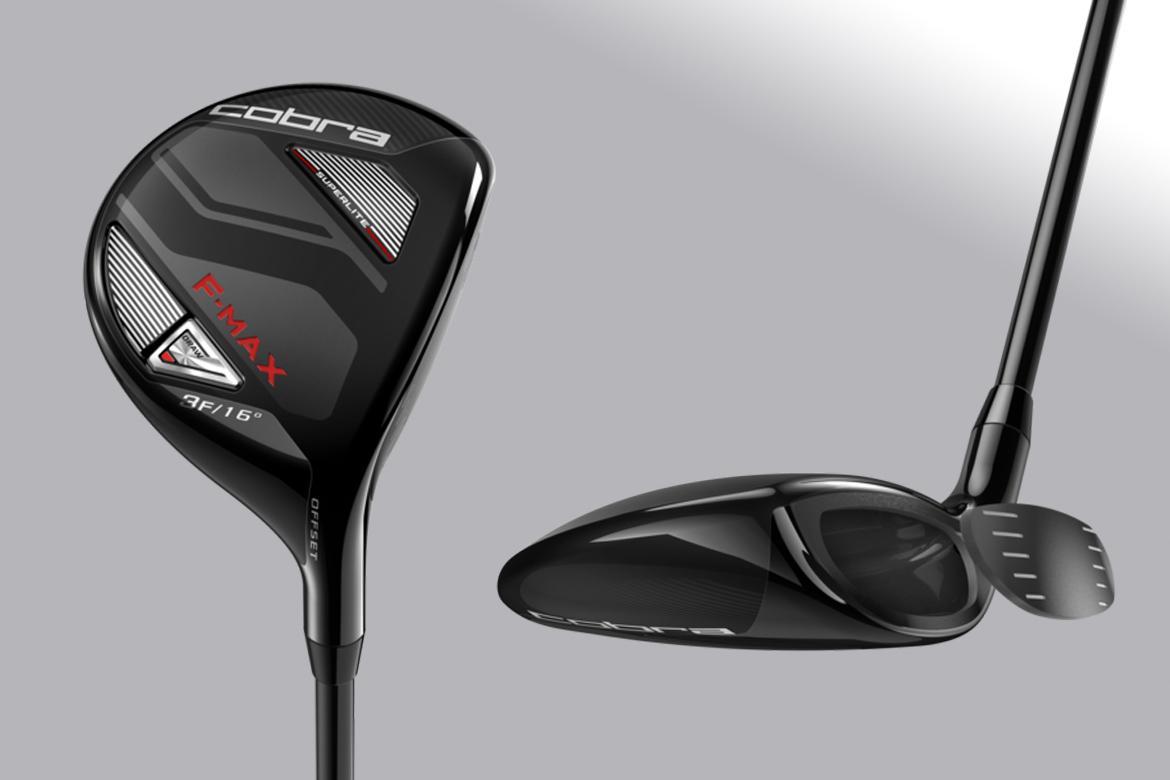 Cobra F-MAX Superlite Fairway Woods
Using the same weight saving methods as the driver, the fairway woods feature a low profile in depth and shallow face design. This can offer some performance benefits, especially for those that struggle to use deeper models directly off the turf. The shallower club head features a high-strength forged 455 stainless steel face to maximize ball speed, and should be confidence inspiring at setup.
Available in both right and left-hand versions with Superlite shafts (55-gram in stiff and regular flex, and 50-gram in lite flex). Comes in a sleek black/red colorway. Available lofts include 16°, 20° and 23° in right-hand and 16° and 20° in left-hand. Cost $199.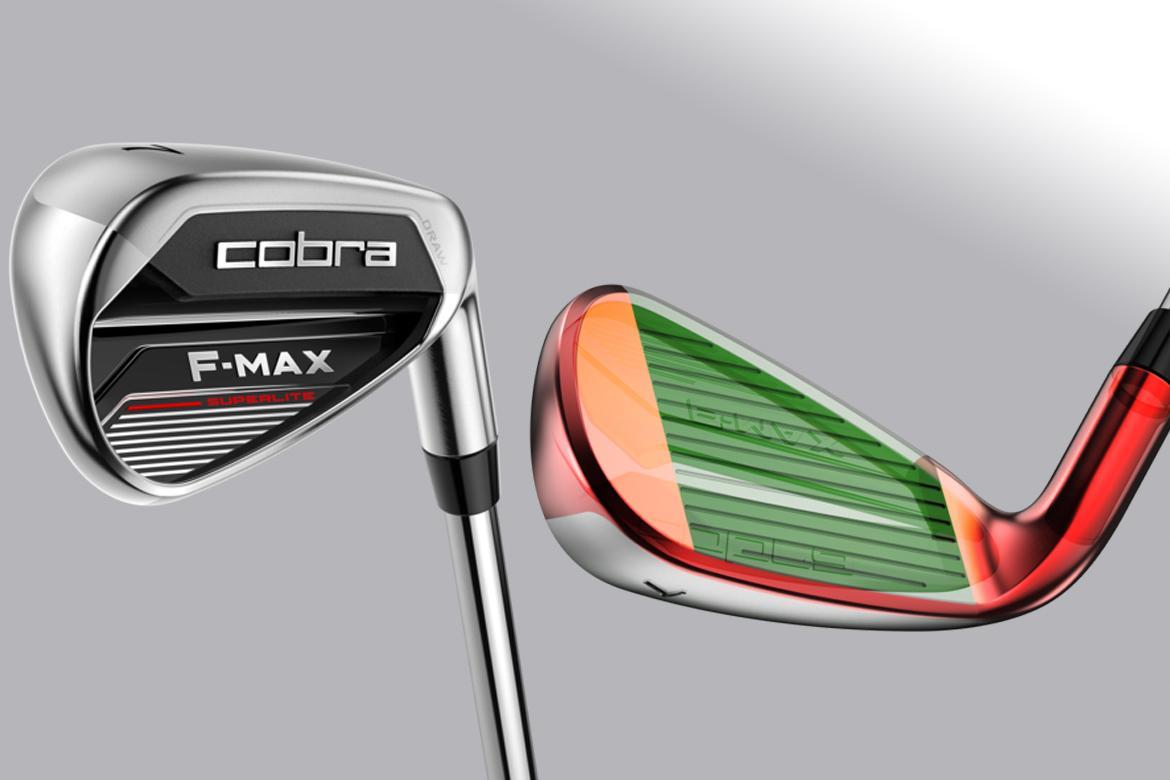 Cobra F-MAX Superlite Irons
Following the same trend as the metal woods above, the F-MAX Superlite Irons were re-engineered and save 16 grams from the previous version including a club head that is 4 grams lighter than its predecessor. Here is a look at the features.
Optimized Center of Gravity
Progressive hosel lengths strategically position the CG (Center of Gravity) in each iron to produce the desired launch and trajectory. Shorter hosels in the long irons lower the CG to promote higher launch and distance, while taller hosels in the short iron wedges raise the CG to promote lower, controlled trajectories.
Progressive Offset Design
Gradually increases from minimal offset in the wedges and short irons that require more precision to maximum offset in the long irons where increased launch & right to left draw bias.
Low CG/High MOI Design
Weight is positioned in the low heel and low toe areas to increase forgiveness and stability on off-center hits for straighter, more accurate approach shots.
Low Profile with Deep Undercut Design
A low profile shape paired with a deep undercut cavity design work in unison to get the ball airborne quicker, increase ball speeds and create easy launch to optimize carry and overall distance.
Specialty Wedge Design
A specialty wedge design in the GW and SW provides added versatility and shot control around the greens.
"Building off of the success of our original F-MAX lightweight design, we've reengineered Superlite to be our lightest, fastest and most forgiving game improvement clubs ever. Any player with a moderate swing speed will benefit from the design innovations in this product line," said Tom Olsavsky, Vice President of R&D for COBRA Golf.
Men's Steel Irons – 7-piece, stock 5-PW, GW set features a KBS Superlite steel shaft in stiff and regular flex; a graphite offering is available through custom, utilizing a COBRA Superlite 55 gram shaft in stiff and regular and a 50 gram shaft in lite flex; both available in right-hand and left-hand versions. Cost is $599.
Men's Graphite Combo Set – Two stock 7-piece combo set offerings feature 4H, 5H, 6-PW in regular flex and 5H, 6H, 7-PW, GW in lite flex; both sets come with a COBRA Superlite shaft (55g in regular flex and 50g in lite); available in both right-hand and left-hand versions. Cost is $699.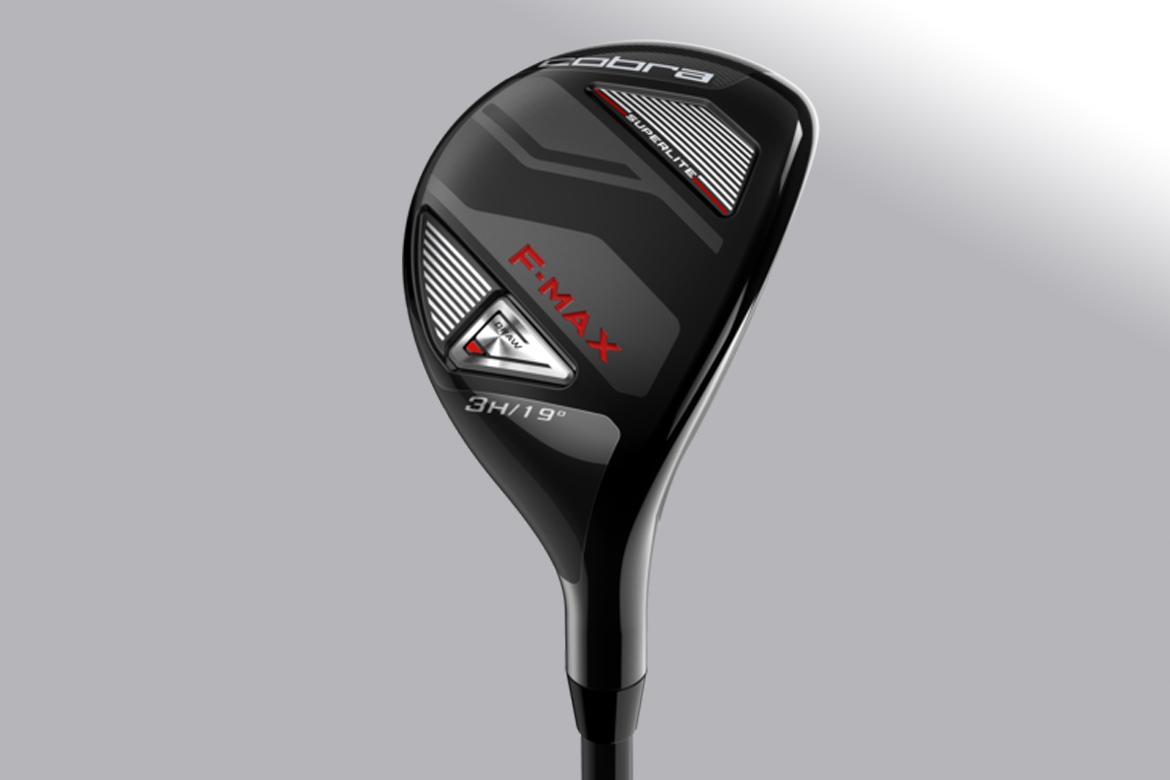 Previously mentioned hybrids are not only available in the combo set, but also on their own. Following the theme in this story, they have a light weight club head, shaft and grip to go along with the same forged 455 high-strength stainless steel insert to keep consistency in speed across the face. The center of gravity is deep as well as heelward to deliver a high launch and this goes hand in hand with the offset hosel design that will help the golfer that misses to the right (RH player).
The men's F-MAX Superlite Hybrids are available in 3H (19-degrees), 4H (22-degrees), 5H (25-degrees), 6H (28-degrees) and 7H (31-degrees) of loft and cost $179 each.
We will have a lot more coming on this line in the THP Forum including in hand player testing. Stay tuned.