Back in late 2015, Cobra Golf launched the new KING Forged TEC irons, combining the distance and forgiveness most golfers' crave in a sleek package. Today they are unveiling the KING Forged TEC Black irons in both variable and ONE length sets. The previous set was very well received, but early feedback on the new version show off a bit more than a cosmetic change.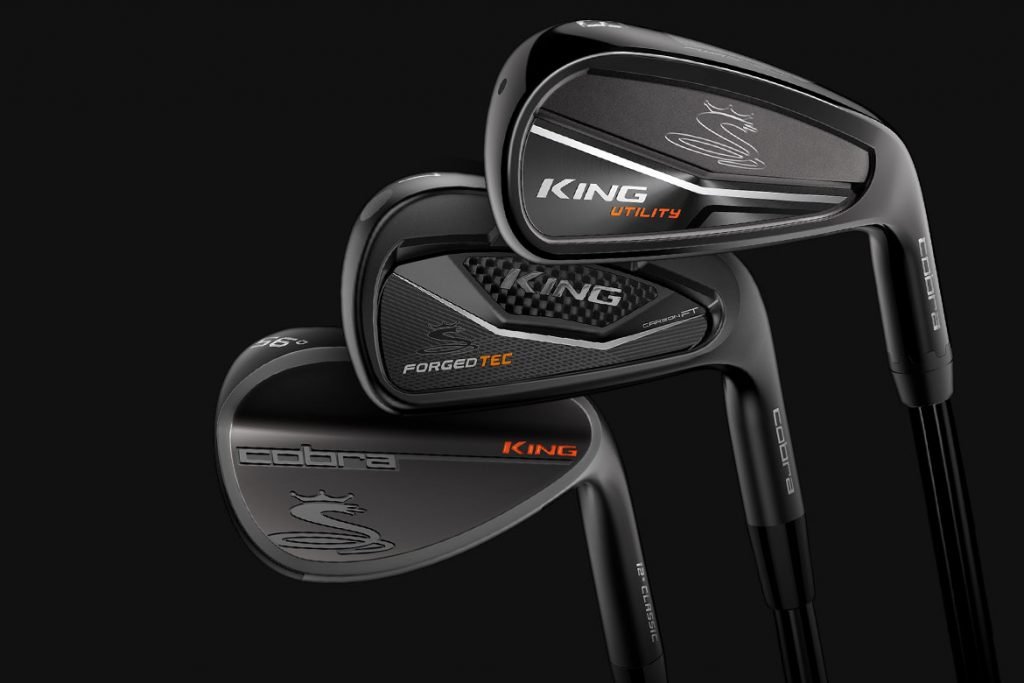 Like all 2018 Cobra KING equipment introductions, the KING Forged TEC Black will feature COBRA CONNECT. The system, powered by Arccos, provides a level of analytics that can help gain insight into your own game. The set if fully integrated together and connects with your smartphone to provide all of the statistics you would ever want, along with GPS distances to over 40,000 courses.
"Better players are going to love the combination of soft feel, tour-level precision and maximum playability that the KING Forged TEC Black irons provide," said Tom Olsavsky, Vice President of R&D for COBRA Golf. "With some incredible new innovations, these irons will allow golfers to get dialed-in for more greens-in-regulation and better scoring, while maintaining their sleek look round-after-round."
The Irons
There are some similarities in looks to the previous iteration, but don't let that fool you. Both the KING Forged TEC Black and KING Forged TEC Black ONE Length irons feature an all-new Forged 4140 Stainless Steel face that is thinner by design, to offer increased ball speed across the entire face. The cavity, which Cobra calls Technology Enhanced Cavity (TEC) shows off a carbon fiber insert that adds to a soft feel and muted sound at impact.
The darker finish is called DBM, or Dimonized Black Metal, and it is being called the most durable black finish ever made available. We got a chance to speak to Jose Miraflor about DBM on their new KING Black wedges here.
The new KING Forged TEC Black irons have Tungsten weights that are placed on the heel and toe of the club head. The goal here is to lower and center CG (center of gravity) to add a level of precision, while offering improved forgiveness.
The ONE length version of this set is new this year and like the KING F8 ONE Length offering, Cobra has manipulated the design of each iron to match the weight and length of a 7 iron. Progressive Tungsten sole weight in the mid and long irons, as well as adjustments made to lie angles are all just parts of the transformation to be able to offer this in the ONE length configuration.
The new irons come standard with a true after market AMT Tour White shaft from True Temper, which has been finished in black to complete the overall package. Progressive weighting in the shafts will help promote higher launch in the long irons with more speed and they get heavier as you move to the scoring irons where precision is a must. The graphite option is also available with the UST Mamiya Recoil 760 ES SmacWrap, which has been getting rave reviews from THP Forum members.
The Details
Cost: $1,099 for 5-GW
In Stores: April 6, 2018
Dexterity: RH or LH
Grips: Lamkin ACE Crossline with Cobra Connect
The Utility
In the image above, you can see the Utility iron, along with the wedges (discussed in the video) and the irons. Available in both traditional or ONE Length varities, the KING Utility Black Iron features a full hollow body construction with what Cobra calls a PWRSHELL Face that uses a forged 455 high-strength steel insert that is designed to get consistent ball speed and launch across the entire face. A multi-material construction that is hollow body by design utilizes a tungsten toe weight and unsupported face that brings the center of gravity down for more launch and distance.
The KING Utility Black Iron is availble in 3u, which has a loft range of 18-21 or 4u, which ranges from 21-24 and comes equipped with a UST Mamiya Recoil 780 ES SmacWrap shaft. Steel is available through custom ordering if preferred. The ONE Length version is also available in 5u, with a loft range of 24-27.
The Details
Cost: $219
In Stores: April 6, 2018
Dexterity: RH
Grips: Lamkin ACE Crossline with Cobra Connect
Looking for a chance to pick these up at a discount price? THP has a Budget Golf coupon on the right side of this page and you will find the new lineup on the store when they become available in April.
Let us know your thoughts on the new lineup in the comments below, or join us for the conversation on the THP Forum here.