Two release cycles ago, Cobra came out with a head unlike others we have seen.  Their technology advanced to the point where they could eliminate large amounts of headweight by wrapping carbon around the traditional 'edges' and provided extreme weight saving opportunities alongside a milled face that promoted consistency.  They took it a step further in their next release by sending that milled face through the hard edges of the crown and sole to promote better aerodynamics (and let's be honest, less chance of skymarking), with a brilliantly designed metal exoskeleton that further promoted weight efficiencies.  It is simply hard to fathom how you can build off that kind of design. Enter the Cobra RADSPEED Drivers.
A name that absolutely begs to be explained because it is somewhat out of left field after "F9 Speedback" and "Speedzone" by comparison. Where does it originate? A concept we as basic consumers are probably unfamiliar; "Radius of Gyration."
If you ask Cobra what that means (I thought about Googling but decided to commit to their smart people definition), "The distance away from an object's geometric center that an engineer or designer can position mass or a technology. The further away from the center it is, the better the performance gain." In short, locating weight away from the CG offers different benefits. The more forward, the higher the ball speed. Going lower promotes the lowest spin. It seems like that critical give and take between forgiveness (MOI), spin, and speed.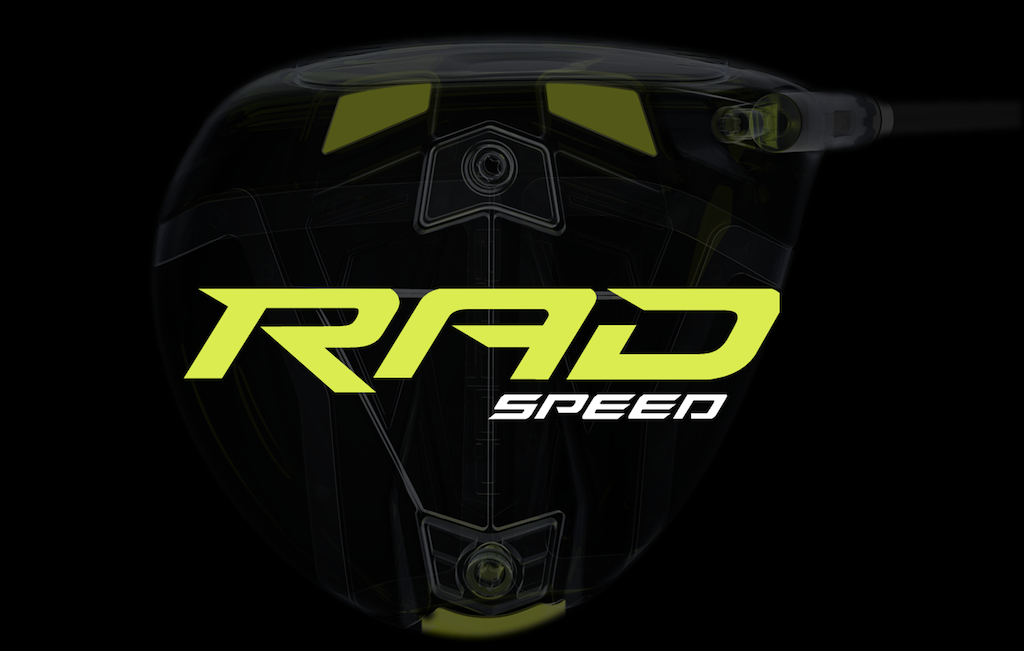 Now that we have mentally unlocked what radius of gyration is, and can only assume based on "RAD" that it is a big part of this release, where does it come into play? For Cobra, it came down to their engineers finding the perfect blend using extreme weighting to maximize the critical elements of performance for all types of players, continuing their trend of low back weighting but also taking into consideration extra weight low and forward to gain on that ball speed metric. And, for the benefit of our golf swings, have three heads to deliver performance where we need it.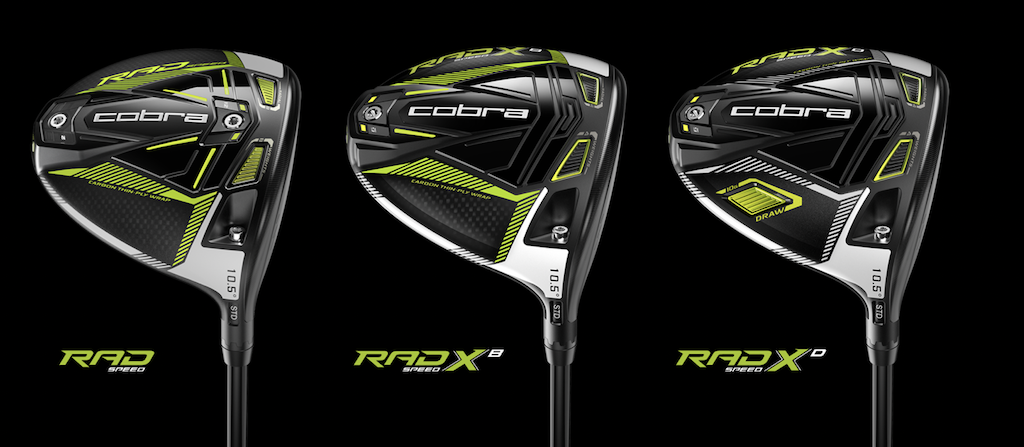 First, RADSPEED- the primary source for ball speed and low spin workability. This head is designed for the better player hunting for maximum performance with extra weight forward by comparison. Taking full advantage of their TBar Speed Chassis, they were able to save enough weight to get apply 16g of locked weight in the front of the head, with 8g locked into the back. Weight ports of 12g in the front and 2g in the back (that can be changed out) produce in total, 28g forward and 10g in the very back of the head. It will be available in 9.0 and 10.5 degree heads.
For RADSPEED XB (or 'xtreme back"), the design lends itself more to forgiveness while maintaining solid speed. In this head, the near-to-face weighting is dropped to 8g and a whopping 14g of secured weighting in the back, with a 6g movable weight. This is definitely looking like the next generation of the Xtreme lineup for those who enjoyed the forgiveness and support of the last offering. It will be available in 9.0, 10.5, and 12.0 degree heads.
Finally, RADSPEED XD (or 'xtreme draw") – built on the same basic platform as the XB but have moved 10g of radial weight to the heel side halfway between the hosel and the back of the head to promote a draw bias. There are still 8g of weight locked into the front and 8g in the back, with a 6g movable weight. It will be available in 10.5 and 12.0 degree heads.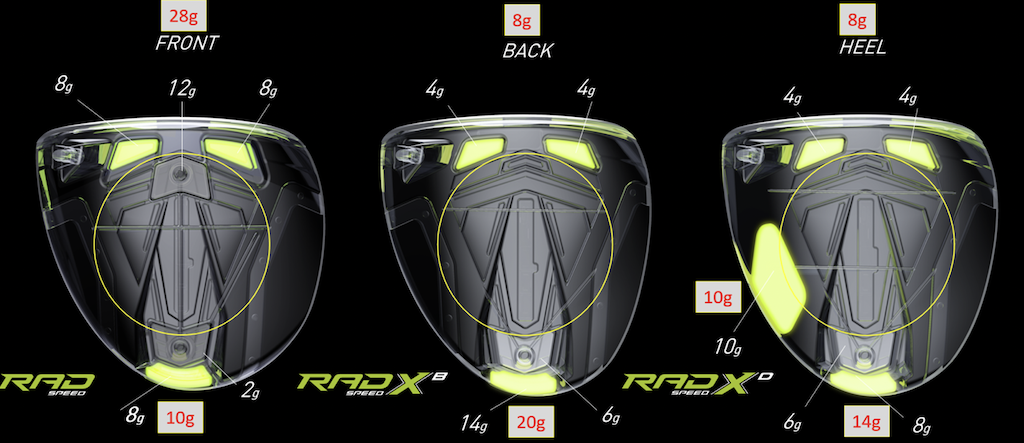 It is an awful lot to take in, but the basic reality is, Cobra has taken radial weight placement with their new driver head, and allocated weight to places that promote benefits for all levels of golfers. They were able to do this because of new carbon wrap technology that saved six grams of weight from the crown, and continue to promote consistent performance with their infinity face, which is a 25 minute milling process that results in a level or precision that greatly exceeds hand polishing. Continuing from previous models, the dual roll tech (where the face operates slightly different when hit high vs low), and their tri bulge face (basically autocorrect for golf balls) are still very much present. Slight improvements to the face milling came from solid tour feedback and additional research, which include the decision to introduce a horizontal milling pattern in the central location for moisture management, and a new laser etching of the central circle and infinity logo to further support that moisture control.
It would not be a Cobra driver release, however, without discussing color. To continue with their last couple models, they have added a fresh version of the yellow using what they call "turbo yellow" as an option, offering a matte black in the RADSPEED head, and gloss black in the XB and XD offerings. While this type of discussion will be a totally personal perspective, I believe the yellow they selected was a great transition from former offerings. A little livelier, more 'current' so to speak.
Additionally (and from my perspective the greatest thing ever), they have brought in their ever popular peacoat blue color for the RADSPEED and RADSPEED XB heads. A perfect combination of blue, white, and red accents compliment the overall presentation and present two outstanding cosmetic choices for consumers looking for variety in the RADSPEED and RADSPEED XB heads. Anyone who is familiar with Puma knows that Peacoat is a popular color throughout their apparel, and it makes perfect sense to bring that subtle yet solid presentation onto a driver. For the first time, I am not totally for one color and indifferent on the other. This is about two great choices, and it would not surprise me to see people feel the same way (although the right answer is of course, blue).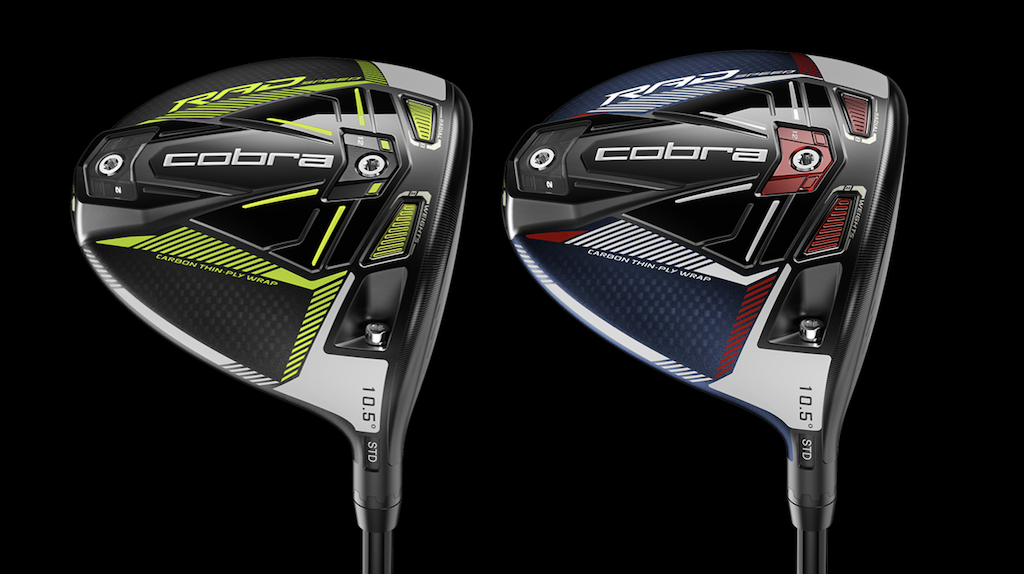 Each setup comes with a couple popular shaft options, Cobra connect in the grip, and tour length will return with the RADSPEED head. On the junior head, Cobra is still honoring the free shaft upgrade which is a great feature. MAP for all three heads is $449.
I for one am incredibly excited to give RADSPEED a try. F9 came in with a bang, redefining what could be done with carbon fiber, and showcasing that there are numerous ways to achieve consistent performance off the face of the head. They doubled down on Aerodynamics for Speedzone, and are now going another direction to make sure that we as golfers make only the concessions we need to promote the performance we seek.
The Details
Available: January 29, 2021
Price: $449
Website: www.cobragolf.com