Has Cobra Golf gotten your attention yet? Cobra RADSPEED Irons should.
You would be hard pressed to find a company that is pushing boundaries as hard as Cobra is, and not only that, but literally creating new ones with never before seen processes and design applications in golf.
Well, fresh off the heels of releasing a fully 3D printed putter, THP rundown can be read here, they are bringing that application and much more to their game improvement iron release this year. If you have been paying attention, then you know that the feedback from THP'ers as well as golfers everywhere on the last two entries from Cobra in the F9 and SpeedZone irons has been nothing short of superlative. So how to you follow that up? You get RAD.
Cobra RADSPEED Irons
Yes, RAD. No, they didn't take radical and create some lame attempt at being fun or some such shenanigans. In 2021, the RAD in RADSPEED stands for Radial, as in radial weighting and Cobra's deeper knowledge of weight placement and what it can do in terms of performance and forgiveness in the segment which golfers put it to the test the absolute most.
The SpeedZone irons were one of the fastest and most playable iron sets on the market last season, but Cobra believed they could do better, not just in performance via the weight placement, but also how the placement could allow them to improve the shape and profile. The shape has changed from the SZ's, most notably Cobra is touting a rounded trailing edge with a better radius and blending which makes for a cleaner, faster, and more slim appearance which should make the RADSPEED more interesting to a wider range of golfers. The soles definitely look thinner based on what we have seen, but there are four other aspects which must be delved into as well.
First, the Carbon Fiber topline introduced in the SZ irons is returning. Yes, it was a departure compared to, well, every other iron on the market. With that, some struggled to acclimate to it visually, but the performance benefits were real with the weight savings it offered without sacrificing stability. This year, they have moved to a black carbon fiber which Cobra believes give the irons topline a thinner look overall. Thinner soles and thinner looking topline should definitely gain the irons more eye appeal.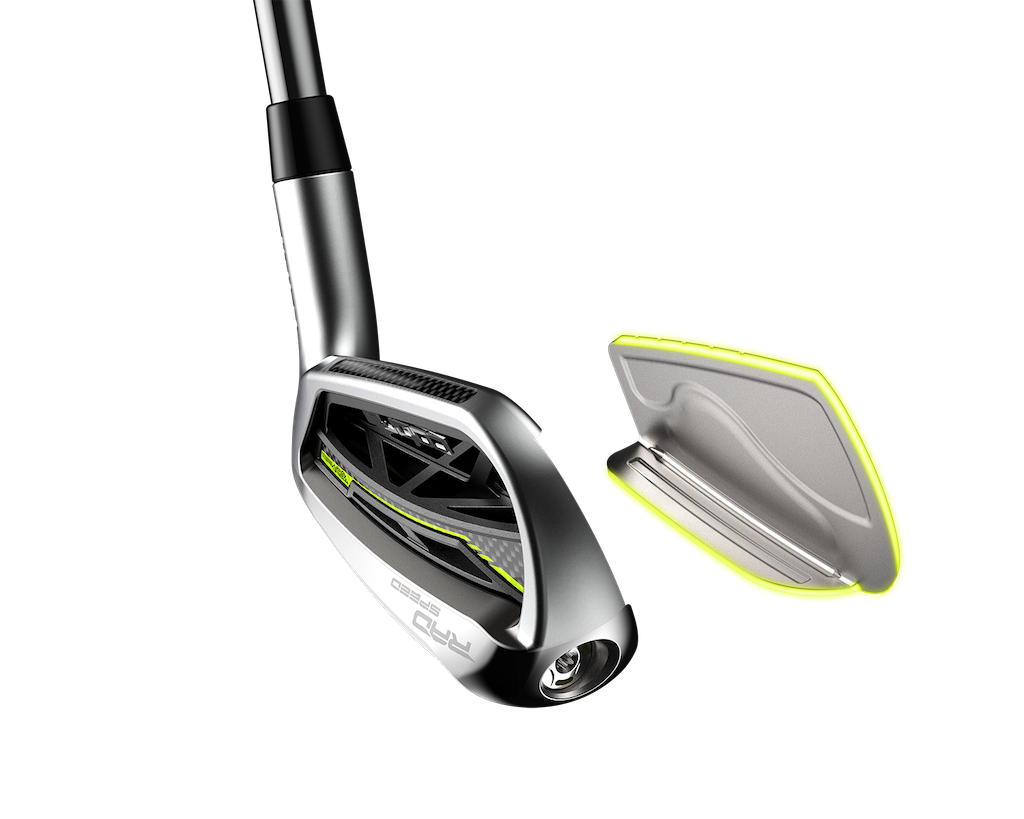 The initial performance aspect with the RADSPEED irons is PWRSHELL. I have been on record for years stating that Cobra does not get the credit that they should for PWRSHELL. This is in my opinion the engine of Cobra irons, and it is a powerful one. The design consists of their E9 variable face thickness and L-cup forged face which now feature a deeper flange on their internal speed channel for more flex, which means more speed.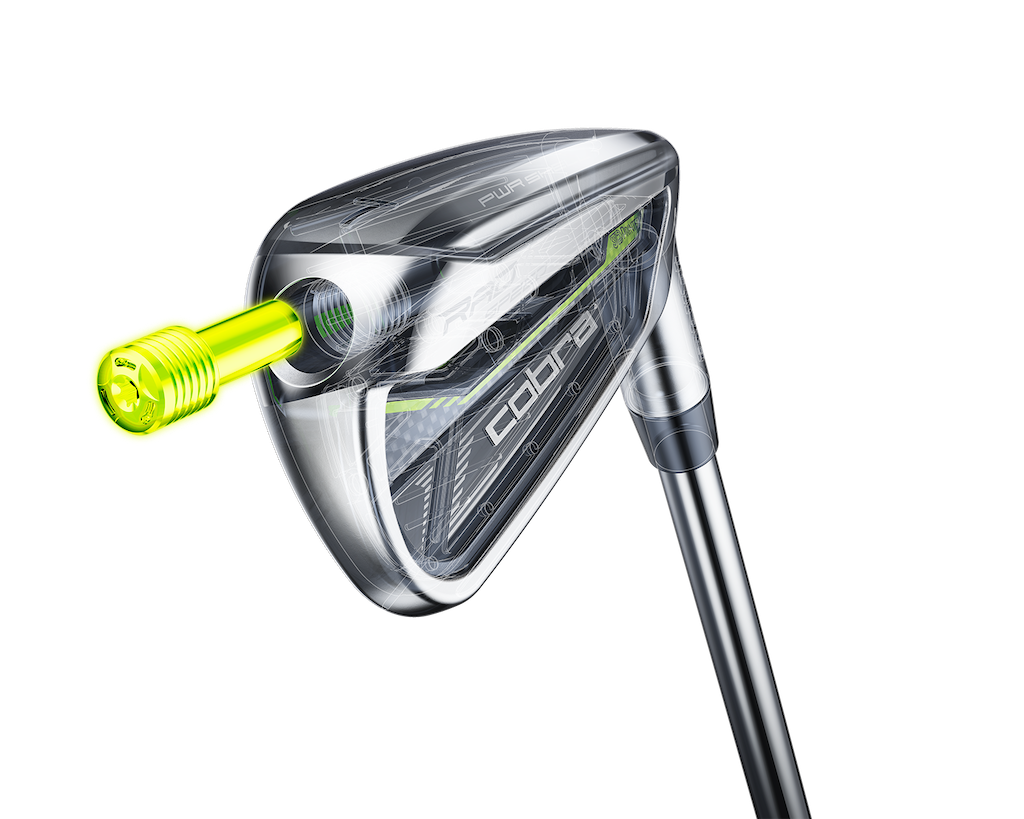 Radial Weighting is the biggest part of the story here, as it should be since it is the root of the RADSPEED name. As mentioned, Cobra did a ton of research into how and where the weight placement in the iron can make them more playable. What they found is by placing the weight in the extreme heel and toe, the furthest points from the center of gravity (CG), they could then optimize speed, forgiveness, and directional control. Thus, Cobra has added 3g of weight to the heel and 10g to the toe of each iron in the set. The heel weight is set internally, but in the toe, Cobra is using a screw. These two weights combined help put the CG precisely behind the hitting zone and add stability and forgiveness on misses. A very cool aspect to the toe weight is that it is adjustable from 4g to 16g for more precise fitting adjustments.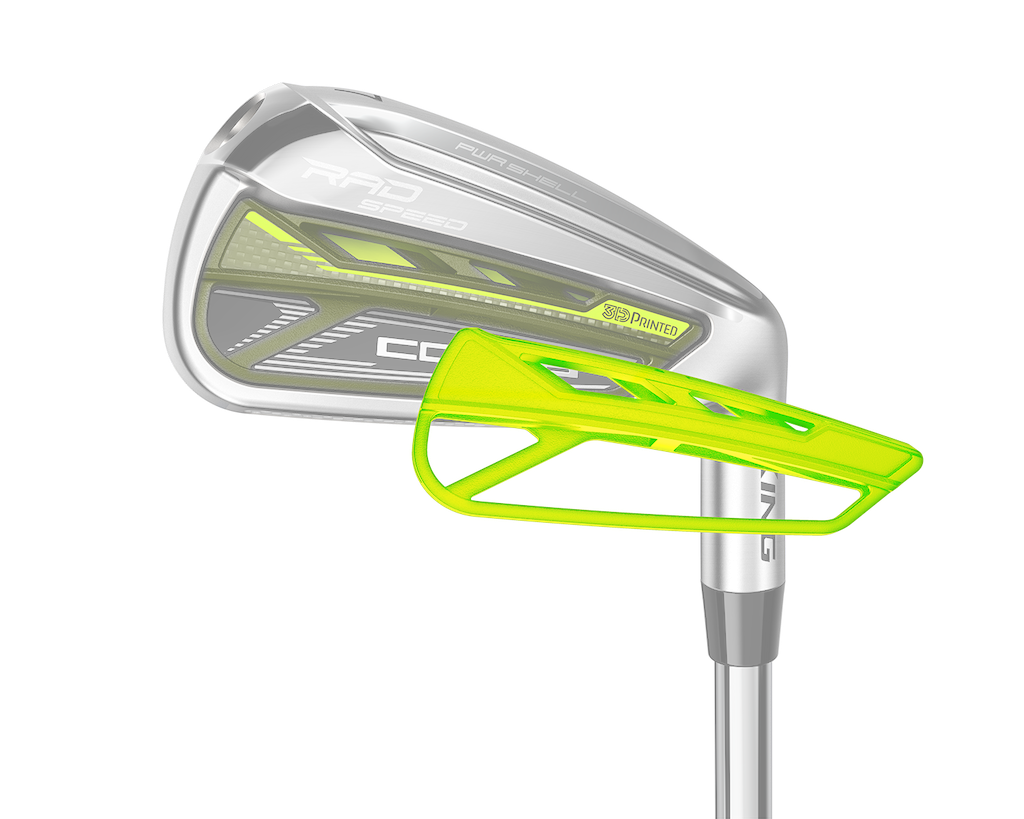 Finally, 3D Printing has come to a major golf manufacturers main club releases. While we learned all about the Cobra partnership with HP in the Supersport 35 putter release, this is taking it to a wider level. No, the whole club isn't 3D printed, but the medallion in the cavity is. This is one of the first applications of a 3D printed polymer in golf, and through a complex lattice structure Cobra claims to have saved 3-6 grams which was redistributed while maintaining all of the fine tuning and stability of the old methods. While at a glance some my roll their eyes at 3-6 grams but rest assured, that is a ton when it comes to golf design and has a true impact on what Cobra was able to do with CG placement in the RADSPEED irons.
The RADSPEED irons come standard in an all chrome finish similar to that of the SpeedZone and F9 irons before them, but in a move that will perk up some ears a black PVD version which features a chrome sole to decrease wear will also be offered via custom orders for a $100.00 upcharge. The stock pairings will be KBS Tour 90 in steel and the UST Mamiya Recoil 460ESX in graphite, paired with the Lamkin Crossline Connect which of course is powered by Cobra Connect and Arccos.
Specs on the Cobra RADSPEED irons are below:

But wait! There's more! YES, there is a One Length RADSPEED option coming as well, which you would absolutely expect and demand from the leader in One Length golf irons. The OL version features slightly wider soles and a lower CG in the long irons than the standard RADSPEED irons in order to optimize the launch/flight differentiation through the set. Additionally, lofts are a bit weaker in the 4, 5, and 6 irons. The stock shaft pairings here are KBS Tour 80/90/120 in steel and UST Mamiya Recoil 460/480 ESX in graphite, also with Lamkin Crossline Connect grips.
Specs for the Cobra RADSPEED One irons are below:

What are your thoughts on what Cobra is bringing to the table with its new RADPSEED irons? Do you plan on hitting them? Jump into the conversation below and let us know!
The Details
Release Date: January 29, 2021
Price: 5-GW (RH/LH; Steel – $899) or 4-PW (RH; $899), 5H, 6-GW (RH; $999)
Options: RADSPEED and RADSPEED One