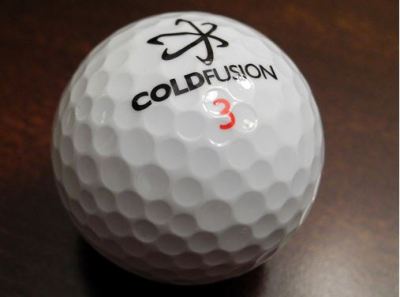 Never has the idea of a cold weather ball seemed more appropriate than right now, as the winter of 2014 has been positively brutal for a large portion of the United States and Canada. Many golfers turn to softer golf balls in the cooler months, but a company named Coldfusion has created a product that goes beyond that. Their Coldfusion golf ball is designed not only to perform in cold temperatures, but actually excel in them.
Product and Technology Information from the Company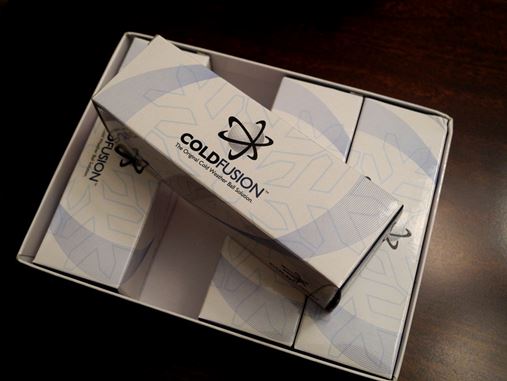 The "Original" Cold Weather Golf Ball Solution. When the temperature drops and your regular ball stops performing, switch to COLDFUSION to enhance your game. Golf is not always played in perfect weather. Finally you have a golf ball that outperforms other balls in less than ideal conditions. The ball also includes the ColdSolution Alignment Aid to improve setup.

Why a Cold Weather Ball?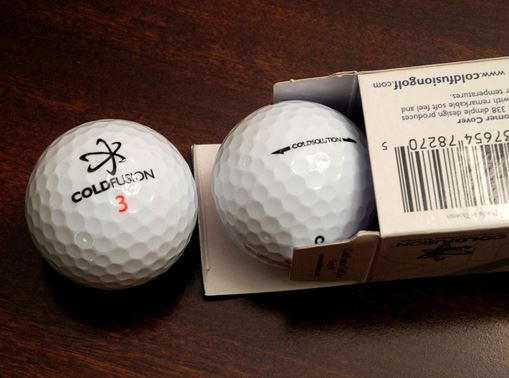 A common belief among golfers is that golf ball performance degrades as temperatures drop. While this is typically based on anecdotal evidence at best, Coldfusion cites Frank Thomas, a former USGA Technical Director, who "notes that for every 10 degree drop in temperature, you will lose from 2 to 2 ½ yards. At 40 degrees, the ball will travel about 10 to 12 ½ yards less that at 90 degrees."
Coldfusion set out to create a ball that performed best below 60°, and even goes so far as to say their product will still perform after a lengthy stay in a freezer.  In fact, they recommend their golf ball is stored cold and advise golfers not to use it in temperatures above 60°.
A two piece, large cored ball, the Coldfusion features an ionomer cover, like many other balls on the market. While this cover type will not provide maximum spin, it does typically come at a lower cost. In hand, the Coldfusion is decorated with the company's logo and name, with a simple alignment line on one side. The ball feels firm to the touch, as would be expected with any ball made of the same cover material.
Testing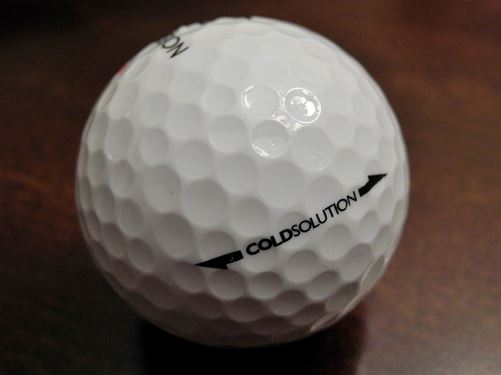 After some consideration, it was determined the best way to test the Coldfusion was to measure its performance both cold and at normal temperatures compared to other golf balls. As such, a selection of five golf balls (Coldfusion, Srixon Q-Star, Wilson Staff Duo, Callaway SuperSoft, and TaylorMade Penta TP5) were placed in the freezer for three hours and another five were left out at room temperature.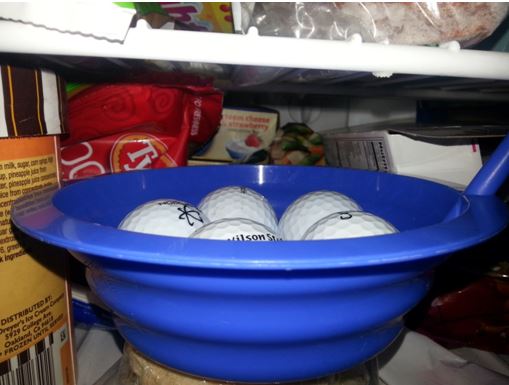 Testing took place using a Vector X launch monitor with a 4 hybrid and all balls were hit off of a tee. Since distance is a combination of many factors, including ball speed, launch angle, and spin, the primary focus for analysis wasn't purely distance. Fitting will often determine  how a ball performs for each person, so ball speed was the primary launch condition that was focused on.
Testing did in fact show that when frozen, the Coldfusion golf ball excelled. It produced on average 3% more ball speed than the next best ball, which was right around 3.5 mph. Compared to the worst performing ball, Coldfusion produced approximately 7.5 mph more ball speed, which is a substantial difference. At room temperature, it was almost the exact opposite, with the Coldfusion producing around 4% less ball speed than the best performer, or approximately 5mph.
As noted, other factors play into distance, but on average the Coldfusion delivered similar launch angles to every other ball, and slightly higher spin, which would produce a slightly higher trajectory. Partial wedge swings showed no notable difference in spin with any of the other non-urethane balls tested.
Special attention was paid to the feel produced by each ball at impact, and surprisingly, the Coldfusion wasn't considered the 'softest' ball, be it frozen or at room temperature. The cover of the ball, while similar to three other balls tested seemed to impart a clickier sound at impact, both with full swings using a variety of clubs and with a number of different putters (insert and milled). However, it certainly didn't impart the true 'rock' feeling that some cold weather golfers are familiar with, which was the case with the frozen Penta TP5. In fact, there wasn't any unpleasant feeling into the hands from any club, but instead just a higher pitched sound that may not be popular with some consumers. Still, the apparent increase in ball speed when frozen may make the sound at impact a non-issue.
Final Thoughts
With temperatures slowly rising and snow melting, this is the perfect time to experiment with a ball like Coldfusion if you are looking for a little bit more out of your golf ball on those chilly days. As noted, the company recommends you store the balls cold and play them cold. At $29.99, Coldfusion golf balls are priced at the top end of their category in the market, but those few extra yards may be worth it. For more information and ordering instructions, head to www.coldfusiongolf.com.