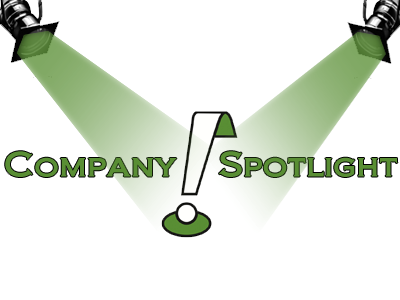 Earlier this year THP was able to get time with the spring 2014 apparel line from Devereux Golf. Devereux preaches a unique look both on and off of the course not focused on the flash or bright colors we are seeing so many companies go with, and with the most recent expansion of their lines they have continued to focus on their apparel being applicable in the day-to-day lives of golfers.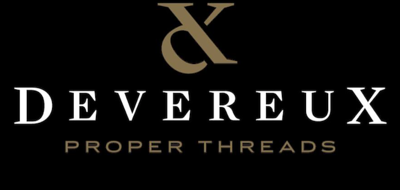 About Devereux:
Meet Devereux, a contemporary new line of men's apparel that gets it.
We understand the fashion challenges faced by men today, because we feel them too.
Whether out on the course or out on the town, you want proper threads. We went looking for clothes that could bridge the gap between modern men's fashion and progressive golf styles.
But we came back empty-handed.
Armed with determination and inspired by Hogan, Palmer and Player – great players and great dressers – we set out to create what we could not find.
The stuff legends are made of.
And in 2013, Devereux was born
The brainchild of Robert and Will Brunner, brothers and avid golfers, the Devereux collection is premium-quality modern menswear that fits your lifestyle while keeping you in-style and authentic.
Simple-yet-sophisticated pieces in contemporary colors and Superb attention to detail – are as easy to pair as they are to wear. Clean modern styles are designed to fit properly and inspire performance, both on and off the course. Specifically tailored to move seamlessly from workday to weekend and beyond, the Devereux line is all about modern sophistication, everyday elegance and simple versatility. Clothes you can wear confidently, comfortably and above all – they make you look as great as they make you feel.
Featured Items:
THP was able to sample two shirts from the newest portion of the Devereux collection for this spotlight, the Brunner and the Charles.
As with all of their shirts, the Brunner consists of a 65/35 Pima/Poly mix. Overall this is one of the simplest designs they offer, as it maintains a single color selection. The one THP received was "Claret" (maroon), but this design is also available in "Caviar", "Steel", "Evergreen", Navy, and White.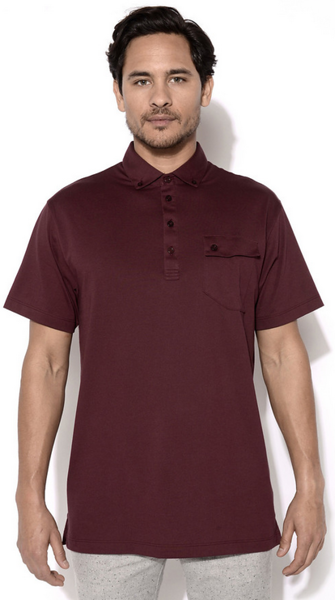 The design itself is extremely clean and simple, especially with a single color motif. Additionally, it features a button down collar, which adds a business-like look while maintaining a nice casual edge. It works just as well with jeans as it does golf pants/shorts. The fit was true to size with a modern athletic type cut to it, which the company refers to as "tailored" (not a slim fit).  Just as with THP's look at the previous line from Devereux, the Brunner wore well through multiple washes with no seam, bleeding, or piling issues. Retail price on the Brunner is $84.95.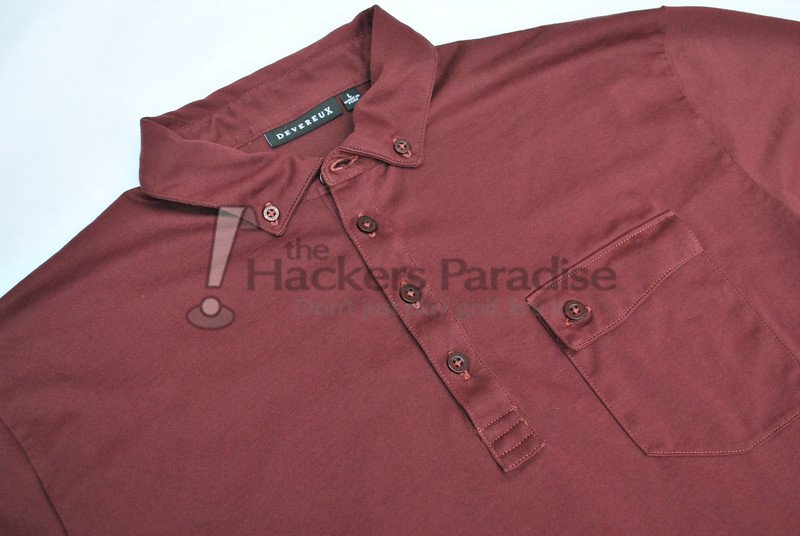 The Charles is a 65/35 Pima/Poly blend that features a main color on the body of the shirt and a stripe across middle in an accent color. Additionally, three of the four color options have a second accent color on the collar and sleeves. THP was sent the Navy/Evergreen color option; however this particular design is also available in Steel/White/Caviar, White/Claret/Caviar, and White/Evergreen/Caviar".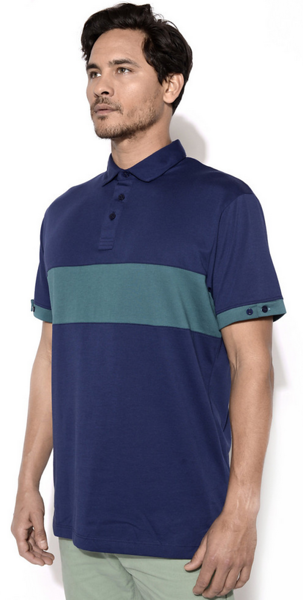 Devereux addresses the Charles as a "timeless and colorful piece" and it features some very cool aspects, such as the dual buttons and tab on the outer cuff of the sleeve. As with the rest of their offerings, the shirt is a very nice weight thanks to the material blend and it wore just as other pieces of the line have, with no piling or stitching issues. The Charles also features the Devereux standard modern athletic cut and fit true to size. The overall design of this one may be more hit and miss with people of certain body types however with how low the stripe sits on the shirt (right in the middle of the upper body). With that said though, it still hits their aim of being casual and golf attire applicable. Retail price on the Charles is $89.95.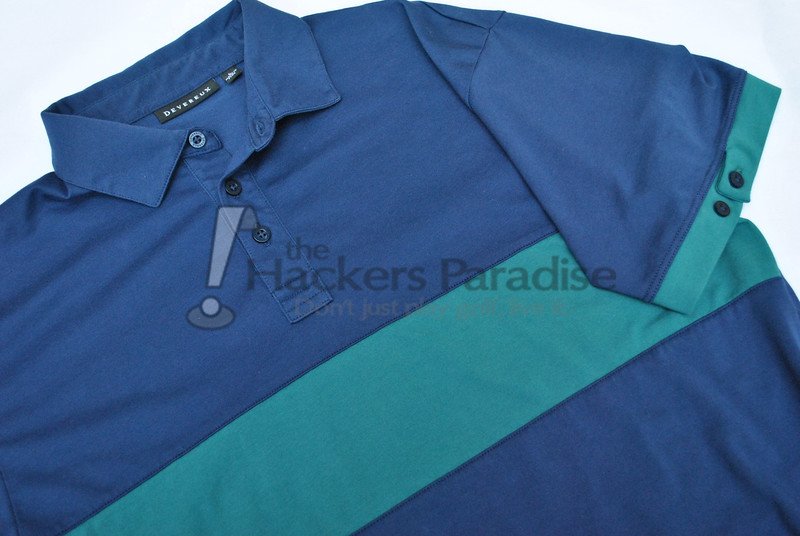 Final Thoughts:
Devereux as a golf apparel company is adamant that you can have golf clothing that is fashionable and current without falling into the trap of bright colors and patterns. Their goal is apparel that fits in on the course as well as in the office or out on the town. As their lines continue to expand it is evident that rather than going for mass quantities they are staying focused on the expectations they laid out for themselves. With the most recent releases we continue to see quality materials, comfort, and durability. As always, it will be up to the individuals if the style fits them, as well as the price point.
For more information on Devereux and the rest of their current lineup, check out their website at www.dvrxgolf.com.