Last week THP debuted their artwork of the new Limited Edition challenge coin entitled No Big Numbers. If you missed that unveiling, you can find it by clicking here. The coin represents a new game of sorts as we push players to try and work on course management and approach the game differently.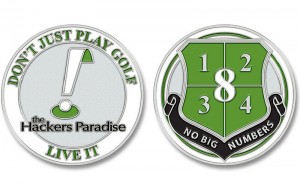 Today we are unveiling a contest of sorts in our online forum and that is to design and/or think up the idea for the 2nd coin in the 2013 collection. To make sure to include everybody that wants to be a part of it, no artwork or graphic skills are necessary. A simple description, a hand drawn sketch or anything really will all work great as an entry.
Join us and let your ideas fly by clicking the link below.