It has returned. Fewer words are more powerful to active THPers than the name of this event and the phrase that goes along with it, "Want To Be a Tour Player"! 14 THPers are about to experience this returning event and now you can be along for the action.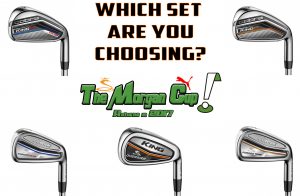 The Prize
A set of irons just like those participating in the Morgan Cup got to choose. Any set in the picture above.
Rules
One entry per person
Entries must be received by 1st tee shot this Saturday morning at 11:30am CST.
How To Enter
Entering is as easy as clicking to head over to the THP Forum and hitting up the Contest Thread with the easy to spelled out instructions. It is as simple as sending a tweet and posting it in the THP Forum with your prediction of which team wins.