For decades, Valhalla has been the home to incredible PGA Tour action.  The list includes the PGA Championship (1996, 2000, 2014), The Senior PGA Championship (2004, 2014), and the emotional 2008 Ryder Cup, where Team USA defeated Europe.  Designed by Jack Nicklaus in 1986, it has become an experience beyond the scorecard.  Recently, I had the opportunity to walk the grounds with the ghosts of former professionals, and it was an experience that did not disappoint.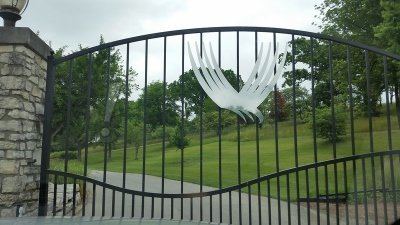 Entering Valhalla is an experience in itself.  Welcomed by voice at the gate, pleasant staff took our bags, and smiling faces greeted us in the pro shop and dining area.  When you take a trip to Valhalla, they treat you like you are a longtime member rather than a guest. 
The amenities are clean and robust.  The men's locker room included Dan, a kind employee who made sure we had a locker and cleaned my playing partner's shoes following the round.  For golfers who prefer to make some noise or use their cell phone, the locker room and adjacent veranda are the designated areas.  Some members were discussing their rounds at the sitting area, which provided an enjoyable atmosphere beyond just being a locker room.
On the walls inside the building included scorecards from past champions, the course record, and various unique items that tell some of the PGA history of Valhalla.  A couple of putters from former champions (Irwin, Woods), gifts from the European Team from the Ryder Cup, and notes from Jack as it relates to the overall course design were displayed as well.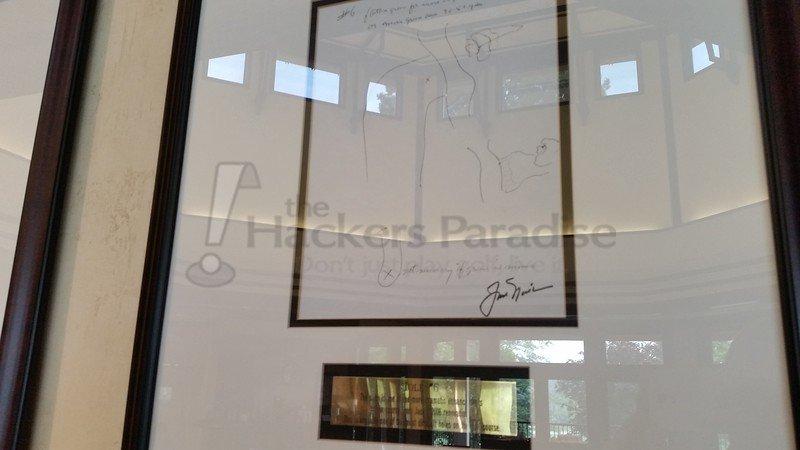 Between pre and post round drinks and snacks, the wait staff was exceptionally pleasant and went out of their way to make sure we were well lubricated and fed.  It was not particularly busy, however their attention was rarely not on the patrons which is a refreshing experience.  The prices for drinks seemed very reasonable, however I did not have the opportunity to review the full menu.
Prior to the round, golfers can take advantage of an impressive practice area that includes a double sided range, large putting green, and chipping green with every greenside scenario possible.  Were it not for the championship course waiting to be played, day long sessions could be had around the practice facilities with great enjoyment.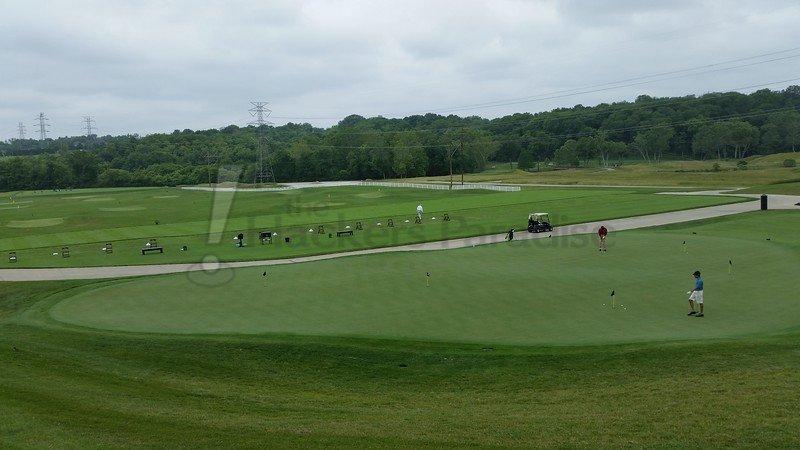 For the golf course, options to ride a cart, carry clubs, or have a caddie are available.  Our foursome included two caddies, one who double looped for the two junior golfers we had in our foursome.  I opted to walk the course with my own bag in tow, which turned out to be a bit more tiresome than a typical 18 holes due to the elevation changes that, while subtle, can take a toll on a bag carrier. 
The caddies assigned to our group were pleasant, and took some time to learn about the skill level and distances their players would see throughout the day.  They offered advice (especially around the green – which was sorely needed) and cleaned clubs as the round progressed.  While our group teed off, they would move forward into the fairway, which was interesting.  Hitting over the head of someone is normally a terrible thing to do, yet in this experience, seems the norm.  If I had taken a caddie with me, I would have asked that they stay near me so I could ask questions about the area and the course while I played.  The discussions I had with "Keith" were very enjoyable and added to the experience.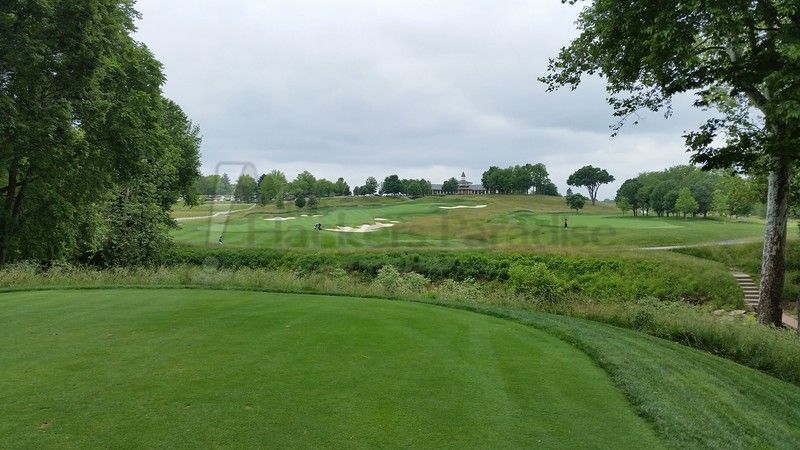 Course conditions were wonderful; lush fairways, healthy rough, terrible heather, and true greens.  While the course replaced their greens three years ago, they are very receptive to the ball and roll as true as can be.  Despite seeing a decent amount of rain recently, the fairways were not 'soppy', however they did not offer much in the way of roll for mid to high ball hitters.  The bunkers were exceptionally clean and responsive to all shots.  In discussion with one of the caddies, they noted that a tournament was approaching and they would be dialing up the green speeds, which I felt were already moving very well.  It seems to make sense that the rough was a little more unruly than what I am used to, but it also put the appropriate premium on hitting the fairway.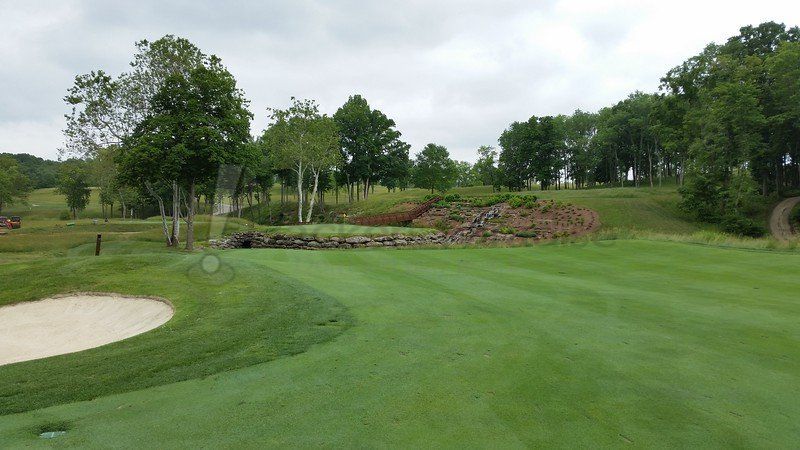 To the course layout, it certainly felt as though every element was well considered.  Each hole offered some visual sight lines off the tee. There are only a few blind shots on the course, including the par 5 10th hole, however that is only relevant for golfers attempting to hit the green in two shots.  What was both entertaining and frustrating is how visually stimulating most tee boxes are.  There are so many beautiful elements to consider that it can be difficult to focus on a single line and hit a golf shot accordingly.  The 7th hole, which is a beautiful double fairway par 5, creates massive indecisiveness when deciding which path to take.  Valhalla truly takes the breath away at times, making the experience so much more than just playing where the pros have played.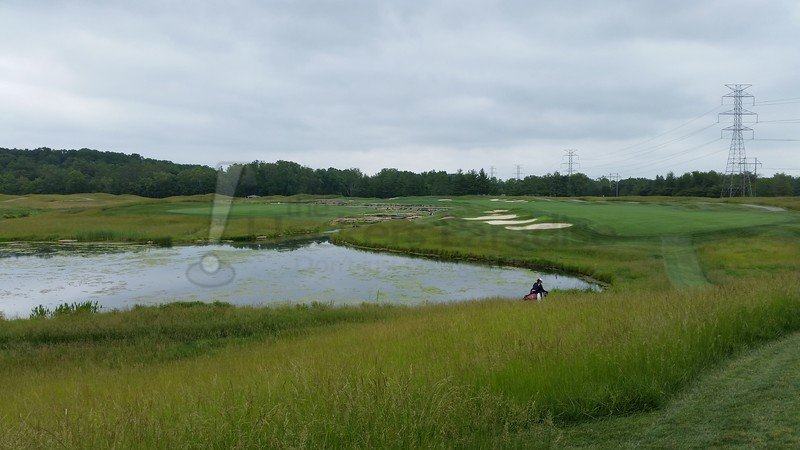 The greens were wild.  In discussion with one of the caddies, he mentioned that it would take at least a few rounds on Valhalla to get used to the greens, understanding where they are sloping, and being able to read them.  After seeing the break two different ways depending on which side I was looking from, I can imagine why, however the challenge was fantastic.  Alongside the green deceptiveness while putting, there are also some very interesting yet subtle ridges and tiers that would be very good to know from the fairway hitting into the green.  Shots that land 4-6 feet from the pin can leave 40 foot putts depending on how the landing zone slopes.  It is truly taking 'scoring' to another level at Valhalla.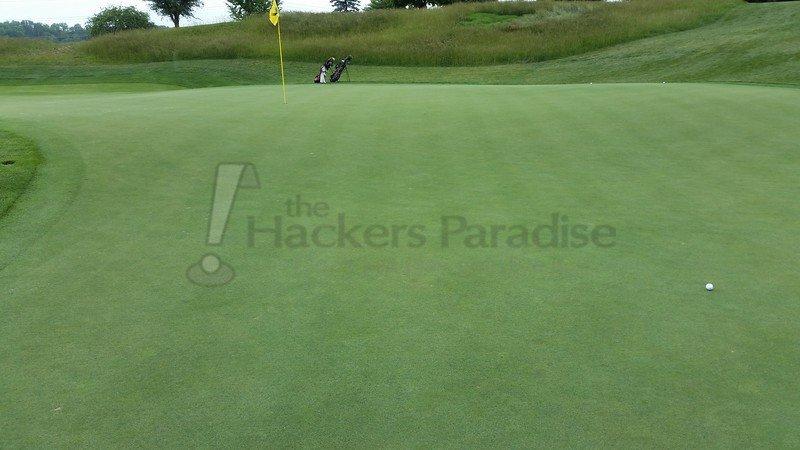 Finalizing the experience was a Valhalla bag tag, which they personalized with my name, resting on my bag when we departed.  A token of remembrance that will be appreciated for years to come, and something totally unexpected.  When you take a trip to Valhalla, you are treated like family.  The invitation offered a special opportunity to play a storied golf course.  The staff made it something much more.  During the round, I documented my shots with photos and some discussion.  That can be found here: http://www.thehackersparadise.com/forum/showthread.php?71288-Valhalla-Pictures-and-Playing-Experience.