If you've taken a golf lesson in the past couple years, or even if you have been on the driving range while someone else is taking a lesson, you've noticed that almost everyone uses video cameras to record the golf swings of their students now.  Look at the best teachers in the world teaching their prize pupils who walk the fairways of the PGA Tour and every one of them is recording their swings.  It's a no brainer;  it is so much more effective being able to look at the video and break down what you're doing.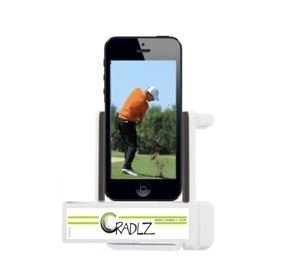 Even if you're not currently seeing a teaching pro, if you're working to improve your game a video camera can be so helpful to you.  Now what if you don't have someone to sit there and hold the camera for you every time?  There's a new accessory that recently hit the market just for you.  The Cradlz is designed to be able to allow you to easily capture your swing using the video camera right on your smart phone.  No more having to try to prop up your camera and hope you can get the shot.  The Cradlz is fully adjustable to fit any phone and it very easy to use.  Let's find out how it worked.
The Cradlz made a big entrance and brought home honors including best new product at the 2013 PGA Merchandise Show.  The list of Tour players using the product seems to be growing rapidly. Players such as U.S. Open winner Lucas Glover, Kyle Thompson, John Mallinger and Bill Haas are just a few of the top players today that use the Cradlz for their practice sessions. 
The simplicity of the Cradlz makes it an absolute breeze to use.  It's fully adjustable to fit even the biggest smart phones on the market.  The company is excited to announce that they have developed a holster to fit devices such as tablets, iPads, etc, as well.  You can also adjust the height of the mount for a variety of different angles and shots as you practice.  Another thing I like about it is that the rod also doubles as an alignment aid, so when you're practicing and not needing to capture swings you've got your alignment stick right there as well.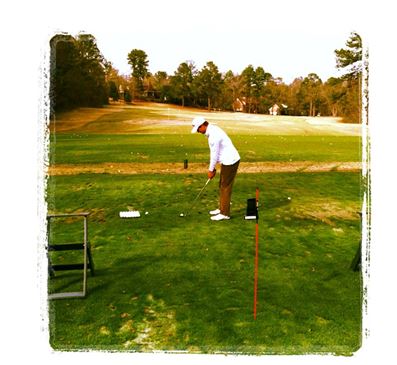 The Cradlz makes it easy to record your golf swing without having to have the assistance of another person.  This makes self-analysis of the golf swing something everyone can do.  I personally have found it very helpful in making sure that I'm staying in some of the positions that my instructor pushes for when I visit him for a lesson.  The Cradlz is quite sturdy and has been bounced around in the back of my vehicle for several weeks without suffering the slightest bit of damage.  It snaps together and pulls apart with ease, making storage very easy as well.
Overall I can see why the Cradlz was given such high praise at the PGA Show this year. It is a very cool product that is easy to use.  The fact that it is useful for capturing video and as an alignment stick really sets this product apart in my opinion.  There are higher end recording options out there, but if you want to keep costs down and you're ok with the limitations of your cell phone and/or tablet, the Cradlz might just be for you.  
This product retails for $29.95, and you can buy it directly from their website at www.cradlz.com.