Fall is hands down my favorite time of year.  The leaves change the colors, the temperatures start to cool down, the holidays are just around the corner, and we start to see new clothing lines from apparel companies.  That means new colors, styles and often times fabrics, due to the changes in weather.  One of THP's favorite apparel brands, Cross Golf, just released their Fall line. We were fortunate enough to receive some men's and women's samples for review, and they definitely did not disappoint. 
About the Company:
Cross Sportswear has its origins in Sweden.  Found in 1986, Cross is today a trailblazer in trendsetting design and style on courses around the world.
Cross boasts a rich Scandinavian heritage which is reflected in our apparel designs.  We constantly liaise with leading fabric suppliers to get our designs incorporated into functional and stylish golf apparel that bears the hallmark of high performance.
Apart from being the undisputed market leader in Scandinavia, Cross exports golf wear to about 20 countries all over the world spanning Europe, North America, Pacific and Asia.
As mentioned we received samples from both their men's and women's line and we will discuss both in this article.  We will start with the ladies line.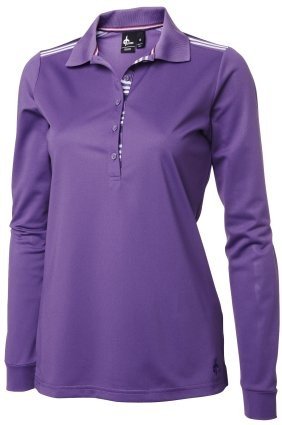 Pin Polo – LS (Long Sleeve):
First we will touch on the ladies Pin Polo in long sleeves, which we received in Amethyst Lilac.  I will start by saying purple is my favorite color, so from the minute I laid eyes on this shirt I was already in love.   Let's start with the tech stuff.  This top is made from 100% polyester and features a dry layer which "moves perspiration away from the body to the fabrics outer surface, where it can evaporate quickly.  This effect helps you stay dry and comfortable, allowing you to focus on the sport at hand."  In essence, it is moisture wicking, which is a term we have been hearing for quite some time now in golf apparel.  It also features UV-Protection.  Cross garments have a UPF rating of 30 to 50+, allowing you to protect your skin from the sun's harmful UV rays.
Now to the style, fit and feel.  Because this is made of 100% Polyester and has the tech features listed above, this top is extremely light weight, soft and breathable.  It's perfect for the fall weather because it will keep the chill away, but still allows you to move freely with your swing.  Cross has done an amazing job of finding the right balance here.  I really enjoy this type of fabric, and find that the quality is just as great as the feel.  After several washes, this top looks exactly the same as it did when I took it out of the package.
The Pin Polo comes in regular fit, which is exactly like it sounds.  I normally wear a size small in tops, however when it comes to layering I always like to go a size up with the top layer, so I went with a size Medium and it fits perfectly.  The sleeves come right to my wrists and the bottom of the shirt falls right on the top of my thigh.  It fits perfectly across my shoulders and it's a just the slightest bit loose in the waist allowing for great movement without looking boxy.  You can still see my shape without it being too constricting.  I would say the fit here is spot on. 
Lastly, the style.  It's gorgeous.  Simple as that.  The color is a deep amethyst color featuring a multicolor stripe pattern in the lapel and shoulder areas.  That slight hint of color and pattern add just the right amount of 'pop' to make this top really stand out.  Of all the pieces I will discuss here for the ladies line, this one was my absolute favorite. I truly loved everything about it.
The Pin Polo LS comes in three colors, in sizes XS-XL and retails for $89 USD.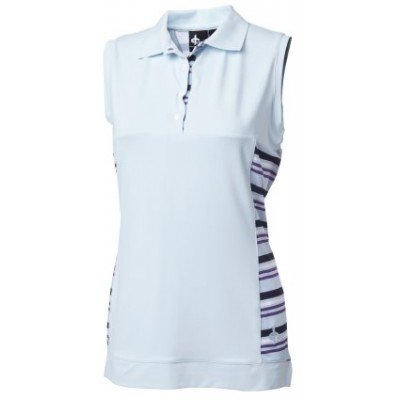 Dimple Polo – SL (Sleeveless)
The Dimple Polo SL is the perfect complement to the Pin Polo above.  Our sample came in Crystal Glass Blue and it's a beautiful, subtle, light shade of blue.  Like above, this top is 100% polyester and also features the Dry Layer so you know you will stay cool and dry all round long.  While the Pin Polo was soft, the Dimple Polo is even softer.  It has an almost silk-like texture, which feels just incredible against your skin.   It is also quite stretchy, which makes it perfect for the golf course, allowing your body to complete a full swing with ease.  Something I have learned over the years with Cross, and European brands in general, is that they are often longer than the boxy American styles, making it much easier to swing without having your stomach exposed, and it makes tucking in a breeze.
The Dimple Polo is a narrow fit which gives a slim silhouette.  This should not be confused with form fitting. Rather, it simply helps to provide that hour glass shape that is synonymous with the female form.   It's actually quite comfortable, and doesn't accentuate any lumps or bumps. Instead it helps give the appearance of that hourglass, giving it quite the slimming effect.   I went with a size Medium, fearing the 'Narrow Fit', and it turns out I would have been better off going with my usual size Small, so don't let those words scare you. Go with your normal size, as I found this top definitely runs true to size.
Style wise, this top has it going on.  It has that same multicolor, stripe patter on the lapel like the Pin Polo, but also has it going down the sides and again on the upper/middle back.  The stripes on the side are what really help showcase that hour-glass shape discussed above, plus it adds a beautiful design element that I just love.  My favorite part is the way they paired that gorgeous subtle blue with the purple/amethyst (and other colors) to match the Pin Polo above.  Another feature that I just adore is the snap buttons.  I don't know how to sew, and I always find a way to pull off non-snap buttons, so this addition makes me very happy.  Overall, I really liked the Dimple Polo, and would highly recommend giving it a try.
The Dimple Polo SL comes in three colors, in sizes XS-XL and retails for $80 USD.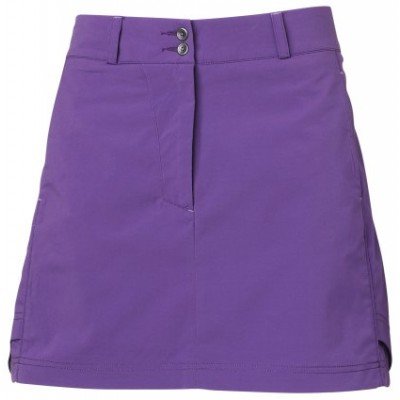 Amy Skort
To complete the outfit we received the Amy Skort in Amethyst Lilac.  As expected, the color matches beautifully with the Pin Polo LS we received, and is the perfect partner for the Dimple Polo since it has the Amethyst Lilac accent colors.  When worn together, this is one stylish, classy looking outfit.   The Amy skort is made of 100% polyester and features a regular, stretch fit.  This means it will move with you, not against you, and it will fit comfortably over your hips without making you look like you are wearing spandex.   The stretch allows the skort to keep its shape all round/day long.  For this reviewer, that is a big deal, and something I wish all golf skorts had. 
The shorts underneath are loose, which is another major plus for me.  I was not blessed with thin legs, and there is nothing I hate more in a golf skort than spandex shorts underneath.  It's bad enough I know my legs are 'full', I don't need giant red indentations in them to remind me of just how 'full' they are.  I also like a looser pair of shorts underneath because it allows air to flow, helping to keep me cool on a hot day, but never making me too cold on a cooler day. 
I had never tried on Cross ladies bottoms before and asked the company to send what they felt would be a good fit for my size.  They actually sent me two sizes up from my usual US size, which wasn't completely surprising since the Euro fit can often be pretty slim, however, I found two sizes up was a little too big and going just one size up would have been a better fit.  So for example, if you normally wear a size 8 (Euro 40) I would suggest going to a Euro size 42. 
The skort features two front pockets and one back pocket with a snap button closure.  The skort fell to just above my knee, which is exactly where I like it, and has a nice little slit on the sides for added movement.  I easily give it a 10/10 and would love to have it in every color.
The Amy Skort comes in three colors, in Sizes 34-46 (2-14 US Sizing), and retails for $129 USD.
That completes our review of the ladies Fall 2013 Cross line, now we will discuss the men's.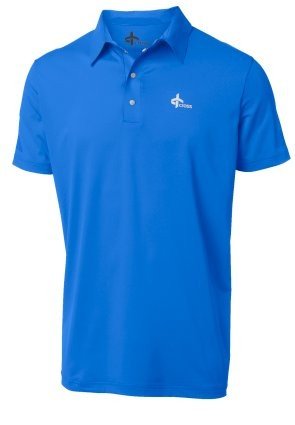 Swing Polo
For the men's apparel we received two polos, and we will discuss the Swing Polo first.  We received this in Dazzling Blue, and the color is well, dazzling.  It's a deep, but not dark, blue with a really awesome darker blue design on the back.  It has snap buttons, which we love, and a striped design, showcasing the Cross logo on the upper back.
This polo is made of 100% polyester and has the dry layer and UV protection we talked about earlier.  It's says it's a narrow fit, but our male reviewer didn't find it to be the least bit snug in the waist area.  This could be because he ordered a XXL, fearing that 'Narrow Fit', but would have fit better in to an XL.  Something to note, however, is that he normally wears a size Large in US sizes, so it's still best to go a size up in this top, but two sizes shouldn't be necessary.  Another important thing to point out with the fit is the sleeves. They are a bit shorter than what you might be used to in an American style shirt, but nothing too short.  The length, just like with the ladies top, is nice and long, making it very easy to tuck in and never having to worry about it coming out and exposing your midsection. 
The fabric is incredibly lightweight, soft and breathable, just like the Dimple Polo SL ladies top discussed above.  You can swing as hard as you want in this, and the shirt will move with you, not against you.  Our male reviewer loved the Swing Polo and said he would highly recommend it to others.
The Swing Polo comes in four colors sizes S-XXL, and retails for $89 USD.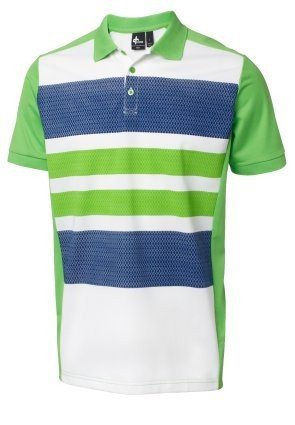 Grip Polo
The last item we will discuss is the men's Grip Polo, which we received in Spring Green.  This is the perfect color for us, because it reminds us of THP green.  This one is also 100% polyester, featuring the dry layer and a regular fit.  The feeling of this polo is just like the ladies Pin Polo LS talked about earlier.  It's not quite as soft as the Swing Polo because it doesn't have that silky feel, but it's still plenty soft, and extremely comfortable.   It has that same lightweight breathability to it, making it an ideal shirt for 18+ holes of golf.
The style/design of the Grip Polo is what really stood out to us.  It's a white polo, with a green accent collar, sleeves and side panel, with a small and large stripe pattern, that has a pattern inside each stripe.  It's a truly intricate design that is quite eye catching and unique.  The buttons on the lapel are also green, to match the collar, sleeves and sides.
Just like the Swing Polo, this one runs about one size small, so for our reviewer an XL was the right size for him, when he normally wears a size Large in other brands.  This is a regular fit rather than the slim fit above, and what our male reviewer found was that this one fit a bit longer in the sleeves and broader in the shoulders. However, the length was the same and the waist seemed to fit about the same as well.  Overall, this was another winner for him.
The Grip Polo comes in three colors, sizes S-XXL, and retails for $89.
Final Thoughts
Once again we have enjoyed what Cross Golf has to offer.  The colors and fabrics of the fall 2013 line for both men and women were everything we have come to expect and love from this brand.  One thing I would like to mention, that was only briefly discussed earlier, is the quality.  It doesn't matter how nice a garment looks or even feels if the quality isn't there, and that is a place where Cross truly shines.  Their quality is honesty some of the best we have ever come across, and after several wears and washes, each piece still looks brand new.  That speaks volumes to us.
For more information on Cross and to see the entire 2013 Fall collection, please visit their website at www.crossgolfapparel.com.