Golf equipment is personal for golfers of all handicaps. Whether you're the weekend warrior or a scratch golfer, everyone has a preference when it comes to equipment and accessories. Golf bags are no exception. If you were to go to buy a new golf bag today you would be overwhelmed with options. Luckily, we often already have an idea of what we would like to look for in a bag. When I search for a new bag, I always start with the same thing – a cart bag with a 14-way divider. I don't care about club chatter. I like the 14-way divider because it keeps me organized. Recently, THP was asked to review one of Datrek's latest offerings, the Datrek F-15 Cart Bag.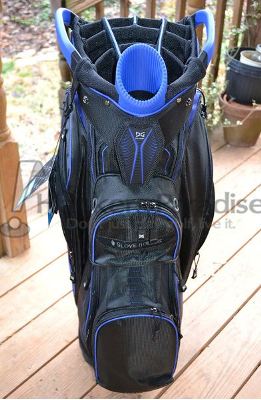 From The Company
The F-15 Cart bag is engineered for golf carts and push carts alike.
Features
15-way organizer top with full-length individual dividers

Oversized soft grip putter well integrated into organizer top

Soft grip handles are integrated into the bag top for carrying convenience

10 total pockets provide ample storage including an oversized ball pocket and bonus fleece-lined dry pocket with waterproof zipper

Insulated cooler pocket

Durable, sporty nylon material

Velcro® strip for golf glove

Full size apparel pockets

Cart strap loop

Integrated trunk lift handle

Bag bottom with feet for stability

Tee holder located on front of bag

Divot tool and pen holder sleeves

Matching rainhood and umbrella sleeve

Towel ring
Specs
Weather and tear resistant

1680D and 900D dobby nylon

Weight: 6.5 lbs – 2.95kgs
Looks and Design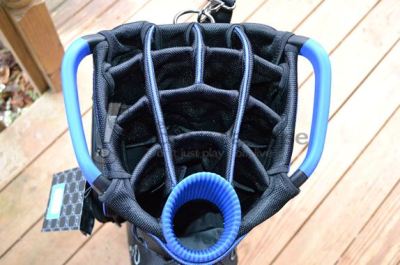 I received the F-15 in the black/royal color scheme for this review.  While I typically like simple colors on my bag, I would have appreciated just a little more flair. After receiving the bag and navigating their website, I noticed that none of the color options available were very stimulating. Essentially, you have the choice of a black bag with 5 different color accents; those color accents being lime green, royal, red, orange, and silver. This left me desiring a few more options to choose from. 
The first thing I noticed while taking the bag out of the box was that it was extremely light for a cart bag. The F-15 weighs in at 6.5 pounds. It was quite interesting to hold such a large bag with such ease. The next thing that really popped out to me was the oversized putter well, along with the soft grip handles. I look for a putter well in my golf bag, and although I do not use an over sized grip on my putter, it is nice to know it will not be an issue if I choose to game one.
While looking over the bag inside and out, it occurred to me that Datrek thought of almost everything when it came to added features on a golf bag. The features that really stuck out to me were the Velcro strip for the glove, the fleece- lined dry pocket with waterproof zipper, oversized ball pocket, the fleece lined valuables pocket with a divider, and the tee holders. I personally love the option of taking my glove off and attaching it to the bag with Velcro. The pocket that I have grown to love the most is the pocket with the divider in it. I have always struggled with placing my tees in pockets and getting them mixed up with other things like divot tools and ball markers. The divider pocket has been a perfect solution for this problem.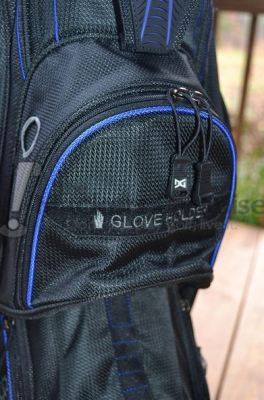 Testing
I found that the Datrek F-15 had everything I could really want in a cart bag. The pockets were plentiful, which allowed for tons of storage. In the winter I always like to carry extra gloves, beanies, and jackets. I had no issues finding space in this bag for all of those items. I have "winterized" my bag with all of these extras and still have a pocket that is unused, as well as plenty of storage in pockets that are being used.
The F-15 features a 15-way divider. Some may wonder why there is a 15-way divider when you can only carry 14 clubs. This extra slot has proven to be very useful for my tour sticks. Many golfers today like to carry around tour sticks or even some sort of swing weight in their bag. Having that extra divider allows you to carry these while keeping them out of your way during your round. Also, the dividers are full length, which is great to keep your grips lasting longer and your clubs easy to get out of the bag.
One negative I found with this bag is the Velcro strip used for holding gloves. The fact that Datrek put it on there is great, but they chose to have "GLOVE HOLDER" embroidered on the strip, which makes it not hold as well as I would like. I haven't had an issue where my glove fell off during a round, but I have had issues with it when taking the bag in and out of my car.
The pockets are placed throughout the bag in very convenient spots. I didn't find myself having to remove the bag from the cart to get to a particular item I needed. The cart strap loop is also a nice feature, as it kept the bag in place throughout an entire round. A course that I recently played was very hilly and bumpy. At the end of my round the bag was still sitting straight up.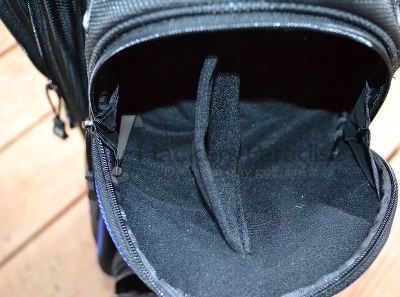 Final Thoughts
I am very impressed with the F-15 cart bag. Datrek did a great job of allowing access to all 10 pockets when it is strapped to your cart without the nuisance of unstrapping the bag.  There is a divot tool holder that I found will not hold a large variety of divot tools. The one I prefer to use would not fit, so it went right back to my pocket, which is where I prefer to carry it anyway. Originally, I thought the soft grip handles were a bit of an eyesore. but quickly learned that they are very convenient for moving the bag in and out of a vehicle or onto a cart. The black color allows the bag to keep that like-new look for a long time. At this time, the sporty nylon hasn't shown any wear and the zippers are holding up great.
The Datrek F-15 has an MSRP of $199.95 and you can find out more information at www.datrek.com.