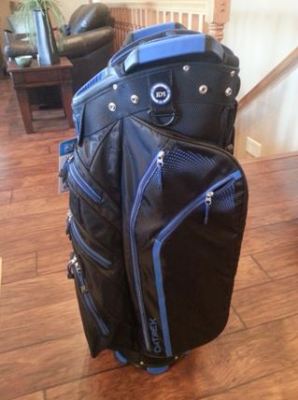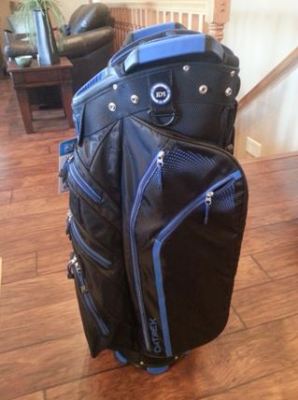 Regardless of the set of clubs you have, there's no doubting the value of a good golf bag for every golfer's needs.  The general consensus seems to be split right down the middle in terms of whether people prefer a cart bag or a stand bag. What matters more is that the bag is durable and versatile enough to hold everything golfers need to get through a round of golf.  Datrek Golf has over 25 years of experience in the sporting goods industry and has quickly become recognized for their quality golf bags.  They sent one of their new offerings, the Lite Rider Cart Bag, over to THP for a closer look.
Lite Rider Details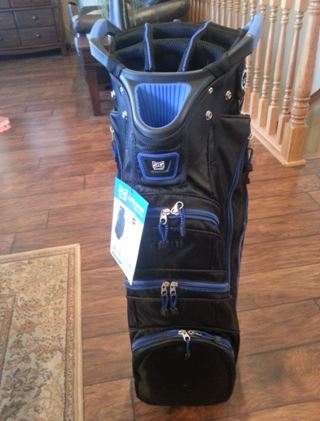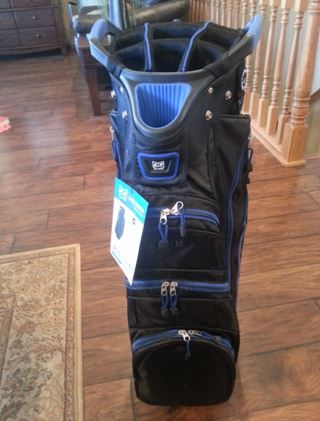 The ultra-lightweight sporty Lite Rider cart bag features:
14-way organizer top with full-length individual dividers

Soft-grip oversized putter well integrated into organizer top

Over-molded soft-grip lift assist handles offer carrying convenience

Seven total pockets provide ample storage including a large ball pocket and fleece lined valuables pocket

Oversized insulated cooler pocket

Cart strap loop

Bag bottom with rubberized feet for stability

Two large apparel pockets

Tee holder

Pen holder and towel ring

IDS patch and velcro glove holder

Umbrella holder

Rainhood

Weight: 4.7 lbs.
I'm pretty particular about what I look for in a golf bag.  I've gone through several bags in the past few years, mainly because at first things seem great then it never fails, some flaws eventually expose themselves.  Most importantly I need a place for all of my necessary accessories.  After that I look for functionality, which means I need my clubs to easily slide in and out of the bag without getting tangled up at the bottom, because nothing irritates me more!  Appearance and weight aren't necessarily something I really get too picky about, but if I can find a good looking bag that meets my standards and is light weight it definitely is a plus. 
Space
This bag has more pockets than I can even imagine.  There is so much room for all of my things I am able to separate things just because I have all these empty pockets.  It seems like this bag literally has more room than needed if that's even possible.  Something else that stands out about the Lite Rider bag is the insulated cooler pocket.  I've had bags that claim to have a cooler pocket before, but they couldn't hold a candle to the size and functionality of the cooler pocket in this bag.  My testing was in late fall conditions, but this summer the cooler is going to be proving its worth on a daily basis.
Functionality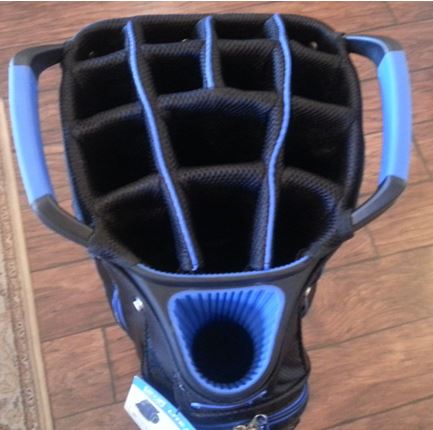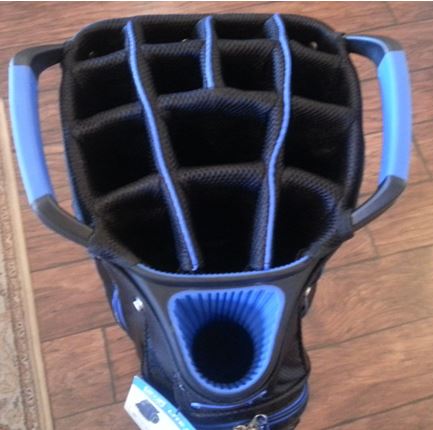 The 14-way top with full length dividers makes getting clubs in and out as simple as could be.  There was nothing even close to a jam or trouble to report in terms of getting clubs out and putting them back.  That's by far my biggest complaint about stand bags.  Another handy feature of the Lite Rider is the handles at the top of the bag. I constantly moved the bag around with ease using these handles. 
I have one minor complaint with the bag and it's centered on the strap. I understand why it is the way it is, but it makes it awkward to carry to and from the cart with the strap.  It's on the under or bottom side of the bag, which means it stays out of the way when strapped to a cart, which is important, but it just makes for awkward handling when carrying the bag with the strap.  I wouldn't say this is a deal breaker at all and actually I'm glad it is the way it is, but it just came across as a little off to me.
The Lite Rider fits perfectly on the back of a riding cart, but even more important to me is how well it works with my Clicgear 3.0 push cart.  It almost seems like it was specifically made for a push cart.  I've used my push cart with staff bags, stand bags and even a speed cart bag and none of them came close to working as well in conjunction as this one does. 
Appearance/weight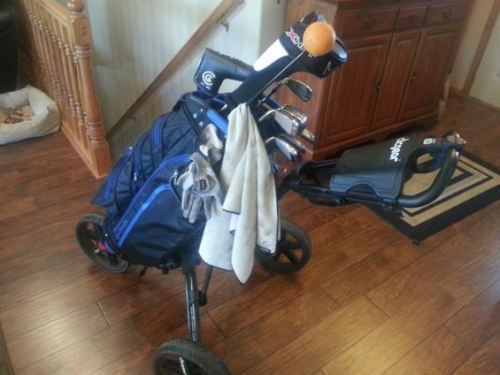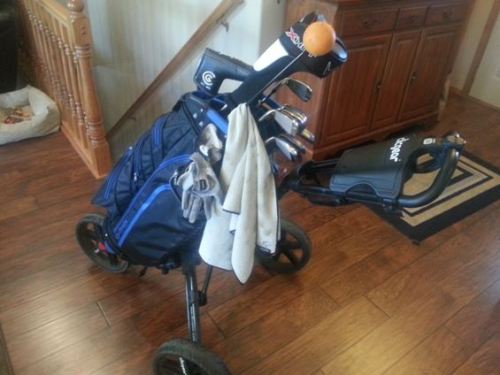 The last couple of items I pointed out that are important to me in a bag were appearance and weight.  The Datrek Lite Rider isn't going to jump out as the sharpest looking bag on the market. It's quite understated which is in contrast to most other bags these days.  I'm definitely not saying it's an ugly bag, but It just seems a little plain. 
Weight is where this bag really shines against other bags in this category.  Several other cart bags are going to have the 14-way full length dividers and all the pockets, but they're not coming in weighing just a shade over 4 ½ pounds.  Even when fully stocked with clubs and accessories, the light weight makes this bag so easy to handle that I didn't really even use the shoulder strap that I mentioned earlier.
Conclusion
If you prefer a cart bag to a stand bag and don't need a lot of flash then you definitely need to check into the Datrek Lite Rider when choosing your next cart bag.  This bag really does have it all and it excels in every category that is important to me when choosing a bag.  The fact that it seems to work best strapped onto my push cart makes me think it may become my permanent bag going forward.  I could go on and on about the things I like about this bag, and as I addressed, the list of complaints is very short.  The Lite Rider costs $149.95 and is available in 8 different color combinations with embroidering available from Datrek for an additional charge.  Visit their website at www.datrek.com for more offerings and ordering information.