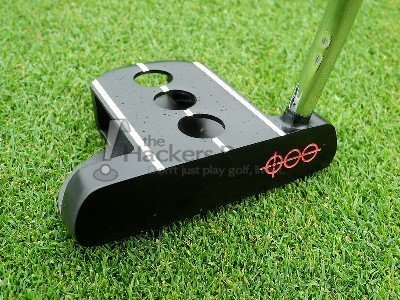 With a somewhat campy name and look, Dead Aim putters might have you thinking they belong in an infomercial. However, THP had a chance to test and learn more about this brand and found that they offer technology that may help certain golfers with consistency in their putting setup.
Information and Key Technology from Dead Aim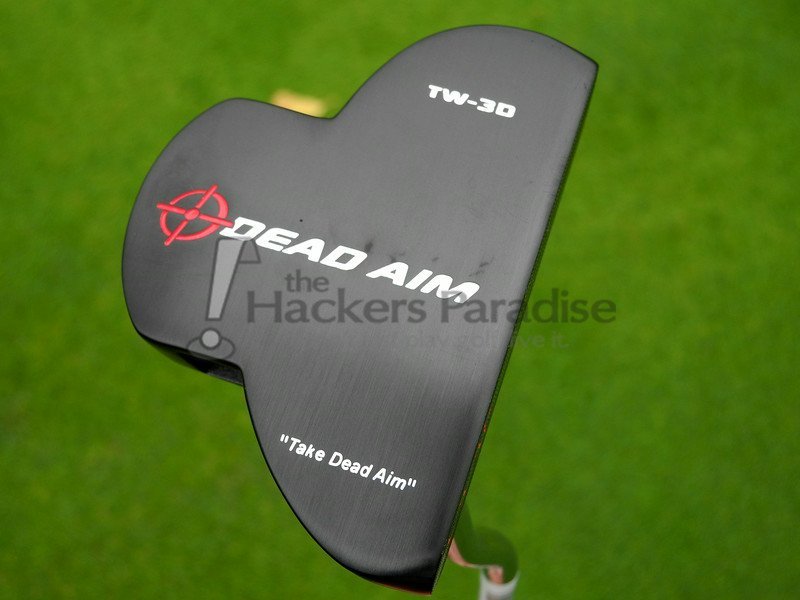 If you want to lower scores, you must do it with the club you hit 43% of your shots with. Putting lab results show that your aim or face angle is 4 times more important than your stroke path. Results also indicate that the average golfer cannot line up a 6 ft putt. The average golfer does not set up correctly, aim correctly, or practice correctly.
The leading instructors all teach that you must get your eyes over the aim line and set up consistently if you want any hope of putting better.
The patented sight-line technology in the dead aim putter will not only get your eyes over the aim line every time (by matching the top line to the bottom line), it will also give you immediate feedback as to whether your hands and body are in the correct position by keeping the dot in the dead center.
Once you are set up correctly and consistently, you can learn and develop a proper stroke. BUT….you must learn how to aim like the pros.
The dead aim putter is the only putter with the patented technology to drop in precision training devices that allow you to practice perfectly. Our studies show that by practicing with our laser attachment, golfers improve their aim by over 30%. The confidence realized by setting up correctly and aiming correctly leads to more putts finding the hole.
Specifications:
The Dead Aim 3D Mallet is the only loft AND lie alignment putter that conforms to USGA regulations.  The classic black model has white accents designed for easy alignment.  It puts you in the proper positions with your eyes over the aim-line every time.
Investment cast and precision milled 431 stainless steel for a soft feel and solid roll.
Head Loft:  4 degrees
Head lie:  71 degrees
Head weight :  350 grams
Head material:  431 soft stainless steel
Head finish:  Black or Silver PVD (physical vapor deposition)
Face:  Precision swirl milled
Shaft:  steel double bend
Grip:  Winn Medium
$149
A brand new, counterbalanced version of the 3D Mallet was also tested, but specifications are currently not available. See the company's website for more information when it is available.
Accessories
Center Strike Clip – $19.95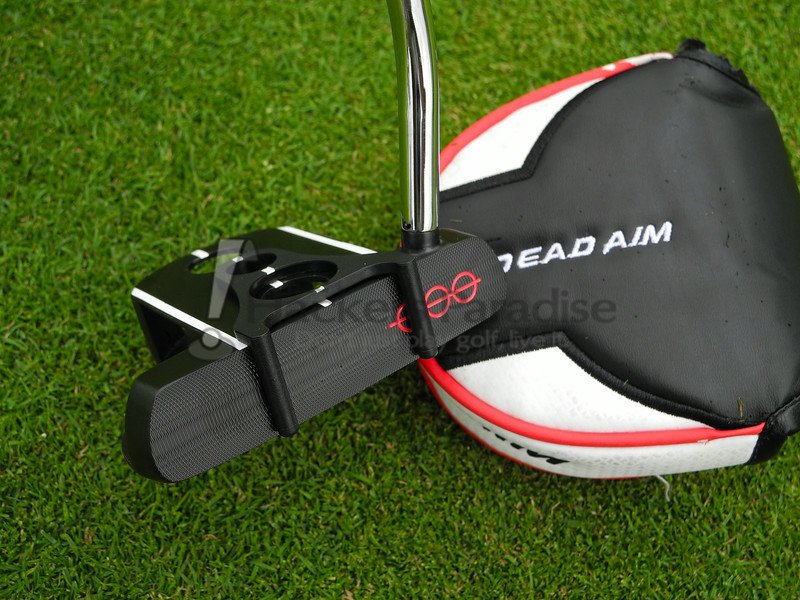 This small plastic accessory attaches firmly to the sightline holes on top of the 3D Mallet and is designed as a training tool for practicing repeatable center contact. It was reasonably easy to attach to the putter, but a little difficult to remove. Practice with the clip showed that it worked well for its intended purpose, though the price tag seems a bit steep for what it actually is.
Laser Attachment – $49.95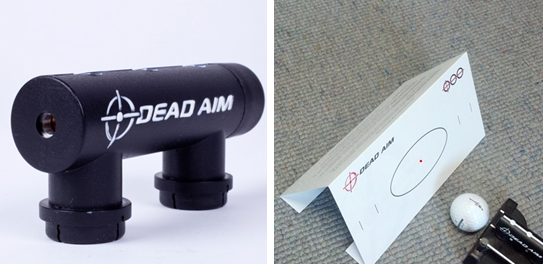 A nifty attachment that fits perfectly on top of the 3D Mallet, the Laser Attachment works with a supplied laminated paper tent to assist with aim during practice. In theory, this seems like a valuable training aid and it certainly works for the intended purpose, but it was a bit distracting and not something that got a lot of use once the novelty phase wore off.
Aesthetics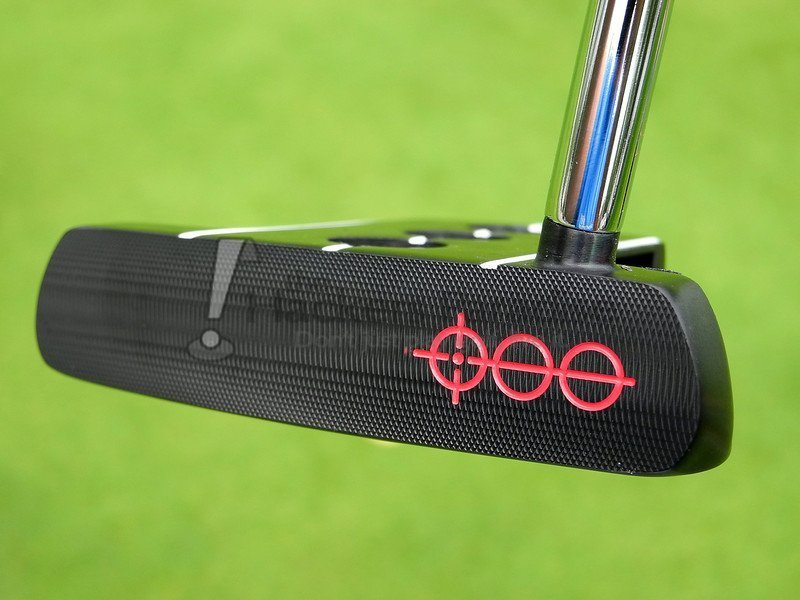 Both the standard and counterbalanced Dead Aim putters share the same head shape – a half moon with an extension off the butt-end that brings them into the full mallet class. The Black PVD finish was nicely done and should reduce any hints of glare.
The modern face milling adds a nice touch both visually and with audible feedback and the red logo contrasts nicely against it. The pleasant feel at impact was quite unexpected for a variety of reasons, but hearing is believing and many will be surprised at the softness imparted by the 431 stainless steel face.
The most notable aesthetic feature of course is the 'patented sight-line technology' built into the rear portion of the putter's body.  A series of three bored-through holes work in conjunction with a pair of thick, white paint lines and three dots to ensure proper eye position and lie angle are achieved with each putt. In addition, two alignment lines border the body of the mallet and provide another visual for aiming.
Putters are probably the one golf club that we see the most variation in from a visual sense, so the rather bold look of the Dead Aim series is not in itself offensive or all that unusual. We wouldn't go so far as to call it attractive (aside from the face milling), but taste in putters is fiercely individual and there are certainly some out there that will learn to love what Dead Aim is offering.            
Performance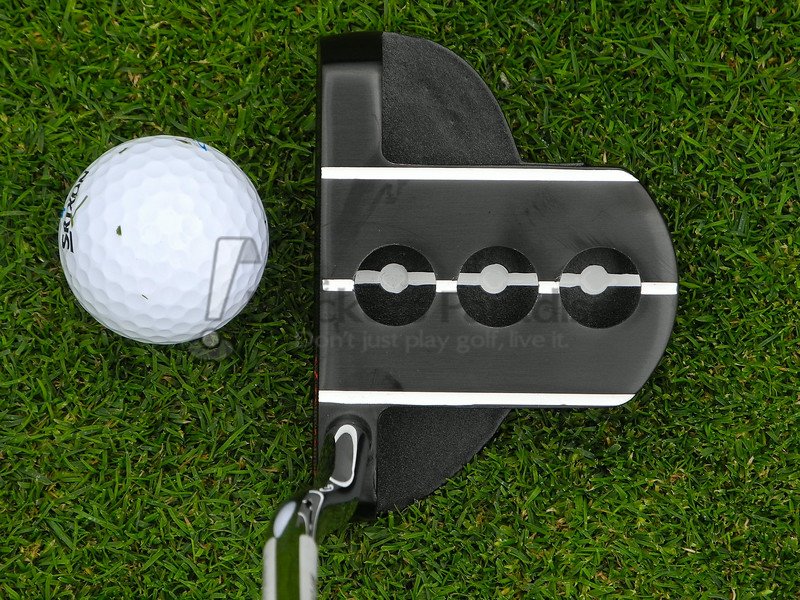 Though patented, Dead Aim's sight-line technology is similar to alignment systems seen elsewhere. The main purpose isn't to promote better aim (the Laser Attachment takes care of that), but rather to ensure proper eye and hand positioning. By lining up the central paint lines (and corresponding dots) on both the upper and lower portion of the mallet, the user will know that 1) the eyes are positioned directly over the putter and 2) the putter is soled properly (i.e., the toe isn't up in the air as shown in the picture above).
This type of system is actually very useful for the intended purposes, but the premise of the eyes being over the putter or target line is one that remains up for debate. According to Dead Aim, "leading instructors all teach that you must get your eyes over the aim line". Those that putt accordingly should find the technology both relevant and helpful. It should be noted however that there are highly regarded instructors who prefer the eyes inside the target line, and technology such as this would actually be counterintuitive to that approach. As such, a quick evaluation of one's putting style or method is essential before committing to the Dead Aim philosophy. Another important note is that selecting the correct length becomes vital, as a putter that is too short or too long will force manipulation to line up the site-line technology correctly.
Testing showed nothing out of the ordinary with the 3D Mallet, other than the unique alignment aid. At its heart, this is a double-bend mallet and it performs like most others on the market. A short time on the putting green was all that was needed to get a feel for distance control and how to produce putts that took the user's intended line. The counterbalanced version was expectedly heavier, balanced well, and resulted in a somewhat smoother pendulum stroke, but for the most part both versions of the putter behaved in similar ways. Those players already accustomed to a full mallet that putt under the needed conditions noted above should find a comfortable place with both rather quickly – along with the added bonus of some help finding a consistent setup position.
As noted earlier, the biggest surprise of all was how pleasant both putters were at impact. Though that does rely on the ball being used to some degree, both urethane and surlyn covered balls were tested and emitted agreeable tones when striking the milled face.
Final Thoughts
Putters featuring alignment systems such as Dead Aim's sight-line technology will always be eyed with a measure of suspicion that they are nothing more than a gimmick. It's a reasonably fair presumption based on the seemingly endless amount of useless golf discoveries advertised each year. However, assuming one wants to putt with his or her eyes over the putter, the technology does work as advertised. Though priced a bit high, the Center Strike clip is another tool that could provide valuable. As a matter of opinion, the Laser Attachment is mostly a novelty, but again – it works as described. At $149, the 3D Mallet is certainly priced in a reasonable manner, though adding accessories will obviously add to that. More information on the Dead Aim line, including training drills and ordering instructions, can be found at the company's website, www.deadaimputters.com.