Now that summer is in full effect over much of the country, it's time to pay attention to an important accessory that you may take for granted, sunglasses. Sunglasses are not just for blocking the sun any more. They are now stylish as well as functional. Fashion definitely meets function now. Case in point is a line of sunglasses from Dual Eyewear called the SL2 (SL stands for Super Leggero which is Italian for 'super light'). These glasses are designed to provide extreme clarity as well as the ability to see gauges, instruments, script, etc too. Did they work for this devoted sunglasses wearer? Check it out.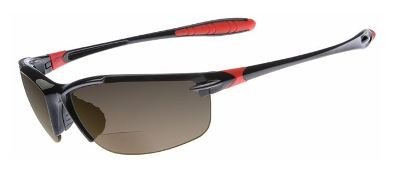 From the Company
Weighs only 20g

 8 base lens curvature

Shatterproof and scratch-resistant polycarbonate lenses

100% UVA, UVB, UVC protection

Optimized Magnification Zone (OMZ) reduces distortion and fatigue

Sculpted non-slip TPR-50A rubber nose piece and arms inserts

Available in +1.5, +2.0, and +2.5 spot diopters
Did You Know? Do you know how to choose between different lens colors? Smoke (gray), transmits all colors evenly without changing color value. Light enough not to impair vision, but dark enough to provide overall protection from glare. Excellent for bright sunny days.
Brown, a warmer, slightly brighter lens than the gray. A good all-around choice for areas with changeable weather patterns. It helps highlight the different contrasts, particularly in green colors.
Look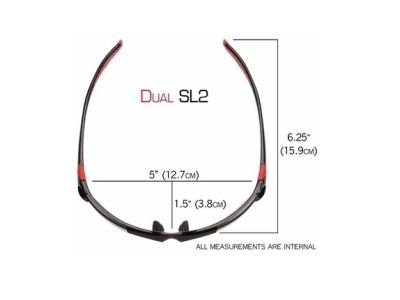 Technology
Originally designed for cyclists, the technology within the SL2 sunglasses is pretty cool yet simple. They're considered 'power sunglasses' by improving your overall vision and specifically your vision of hard-to-read products such as cycle computers and cell phones by way of a magnification area molded into the lower portion of the lenses. Very similar to bifocals.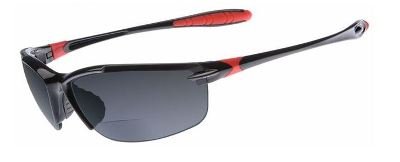 Testing
For those that know me, I'm a devoted wearer of sunglasses on and off the golf course. I've got light blue eyes so sunglasses are important to me to see in bright light without getting a headache. However I'm also picky when it comes to my sunglasses because I want to see comfortably and clearly, all without feeling like I'm wearing sunglasses. So my testing comprised of on and off the golf course testing because in a day where sunglasses are both functional and fashionable, you need to be able to wear sunglasses anywhere. Before I get to the testing results, I need to say that overall these are the lightest sunglasses I've ever worn. I literally found myself forgetting that I had sunglasses on. Beyond the smoke or brown colored lenses of course. These also provided quasi-high definition vision for me as well. As I mentioned above, smoke and brown lenses were provided for testing in varying spot power strengths.
Now to the testing. On the golf course these were a great asset to me. I could see very well with both colored lenses and actually found myself liking the brown lenses a bit better on the course. I was able to see the ball a bit better on the ground, the flag was able to be seen easier, and I was able to see the break on the greens much better than I have seen with other sunglasses. I never found myself once having to adjust them due to slippage or squeezing my head. Most importantly, I was able to wear these with a hat or visor without having to have the bows of the sunglasses on the outside of the hat or visor. The Optimized Magnification Zone (OMZ) never really came into play for me out on the course itself but when it came time to read numbers on a gps or scorecard I struggled. All of the different magnifications that were sent to me did not work for me and made everything blurry or fuzzy. Now I have better than 20/20 vision so that may be an issue but I suspect that if you're someone who needs reading glasses that there's a spot power that's right for you.
Off the golf course is where I began to see issues with these sunglasses, primarily when driving or using a phone. When I was driving I still saw things as clear as I ever have and unlike the golf course, I found myself liking the smoke colored lenses better. Where the trouble started was when I would look down at gauges or use my phone. I think this is definitely due to the OMZ's not being what I needed which shows the importance of fitting. Just like your clubs right? That being said, I found that I looked at my gauges and used my phone while driving more than I thought I did because each time I did I was forced to look squarely through the lenses and not through the Optimized Magnification Zone. Again, this is not the fault of the sunglasses themselves but a result of me having good vision already and not needing help with seeing small print or gauges. Not yet anyway.
Overall
Dual Eyewear SL2 glasses retail for $49.95 and are protected by a lifetime warranty. Not many companies do that for their sunglasses. If that's not good enough for you, try them out for 30 days and if you don't like them, send them back for a full refund. Save for the Optimized Magnification Zone that didn't benefit me, these are really good sunglasses that do their primary job well and that's block the sun while providing clear vision. Click on over to www.dualeyewear.com to see the SL2's and the other styles available.
T. Hanks