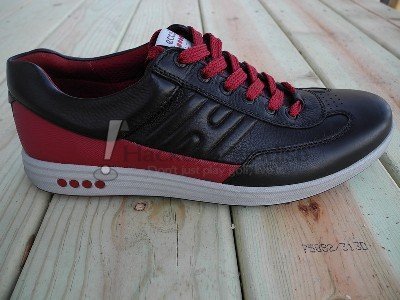 Building off the immensely popular Street series, the EVO One claims to have the same comfort and 'wear anywhere' feel in a high performance, waterproof package.
Street EVO One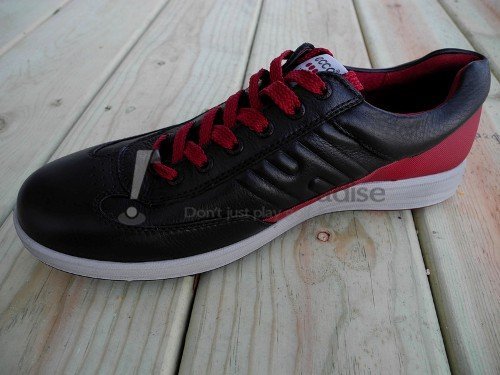 Taking both comfort and performance to new levels, the evolution of ECCO's best-selling golf shoe continues with the Street Evo One. This stylish, performance based men's golf shoe features Hydromax™ technology, flexible light weight construction and a low profile for greater stability, feel and power. It's the complete shoe for the complete golfer.
Uppers made of rich leather
Hydromax treated leather
Performance textile toe cup
Additional laces included
Outsole provides 800 traction angles for excellent on course grip
ECCO-Dynamic Traction System® (E-DTS®) Hybrid Technology
Strategically wider toward the rear, and showcases a midsole that incorporates a specialized shank piece. This wraps the outside of a player's heel, creating an exceptionally stable platform from which golfers can power through each shot.
$160 MSRP and available in six colorways
Key Technology
ECCO HYDROMAX®
An ECCO developed treatment used to make leather highly water repellant. This special process actually keeps the leather from hardening after repeated wetting and drying, keeping it strong and durable, yet soft and breathable.
Direct-injection
A technology we have developed and improved over many years that enables us to make shoes that are soft, flexible and light, with extremely anatomical shapes. Basically, we inject a resilient, shock absorbent material into a foot shaped mold. This lets us bond the sole directly to the upper without glue or stitching. The resulting anatomical fit, integrated shock absorption, and hyper flexibility is the ideal material for outdoor performance.
ECCO Dynamic Traction System (EDTS)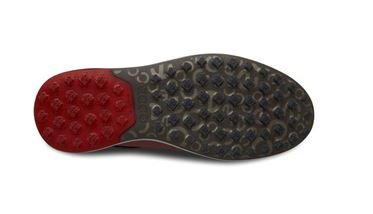 Award winning patented hybrid outsole
100 molded traction bars and more than 800 traction angles for excellent grip in all conditions
Constructed from TPU – a highly durable, wear resistant material
Extremely light weight, flexible and shock absorbing construction
Low profile brings the golfer closer to the ground for great stability, ground feel, traction and swing power
Aesthetics and Comfort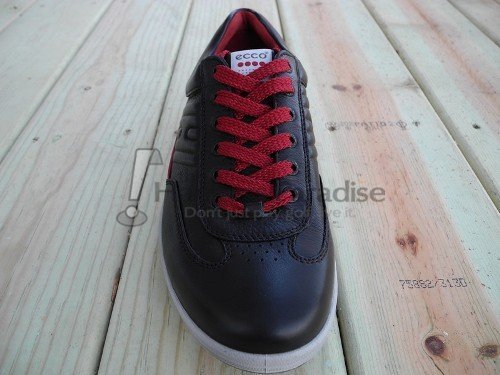 ECCO typically stands apart with quirky modern styling, and the EVO One showcases that quite well. Casually unique is probably the easiest way to describe the looks of ECCO's latest Street shoe. While quite lightweight in hand, the EVO mixes a number of textures that give it both suppleness and the feeling of durability. The toe cup is constructed a slightly firmer feeling material, which indicates it will wear well with the demands of a walking golfer. At the same time, the toe area is by no means rigid and the leather upper is soft and pleasant to the touch. The rear foot area of the shoe is yet another material that is somewhat textured. There is moderate concern that this area will be difficult to clean.
Never a company to shy away from bold color combinations, ECCO is offering six colorways, with Black/Port being the version that THP tested. Those in the market for a less conspicuous looking shoe may still find what they are looking for within the line, especially since each pair comes with a second set of laces that matches (rather than contrasts) the primary color. The pair tested came with a set of black laces as an alternate, which completely changed the look of the shoe.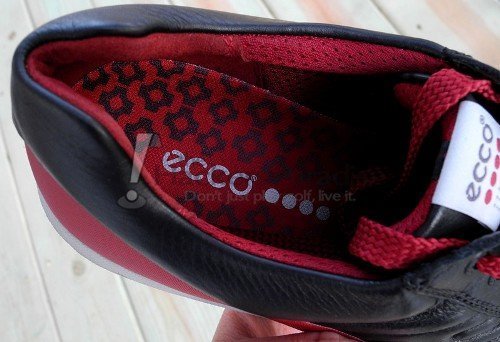 ECCO typically lists their shoes according to European sizing, which can cause some confusion for consumers used to US sizing, but they do offer a general guide for conversion on their website. While at first glance the EVO One appears to run on the smaller side, testing showed that it actually ran about a ½ size larger than what ECCO advertises on their conversion table, especially in the toe area. This was actually a great benefit to the shoe's overall comfort, as the rear foot area felt very secure and stable, while the toe area provided plenty of 'wiggle' room.  A size 44 (10-10.5 US) fit much like a typical size 11 US.
As mentioned, in appearance the EVO One seems smaller than it actually is, but once put on it offers plentiful room and great comfort. Those people that hate the feeling of constricted toes will certainly enjoy what is offered here. On the foot, the EVO One feels light and roomy, yet stable and secure.
Though technically a 'spikeless' shoe, the EVO One has one of the most aggressive set of nubs available on the market. As evidenced by EDTS technology, ECCO put a great deal of energy into giving their Street series a ton of traction, and they are easily a leader in the class. Though they won't replace a true spike, the traction bars provide ample grip on the ground that should work for most players. Durability is often a concern for those unsure of making a move to spikeless shoes, but history has shown the brand wears very well.
Final Thoughts
Comfort, lightweight performance, stability and modern style all combine in the Street EVO One to make a shoe that promises to be very popular in 2014. If possible, attempt to try the shoe on in person before purchasing, because it did appear to run a bit large. Though it's not a style that will draw in some with more traditional preferences, those golfers looking for a unique look built on one of the industry's most solid platforms will find much to enjoy. The Street EVO One retails for $160 and more information is available on ECCO's website.