At THP, we will happily review any golf equipment that comes our way, whether we've heard of the company that produced it or not. I was recently introduced to Elmer Golf, a company that's name was new to me. Elmer has a pretty wide variety of golf equipment, and I was asked to review their Power Cone hybrid. Due to a fairly mild winter, I had a chance to use it a great deal over the last month. One thing I've learned as a THP writer is to be open-minded, because you never know when a great product might fall in your lap.
Introducing Elmer Golf
Though they may not be an unfamiliar name to all of our readers, I did think it would be appropriate to introduce Elmer Golf properly. Here's a little information from their website:
Based in Wilmington, North Carolina, Elmer Golf USA is headed up by Brendan Muldoon and Breck Culler. Brendan comes from an international business and golf teaching background and has been associated with Elmer Golf internationally for over 20 years. Breck Culler has been a clubmaker in Wilmington for the last 25 years and is an icon in the golf business in Coastal North Carolina.
When you buy an Elmer Golf club, you can be assured of years of experience and know-how and a good homegrown build. Elmer Golf delivers some of the most innovative designs seen on today's courses and tours. Elmer Golf is the top provider of custom adjustable putters available in the mallet and blade style. Elmer Golf also brings its innovative design and development to the Hybrid Golf Club; improving on popular hybrid designs that fail to deliver optimal results. The Power Cone® technology is the fundamental design property behind Elmer Golf Hybrids and Irons.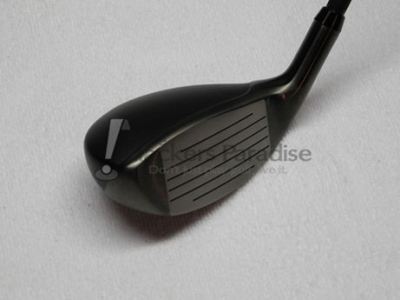 Technology Information from Elmer
24 Touring Professionals on the European and South African Sunshine Tours use the Power Cone® Hybrid… Now it's your turn! All golfers are looking to add ACCURACY, CONTROL, AND POWER to their game. We tested all the others, found the flaws, and weaknesses. The Elmer Golf Power Cone Hybrid design delivers:
We increased the weight 10 grams so they 'feel right'.
 We made the face angle square so they are easy to lineup.
We designed our own special graphite shaft for these heads; tip heavier with low torque, for a real solid feel.
We set the weight distribution to remove the strong left (hook) bias which is a 'feature' of other Hybrids.
We added our internal Power Cone® technology for maximum forgiveness on off center hits.
Power Cone Technology
The Power Cone® features a patent pending internal ellipsoidal cone that centers and transmits most of the head mass to the center of the clubface, producing the longest, most powerful ball flight imaginable. The Power Cone® transfers energy from some of the worst off-center ball strikes back to the center of the clubface for the most forgiving results.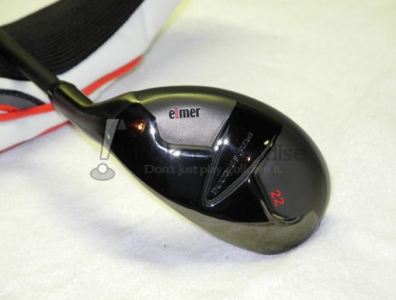 I mentioned that I try to go into reviews with an open mind because name and looks aren't necessarily equal to performance when it comes to golf equipment. The first time I hit the Power Cone hybrid was indoors on a launch monitor. My expectations were that it would be a 190-200 yard club for me, based off of my experience with other hybrids. My first swing came in at 186 yards and felt like it was nicely struck. I wasn't really wowed by the distance until I looked at the club face and noticed my ball mark was almost ¾ inch towards the toe of the club. Further testing showed that my well struck shots did reach the yardage I expected them to, but I was certainly impressed by the distance I saw on a pretty big miss. The Power Cone hybrid proved to be quite forgiving throughout the rest of the testing process as well.
Accuracy and Ball Flight
An accurate club builds confidence! Accuracy is improved by using a square face angle for effortless line up and targeting at address, and by re-working the hybrid head's moment of inertia to eliminate the strong left "hook" bias found in many of our competitors' hybrids. We increased the head weight by 10 grams so they 'feel right' and provide more control. Together with the USGA approved grooves you have amazing control over the ball flight, trajectory and shape of the shot.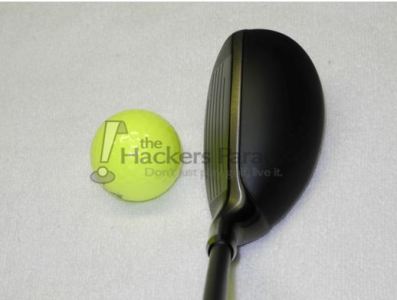 Distance is pretty worthless if you can't hit the ball accurately towards your target. Launch monitor information showed me that the Power Cone hybrid would likely end up being an accurate club for me, but the only way to tell is on the course. My experience on the course and driving range showed that the ball flight was bordering on high and fairly straight. I hit the ball with my normal shot shape – straight to a small draw – and didn't experience a large amount of side spin in either direction during the review. I am not really a worker of the ball, so I can't comment on the Power Cone hybrid's ability to alter shot shapes. I primarily look for a club to hit the ball with predictability, and that was the case with this hybrid.
The club did feel nicely balanced in my hands, aside from the extremely odd grip that it came with. I've never really seen anything like it. It's a bit larger than anything I've used and appears to be stitched almost like a baseball. I never did find anything explaining why the grip was the way it was. My preference would be to change it to something a little more traditional. The club itself sets up square to the ball and I didn't see a great deal of offset. Angles in pictures can sometimes make that hard to convey, but that's how it appears to my eyes in person.
Shaft and Loft Options
Our proprietary Power Flex Hybrid Shaft is crafted using a carbon filament cross winding process that is layered to precise design specifications that enable us to match weight, bending profile and torque exactly to a specific head design. This balanced design creates a penetrating ball flight and reduces ballooning, especially into the wind.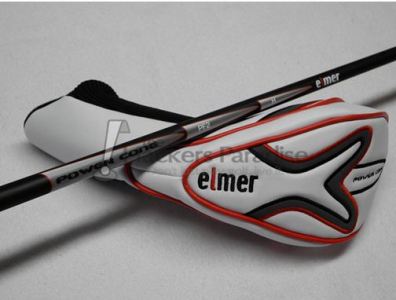 Quickly translated, Elmer is saying that they produce the shaft that goes in the Power Cone hybrid and that it's designed to have a slightly lower ball flight. It comes in two flex options – PF 1 and PF 2. Research showed me that the PF 1 is akin to a soft regular or senior flex and the PF 2 is a more traditional regular flex. I personally felt like the PF 2 was a slightly stouter regular flex, though that could have something to do with it being a little more stiff in the tip section. Regardless of how it is classified, my ball flight was on the higher side with it and I felt it was sufficiently accurate.
The Power Cone comes in two loft options – Low Loft: 16° (2-3 iron), Medium Loft: 22° (4-5 iron), and High Loft: 28° (6 iron).
Final Thoughts
In all, I felt that this was a pretty solid offering, especially when you consider that it came from a small company I'd never heard of. I think expanding the shaft options would be a good step, as well as finding a different grip. Still, the Power Cone hybrid held its own when it came to distance, forgiveness, and accuracy. The price is surprisingly good as well – $110 MSRP. Over 60 golfers will have a chance to give their thoughts after the 2012 THP Outing and Demo Day, so stay tuned. Also, there is quite a bit of information on the company and their products at www.elmergolf.com. As always, thanks for reading and best of luck on the course this year.
Ryan H