Energy Athletic Golf Apparel is a new company based out of San Luis Obispo, California. They believe that they have designed a new fabric that will assist in ones performance on the golf course. THP was lucky enough to get their hands on these shirts to give them a test drive to see what they are all about.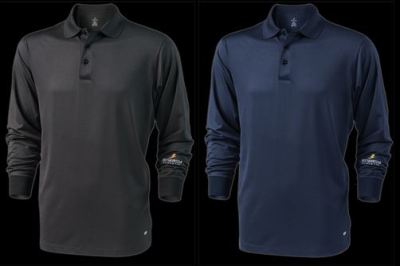 From the Company:
Golfers are always searching for a product that will give them a competitive advantage on the course. It may be the latest new golf club or something to help improve their swing. Now its something that hangs in their closet.
Performance Sports Brands, Inc. is leading what it calls a revolution in terms of the apparel that will be available to golfers. The company has announced Energy Athletic Golf, the first golf apparel that provides a true technological advantage for every golfer. The exclusive and patented IonX Ionized Energy Fabric™ features a negatively charged, electromagnetic field embedded into its structure.
According to [the PhD. of Polymer Chemistry and Chief Scientist at IonX, Dr. Al] Ouimet, the use of microfiber fabrics in Energy Athletic Golf provides comfort and outstanding "hand feel" and garment drape. In addition, these shirts offer performance factors such as moisture management, wicking (wicking fabrics are fabrics that actually lift moisture away from the skin), elimination of static cling and antimicrobial for odor control. The science behind Energy Athletic Golf also allows the wearer to feel warmer in cooler climates and to feel cooler in warm climates.
Paul Azinger, one of the most popular and successful professional American golfers of the past 20-plus years, has chosen to wear Energy Athletic Golf and appear in the company's commercials. "Every golfer is looking for an advantage. And I believe you get that with Energy Athletic Golf," said Azinger. Who doesn't want to feel better and now you can do it just by wearing a great looking shirt. You really have to wear an Energy shirt to feel it for yourself."
So who is Dr. Al Ouimet?
Dr. Al Oiumet graduated in 1968 from the United States Naval Academy with a degree in Chemistry before attending Naval Post-Graduate school in Monterey, CA where he graduated and received an MBA in Chemistry. He went on to the University of Rhode Island where he earned his Ph.D. in Polymer Chemistry. Later, he became Senior Vice-President for Quality Worldwide Inc. in 1995 before moving on to become the Corporate Technical Director for Warnaco Group Inc. where he was the lead scientist on the team that developed the Fastskin Swimming Suits for Speedo used in the 2000 Olympics.
Ouimet's great uncle was the American born Francis Ouimet who, in 1913, was the first Amateur U.S. Open Champion at the young age of 20 years old. Francis Ouimet is commonly regarded as "the Father of Amateur golf in the U.S."
Looks and Feel:
They sent me a large which I feel was very true to size. If I were ordering I would have gone with a medium. I like my golf shirts to be just a little bit snug . I found that the color held up very well and has yet to crease. Also, I always unbutton the top button and then leave the rest closed. I did like how clean the shirt looked with the top button undone.
Nothing "pops" out at you by the looks of these shirts. There are no designs or even logos for that matter, minus the IonX logo at the bottom of the shirt. Which most golfers will not show off as long as they like the clean look of a tucked in shirt. The long sleeve shirts however does have a logo on the sleeve. They offer 9 colors in the short sleeve polo and 3 different colors in the long sleeve version. So, if you like to show up to the course in a solid shirt, these may be what you're looking for.
The Energy Athletic Ionized Golf shirt is made of 95% Polyester and 5% spandex to provide a loose fitting, comfortable golf shirt that allows the freedom of motion essential to the dynamic movements in the golf swing. Every Energy Athletic shirt comes with fabric that has been embedded with the exclusive IonX Ionized treatment that makes for an intelligent fabric and provides you, the golfer, with increased power during every round. I must admit that these shirts do feel great. They are very soft and feel like they are well made.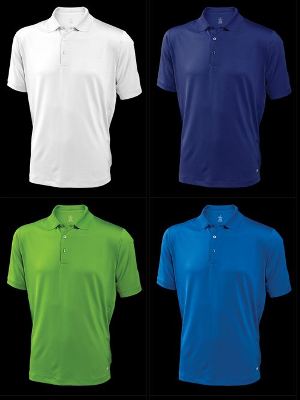 Thoughts on Performance:
The website leads me to believe that the IonX fabric will give you added energy and power on the course that will in turn improve your golf game. I myself did not get the feeling of any added energy or power. One point that they really try to hammer home is the comfort and the one thing I did notice is that the shirt was nice and cool on an extremely hot day. I don't think that the company is trying to sell golfers so much on added performance and power, but rather I feel as though they are saying that the microfiber fabrics offer the extra performance factors discussed above. Overall, this is a VERY comfortable shirt. I do think that if you are in the market for a solid golf shirt you will be impressed with the feel of this one while sitting at home, riding in the cart or swinging a golf club.
The short sleeve shirt MSRP is $59.90
The long sleeve shirt MSRP is $69.90
They do offer specials if you purchase 2 or more shirts as well.
There is a 30 day guarantee that it will be your favorite golf shirt and if you disagree you can send it back for a full refund. You can find more information at www.wearenergy.com.