The glove is often a mindless purchase for golfers; an accessory that often gets picked based on price or pure chance. EQ Golf, a company headquartered in France, is trying to capture those of you looking for a little more style and durability out of your glove. EQ Golf was a new name to me, but a quick look at their website showed me they have a variety of offerings, from gloves to sunglasses to headwear. In addition, they carry a complement of products that aren't golf related. They are very involved with environmental responsibility and enhancing athletic performance with new age products. EQ sent some samples of their gloves to me and I've had a chance to put together my thoughts after a number of range sessions and rounds of golf.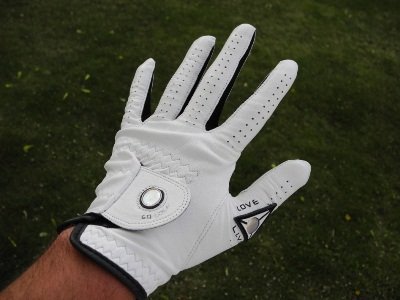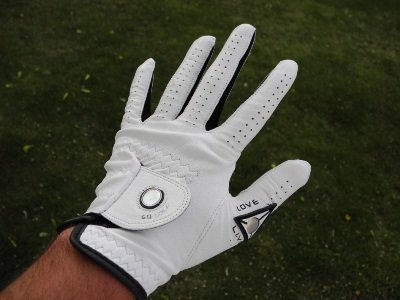 Information from EQ
The ultimate glove for this sport.
They are made from top-of-the-line Cabretta skin for an ultimate feel and the leather is of a superior quality and durability. Its unique design helps develop and maintain the correct grip.
Distinct EQ holographic ball-marker.

Silicone pad to enhance grip placement and connect the hands for better coordination.

Antimicrobial Lycra to enhance the fit and reduce heat and moisture.

Available for Men and Ladies Right-hander/Left-hander 2 colours : black, pink

3 sizes : Small, Medium, Large

The EQ golf gloves have been tested by professionals on the European Tour and received great response: It lasts twice as long as a regular Cabretta glove.
Looks and Performance
When it comes to looks, the EQ Golf glove is definitely unique. A quick glance will make you think it isn't anything different than other gloves, but a closer look first reveals a hologram on the wrist that doubles as a magnetic ball marker. That qualifies as unique in my mind. In addition, there is a triangle shaped silicone pad positioned on the thumb that has another hologram in addition to the words, "Live, Play, and Love". According to EQ, this pad is designed to give a point of reference on the golf grip, but I never really used it in that manner. The leather was quite soft, like any nice cabretta, and felt maybe a little thicker than some gloves I've used. I felt the glove fit in a similar way to other gloves I've used in the past.
As a side note, a few THP members pointed out that the wrist looked a little loose when I introduced the glove a few weeks ago. As a result, I decided to use a glove fitting tool and found out I'd been using larger gloves than I really needed. So, I guess I owe a "thanks" to our wonderful forum members for teaching me something!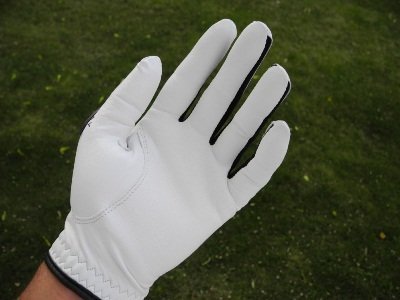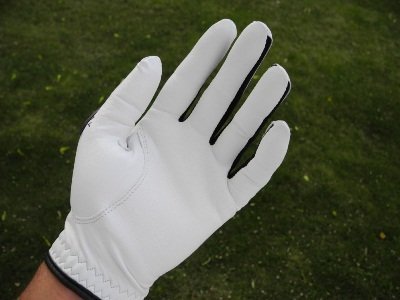 EQ Golf feels this glove is extraordinarily durable, so much so that they claim it lasts twice as long as other Cabretta gloves. I was able to use it for over a month and found it to be sufficiently durable, with no abnormal or premature wear. Other than discoloring, there wasn't much wear at all. I will say that the glove still tended to dry out and stiffen up like other leather gloves do after a period of time. The absorbent material around the wrist section did a nice job of collecting any perspiration I needed it to.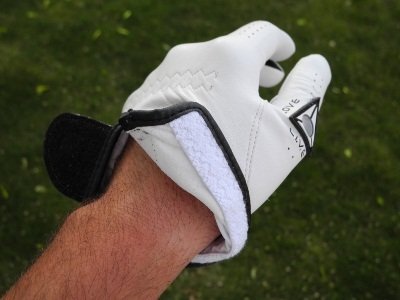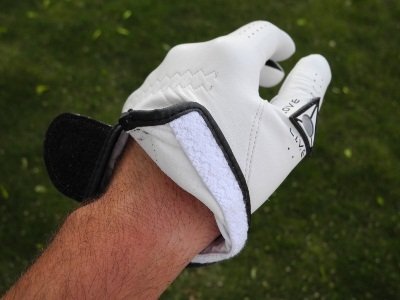 Final Thoughts
When it comes to the style, I'll admit that the EQ Glove and I aren't really a match made in heaven. I'm not against wearing some daring clothes, but the holograms were just a little more than I was really comfortable with. Regardless, the world doesn't revolve around my fashion sense, so that's a call you'll need to make for yourself. I did find the glove to be very comfortable and it seemed to be quite durable. If you're a little more daring than I am, this might be the glove you've been looking for! For more information, you can check out EQ's website at www.eq-love.com. As always, thanks for reading and good luck out on the course this year.
Ryan H.