Consistent putting is arguably the fastest way to lower your scores and while there is technically no 'right' way to putt, there is a general consensus on the fundamentals of putting. Like the regular golf swing, the faster you build a consistent and repeatable stroke the faster you'll see better results. Now there are tons of putting aids on the market today but there's one out there that's a little different. Recently THP tested out the Edge Putting Rail from Eyeline golf which says that you can build yourself a better putting stroke with. Did it do the job for me? Check it out.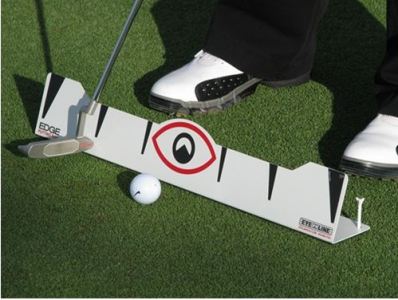 From the Company
See, Feel, Hear your stroke

Builds muscle memory

Markings on Face of the rail- check your putter's distance back and through the stroke

Made of USA steel for stability and durability as well as audio feedback

Non-skid backing for use indoors or outdoors

70* rail is the most popular plane angle and commonly works for most golfers
Look
When you look at the Edge Putting Rail you see a simple yet effective training device. The overall white color provides great contrast against whatever floor or putting green that you use this with. You'll see that there is a large 'eye' located in the middle which serves as the center alignment aid and the starting point of your stroke. Also there are some additional lines on either side of the 'eye' which are there to help you determine whether your back swing and finish are the same length. Much like the device itself, simple yet effective.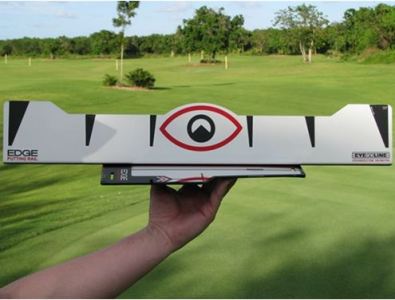 Technology/Use
The technology of the Edge Putting Rail may not be as readily recognized or as simple as the design is. The lie angle of the Putting Rail that I tested was 70*. Why 70* you may ask? Well here's the basic premise of this device. Your putting stroke is set on a swing plane much like a full swing. The lie angle of most putters is 70* which fits this intended putting plane. The 70* rail trains a slightly arcing stroke that allows the putter to come inside as it moves back and through during the stroke. Recently I've discovered that my natural putting stroke is of the slight arc variety so I was excited to see how this would reinforce that and make me a little more consistent with my putting stroke.
Testing
While I always prefer to be outside when practicing , some of my favorite testing to do is the testing where I don't need to leave my house. This testing opportunity afforded me the chance to do both testing inside and outside. Thanks to the non-skid backing found on the Eyeline Putting Rail I was able to test this on a variety of indoor surfaces (carpet, hardwood, tile) as well as your typical putting green without any issues with slippage. You can 'set it and forget it' which is key in that it allows you to concentrate on making strokes and your form rather than worrying about whether your training aid is moving around or not. In addition to the non-skid surface there is a small hole found at either end of the Putting Rail which you can use to put a golf tee in. This will further anchor the putting aid to the putting green surface as well.
Using this putting aid was more efficient than I thought it'd be. I'm the type of learner that retains information better if I can see AND hear what's being taught and if I can 'feel' it then that's a bonus. The Eyeline Putting rail accomplished all of these preferences and then some. When using it I was able to see my stroke including how far back I'd take the putter and how far through I'd take it after striking the ball. This was a great way to self-measure my stroke and ingrain in my head just how far and back my putter needs to go for a more consistent stroke. Where this really helped is on my follow through. At times I can stab at a ball after taking the putter back nice and easy instead of a nice and easy release. The Putting Rail made me consciously (and un-consciously) take the putter back to the same line behind the 'eye' as well as release it to the corresponding line in front of the 'eye.' By using the lines on the Putting Rail I was able to mentally measure my stroke and ingrain that into my brain.
What may have been the most important aspect for me with this putting aid was the audible feedback I was able to get out of it. As I mentioned before, the Putting Rail is made out of steel which allows for a nice bit of sound as you track your putter back and forth. This resulted in me being able to actually hear what a good putting stroke sounds like. What does one sound like? It's a nice, even, and deliberate sound. Not quick then quick or slow then quick as I can fall into sometimes. It's a nice back and through sound that has an even tempo to it. This sound was something I tried to remember when I wasn't using the Putting Rail and served as a great way to stay in tempo without having to say the typical things like 'nice and slow' or 'back and through' or 'nice and easy.'
When I took my first putts without the Putting Rail I noticed that I was blowing putts past the hole and had issues with distance control. Why? I think it was more from having a smoother stroke than I previously had which provided more consistent feel, contact, and power to my putting stroke
Overall

Available in Slight Arc (tested), strong arc, and straight as well as different varieties of lofts from 64* to 70* to 90* there's a Edge Putting rail for most putting styles. It retails for $59.95 The Eyeline Golf Edge Putting Rail has built up the confidence I have in my putter. My alignment is better, my stroke is smoother, and my tempo is much more even. The Putting Rail makes it convenient and fun to invest that time it takes to make yourself a better putter. For more information or to purchase this device please visit their website at www.eyelinegolf.com.
T. Hanks