When I hear the word Fila, the last thing that comes to mind is golf. My mind instantly takes me to tennis and for very good reason. I don't recall an athlete playing golf and wearing the Fila brand. Upon further research I have found that there is only one golfer listed on their site as a "Fila Athlete", it is Hee Won Han of the LPGA tour.  Fila golf has recently been something I have heard more about, but mostly on the shorts and polo side of the golf apparel. So, I was very excited to find out I would be reviewing a jacket by them.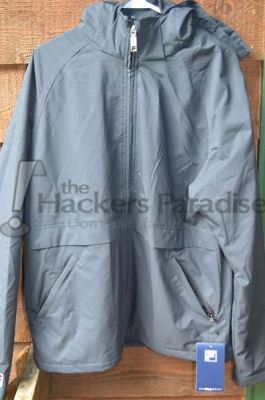 Fabrics and Features
The body of the jacket is made of 100% polyester mechanical stretch and the lining is made of with mesh.  The Mechanical stretch is created during the fabric creation process as opposed to blending the fabric with another stretch yarn such as spandex. This allows the fabric to have some "give" to it instead of being stiff. The garments fabric is tested and certified as waterproof, built to keep you dry by keeping water from penetrating the fabric. The fabric is breathable and is designed to keep you dry by allowing moisture to be diffused. The seams are all designed with waterproof tape that is located in areas most prone to water and wind exposure. This will do nothing but enhance the garment's overall waterproofness. The E Zip embroidery system is another feature on the garment. This is just another way of saying that the zippers remain hidden throughout the jacket. They have added fabric along zippers to keep them hidden so it will remain decorated while maintaining the integrity of the design.  The pockets are all lined with a micro fleece that is also lining the mockneck. The sleeve closures are self adjustable with Velcro allowing you to keep your sleeves off your hands during your swing. My favorite feature of the jacket is the detachable hood.
Colors available are black, desert sand, fila navy (tested), and silver.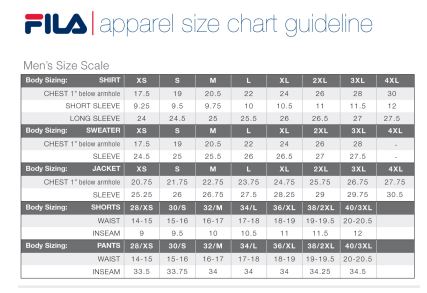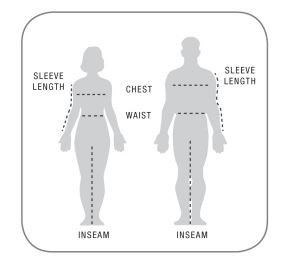 Looks and Feel
The Fila jacket has a very simple look to it by design, which is why they have the E-Zip system.  This allows them to add zippers while maintaining the design they originally had in mind. The jacket is very light which will do a multitude of things for you on the golf course. It will allow you to wear it on a warmer day without overheating and it will give you the ability to not focus on the fact you are wearing a jacket.  They are able to do this by using the mechanical stretch fabric. Essentially what they have done is created the stretch during the fabric creation instead of blending it to the fabric. The fabric feels like no other fabric I have felt on a golf rain jacket. It is very soft and when you pull on it, you can see that it has the ability to stretch, but maintains its structure and looks. When I first opened the package, I first noticed the simple look and design and thought this is not a jacket I would have picked off the shelf. It wasn't until I put it on that I realized that it looks very classy and can be paired with most golf outfits. The inner lining of the jacket is made of mesh and is extremely soft against the skin.
I also noticed the hood very early on. My initial thought was that the hood is going to be very annoying throughout your round. In recent rounds with a hooded jacket, I noticed that the hood had a tendency to flop atop my head in my swing. That's where the detachable hood comes in so handy. With just a zip on or off you can remove what would get in the way of your swing, and if the rain comes back, you can easily zip it right back on. Not only does the hood serve the purpose of keeping wind and rain off your head, it also gives the jacket a very sporty look. If a hood is not your thing, just remove it and use it for those rainy days where you find yourself without an umbrella.
When the jacket is completely zipped up it covers all of your neck and even rests just on the bottom of the chin line. There is a micro fleece lining that is very soft to the touch and feels great against your skin. With some previous jackets the zipper would catch any hair on my neck or chin and give it a very uncomfortable tug. The E-Zip design keeps the zipper hidden even when it is zipped to the top and there is no annoying snagging or scratching on your neck or chin. This is a feature that should never be over looked in a jacket.
The sleeves are very non-constricting, so you will be able to swing freely without any tension or snagging on your shoulders and elbows – something very important to any golfer! The jacket features a Velcro self-adjustable sleeve closure to keep your sleeves right where you want them, in case they are too long or getting in the way of your hands while holding the club. The polyester fabric is almost as quiet as you can get in a golf jacket, so there is no concern for noise in your swing.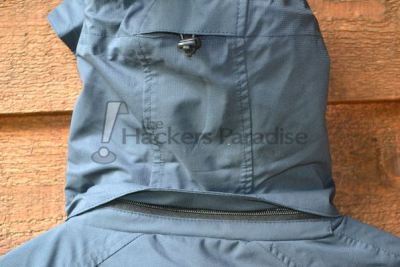 Testing
Who knew that upon receiving this jacket that it would rain for 2 weeks straight? This gave me the ability to really put this jacket through the ringer for testing it in the rain. I have found that the water just beads right up when it hits the jacket. I have golfed in it with a very light drizzle that turned into a downpour that ended my round early. Upon leaving the course and removing my jacket, there was no noticeable wetness on my golf shirt. So, as far as rain goes, it passed the test of keeping me dry.
The other large factor for a golf jacket is the ability to swing freely without hesitation. I found that the sleeves are a bit long, so I did have to utilize the sleeve Velcro system and I found that if that was not a feature, this jacket wouldn't be used for golf. I was able to Velcro the sleeves into place and I didn't have to worry about the sleeve snagging on the butt of the club. I never once had issues of sound during my swing. With many rain jackets they make a loud swooshing sound during movement, but this jacket is very quiet throughout the entire swing.
Overall, I would recommend this jacket to any golfer looking to protect themselves from the rain. It is very comfortable and well designed. I had no issues with it throughout my rounds and am very pleased that I was able to test it.
One complaint I do have is while going through the Fila website, if you click on sport to see which sports they make shoes and apparel for, golf is not even one of them listed. This can cause some confusion for consumers looking for the Fila golf brand. I googled Fila golf and that's where I found the place where one can buy the Fila golf apparel. This all seemed a little strange to me and if I were a consumer I would have given up after going to the Fila website and not being successful.   
You can find out more at: http://www.shopfilagolf.com/us/
MSRP: $110.00