There is some serious competition when it comes to the laser rangefinder market. At the top of the pyramid are the brands that we have become accustomed to seeing, and they continue to do quite well. In addition, there is plenty of movement in the budget category as there appear to be more and more brands making their mark to show that a good quality rangefinder doesn't need to cost $400. Today, we are looking at the FineCaddie UPL100 Rangefinder to see how this sub $200 device stands out in a crowded marketplace. FineCaddie might not be a recognizable name here in the states, but they are currently popular in Korea and Japan.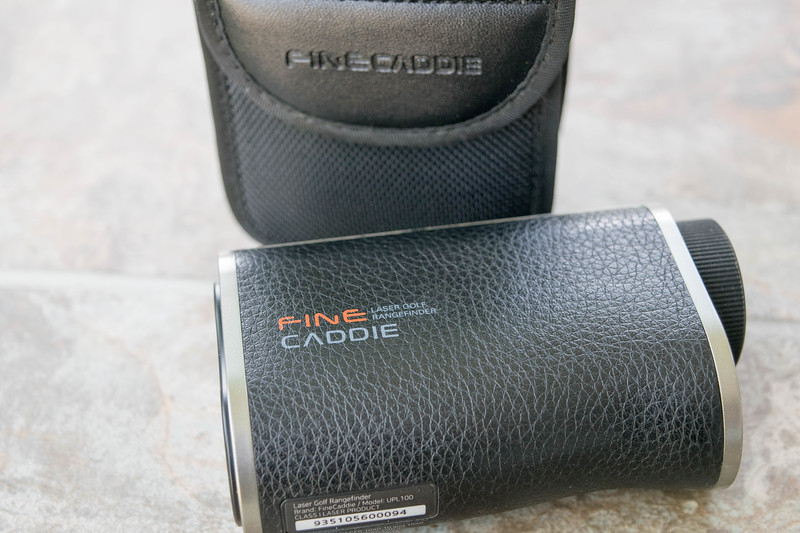 Getting a first look at the UPL100 and two things instantly jump out, the overall lightness and the feel. First, in terms of weight, this rangefinder tips the scales at under six ounces, making it less or equivalent to many of today's smartphones. Second, generally speaking, we tend to see various plastic body builds for many budget rangefinders. That is not the case here, as the primary material that wraps around the rangefinder is a leather-style material. Not only does it feel good to the touch, but it also makes the UPL100 look more premium.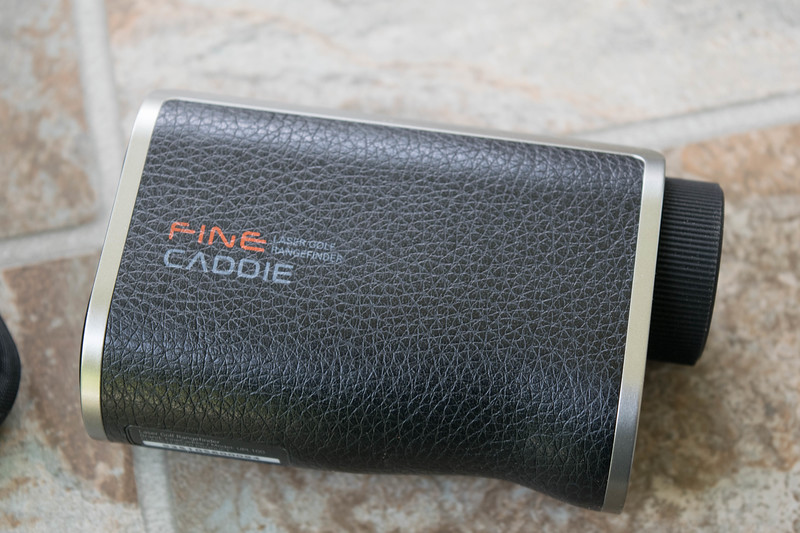 Along the top edge of the UPL100 is where you will find the only two buttons required for use, a mode button and the power button, which is what you'll press when zeroing in on a target. As you might expect, the mode button allows users to change from a flat distance readout to one that calculates for slope. When the slope reading is inactive, a red light illuminates to show that this rangefinder is satisfactory for tournament usage.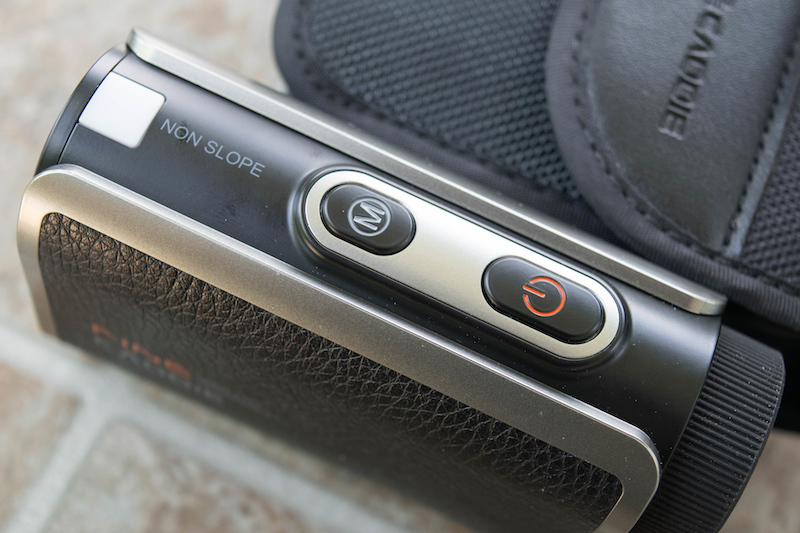 During use on the course, this laser offered some impressive traits. Earlier, we talked about how budget-friendly rangefinders tend to employ a plasticky feel. But, in my experience, they also can lag behind the competition when it comes to speed and accuracy. For example, FineCaddie lists that the acquisition time of the UPL100 is less than half a second, and during our on-course time, there wasn't one example of getting a slow readout. Instead, it felt like the yardage was on my screen almost instantaneously after pushing the power button. In addition, I tested this FineCaddie unit's accuracy side-by-side with up to four other rangefinders, and all of the readouts were within a yard or two.
Another feature that is appreciated on the UPL100 is the haptic feedback that it provides. Not only is the vibration substantial enough to know that your target has been acquired, but the amount of vibration is determined by the target. For example, if you focus on a tree in the distance, you will feel one vibration, and two vibrations are felt when locking on to the pin, signifying that your yardage is the flagstick and not something in the background. The difference is subtle but noticeable when out on the course. There is also a flagstick icon that appears on the screen when locking on the pin.

While I have grown to enjoy using this device, there are a couple of minor tweaks that I would make. First off is the battery indicator, which, for the most part, can only be seen when the battery has less than a 10% charge remaining. I have also noticed that the icon will flash when using it for the first time that day, which gives that initial shock of wondering if it will make it through the round. Yes, this is just a minor pet peeve of mine, but it would be nice to see that battery level on the screen throughout the round, especially since it is a rechargeable battery. However, FineCaddie does say that users should get around 30,000 readouts per 4-hour charge, which should alleviate any stress. Also, for a positive note, the UPL100 charges with a USB-C cable.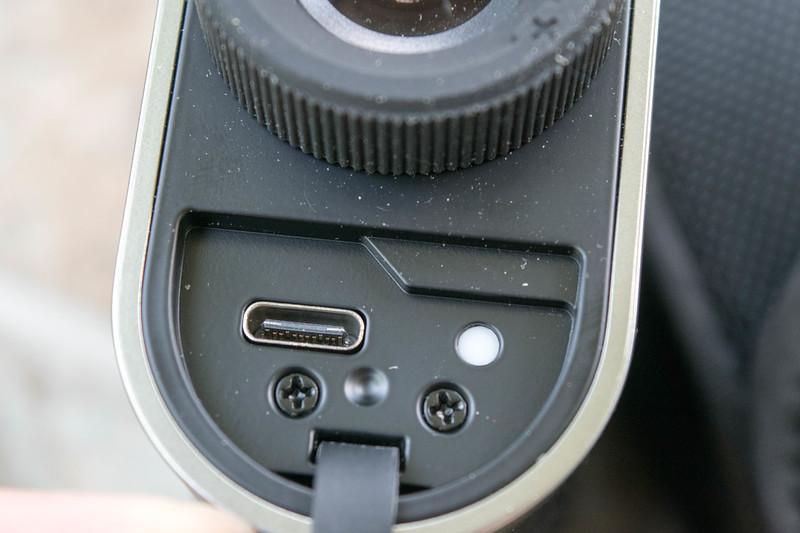 The other area which left me wanting more was in regard to the case. But, again, this is just another minor critique and nothing that would ultimately keep me from purchasing or recommending this unit. One of the features that I have grown accustomed to with rangefinder cases is that they can easily be attached to the bag by either a carabiner or a clip. What FineCaddie provides is a simple strap loop on the back of the case. Don't get me wrong, this works well if you want to attach it to your belt or run the cart strap through it on the days you are riding, but it makes it a bit more cumbersome to attach it to your towel ring.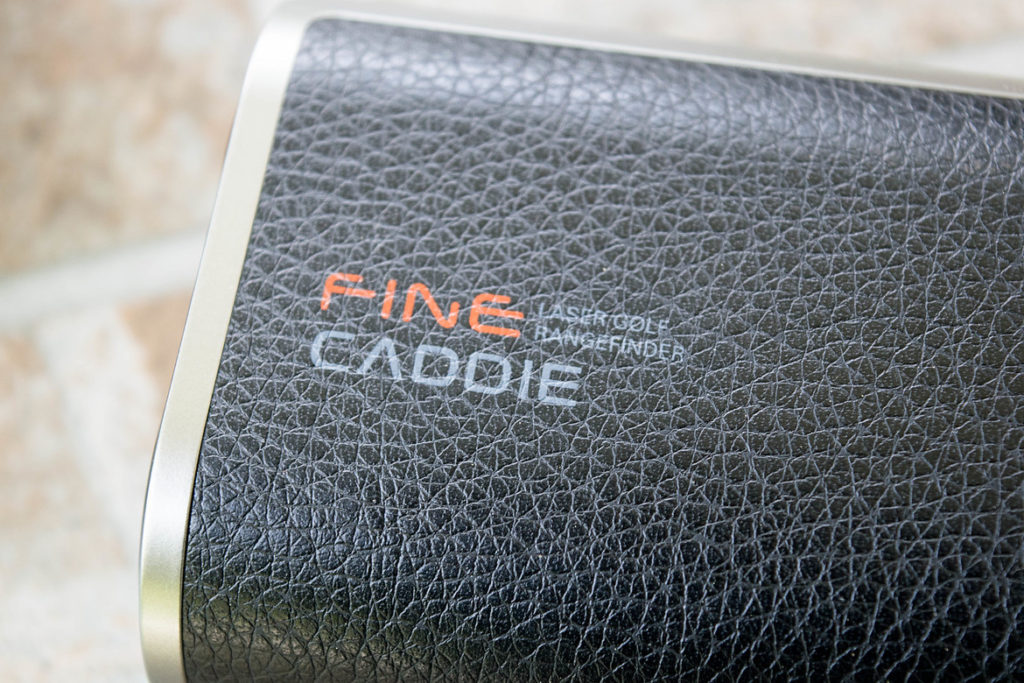 FineCaddie has a rangefinder here that offers so much to the golfer for an attractive price. With a pleasant feel, haptic feedback, slope mode, USB type C charging, and fast, accurate readouts, this rangefinder easily holds its own against the competition. While there is a plethora of other information on their website, www.finevu.com, purchases appear to go through Amazon, which is excellent if you are a Prime member. At the time of this article, the price through Amazon is $179, making it an attractive price for the quality that it has shown.
The Details
Available: Now, via Amazon
Price: $179
Modes: Slope/Non Slope
Magnification: 6x
Range: 1,000 meters
Battery: USB-C Rechargeable