If you have not had the opportunity to try a Finn Scooter, then you most certainly have seen them online or in person. They are extremely fun to use, but also have a very practical side too with both maintenance and pace of play. While the last couple of years have taught us a bit about single riding golfers, Finn Scooters came before the pandemic filled golf life. Where? Why? Let's dive into it a bit in this very unique Brand Story.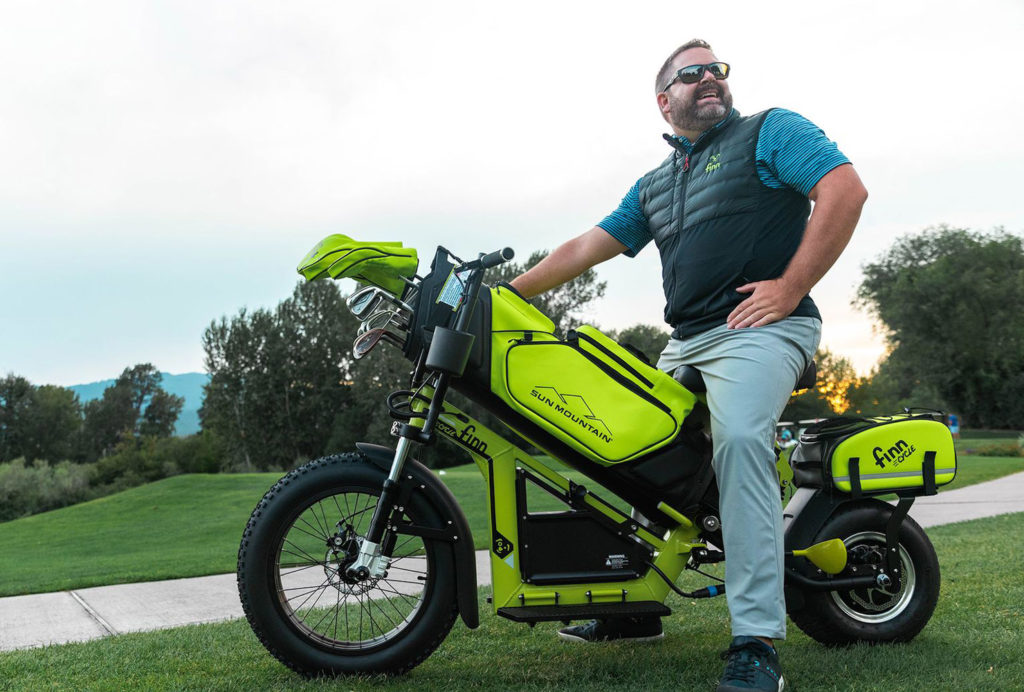 The Finn Cycle debuted at the 2019 PGA Merchandise Show to much fanfare and quickly got a cult like following. As players got a chance to try them, more and more joined what we have affectionately named the #FinnSquad. Where did the idea come from? We asked Rick Reimers, Founder and Owner of Finn Scooters to describe.
"Most of my ideas come while I'm on the golf course. Any of us who play golf regularly have experienced episodes of slow play. Most of us have likely heard people scoff at golf as being too slow and too boring. I have built my 40 year career in golf on solving golfers' problems. Slow play is a problem. Golf being perceived by some as boring, is a problem. I started Finn Scooters to work on innovative solutions to the problem of slow play and to increase the fun factor."
Fun on the golf course for much of our reader base has never been a problem, but slow play has, and it seems to be getting worse. What started as a simple four hour round has ballooned in recent years, and in some areas the average rounds are an hour longer due to a myriad of issues. One of those issues is about course design. Be it the length of the course or the toughness that it brings, slower rounds are not going anywhere. Another would be the two person cart, which can move golfers around faster, but only when used appropriately.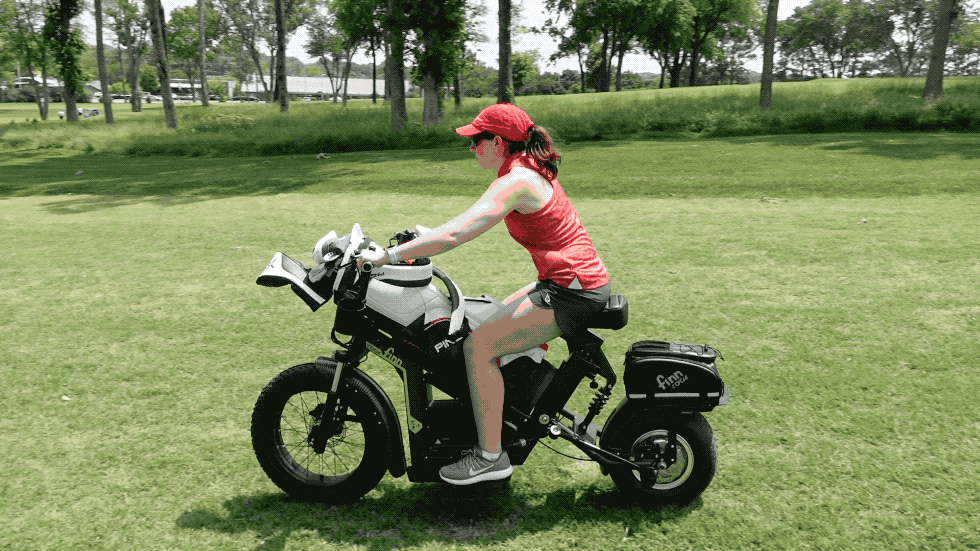 The issue with the two person cart is lack of awareness by the golfers using it. Pop onto any public course on a weekend and see the typical two person cart drive to a ball, have the golfer run though his pre-shot routine, hit the ball and then hop back in the cart and drive to the next shot and repeat. Rather than the alternative which is drive to a shot, drop a player off to go through his shot, while moving to the next one and preparing for ready golf. This became apparent to most during the pandemic which forced many courses to offer single riding solutions and pace of play increased. We had a chance to speak to a popular golf resort in FL on the matter and they offered this.
"While working under COVID rules, with the same amount of golfers on the tee sheet, we were averaging around 25 minutes faster per round. Not apples to apples or scientific in approach, but we based that pace on ranger times and turn around at charging stations."
Other rule changes certainly played a part in the pace picking up including the lack of removal and replacement of the flagstick, but that is a lot of time to make up and as someone that has spent quite a bit of time on golf courses for our THP Experiences, it's noticeable when single riding is used.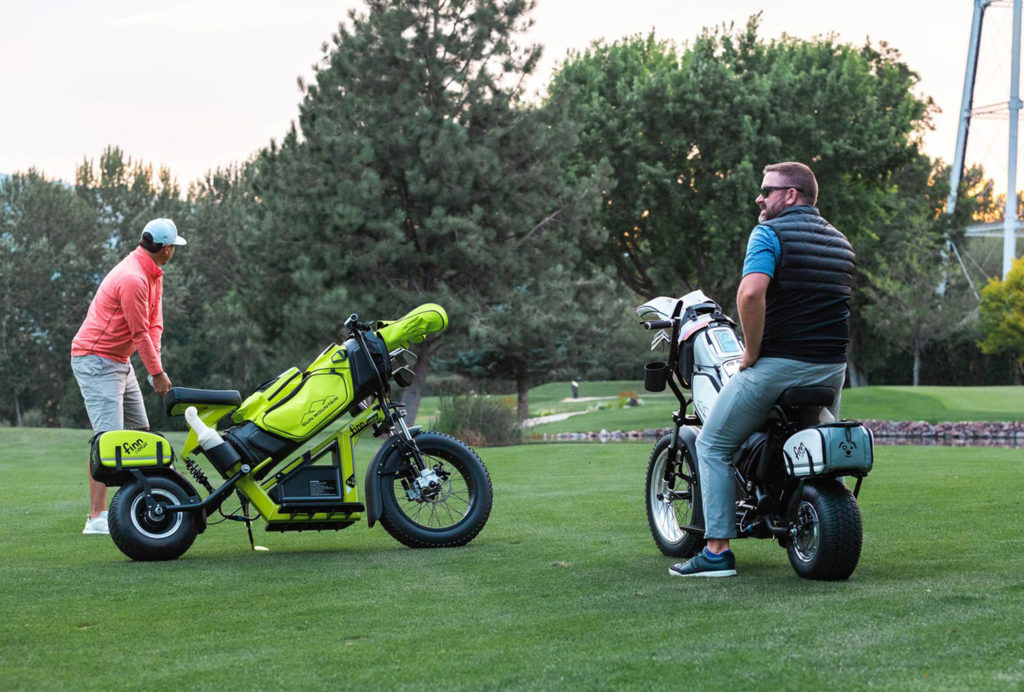 While the why is being discussed, the what certainly has to be mentioned as well. How did the Finn Scooter go from early idea to prototyping to what we are seeing now with second generation models that function near perfectly? Rick Reimers expands on it.
"The 'elephant graveyard' as we call it, is vast! Prototyping has been on-going for years and years. We've experimented with four wheels, three wheels, two wheels. We toyed with stand up and sit down models. We've messed with a variety of ways to seamlessly accomodate a golf bag. You name the intricacy of design solutions and we've likely experimented with it. The goal was for the solution to be designed around and for golf – application off-course is great, but it's a bonus – first and foremost it has to work on-course. We need it to be quiet, easy to operate, safe to operate, and minimally impactful on the course. We need a solution that's easy for the pro shop to manage and doesn't add work for the superintendent."
As we strolled through the aisles of the PGA Merchandise Show a few years ago, something caught our eye. It was a booth for Finn Cycle and the debut of Finn Scooters. We were drawn in, by design, and needed to know more. Before seeing them in action, we asked for some literature. In the original press release for their debut, Rick Reimers said this.
"The inspiration for Finn is the desire to play a faster round of golf," said Rick Reimers. "Riding Finn is invigorating and sporty while encouraging ready golf."
The press release went on to add this information.
The golf bag sits along the center-line of Finn Cycle offering easy golf club access and riding stability. Finn Cycle has front and rear suspension for a comfortable ride and braking with hand-operated disc brakes. The electric motor is in the rear wheel offering a sleek design. The lithium battery can go up to 36-holes on a single charge though charging after every round is suggested.
Finn travels at the same speed as a traditional golf cart, approximately 15 mph, and offers the opportunity to substantially speed up the pace of play by naturally encouraging ready golf with each player driving directly to his/her ball. With Finn, a sub-two-hour round of golf is within reach.
Reimers has a well-deserved reputation for creating innovative golf products that become industry mainstays such as the golf bag with built-in legs and the golf push cart.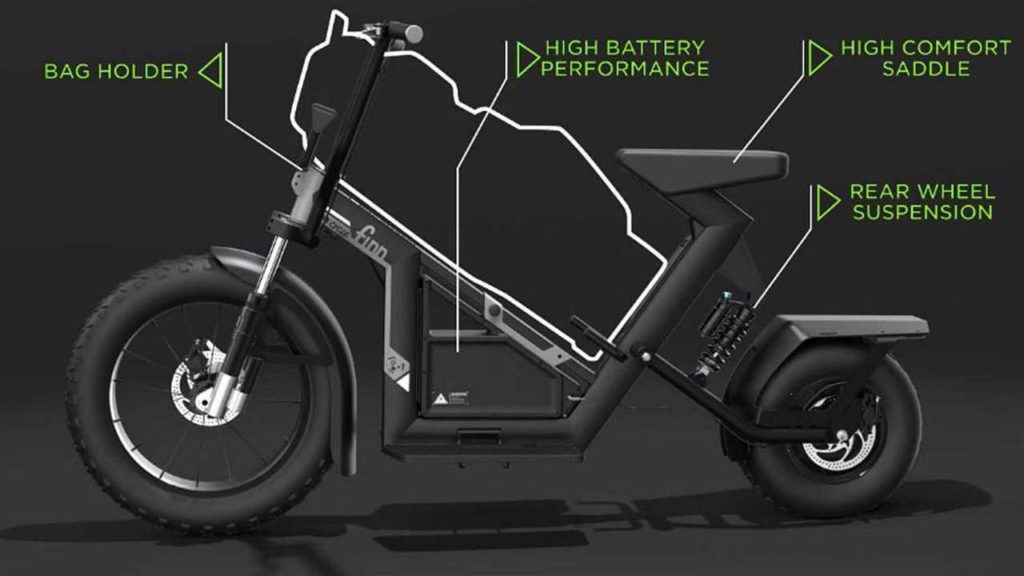 As a notorious note taker and flashing back to the 2019 PGA Merchandise Show, I wrote this information down. This should be fun. Golfers of all ages will love the thrill. It might be better for the course maintenance. PACE OF PLAY MATTERS. Are those just talking points by the company? Maybe. But it was enough to make me ponder more and come to two conclusions before ever riding one. First, that this makes a lot of sense. Second, that golfers are notoriously not interested in lots of change, so messaging and marketing would be key. We asked Rick Reimers to expand on the first unveiling from his point of view.
"As with anything new and innovative, some give it a sideways glance at first. I'd just tell people to get on it and ride it and then let me know what they think. Universally, people take off hesitantly at first and then realize how easy it is to ride and come back all smiles!"
Enter Covid. We mentioned it above, but I believe it is a part of this story that cannot be ignored. Not only for the game of golf, but also the showcase of what single riding carts can offer to both the golf course and the golfer. How did this impact Finn Cycle and Finn Scooters specifically? Rick Reimers explains.
"As we all know, golf experienced an incredible boom during the pandemic and some states' stipulations regarding single-rider only in golf carts definitely helped the single-rider golf cart movement. Courses running out of cart inventory and needing more single rider options offered a great opportunity for some courses to give Finn a shot. Finn Cycles are now at over 200 courses in 40 states."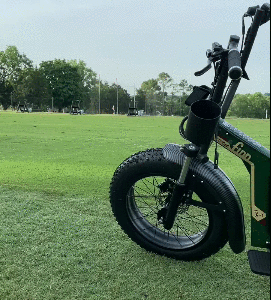 Moving backwards a bit in this story, my original thoughts were about marketing and speaking to golfers about this new way to travel around the course. Does the younger generation gravitate towards a Finn Scooter for the cool factor? Do older participants fear any part of safety? How does Finn as a company market this both to golfers and courses when the status quo has been the same for so long? These are all valid questions that will obviously shake out over time (and in this article), but we asked Rick Reimers his thoughts on what makes Finn Scooters stand out to the golfer who arrives at the course ready to play?
"If a course lines up some Finn Cycles along with the traditional carts, that's about all it takes to get folks asking how to rent one. And once folks see someone playing a round, smiling from ear to ear, it makes them want to try it out for themselves."
This makes a lot of sense and was put to the test last year at a THP Experience at True Blue and Caledonia where Finn Scooters are available for rent. We offered them to participants on a first come first served basis because they are limited in the amount the facility has. Immediately they were taken and the #FinnSquad was born.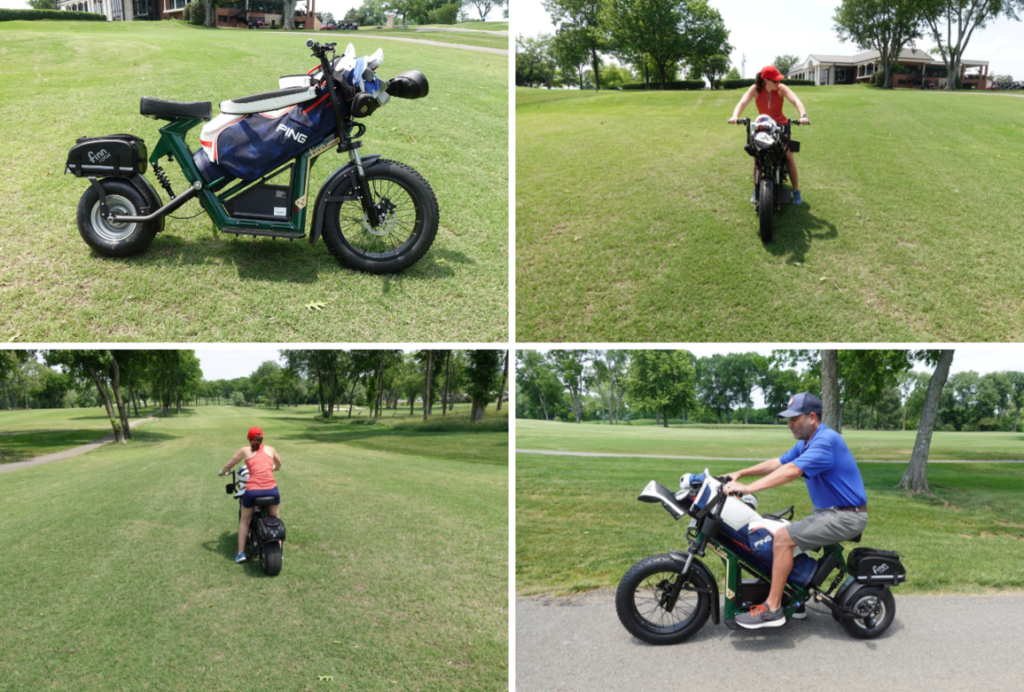 Since that time, we have seen a lot of different personal or single rider carts come to market. We have had the opportunity to test many and still think the Finn Scooter is the most enjoyable to use, but taking the branding out of it, does the original idea work? Yes. Using a single riding cart for a foursome is nearly always faster than two people riding together, and definitely faster than walking. In fact, at every course we spoke to that features a single riding option, the answer was a resounding yes. Other comments included easier to maintain and easier on the golf course conditions.
So why hasn't everybody switched? Well that goes back to another question and one we have posed to our forum community in the past about the fear of change. The single rider cart is a very large departure from that of walking or riding with a friend around the course. It will take time, but the growth is there and it is going to continue. How big is the growth in this segment for both course and personal use? Rick Reimers explains.
"30% of our sales are for personal use and most of those buyers live in golf course communities where they can just ride their Finn from home to the clubhouse. Some courses have rental fleets and players get a taste of how fun it is to play from a Finn and then they end up buying one for themselves. We also see applications in the resort market. Imagine being handed keys to a Finn at check-in and having it at your beck and call during your stay!"
So far, everything seems perfect, so we ask the question again, why hasn't every golf course made the move and why haven't golfers everywhere demanded they do so?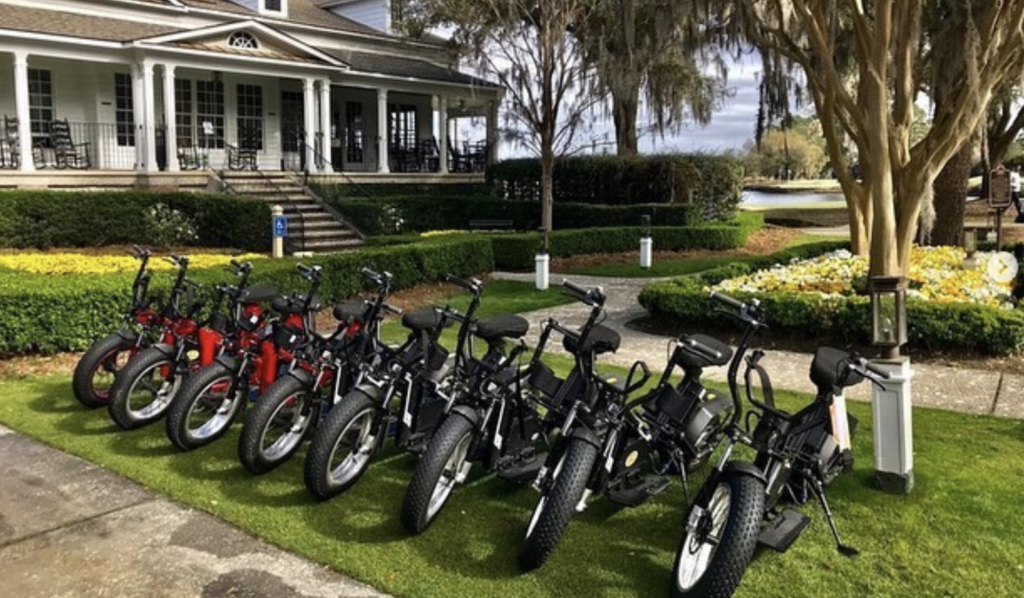 The first concern comes in the way of some heavily populated golf areas and not having a cover or roof like a traditional golf cart. This makes sense. On a hot day, jumping into the shade of a golf cart in between shots can be a great way to stay at least a little bit cooler. In our experience, assuming the course has any tree cover, this is alleviated pretty easily by the single riding scooter being much easier to get to places that a two person cart cannot. Riding over to the shade and dropping the kickstand there is a very easy method and we found it much easier to get to some harder to reach areas for this shade than we imagined.
The second one is a bit more serious and involves safety. I think there is some validity to this with a segment of golfers where balance could be an issue, but overall, the ease of use in riding and hopping off is better than we ever anticipated. If one is shorter than say 5′ tall, legs might not be long enough to balance from the seat or if someone struggles riding a bike, there could be some issues, but overall, they are very easy to ride and when doing so you won't feel as though you have a chance of getting thrown off or hitting a curb wrong and falling. All in all, while using a Finn Scooter, you actually feel rather secure going over the course regardless of what the terrain throws at you. With all of that being said, common sense should play a role here.
As we arrive in the present of this rather short tenure in the golf business for this product, but one that has the ability to change the landscape of the sport, what does the future hold? We asked Rick Reimers that question.
"We're very optimistic about the future! More courses are adding Finn Cycles to their rental fleets. Courses that already have Finns are adding more cycles to their existing fleets. We're making more sales to individuals for personal use. And we're just beginning to tap into the resort market where Finn Cycles can be used on the resort's golf course as well as a fun and convenient way for guests to get around the resort.
Since our first model, we've learned some lessons and beefed up some parts that get heavy use – the kickstand is studier, the brakes are better – we now have more accessories – coolers, covers to protect from sun and rain, fenders and seat covers for customizing, bluetooth speakers, with more accessories to come.
And, we're always working on new and different models of scooters.
The future is bright. Stay tuned!"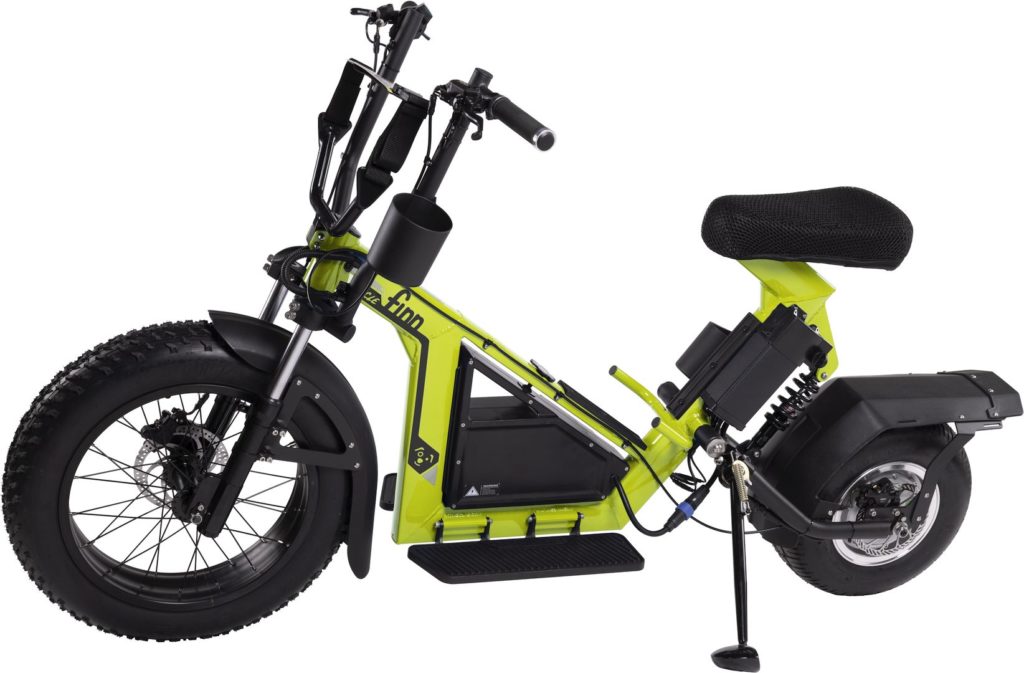 If your local course offers Finn Scooters or single rider carts in the future, would you and your group be inclined to try them? How do you feel overall about pace of play riding as singles vs as pairs? These are all questions that can help shape the game moving forward and Finn Cycle is hoping to play a major part.
For more information on any of their products, check out their website at www.finnscooters.com.