While the metalwoods will get the lion's share of buzz and attention from Tour Edge's EXS 220 lineup, the two accompanying iron sets might just turn some heads too if given the chance. While most think of "players" style irons when it comes to the Exotics name, they might also be forgetting that Tour Edge was on the front of the battle lines for hybrid irons since the beginning. The EXS 220 and 220h irons are very much dipping into that legacy and throwing everything into the equation to create tech heavy irons that the majority of golfers out there can benefit from with forgiveness, distance, and a very nice price.
Tour Edge EXS 220 Irons
The 220 irons are classified by Tour Edge as a "game-improvement" level set which is comprised of a split-set makeup via the combination of undercut and hollow body designs in a slick chrome finish. The hollow-bodies make up the 4-7 while the undercuts serve the 8-GW portion of the set. Both heads feature a heavy emphasis on multi-materials as well.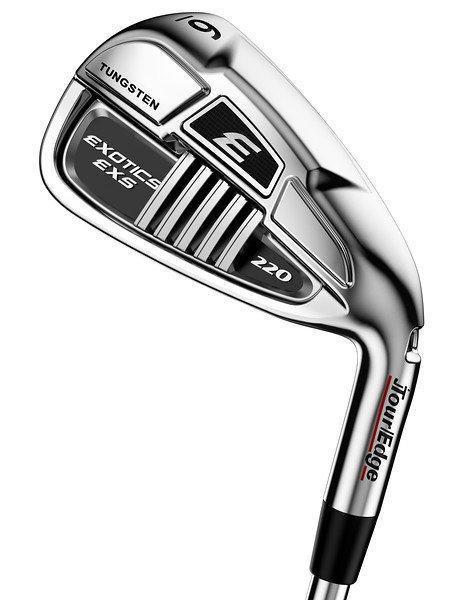 The hollow-body portions utilize a forged maraging steel 450 cup faced design to achieve maximum ball speed while the scoring clubs are built from 431-stainless-steel. More than the base materials though, the set also features a 19g tungsten weight in the toe of each iron as well as "SpiderWeb Variable Face Thickeness", "LaunchPad Technology" which is an internal polymer for vibration dampening, and power lofts combined with a new notched hosel for better fitting/bending potential.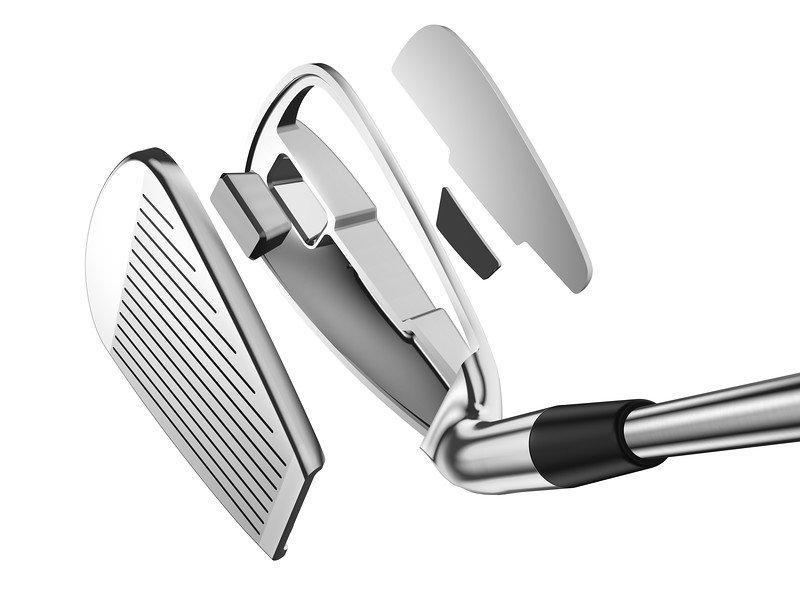 Tour Edge EXS 220h Irons
Now, the 220h, these are going to be the ones that initially turn the most heads. These are a black satin finished full hollow body set made up of 17-4 steel. These are flat out hybrid irons that are aiming to pack all the forgiveness of metalwoods into an iron design that flows progressively throughout the set.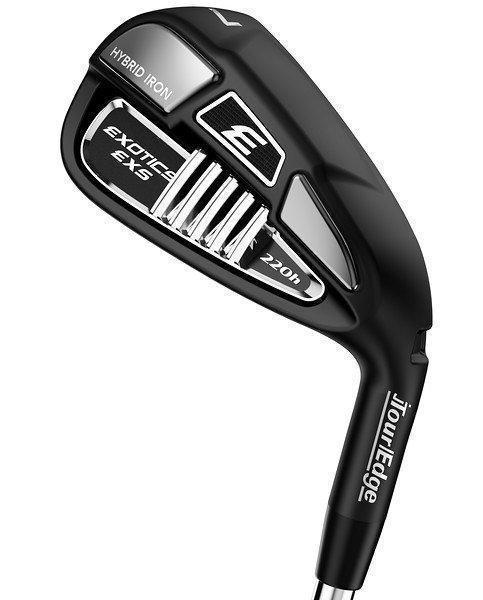 The company classes these as an SGI (super game improvement) type iron, for what that's worth. The center of gravity is deep, the soles are wider, and the MOI (moment of inertia) is high, and when mixing in the "SpiderWeb Variable Face Thickness" along with the Cup Face, the story here is big time forgiveness with a ton of ball speed. The 220h also utilize the same notched hosel and "LaunchPad" dampening polymer to add fitting capability and a sound/feel they believe will please many.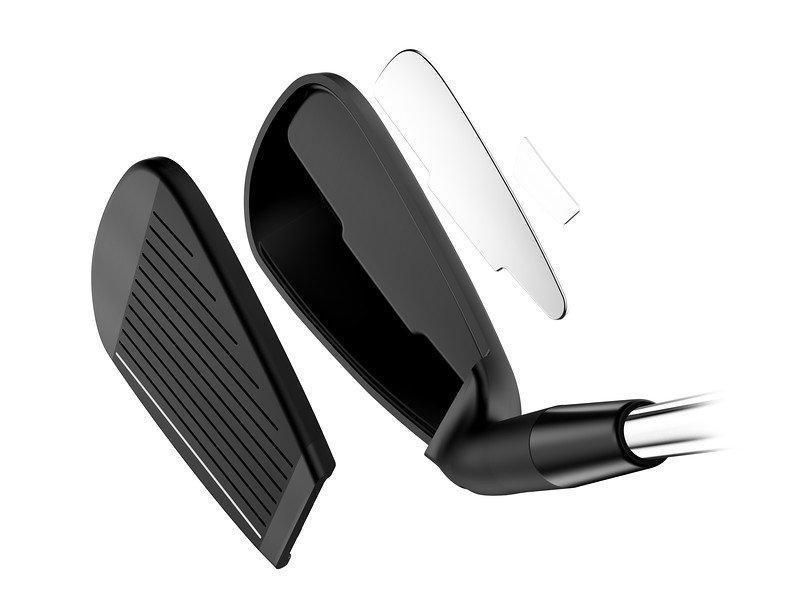 SpeedTested and Speed Custom
Maybe the coolest part of the Tour Edge EXS 220 offerings comes down to two things which are not necessarily about the head technology and design.
First, all the EXS 220 shaft selections is now done via what Tour Edge is calling their "SpeedTested" platform. With a heavy investment into their R&D they have acquired their very own robot system which has allowed them to test all of the clubs to optimize performance. By optimize, I mean they have tested them at all different levels of swing speeds in order to give options to help optimize performance from user to user. While it will not take the place of a fitting, it will give the biggest section of the bell curve shafts that aren't just paired with heads because they are trendy, instead there is performance-based merit.
Options are as follows:
EXS 220 and 220h Irons SpeedTested Stock Shafts
85 MPH or Below – KBS TGI Tour Graphite – 50g Ladies, 60g A-Flex
85-95 MPH – KBS TGI Tour Graphite – 70g R, 80g S
85-95 MPH – TrueTemper XP85 R
85-95 MPH – TrueTemper Elevate 95 – R
95 MPH or Above – TrueTemper XP85 R
95 MPH or Above – TrueTemper Elevate 95 – R
95 MPH or Above – Project X HZRDUS Smoke Black 80g – 6.0, 6.5
Finally, Tour Edge has been well ahead of the fitting game with their "48-Hour Custom Fit Delivery" system that has been in effect with the Hot Launch lineup for a couple of iterations now. Well, it is now expanded into the EXS 220 release, and what this means is when using a Tour Edge authorized fitter, the golfer can have those custom fit clubs in their hands and ready to play in just a 48-hour turnaround. No other manufacturer is doing that.
Power Potential
The 220 irons are going to offer a decent size profile that has been mixed with everything Tour Edge has learned over the years to max out forgiveness and sheer firepower. Worth noting too is on the Power Lofts, contrary to the loft-jacking arguers out there, even Tour Edge states it's more about balancing and maintaining launch characteristics and peak heights to match the traditionally lofted clubs. Simply put? New tech makes the ball go higher, way higher, and without increased lofts there would be diminishing returns as it pertains to distance.
The Details
Price: $109.99/club for steel, and $129.99/club for graphite
Set Makeup: 4-GW
Dexterity: RH
Available: 2/1/2020
Website: www.touredge.com