FootJoy recently sent their XPS-1 shoes with the BOA System to THP for a review and I had the pleasure of testing them out. This pair of shoes appears to be on the sportier end of the style spectrum, though they still offer a somewhat refined look that we often expect to see from FootJoy. The pair I reviewed and shown in the pictures below came in the White Smooth/Pearl Digital Print/Black and Charcoal Trim color scheme and I have to admit to being quite impressed with the way they looked when I took them out of the box.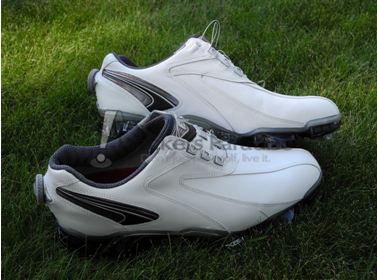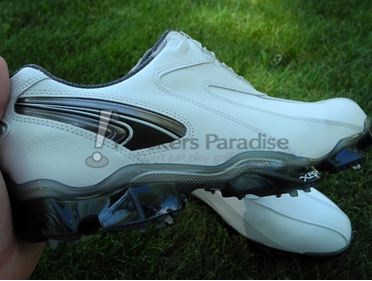 Summary of Features from FootJoy
ECL™ Leather System by Pittards® ECL™ or "Extreme Comfort Leather" is a proprietary waterproofing system developed with Pittards® of England. It is a membrane-free leather with a 2-year waterproof warranty. ECL Advanced Waterproof Leather is 30% softer than previous generation FootJoy performance leather.

2-Year Waterproof Warranty FootJoy warrants that this golf shoe will be waterproof in normal use for two years (U.S. Warranty).

BOA Closure System The precision of the BOA closure system allows you to minutely adjust the shoe closure for a perfect precision fit. The BOA reel never loosens during play and the lace never stretches or unties. The BOA lacing system pulls your foot down and into the back of the shoe, which not only provides a custom-like fit, but incredible comfort and stability throughout play.

Dual-density Fit-Bed Dual density Fit-Beds provide both underfoot comfort and heel support.

Full Leather Linings Leather linings provide superior comfort, slip resistance, and in-shoe breathability,

3D Viscoelastic GelCollar™ This viscoelastic gel molds to match the shape of the ankle. The technology provides additional comfort and support around your ankle.

HeelLoc This heel zone reduces friction and keeps your foot safely harnessed.

Laser Plus Last Full rounded toe character, standard fit across forefoot and instep, with a slightly narrow heel. The Laser Last is a composite of thousands of digital scans of the FootJoy Laser Fitting System.

Cyclone™ Cleats by Softspikes® Cyclone golf spikes offer superior traction throughout the entire golf swing. This golf spike also provides stability and support from the moment you step foot on the course. Unlike traditional spikes, its spring-flex traction makes the Cyclone extra friendly to the greens.

Xtreme Outsole This cutting-edge advanced TPU designed outsole delivers unparalleled extreme platform stability during the golf swing.

Parametric Cleat Placement Strategically placed cleats provide additional platform stability throughout the golf swing.
The BOA System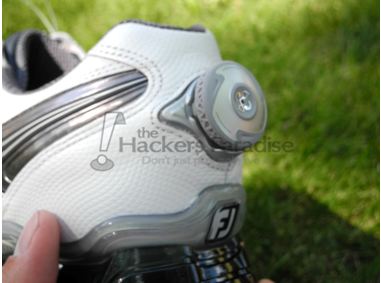 The XPS-1's offered my first opportunity to try out the BOA System firsthand. I'd seen it in action before, but never had the chance to play around with it. For those of you not entirely familiar with it, I'd recommend checking out this video from the company's website.
As you can see, the BOA System takes the place of traditional laces. It's really quite easy to use and did enable me to quickly tighten the shoes to the exact fit I desired. I found the 'reel' on the back of the shoe to be a little clunky to look at, but it wasn't something I noticed while wearing the shoes. The one drawback I did notice was that the came unlocked without warning a couple times on the golf course, which resulted in the shoes instantly loosening up. I definitely think that the BOA System is unique and fun to play around with, but I'm not sure if I personally found it to be worth the added expense compared to traditional laces.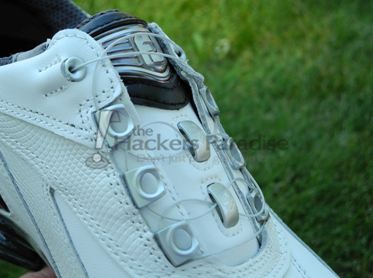 Fit and Comfort
FootJoy is pretty proactive about recommending their customers buy their products after ensuring a good fit. In fact, they have a full web page devoted to helping prospective buyers that you can look at here. Unfortunately, when reviewing products we aren't always able to take advantage of all that information ahead of time. While I reviewed a pair of XPS-1 in my 'normal' size, I found them to be pretty narrow in the toe area. I don't normally require a wide sized shoe, so that's worth keeping in mind. This resulted in some discomfort after a few hours of wearing them, but I can't really blame that on the shoe itself since I didn't have the opportunity to do any measurements prior to the review. The foot-bed was quite comfortable, but I did experience some pain in my toe area. My advice would be, much like when buying a golf club, make sure you take the time to get a pair that fits you well before purchasing.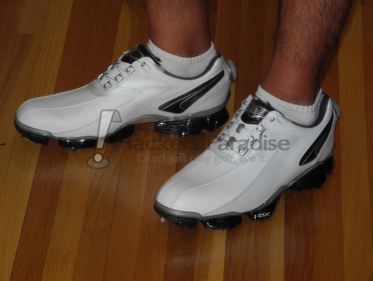 Traction and Stability
I really felt like the XPS-1 shined in both of these areas. The spike pattern is definitely aggressive and offers top-level traction, even on a very wet course. My first time wearing the shoes was right after a two hour downpour while walking a very hilly course and I never experienced any slipping. Speaking of rainy days, I found FootJoy to be spot-on when it comes to their claims regarding the waterproof qualities of their ECL™ leather. My feet stayed comfortably dry in what may have been the wettest conditions I've played in this year.
The sole is also unique in that portions of it protrude slightly from the upper part of the shoe. This feature seemed to widen the surface area that I was standing on and really did provide a nice, stable platform to take a swing from.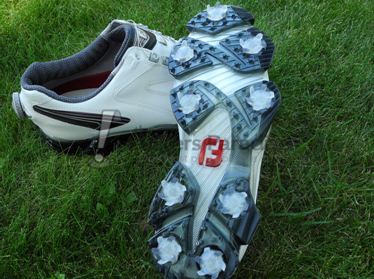 Final Thoughts
Again, I have to say that I was extremely impressed with the looks, traction, and stability that the XPS-1 offered. While I didn't really think the BOA System was all that useful to me, there are many people out there that do enjoy the technology, including some players out on Tour. I want to reiterate my comments regarding the need to ensure these fit you well before making a purchase. They seemed narrower than the shoes that I normally wear and that did have an effect on how much I enjoyed wearing them out on the course. Luckily, FootJoy has plenty of information and options available to make sure you get the best bang for your buck. As always, thanks for reading and best of luck out on the course this year.
Ryan H.