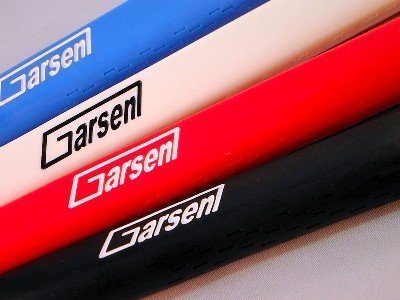 The mounting interest in aftermarket putter grips is driving innovation that all golfers can benefit from and Garsen Golf is showing itself to be an emerging voice in the industry. With early PGA Tour success and growing consumer acceptance, the company is continuing to explore solutions that help golfers make more putts.
About Garsen Golf
With a life story that reads more like David Beckham's than Bob Lamkin's, Bernerd Garsen's path to becoming a putter grip innovator is all but conventional. He left behind a life that included professional motorsports, fashion, and international spokesmodeling to work around golf, a game he'd played with his father as a young child and into his adult years.
As an assistant pro, he had plenty of time to witness and analyze the issues that average golfers had and his idea for "the perfect putter grip" was born. Using input from all levels of golfers, he created the G-Pro Edge and launched Garsen Golf.
Since launching the G-Pro Edge, Garsen Golf has added new products to their line and seen PGA Tour success, including a 2014 win and use by former OWGR #1 player, Henrick Stenson.
 G-Pro Edge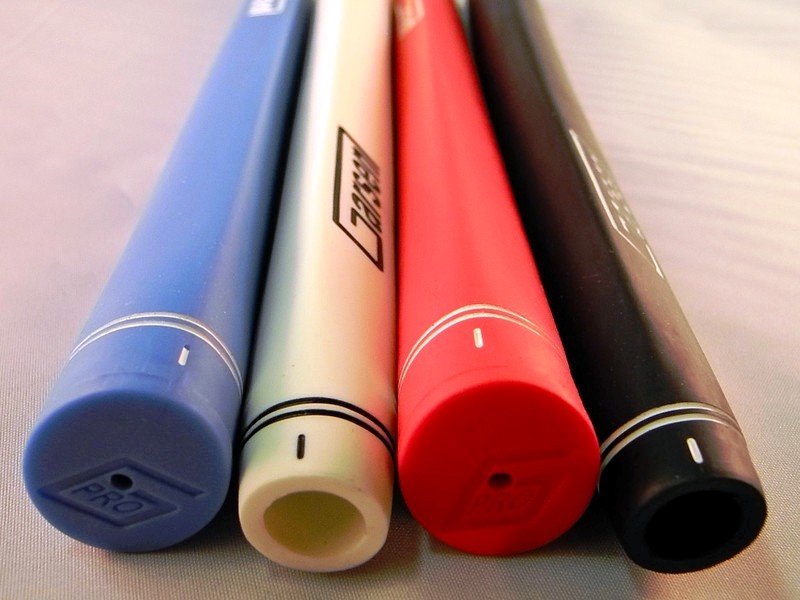 GRIP SPECS:
Grip diameter: Semi Mid-Size
Weight: 73 Grams (+ 1 – 3 g)
Core Size: .580
Firmness: Medium
Shock Absorption: High
Material: TPO
Feel: Semi-tacky
Profile: Semi-Tapered Paddle
Four colors: Red, Blue, Black, White
$22.95 (includes shipping)
Along with G-Pro Max, the Edge is "the first putter grip with a revolutionary, patented, two-sided design." Though more apparent in-hand than in photos, both grips feature a prominent ridge running down the top side of the putter grip that serves to position the thumbs opposite each other on the two flat sides. At the same time, the palms face each other, promoting the strongly desired V arm position.
According to Garsen, "The unique, two-sided design of the G-Pro Edge puts the hands into a neutral position, which eliminates wrist breakdown. This turns the elbows into the body and sets the shoulders back, which relieves tension creating a more consistent putting stroke."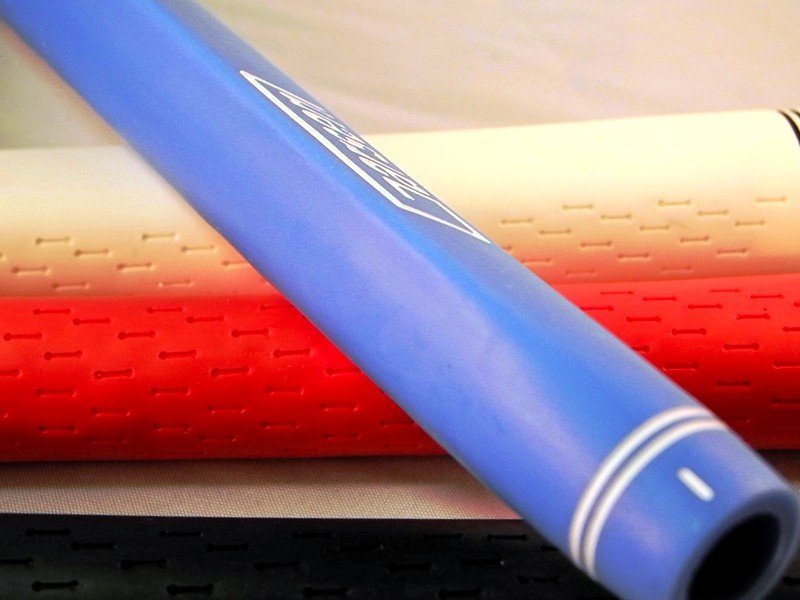 Built from a smooth TPO rubber compound similar to most 'standard' pistol grips, the feel of the Edge in hand will be familiar to almost all consumers. Slight score-lines on the underside of the grip provide subtle texture for added security.
Garsen labels the Edge as "Semi Mid-Size", which is a reasonable description. Though it's larger than a standard sized pistol grip, it's not quite large enough to be considered oversize.  Testing showed that while there was some apprehension that it would be too small for a jumbo-centric golfer, it actually toed the not-too-small and not-too-big line nicely and was well liked by a variety of different players.  Still though, those that gravitate towards larger grips will likely find the MAX more appealing in hand.
G-Pro MAX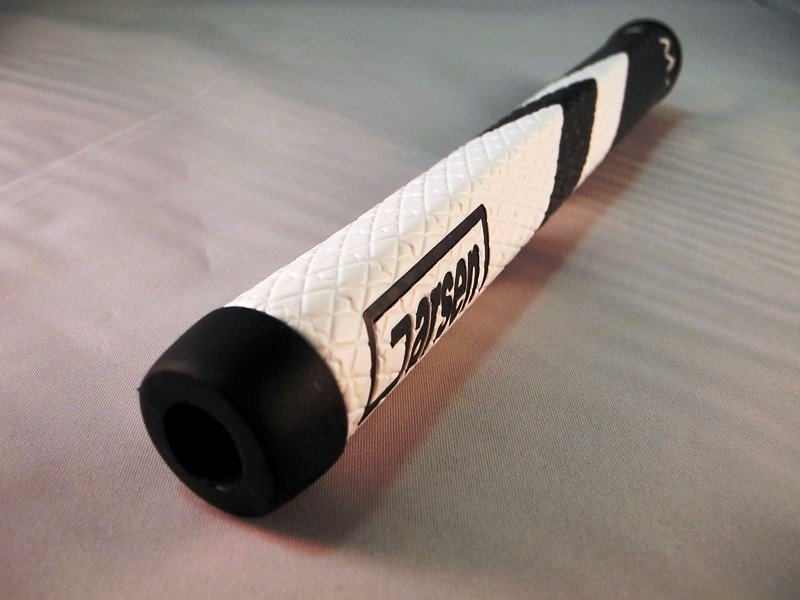 GRIP SPECS:
Grip diameter: 2 Inches
Weight: 60 Grams
Core Size: .600
Firmness: Medium
Shock Absorption: High
Material: High-Tech PU Material
Feel: Semi-tacky
Profile: Semi-Tapered Pistol
Two colors: White/Black and Black/White (Note: each model has a slightly different texture.)
$28.95 (includes shipping)
Constructed of a modern polyurethane compound, the G-Pro MAX has an in-hand feel that is closer to what many consumers now associate with aftermarket putter grips. There are two color options with the MAX grip, each of which offers a slightly different texture in hand. The Black/White is less aggressive (though still sufficiently tacky), while the White/Black consists of thousands of tiny nubs.
Classified as jumbo size at two inches in diameter, the MAX again toes the line between two typical sizes we see. It's larger than a typical midsize grip, but a bit smaller than what we often consider jumbo. It will certainly appeal most to those that like larger grips, but it's not so enormous that it will become the butt of your friends' jokes.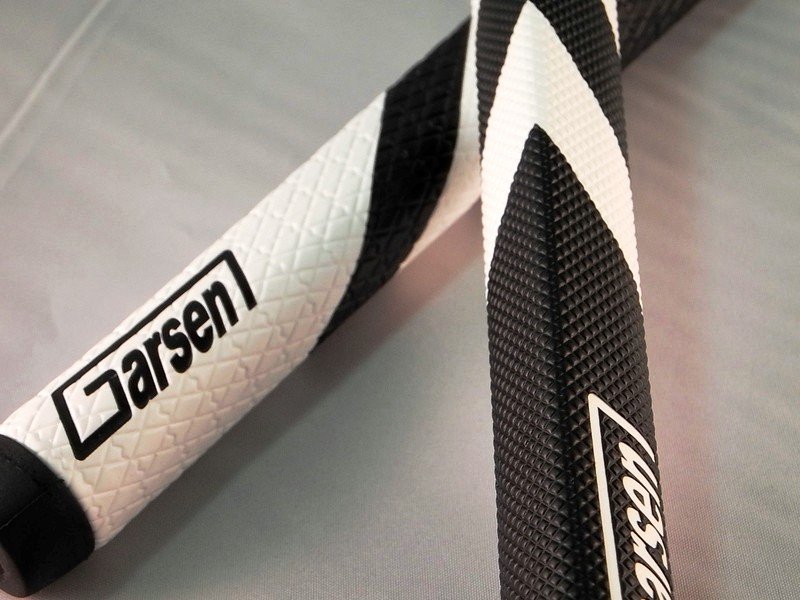 Though it presents an additional item of concern, installation of both the Edge and MAX grips is straightforward and fast for anybody with re-gripping experience. By using either air or liberal amounts of solvent, the installer can adjust as needed to get the edge lined up correctly.
Personal inclination on the part of the reviewer revealed the MAX to be the clear winner of the three-way Garsen Grip battle. Much of that was based on size preference, though the Edge still proved to be quite functional on the golf course.
True to the sales material, the opposing thumbs and palms immediately seemed to  rotate  the elbows inward and closer to the body, which in turn encouraged a putting stroke dominated by the shoulders that didn't rely on hand manipulation to release the putter head. In addition, the lead wrist was far less likely to break down before or after impact. The results seen both on the practice green and on the golf course were frankly a bit shocking, with consistency in contact and face angle at impact showing immediate improvement. The improved contact aided distance control due to higher rates of center impact and fewer instances of a weaker stroke brought on by a flip.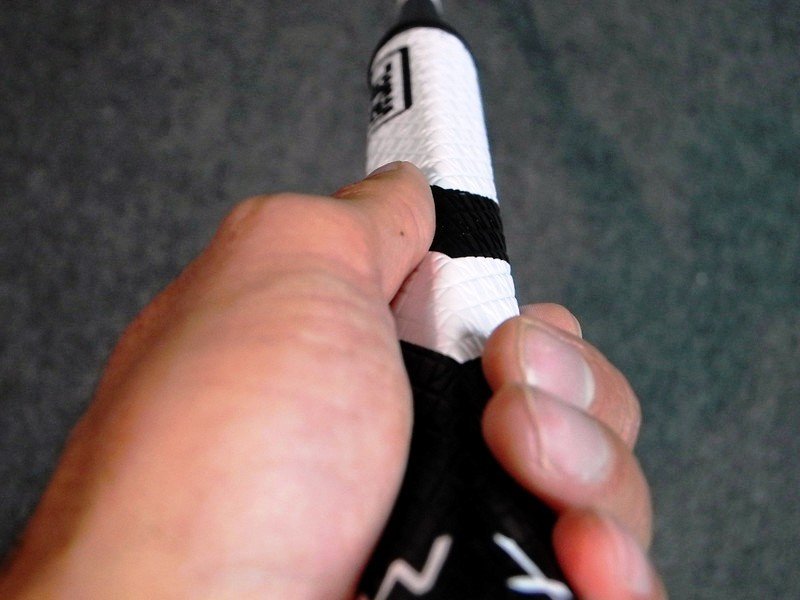 Through feedback taken from THP readers, a variety of different players found quick comfort and positive results with both the MAX and Edge. It was observed that some golfers had to alter their hand position to accommodate the unique shape of both grips, though others didn't have to make any conscious changes at all. This isn't exactly predictable from a distance and it should be noted that a slight change, though possibly uncomfortable at first, may result in better performance in the long term. For the reviewer using a reverse overlap grip, the hands sat perfectly on both versions. The first few strokes still felt different, but an increased feeling of connection between the arms and the body quickly made that concern disappear.
The Ultimate Grip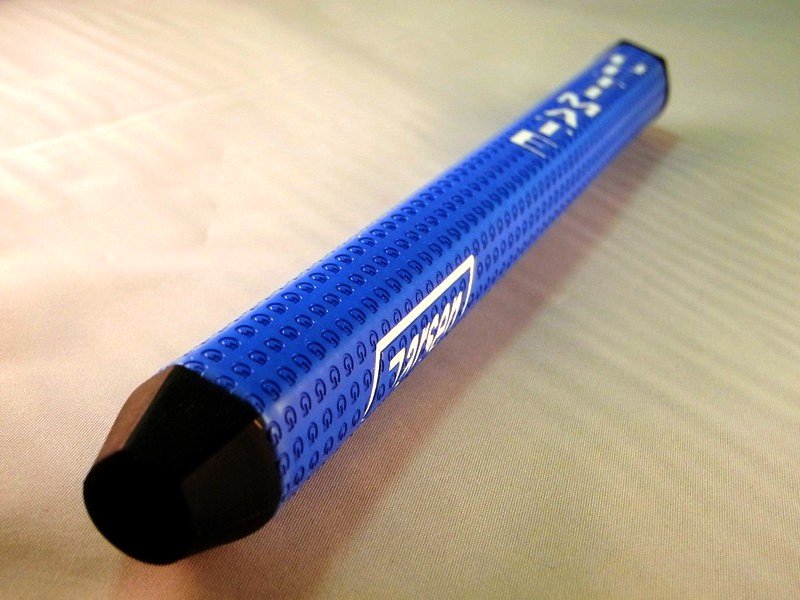 Weight: 55 Grams
Length: 11.5"
Firmness: Varies by color
Material: High-Tech PU Material
Feel: Semi-tacky
Three colors: Blue (soft), Red (mid), Black (firm)
$28.95 (includes shipping)
Limited availability now with full launch coming in a matter of weeks
Available in the coming weeks is Garsen's newest grip, the Ultimate Grip. The concept was devised through Tour feedback and with the assistance of renowned putting instructor Mike Shannon. Offering additional hand-position options, the three-sided Ultimate Grip still has opposing flat surfaces, but with a flat section on the top of the grip added. According to Garsen, this design was especially desired by players that wanted to put one thumb on the side and one on the top. Those who can't fully commit to the concept the Edge and MAX offer may find the Ultimate Grip more accommodating. In addition, it is said to work very well with a claw style grip.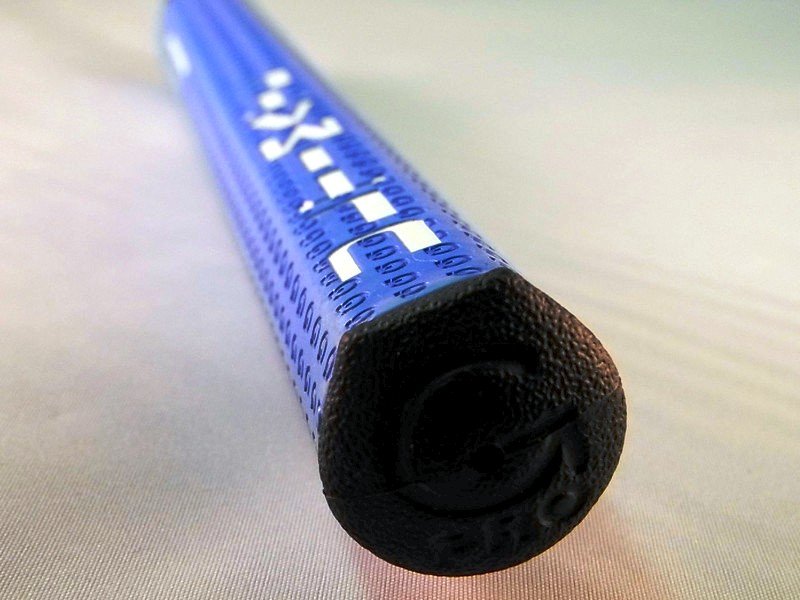 Constructed of a similar PU compound to the MAX, the feel in hand is reminiscent of it and some other popular aftermarket grips on the market today. An interesting note is that the firmness of the Ultimate Grip varies by color (as detailed above), giving the user a chance to dial in preferences in even more detail. At 55g, the Ultimate allows the putter to maintain balance and swingweight, which is a nice bonus for a larger than normal grip.
Testing showed a greater amount of versatility was offered by the Ultimate Grip, primarily in the number of different hand positions it accommodated. However, those that bought-in fully to the Edge concept were more likely to prefer it or the MAX, since both do what they set out to do so well. The addition of the Ultimate Grip compliments the core Garsen line and opens the brand up to a broader group of consumers.
Final Thoughts
Game changing products come along only a few times a year and they are often a complete surprise. Garsen Golf's G-Pro Edge and Max grips epitomize both of those statements. They look different, feel different, and work exactly as advertised. Though it would be naïve to suggest they may fit or work for everybody, a variety of people that THP approached were quickly impressed at the improvements they saw and felt in their putting strokes after trying them. At a relatively low cost, a grip change can be a positive experiment and it seems that Garsen Golf is growing quickly on Tour and with consumers. The Ultimate Grip shows an attempt to reach a broader audience, as does the soon to be released extended version of the MAX, intended for use with counterbalanced putters. More information on the full Garsen line can be found on the company's website, www.garsengolf.com.