If you tuned into the 2012 Ryder Cup at Medinah and watched the surprising comeback win for the European team, you likely saw them win in style. Glenmuir has been the preferred supplier of shirts and knitwear of the European Team for 25 years. This timeframe dates back to Europe's famous first victory on American soil at Muirfield Village in 1987 all the way up to the 39th Ryder Cup at Medinah Country Club. Glenmuir offers a line that will appeal to someone who likes to show off their fashion sense as well as someone who likes a plain looking, solid-colored golf shirt. I recently had a chance to sample a couple of items from their 2012 line and was quite impressed. The two styles they sent are the Glenmuir Performance Fit Club Coolmax Golf Shirt and the Glenmuir Jackson Thermocool Performance Zip Neck Shirt with Contrasting Piping.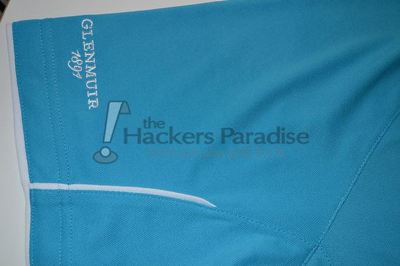 About The Company
At the heart of the game of golf lies a Scottish brand name that is synonymous with quality in the golf and leisurewear market. Glenmuir has established a position as one of the most prestigious and successful golf and leisurewear brands. From Europe's Ryder Cup elite, to club members around the world, Glenmuir clothes golfers at all levels of the game. The company's passion for quality golf and leisurewear is as strong today as it was over a century ago in 1891 when it set up home in Lanark, in the beautiful surroundings of the Scottish Clyde Valley.
In 1891, local businessman Andrew MacDougall established a hosiery factory in the small village of Kirkfieldbank near Lanark, in the Clyde Valley. Legend has it that Mr. MacDougall's first work force initially consisted of five women, all called Mary. Mr. MacDougall was the inventor of a new power-driven machine that greatly simplified the design and manufacture of fancy golf hose.
Before the turn of the century the company moved to a new factory on Delves Road in Lanark, which remains its headquarters to this day, and soon the premises were extended to accommodate the growing business. From its beginnings as a hosiery and knitwear factory, the company's Lanark site has developed over the years to provide a highly efficient club, corporate, and event embroidery program, which has been hallmark of Glenmuir's success. Marketing and design, customer service and administration and, crucially, graphics and embroidery are all controlled under one roof, to maintain standards of quality and service
Product Design and Performance
Over a century's worth of Glenmuir's heritage, passion, and rich legacy has gone into this inspired collection of Men's Shirts. Glenmuir have combined both classic and contemporary designs with bold and exciting colours. Whether its plain golf polo shirts or modern, patterned golf performance shirts, Glenmuir's high quality manufacturing and finish create golf shirts which offer the ideal combination of comfort, style and performance.
Jackson Thermocool Performance Zip Neck Shirt with Contrasting Piping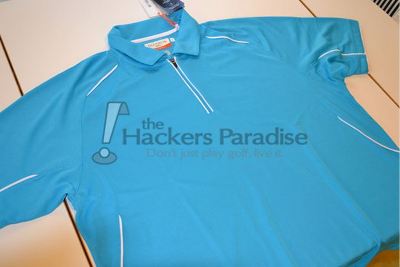 Now in more colourways, our performance polo, the Jackson Golf Shirt, will keep you looking and playing at your peak. Made from 100% polyester, incorporates climate sensitive Thermocool™ comfort zone technology, with its moisture wicking, body cooling and thermo-buffering functions, preventing post-exercise chill, but allowing excess heat to dissipate in. Jackson is a zip neck polo with an athletic fit, cut with movement-enhancing panels to let you move fully. Seam details to the body and sleeves are highlighted with contrast piping and 'Glenmuir 1891' logo embroidered on the right sleeve.
100% Polyester

Thermocool™ comfort zone technology

Zip neck polo with seam detail and contrast piping

Glenmuir 1891′ embroidery on right sleeve

30° (cold) Wash

MSRP: $76.05
Glenmuir Performance Fit Club Coolmax Golf Shirt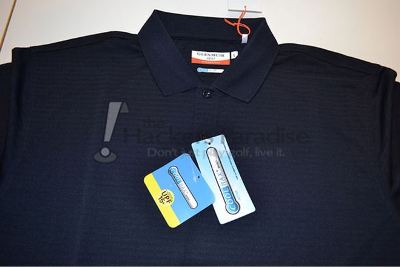 Sportswear that is made to provide peak performance for the serious golfer, The Glenmuir Performance Fit Club Golf Shirt offers superior moisture management, superb stretch and important UV protection for those extended periods of exposure to sunlight in an athletically that fits the body closer. The shirt's Coolmax active performance system moves moisture out and away from the body, letting it dry faster than other fabrics and keep you comfortable throughout your game. This 100% polyester shirt has a subtle self-coloured textured stripe and features Glenmuir 1891 embroidery on the right sleeve.
100% polyester with Coolmax® moisture management system and UV protection

Self colour textured subtle stripe shirt, which will ensure individuality.

Glenmuir 1891 embroidery on the right sleeve

Glenmuir's signature performance finish and high quality manufacturing have been put into this shirt which offers the ideal combination of comfort and performance.

Machine washable

MSRP $69.29
Looks and Feel
Both shirts I received for testing had completely different looks. On one hand there was a classic design, and on the other, a bold, contemporary style. Both options offer a performance fabric that many golfers have become accustomed to in recent years. Balancing a variety of looks with performance fabrics is something that Glenmuir appears to be very good at. Not all golfers are going to go for a classic polo look. They want their golf apparel to make a statement about who they are. On the other side of that, there are classic designs for the golfer who wants the benefits of performance fabric without the flashy designs.
Both shirts offer the comfortable feel I expect from 100% polyester. They fit very true to size and the sleeves are standard length, giving me comfort during my swing. They also fit great in the shoulder area. One thing I typically like is when the seam of the shirt sits right at the top of my shoulder. However, that wasn't the case with the Jackson. The design of the shirt has no seam on the shoulders, which was especially good for me because it gave the appearance that I have broader shoulders than I actually do.
The length of the shirts was a little bit different between the two samples I tried. The classic design was plenty long and I had no issues with keeping it tucked in. However, I did find that the Jackson seemed to be a little bit shorter. This caused some problems keeping the shirt tucked in.
Conclusion
Before doing some research on Glenmuir, I didn't realize they had been supplying the European Ryder Cup team with apparel for 25 years. Something I found incredible was that they have been around since 1891.The looks of the two shirts I reviewed are great. I like the fact that they offer a classic and a contemporary design. Not only was I impressed with the looks, but I also really enjoyed the performance fabric they were made of. I wore the classic design for two rounds and the Jackson for three rounds. The weather on the days I golfed in them ranged from extremely nice to very humid. One thing I noticed was that I always felt great wearing them. The performance fabric kept me comfortable and focused on my game.
Whether you are in the market for a contemporary golf shirt or something a little more classic looking, I recommend you give Glenmuir a look before your next apparel purchase. I think you will be extremely happy with the feel and performance they offer. They are competitively priced, so there is no excuse for you not to make Glenmuir your next golf shirt purchase. You can find out more information at www.glenmuir.com.