Have we seen the last of the soft-spiked, traditional golf shoe we've all gotten so accustomed to? It seems that casual "street" shoes are the hottest thing in the golf shoe market at the moment. I've even heard some of my golf buddies say they'll never wear normal golf shoes again. There is no question that these shoes offer a great deal of convenience due to the ability to wear them on and off the course, but are they a legitimate replacement to the traditional golf shoe?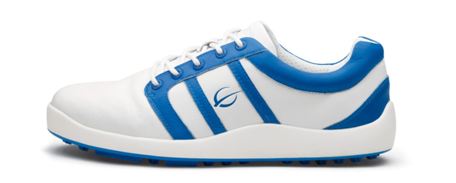 A new company called GoBe Golf has entered the casual golf shoe market with an entire line that is designed for both on and off- course use. Before I get into my review of the line, I'd like to introduce you to the company.
About GoBe Golf
GoBe Golf, headquartered in Austin, Minn., was founded by industry footwear veterans and PGA Professionals for the sole purpose of creating the best shoes for playing golf. GoBe Golf manufactures high performance footwear for men and women. The shoes are built from the ground up using innovative materials derived from advanced footwear technology to specifically provide better traction, comfort and support for golfers.
After several years of perfecting the golf shoe from the ground up, GoBe Golf is ready to debut its inaugural line of performance golf footwear. The company, guided by footware industry veterans and PGA Professionals, has launched this high performance golf shoe line with a game-changing tread designed for ideal traction and maximum grip throughout the golf swing. GoBe's innovative, patent-pending Talon tread sole design allows for superior traction on the course without the need for cleats for a "go anywhere" design.
Looks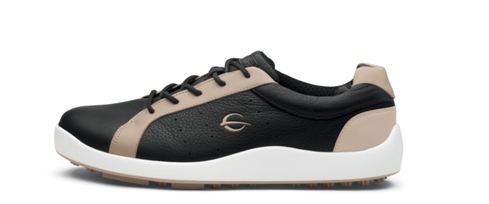 With three very distinct models for men and two designs geared for the ladies, there is a GoBe shoe for just about everyone. Throw in the various color combinations and there is certainly a wide variety to choose from. The model I tested for this review was the Rebel in black and tan. In my opinion, the look is very unique and stylish. I feel they are casual and dressy at the same time. In looking over the entire line, I like the simple classy look of all of the combinations available. The shoe definitely has a modern look to it. It's something that that can be worn anywhere on and off the course. I've worn the shoe with shorts, golf pants, and jeans, and the look was quite nice in each situation.
Technology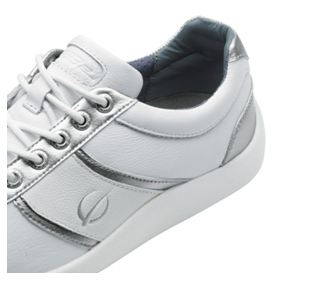 You wouldn't realize just how much technology is packed into GoBe shoes by just looking at a pair. From the construction of the shoe's upper to the patented pending Talon tread sole design, your feet and your golf game can benefit from the performance of a GoBe Golf shoe. Check out the following technical information taken from the GoBe Golf website.
Talon stars & bars stability technology:
GoBe's Talon grip technology provides exceptional stability and traction on and off the golf course. Featuring a deep groove 5-point star pattern, the Talon grip stabilizes foot placement and prevents slipping- even on wet grass. Vertical traction bars are added to maintain lateral presser and proper weight placement.
Made of a single density, Grade A TPU, the Talon sole is designed to last. The premium tread offers superior traction, and is twice as resilient as rubber. It is fabricated to flex with the foot, and the PU midsole cushions against impact. The foot bed is designed to provide a roomy toe area for comfort and a deep heel cup to hold the foot in place.
PurTec sports performance upper:
The GoBe performance upper is a revolutionary, lightweight design that maintains natural color, texture and quality even after extensive wear. It is constructed with breathable fibers that are 20 times more water resistance than treated leathers. Flexible and durable, the upper requires minimal care and no break-in time.
GoBe's moisture wicking lining has unique vapor control channels to pull perspiration away from your feet to keep them cool and dry. Dual density EVA insoles cradle your feet with a cushioned core for long lasting support. The natural warmth of your foot helps to mold the shoe for a better fit.
Testing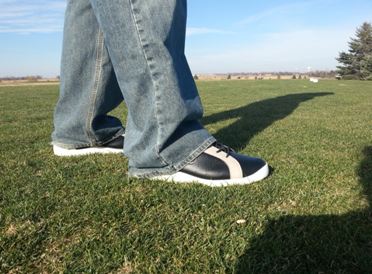 As I mentioned, there are more technical features packed into the GoBe shoes than you may realize. I was excited to put them to the test the day they arrived. I walk almost every round that I play and my shoes have to be comfortable. The day the GoBe shoe arrived happened to be the same day as a Men's Club event at my course. I read the material in the package and took particular notice to the part that stated 'no break-in time required'. I put them on at the house and went off for my round.
I was impressed right away with how comfortable these shoes were. The leather felt firm to the touch when holding the shoe in my hand, but I didn't get that feeling after putting them on. They really seemed to flex and contour to my foot quite nicely. Men's Club events are only nine holes, so my first test was a nice casual walk on my relatively flat course. I had no problems with my feet hurting at all. In fact, I was quite impressed with the comfort and they fit very nicely. The toe area of the GoBe is a little wider, so I'm not sure how they'd work for a person with narrow feet, but they worked great for my medium width foot.
I wore the GoBe for several rounds during this review. My first 18-hole round left me with aching feet after it was finished. As I said, I walk almost exclusively, so walking 18 holes usually doesn't leave me in too bad of shape afterwards. A little soreness is typical, but nothing too bad. Subsequent 18-hole walks in the GoBe did not result in any soreness to speak of, so I tend to think the pain I was in after the first round may have been due to the newness of the shoe.
The traction the Talon sole offers is outstanding. I never once had a situation where I lost my footing during the swing. One of the rounds I wore the GoBe was very early in the morning with plenty of dew on the ground, so it was a good opportunity to put the grip to the test. I have a few pairs of casual golf shoes and none of them seem to stack up in terms of traction like the GoBe does.
Overall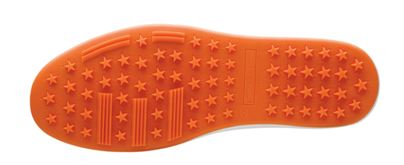 I liked the look of these shoes from the minute they arrived. I've worn them as casual shoes off the course even more than I've worn them on the course, and I'm impressed with the look and the feel they offer. Due to the outstanding traction and comfort, I think the GoBe would be a great addition to anyone's shoe collection. They aren't quite as comfortable as my running shoes are, but they're not uncomfortable by any stretch of the imagination.
In my opinion, the GoBe shoes fit very close to true-to-size. If anything, the wider toe area makes them feel like they might run about a quarter-size big, but certainly nothing more than that. My foot had plenty of room to breathe, yet they offered plenty of stability to walk the course and to swing the golf club. GoBe Golf footwear offers three styles for men at a suggested retail of $159 and two styles for women at a suggested retail of $139. GoBe Golf shoes come with a two-year warranty and will be sold only through high-end resorts, pro shops, and online at www.gobegolf.com.