Larger and less tapered putter grips have taken the PGA, as well as amateur golfers, by storm in recent years and as we have seen some brands come to the forefront of such designs, others are really attempting to evolve the concept. Currently, Golf Pride has been the latest to dive head first into this new design trend with some significant testing and feedback to produce the new Tour SNSR line.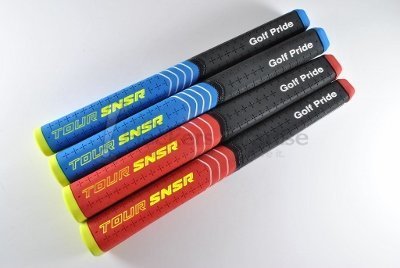 THP received both the Tour SNSR Straight and Tour SNSR Contour in the 104cc and 140cc sizes to get a closer look at the technology and the performance.
Golf Pride on the new Tour SNSR Putter Grips:
Golf Pride's new oversized putter series called TOUR SNSR™ features larger Tour-proven shapes that are engineered with innovative SNSR material that delivers unsurpassed Tour-level feel and feedback. The new grips are made of a soft-tuned rubber formulation that gives these grips an extraordinary feel, and encourages a lighter grip pressure that golfers seek in creating a smooth stroke. The new SNSR compound also enhances Tour-level feedback into the hands to improve player distance control.
Players can dial in the feel that fits them best with two Tour proven shapes, the TOUR SNSR CONTOUR and the TOUR SNSR STRAIGHT.
TOUR SNSR CONTOUR is an evolution of the classic tapered pistol profile that is the shape preference of over 75% of Tour players. The pistol allows golfers to "lock in" their upper hand for consistent hand placement that translates to more confidence in every stroke.
TOUR SNSR STRAIGHT offers a contemporary, non-taper shape promoting a consistent hand pressure and feel. The straight taper design features soft, rounded edges that are strategically beveled for palm and finger pad comfort.
All four TOUR SNSR models feature a wide paddle front, sculpted to promote lighter grip pressure and consistent hand placement. Additionally, they are each finished with a traction-textured design that provides heightened feel and moisture control. Each shape is available in two oversize options, 104cc and 140cc.
Specifications:
MATERIAL
CORE SIZE
WEIGHT
(+/- 3.5 G)
SIZE
Proprietary SNSR Rubber Compound

0.580R

90 g

104cc

Proprietary SNSR Rubber Compound

0.580R

124 g

140cc
Grip Design:
There is more going on with the Tour SNSR grips than one will see at first glance. The red/black of the Contour and blue/black of the Straight give off a familiar look to those who have used Golf Pride NDMC grips in the past, yet these are a new and unique offering from the company. It is clear that the trend in putter grips right now is oversized and decreased/no-taper and with the Tour SNSR Golf Pride is definitely jumping in while at the same time attempting to make it their own.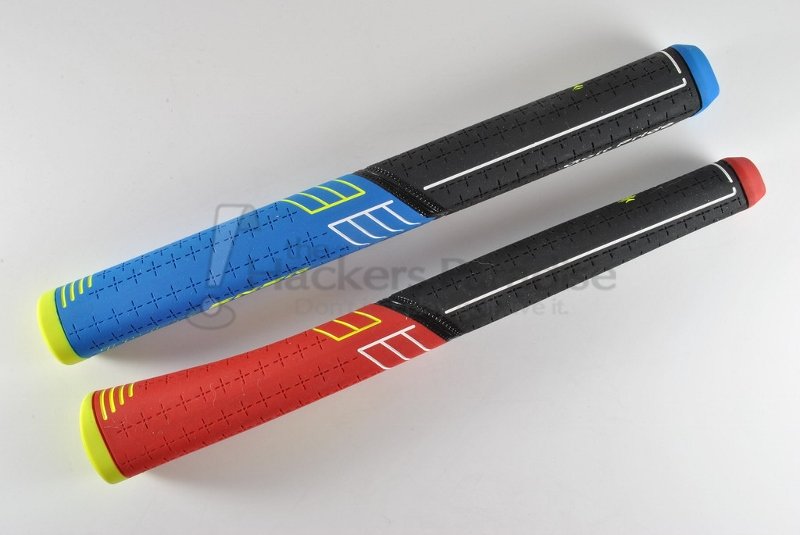 While the Straight is just that, no taper and literally a straight forward flat front and rounded edge offering, it still manages to provide a different feel than other non-taper grips thanks to the lack of a seam down the backside and an ability to not show wear like several other options. The two size options here at 104cc (90g) and 140cc (124g) also fit into a somewhat "in-between" profile compared to others, essentially they both fit comfortably into the hand and should really appeal to those who want a mid or oversize grip.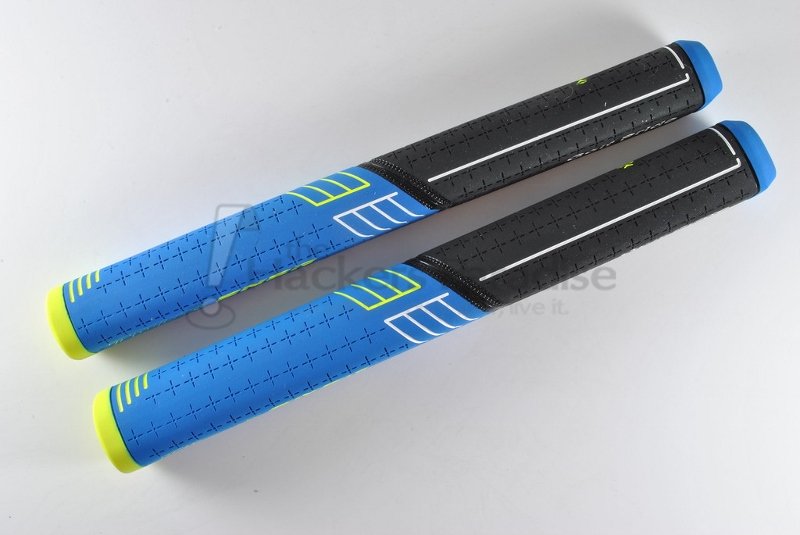 The real unique portion of the Tour SNSR line is the Contour. The decision to take the classic (and much beloved) "Pistol" shape and meld it into a profile which encourages quieting the wrists was not one that Golf Pride took lightly. There has been a lot of research done in cooperation with their tour staff to get the proportions just right, and they really did as both the 104cc (90g) and 140cc (124g) in this shape fit comfortably into the hands and prove useful with a variety of putting grips.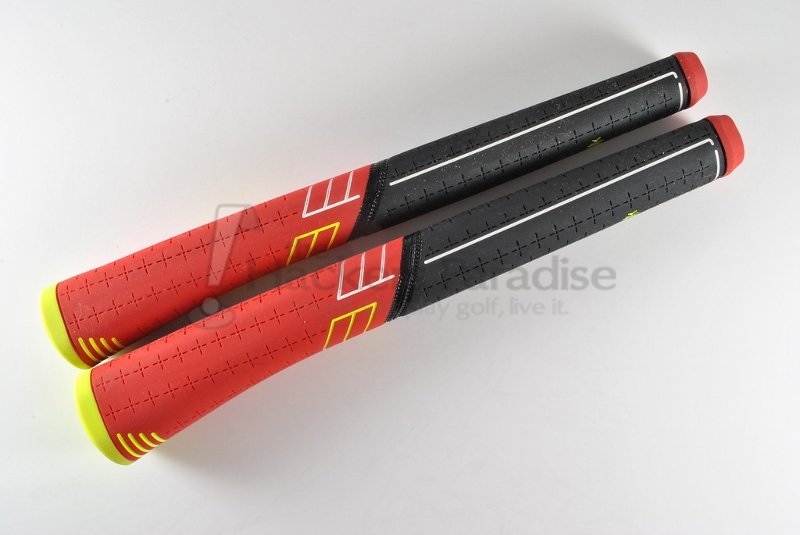 While the shapes may not be anything overly exciting to some, what should get the attention of everyone is the texture and material being utilized. Even with the grips being larger than "traditional", Golf Pride has maintained a surprisingly soft feel, to the point that it could almost be described as plush/springy in its receptiveness to grip pressure. Additionally, the cross-hatching all over the grips gives the ability to keep a lighter pressure and not risk losing traction.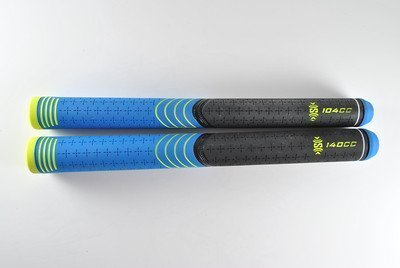 Performance:
Overall the Tour SNSR have a nice feel, the rubber is more receptive to pressure (softer) than this reviewer has seen from any other Golf Pride putter grips and it differentiates it from similar shapes. One added bonus is the durability of a full rubber design compared to a grip with multiple layers. However, the material being softer/denser does limit the feedback to the hands (most will likely find this imperceptible) and means that the Tour SNSR Contour and Straight will come in at heavier weights as the size goes up, unlike what happens with other popular grips of this type when you increase size. It honestly isn't a big deal so long as it is taken into account when installing, particularly if placing the 140cc options on a lighter head-weight putter.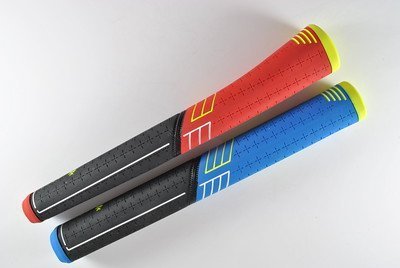 Those who are already using a no-taper grip will find a pretty seamless transition into the Tour SNSR straight as it gives the same pressure feedback as well as helping to quiet the wrists in the putting stroke. The real star here in the opinion of this reviewer is the Contour version, mainly because although it's in two non-traditional size offerings, the shape is very comfortable to someone who grew up using a pistol style grip. The Contour does a great job of allowing the user to quiet the wrists in the stroke while the deeper front to back pistol shape really fits comfortably into the natural shape of the users hand/palm/fingers. Where the sizes are concerned, it wouldn't be surprising to eventually see more options from Golf Pride, but the 104cc and 140cc options manage to hit a much broader range than anticipated entering the review.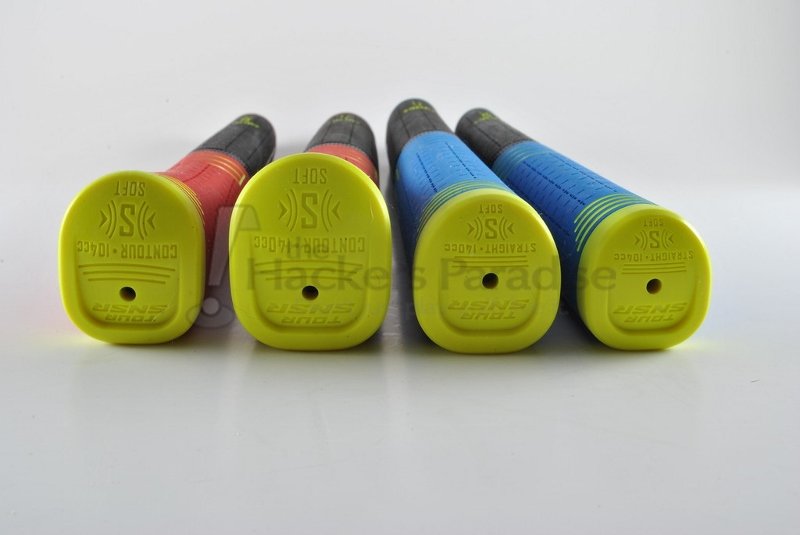 Parting Thoughts:
Putter grips are always going to come back to personal preference, there are hundreds of options and each one will be the best/favorite for someone, there is no right or wrong. Even with that though, there is an undeniable trend right now towards this style of shape so it only makes sense to see one of the biggest grip companies in the world to get involved. In the end, only the user will know if the Contour or Straight will fit their needs and personal preferences, but what is known is that Golf Pride continues to expand and adapt as the times and trends change. The potential for the Tour SNSR line aesthetically and size wise is limitless, so it will definitely be interesting to see how it is received and just where it goes from here.
The Tour SNSR Contour and Straight will be priced at $24.99 for each size and shape with an April release. More information can be found at www.GolfPride.com.