The golf grip seems to be one of the most overlooked aspects of choosing golf equipment and being a segment that should be replaced fairly often, THP believes that more should take notice. Many of the companies producing golf grips have come out with products that feature rich advancements in technology and innovation.
Golf Pride Tour Velvet Super Tack joins one of the longest running grip lines in the company's history. This new grip features a new material formulation that is there to provide high levels of tackiness as the name suggests.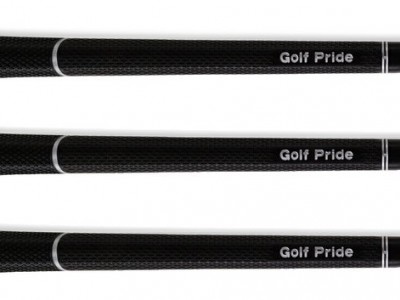 From The Company
The new grip formulation is complemented by an innovative multi-section grip texture. The lower section, located 'below the ribbon', features a wider version of the 'plus' sign pattern that was made famous in the original series of Tour Velvet grips. The new, wider 'plus' signs are aligned in a tighter formation to provide a higher level of traction throughout the swing. The upper section, located 'above the ribbon,' is comprised of a diamond texture pattern that was a direct result of PGA TOUR player feedback during development. This area of the grip provides added stability when maximum force is placed on the grip during the downswing.
Available in both standard and midsize models with a price of $5.99 and $6.99 respectively. Both grip models are expected to hit stores this month.
The Water Test
While at the 2014 PGA Merchandise Show, THP TV caught up with Golf Pride and talked about this new grip and then had a demonstration done for the viewers on just how well the Super Tack grip handles water.
Testing On The Course
THP gripped a full set of clubs and took them to the course on a hot and humid FL day. To say they performed well would be an understatement and it is probably best to let the testers quotes stand on their own.
They remind me of my older styled wrapped grips, but with more grip, feel and texture to them. Solid on all accounts.
Dave from Bradenton
Been looking for something to last me all summer in this swamp like weather we get for a few months. These are perfect for that.
Jim from Venice
The quotes were similar across the board. As it pertains to moisture control, not a single person that tried them out, preferred their current grips to that of the Super Tack.
When choosing grips, the number one thing that is discussed is feel. It is a purely subjective choice and that along with a look that one might like make up a large portion of how grips are purchased. To describe it best, the Tour Velvet Super Tack feels soft, but yet firm. Confused yet? The easiest way to describe it is soft to the touch and feel, but just firm enough to give you a solid foundation at setup.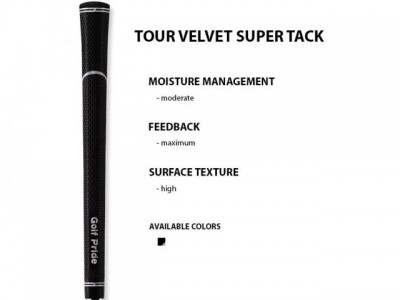 Durability
It is rather difficult to test the durability with grips during the duration of a review period, but THP has had a set of these on for three months and countless rounds of golf and they look brand new. A simple cleaning once in that time has left the appearance that they were just put on. Tune in to the THP Forum for continued updates on the durability as the Tour Velvet Super Tack gets more play throughout the year.
Overall
Golf Pride has put together a very strong lineup of grips and the Super Tack fits in perfectly in the Tour Velvet family. If you are a golfer that likes maximum assistance with moisture, this could very well be the perfect grip for you. For more information on this or any of the Golf Pride products check out their website at www.golfpride.com.