Imagine having a full set of shafts, from driver to wedge, that felt and behaved the same. Cool idea, right? Well, it's got a name – shaft synergy. Nippon Shafts, most well known in North America for their high-performing, fantastic feeling steel shafts, has a little secret they want you to know about. Not only do they manufacture a full line of graphite wood shafts, but they've also designed them so that they feel and perform just like their iron shafts.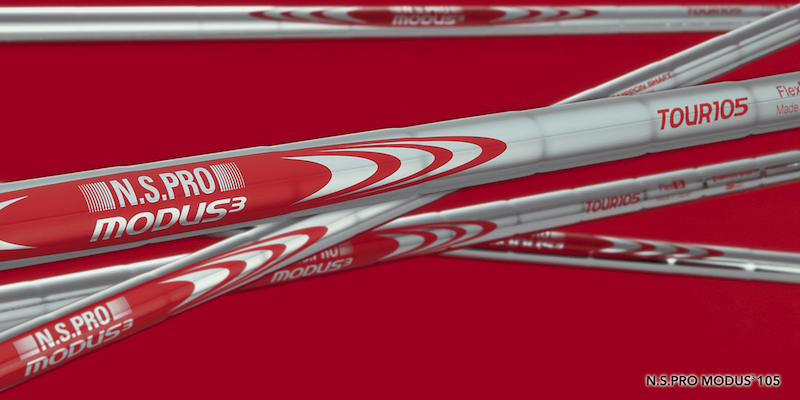 Each shaft in their incredibly popular Modus Tour series has not one, but two closely related graphite woods shafts in the Regio Formula and Formula+ line, and Nippon thinks they can improve your golf game. For example, those of you that love the incredible stability and launch conditions of the Modus Tour 130 iron shaft can find something that not only feels familiar, but also performs in a very similar fashion in your driver. We recently had a chance to sit down with Nippon's Hiro Fukuda to discuss this intriguing concept.
Can you explain Nippon's thought process when it comes to building synergy between Modus iron shafts and Regio Formula/Formula+ wood shafts?
"We're a comprehensive shaft company with the ability to manufacture both steel and graphite. As you may know, the Modus model came out prior to the Regio models and was very successful out on Tour, as well as with amateur players. We found that, with our ability to manufacture graphite shafts, it would be very logical to create bend profiles that matched to the Modus models. The philosophy behind that is that a golfer can have the same swing feel and same performance in their iron shafts as they have in their driver shafts. The feel should translate to a similar type of performance and comfort level, which I think every golfer is looking for."
Would you say the concept is more performance-based or feel-based?
"It's a combination of both. So, let's say for example, one of our popular Modus models, the Modus 120, which is designed with a very unique bend profile of a very firm tip section, a softer middle, and softer handle. That bend profile is in our Regio Formula B+, or just the regular Formula B. The driver shaft and the 120 theoretically promote a lower ball flight and lower spin rate. On the flipside of the Modus models, we have the Tour 130, which has an opposite structure; a softer tip, a firm mid-section, and firm handle, which promotes a higher ball flight. That corresponding driver shaft would be Regio Formula M or M+. So, the structure of the iron shafts would correspond to our wood shafts in a similar type of performance, and since the bend profiles are very similar, the feel would be very familiar to the player."
Regarding the Regio+ Series versus the standard Regio series, how do you differentiate those products?
"The original Regio series was designed with bend profiles more similar to the static bend profiles of the Modus products. With the Regio Formula+ series, which came out afterwards, we used a different type of raw material to firm-up the shaft overall. The Regio Formula+ series shafts are matching more similarly to the dynamic performance of the Modus models. So, the actual bend profile feel is more apparent in the original Regio models. The +Series promotes a similar feel, but a bit tighter profile and maybe a bit lower trajectory due to more overall firmness compared to the original Regio models."
Shaft Pairings and Characteristics
B+ and Modus Tour 120
The Regio B+ series and Modus Tour 120 both have firmer tips with softer midsections. They handle areas, and typically performs best, for players with early-to-mid release pattern. While swing types do dictate performance of these shafts to an extent, the tip section's stiffness would generally promote a lower ball flight.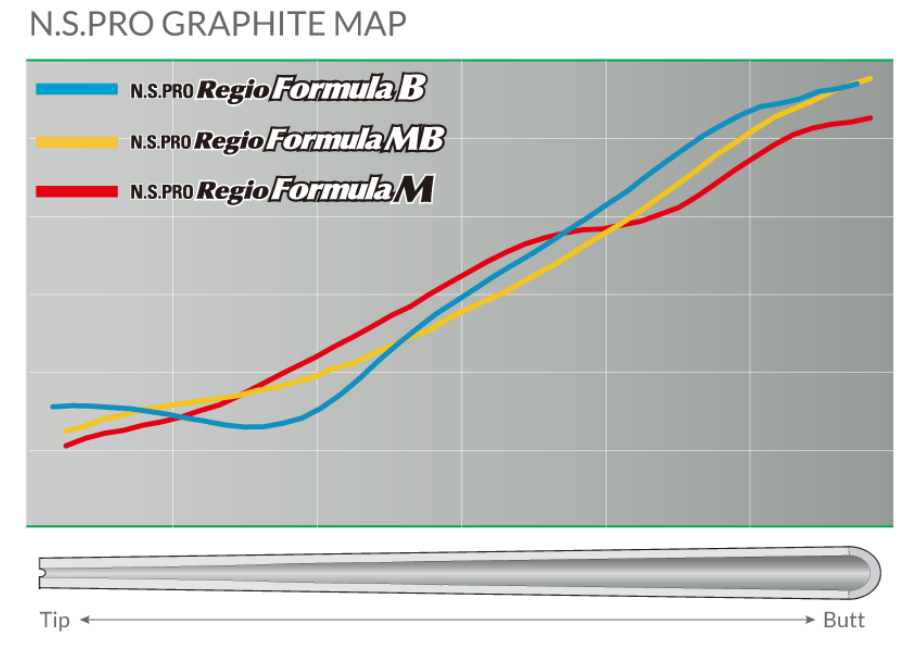 The Modus Tour 120 would probably be considered the smoothest or softest feeling shaft in the Modus lineup due to its unique bend profile, though Fukuda cautions that isn't exactly the whole story. He notes, "Some golfers make the mistake of taking frequency measurements of our Tour 120, and with the softer grip section, yes it would frequency softer. However, frequency is not really a complete tool in terms of (measuring) shaft stiffness." Nippon uses graphs of their shaft's EI profiles to illustrate exactly how and where their various offerings bend.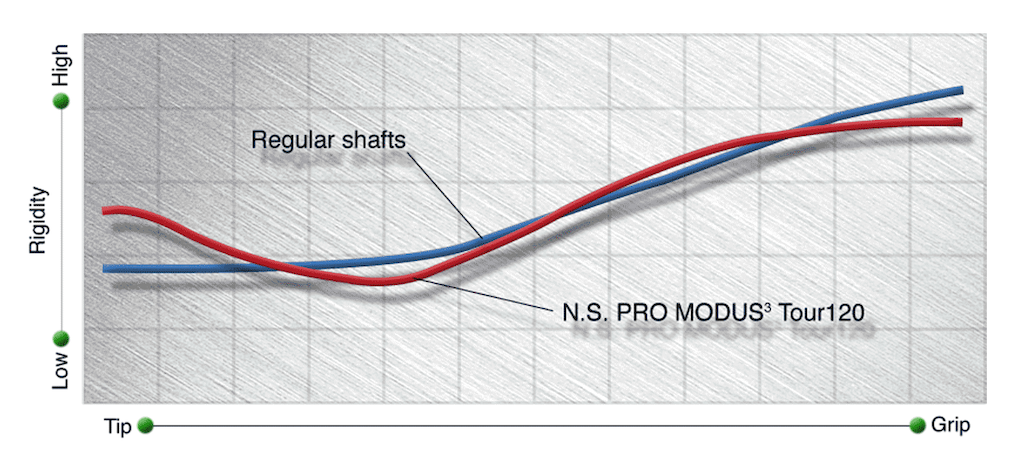 With a bend profile similar the Modus Tour 120, the Regio Formula B is designed to promote higher initial velocity, lower spin, and optimized launch angle. The newest iteration, the B+, features additional T1100G+ NANOALLOY graphite sheets that have resulted in improved hoop strength and the "fastest hoop reformation in the history of Nippon shafts".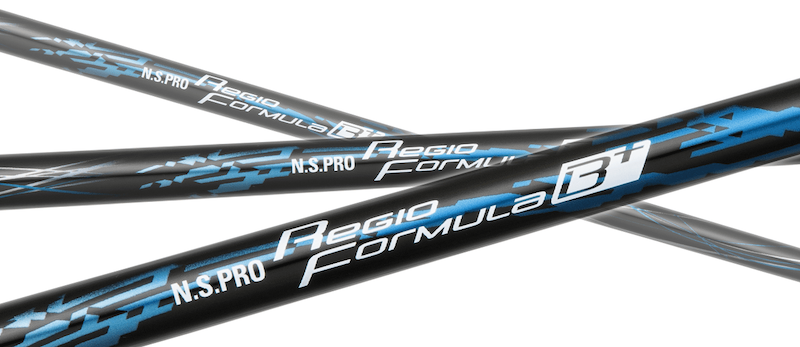 Regio Formula B and B+ shafts are available in weights ranging from 46g to 77g.
M+ and Modus Tour 130
These two shafts are designed to be higher launching, with a softer tip and firmer mid and handle sections. This design results in an incredibly stable feeling shaft that is designed with hard-swinging players with late releases in mind. If you can imagine a Tour player that produces a massive amount of shaft lean at impact, you would be envisioning the ideal Tour 130 player. The softer tip is designed to help this type of player maximize launch angle while retaining all the stability needed for accuracy.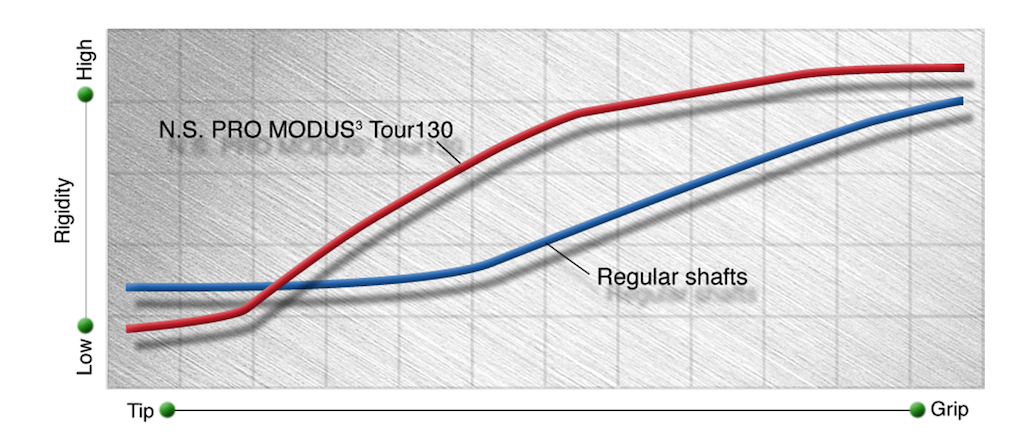 The M+ driver shaft, which has also been bolstered with additional T1100G+ NANOALLOY graphite sheets, was given a firmer tip and mid-section (compared to the original Formula M) to better match the performance of the Modus Tour 130.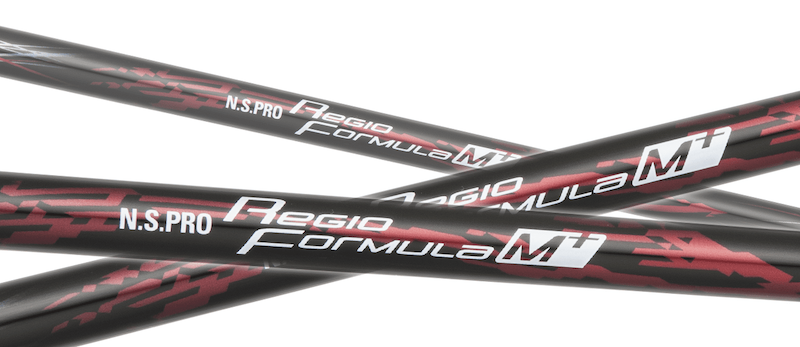 Regio Formula M and M+ wood shafts are available in weights ranging from 47g to 77g.
MB+ and Modus Tour 105/115/125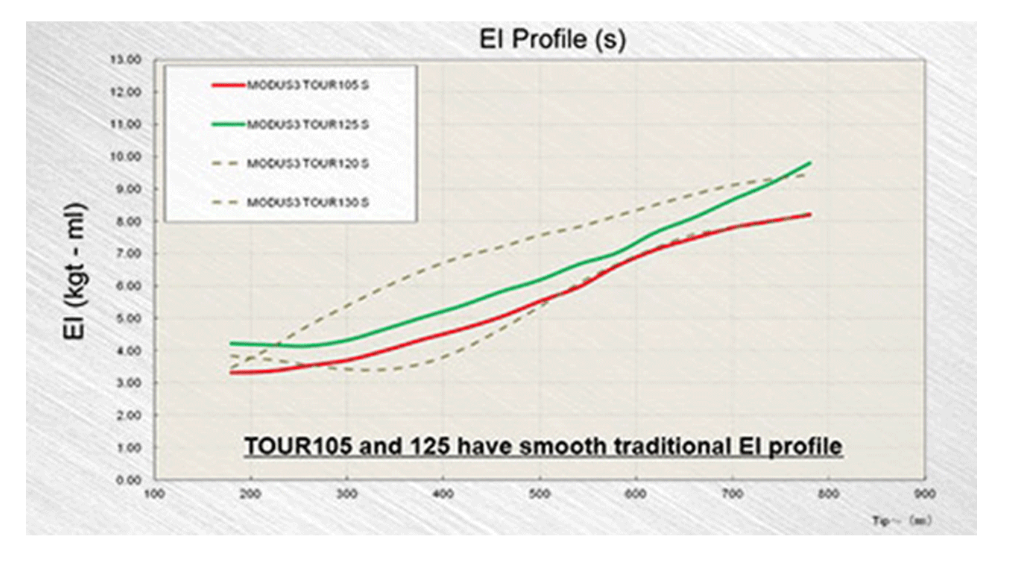 While the Modus Tour 120 and 130 are unique in their profiles, the three remaining Modus offerings (105, 115, and 125) are all designed on the same general platform with a choice of different weight profiles. We asked Fukuda why Nippon offered this shaft in so many weight options and he answered, "The Modus models are a based off feedback from Tour players. The original was the Tour 105. Some players were looking for something a little bit lighter, especially those playing overlength clubs. The 105 has become our second most popular model on men's tours. The 105 was somewhat light for some players, so the Tour 125 was released. Uniquely, the Tour 125 is more popular in Japan, whereas the Tour 105 is more popular in the US. The latest release was the Modus 115, and that was a calling for those players that felt the 105 was too light or the 125 was too heavy."
According to Fukuda, "If you look at the EI profile, they are very linear in terms of the stiffness. So, the stiffness is somewhat equal from the tip to the grip section. There is no unusual bend profile like the Tour 120 or Tour 130. Not many crooked lines."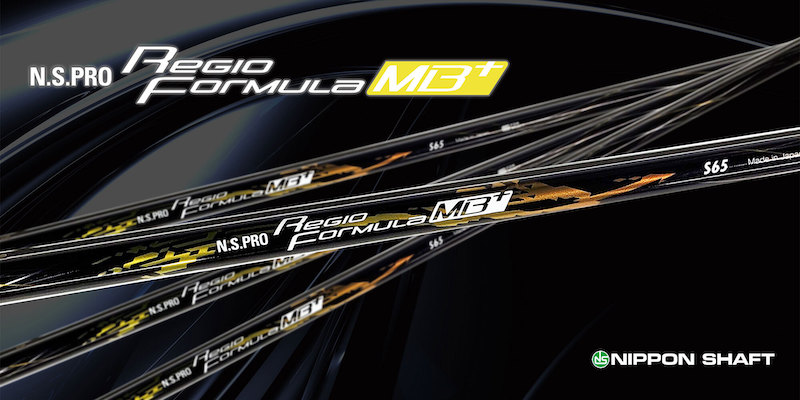 When asked which types of players would gravitate towards the MB+ and 105/115/125 shafts, Fukuda said, "The most general, in a sense, of the Regio and Modus models. That is a shaft feel and profile that just about everybody grew up playing. It's a familiar feel and probably the go-to in terms of the start of a fitting."
The Regio Formula MB and MB+ wood shafts are available in weights from just under 50g to around 80g.
But Wait, There's More!
While the Nippon's iron and wood shafts were the focus of our conversation, you may recall that I mentioned being able to synergize your shafts from driver to wedge. Due to the large number of weight options, the Regio Formula series is perfect for fairway woods. However, that still leaves hybrids, driving irons and wedges.
Modus 105/115/125 Wedge Shaft
The Modus wedge series is Nippon's second generation of wedge specific-models. Offered in three different weights, each is similar to the traditional bend profiles of the Modus 105/115/125 iron shafts.
About Nippon's wedge offerings, Fukuda says, "Modus wedge shafts are designed to promote a lower overall peak trajectory and increased spin. In general, we recommend golfers just play the same iron shafts in their wedges, however, if they are looking to achieve the performance I mentioned earlier, we have the Modus wedge shafts."
N.S. Pro Modus Hybrid
Nippon's only dedicated hybrid shaft offering, the N.S. Pro Modus Hybrid, is also known as GOST (Graphite on Steel Technology). It features an inner steel core with 20g of graphite wrapped around it. The bend profile is similar to the Modus Tour 105 iron shaft and it's designed to promote a mid-to-high ball flight. Fukuda told us the multi-material construction offers the stability of steel with the feel and performance of graphite. With weights ranging from 90g to 112g, it's also available in both taper and parallel tips, making it compatible with both hybrids and utility irons.
What are your thoughts on shaft synergy? Join in the discussion on THP's forums.