Back at the 2012 PGA Merchandise Show in Orlando, FL THP got a chance to preview a new device that was incredibly intriguing and that was the GolfBuddy Voice. The GPS device that was small enough to clip to your hat and with the push of a button would give you the distances to green. THP got an inside look at the device and here is a preview from a few months back.
Features
Audio distance information(it tells you the distance)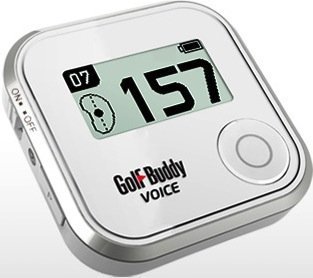 40,000 course capacity
Courses from around the world pre-loaded
No annual or download fees
Distances to Front / Center / Back of the green
Automatic course & hole recognition
Shot distance measurement
Multi-lingual
Dynamic green view
Volume control
Supports multiple greens
How it Works
Since most of the courses are pre-loaded on the device, setting it up was as easy as any other GPS we have used. Arrive to the golf course and fire up the unit with the touch of a button and then wait for it to figure out where you are. That is about it and the whole thing takes less than a minute. Once all set up, you can clip it to just about anything such as your hat, visor, shirt pocket or belt loop. In our testing I tried all of them, but ended up preferring my side pocket on the exterior as the place that let me hear it loud and clear and still get the visual of the screen that I wanted. It stays on well and that was something going in that we were a little nervous about (losing the device on the course), however the clip in the back is extremely strong and that should not be an issue at all. Now you are clipped on, you are ready to go and with the push of a button, a clear voice gives you the distance to the green (front, center & back).
Ease of Use
When it comes to using a GPS, there seems to be 2 types that people are after. Those that want something extremely advanced that has stat tracking and more and those that want something small and simple that give you the distances you crave and need on each hole. The GolfBuddy Voice falls into the latter and is so easy to use its staggering. Everything is at the push of a button in a tiny package that is clipped to your body. One of the few issues we had was that it is such a small device you forget you are wearing it, however because of the form factor, the buttons are also extremely small and can make it hard to see what you are pressing when you are not looking directly at it. The larger button that is used for most of your needs is perfect and its located in the best spot and offered no trouble. Press it to hear the voice and it worked flawlessly every time. The volume buttons are on the side and depending on how close people were, we did manage to forget which side they were on and power down the device (button on opposite side) a few times during our testing. Overall though, it is extremely easy to use and offered us very few issues throughout our rounds.
Using the Device
We outlined quite a bit of it above as it really is a simple device to use, however there are some features that I wanted to discuss that were a pleasant surprise and worked quite well. Everybody wants to know their distances both off the tee and with clubs and the GolfBuddy Voice is here to assist in that. While on the course, you simply press and hold the main button for a few seconds and then press it again when you arrive at your ball. Voila, your distance is given to you. A feature that worked well every time and one that was tested thoroughly. Using the device itself was a piece of cake. As we mentioned above, it really does just boil down to pressing a single button and hearing how far away you are. One issue that did come up throughout our testing on a couple of courses was the device knowing which hole we were on. After completing a hole, you expect the device to move to the next one, however once in a while on very spread out courses and again on courses that are compact and run two ways (Grand Cypress New Course), the device got confused and had us playing the wrong hole. It is an easy fix as you hold down two buttons and choose the hole to play, but one that troubled me a little bit. In my head I kept thinking "If it does not know where I am, how accurate can the yardages be?", but it was only a handful of times and again, was very easy to correct.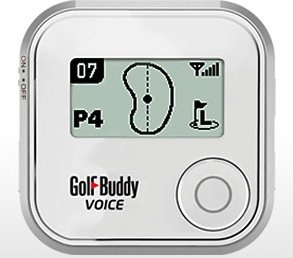 Accuracy & Battery Life
Despite giving us a couple of fits by thinking we were on the wrong hole, the GolfBuddy Voice was surprisingly accurate and offered no issues at all. Comparing it to other GPS units, it was always with in a yard and comparing it to a laser rangefinder also showed the accuracy to be quite good and even better than we expected. The only accuracy issue we came across was when the device got confused on a hole and thankfully we noticed it pretty quickly.
One of the biggest question marks with any distance measuring device is battery life and with the audible side of this unit, it is a question that THP has received quite a bit. We were told that the battery life was about 9 hours depending on conditions, and that was something we were very much looking forward to. For me personally, that is 3 rounds of golf or at the very least 2 rounds of golf and time to spare. Most don't worry about the life and charge after each round and that is the appropriate thing I would say, however if you forget, you want to make sure it will make it through 2 rounds I would say, and we struggled with the battery life here. Our first testing ever, the device lasted 16 holes before shutting down. Charging overnight we played the next day and it completed the 18 holes (3 hours and 32 minutes), but was low on battery life indicator. We never had an issue after the first round with it not finishing the 18 holes, but we were not getting 2 rounds out of the device without charging before hand. This would be something that would not have an impact on most, as they charge after each round, but it is worth noting as we go through the details of the device.
Overall
The GolfBuddy Voice GPS dazzled us at the PGA Merchandise Show just a few months ago and continued to through our testing. It works as advertised and delivers accurate measurements with the touch of a button. It is also a great conversation piece when not playing with your regular group as not a single person that we encountered played without asking about it. This new gadget hits stores this month for a price around $180. For more information on this or any other GolfBuddy GPS product, check out their website at www.golfbuddyglobal.com.
Till Next Time
Josh B.