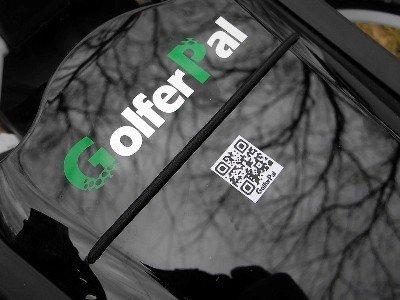 Push carts are primarily convenience items and get their value by literally taking the load off of golfers' backs. Over time, companies have taken the concept of convenience further and further, whether through expanded storage options, accessories, or small storage footprints. GolferPal, maker of the EasyPal Push Cart, is presenting a new take on one of the few things that still requires effort with a push cart other than actually walking behind it: setting it up and tearing it down. The EasyPal needs nothing more than simple push of a button to accomplish this task.
Features and Specifications
The world's first powered auto-folding/unfolding golf push cart. With just one touch, it folds and unfolds automatically No hassle
Perfectly designed angle to distribute the weight of your bag across all four wheels. Makes pushing and pivoting easy. One of the most effortless push carts in the world.
Folded Size: 26.4"x15.75"x11.5"
Expanded Size: 48"x24"x42"
Weight: 16.4lbs
Battery Weight: 0.4lbs
Battery: 12V Rechargeable
Battery Life: Up to 6 months of play per charge
Warranty: 1 Year
Colors: White, Black
Accessories: Cup Holder, Umbrella Holder
Price: $269.99 (Amazon with free shipping)
Description of Features, Setup, and On-Course Performance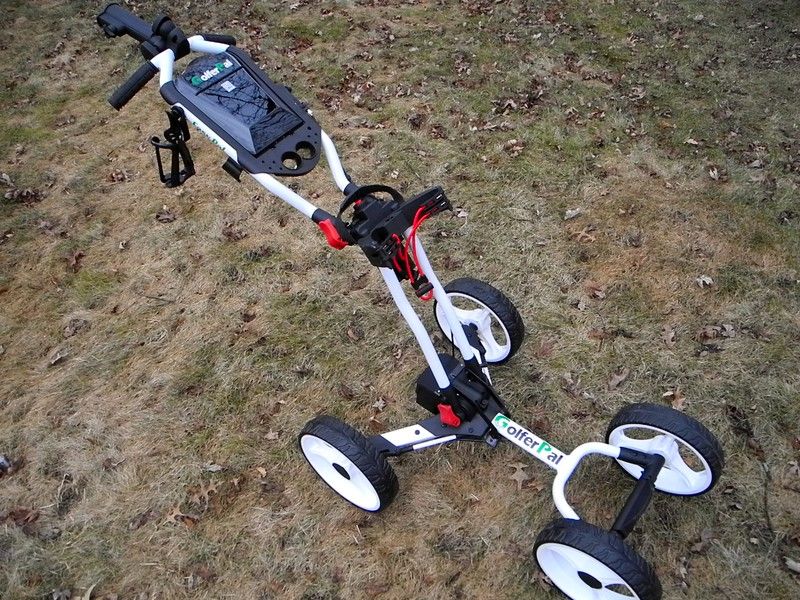 In appearance, the EasyPal looks very much like any standard, 4-wheel push cart. In ways, it's a very generic look that does little to stand out. The metal framework comes in either a white (pictured) or black finish, which does allow a small amount of personalization. At almost 17lbs, it's slightly heavier than most of its competitors, though realistically this weight is hard to notice at all in-hand, and virtually imperceptible when pushing the cart.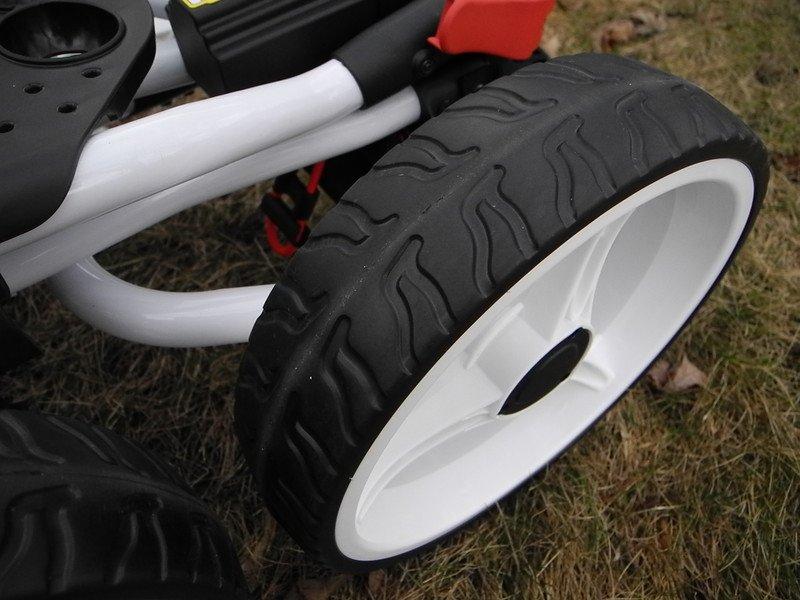 The large (10.75") wheels are coated in a firm rubber-type compound, and provide a smooth, stable, and quiet ride. The cart is held in place (when desired) with a single-wheel, handle mounted brake. The brake was at times difficult to engage one-handed due to its tautness, but did a good job of keeping the cart still.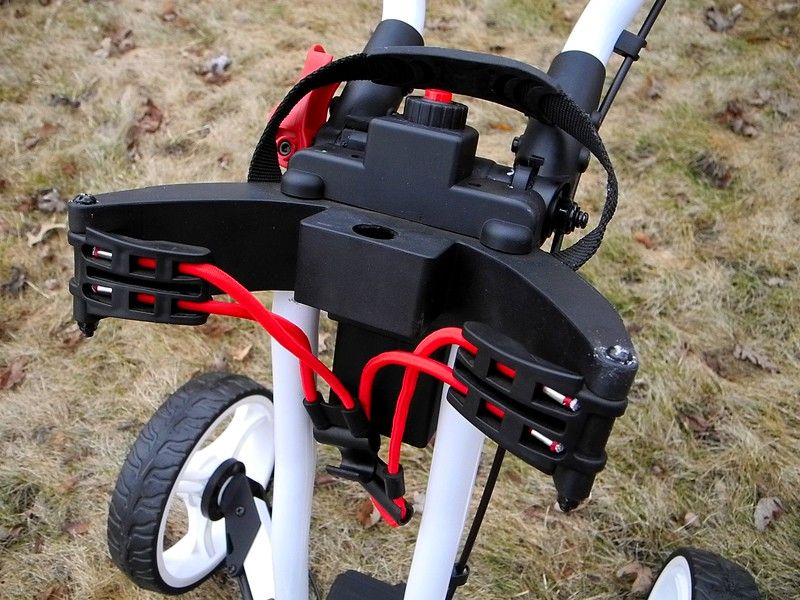 The adjustable bag holder is supplemented with elastic cords that wrap around the top of the bag for stability. These cords were easy to hook up, even with a larger bag, and provided a firm fit. The area where the bottom of the bag sits seems designed to accommodate a variety of bases, but doesn't have any cords. This did cause occasional slipping of the bag and a resulting need to reposition it, but there were no instances of the bag actually coming off the base, even on hilly or rough terrain.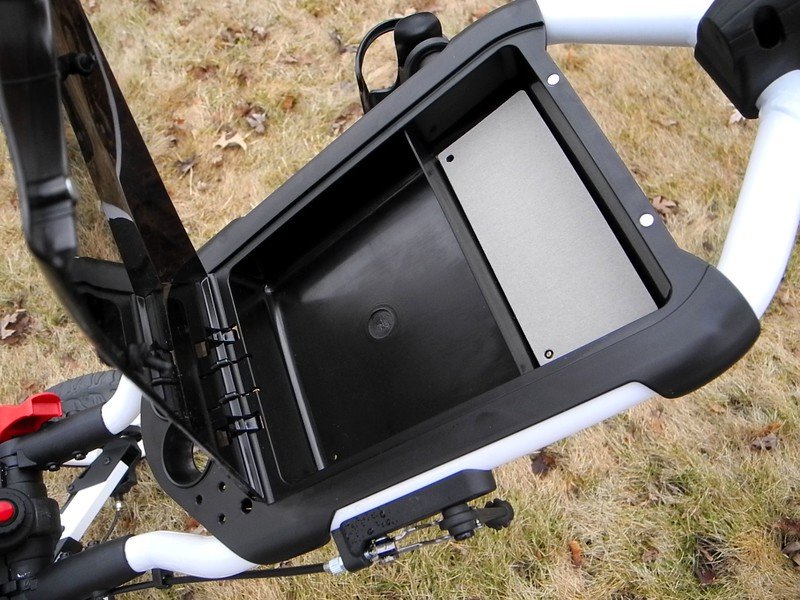 The EasyPal's accessory tray functions fine, though it's unremarkable. The plastic cover is held in place with a magnetic closure and an elastic scorecard holder sits on its top. The scorecard holder functions fine, but does leave the card exposed to wind and there isn't an optional, protected spot for it like we see on some other carts. The inside of the tray is sufficiently deep and segmented into two sections for added organization. A large phone fit well inside it, along with keys and a variety of other items. The standard ball holder and tee and pencil holes are also included and did their respective jobs well.  The dual-handle is covered in a soft rubber and it, along with the entire accessory tray, can be adjusted for height and angle. Both accessories fittings are situated here (umbrella and drink holder), and they were acceptable. Ideally, as time goes on GolferPal will incorporate more accessories into their lineup.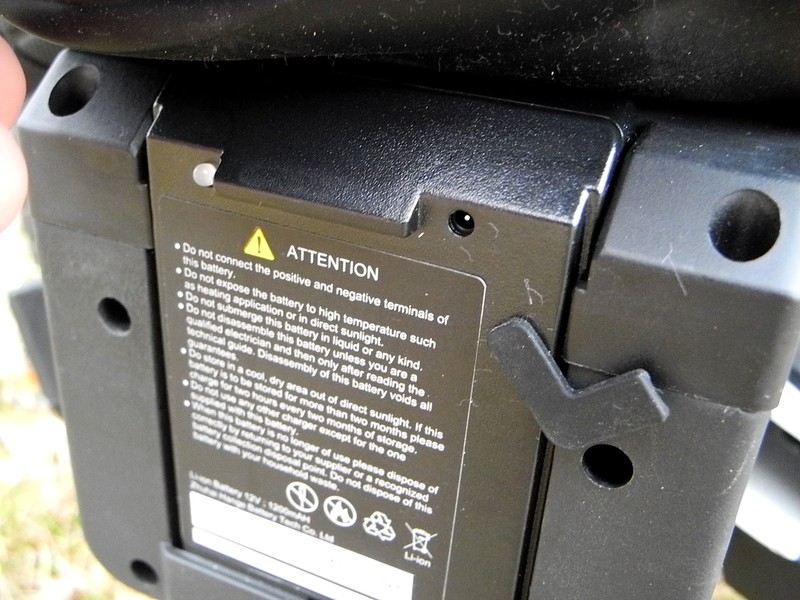 Finally, we come to the automatic setup, which is probably the most important feature the EasyPal offers. A removable 12V battery provides the power needed to make this function work and it's shielded by a rubber cap to prevent moisture from reaching it. It doesn't have to be removed for charging, but can be easily if desired.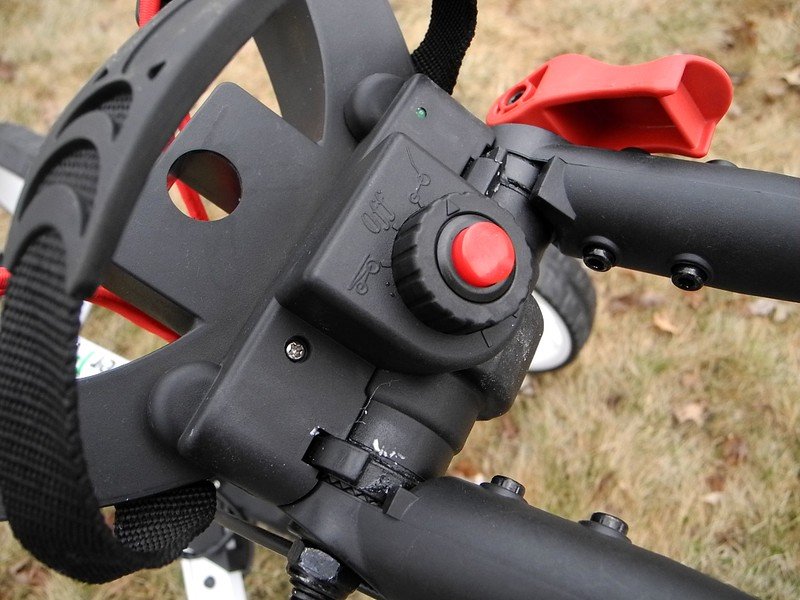 Setup truly is as easy as moving the dial to the unfold position and pushing the red button shown in pictures. Within a matter of seconds, the cart extends fully and is ready for use, without the need for tightening any fittings. If for some reason, the cart was adjusted or setup incorrectly at some point, it may not fully unfold, but in those situation there is a simple process for resetting it. After a reset, which was needed one time in a month of testing, the cart is fully functional with one button push.
Teardown may be the most satisfying time for the automatic feature, as we are often in a hurry to get home and busy organizing our bag for storage. There is an odd, gratifying feeling when one can pull off the golf bag, press a button, put the bag away and return to a perfectly folded down cart. Is it necessary or vital in the big picture? No, but it's immensely satisfying and undeniably cool.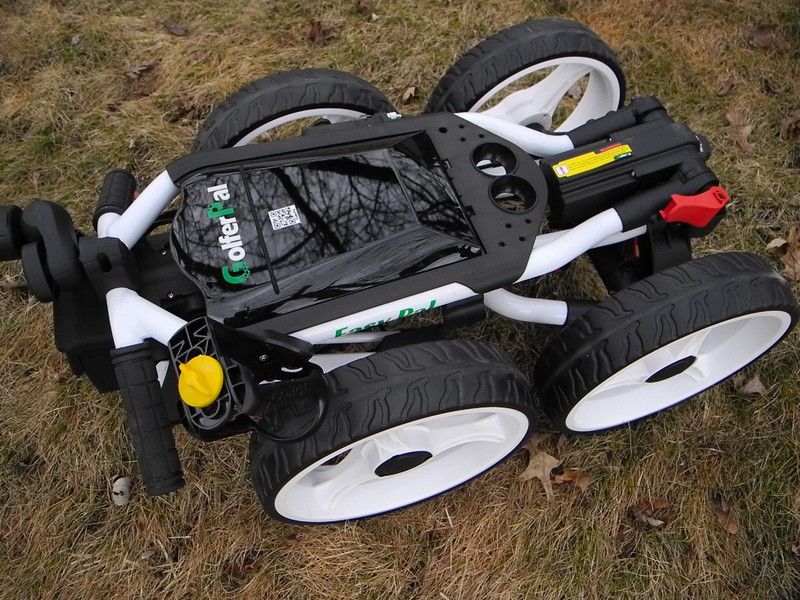 The EasyPal takes up the same amount of space as other four-wheel carts that we've tested in the past. It's not the most compact cart on the market, but well within standard levels of acceptance.
On-course testing took place during multiple rounds of golf in varying terrains. At its most basic level, it's hard to say there is a huge difference in performance among push carts when it comes to pushing them around, at least if we are talking modern, high-quality units. The EasyPal functioned exactly as one would hope, rolling over many different surface types easily, quietly and with great stability. The way the dual handles are situated does make hands-free pushing a little more difficult, but it was still possible when needed.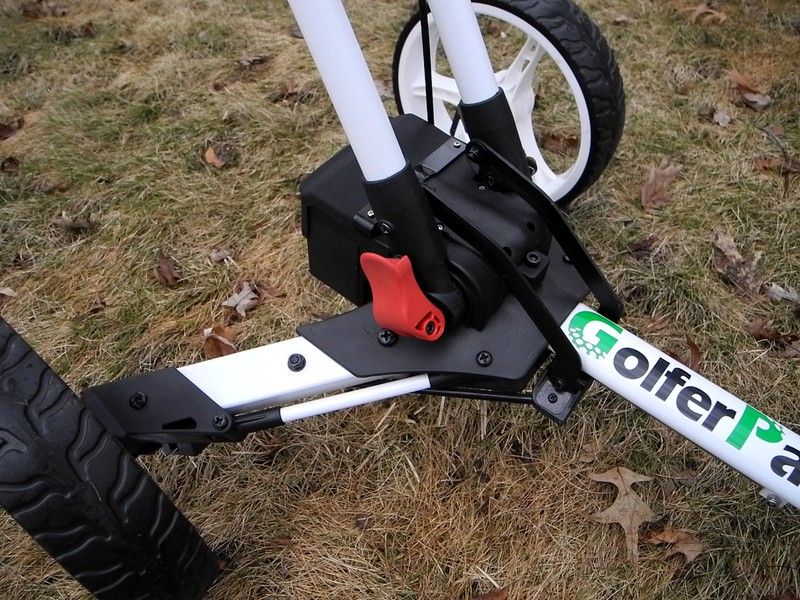 Stability is always easiest to gauge on hilly courses, as letting the cart go down a hill on its own reveals any propensity to tip over very quickly. This was done numerous times while using the EasyPal, both on cart paths and on grass and there were no instances where it even began to look like it would tip over. It did ram into a tree thanks to some bad aiming on the user's part, but the stability was top-notch and appreciated. The 4-wheel configuration didn't seem to negatively influence the ability to turn the cart around quickly and the brake held well, even on very sloped surfaces.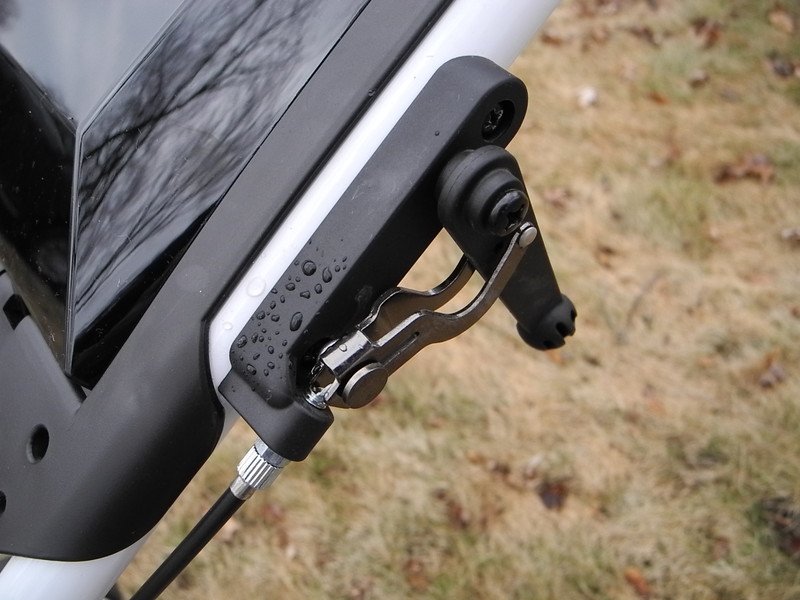 In summary, the EasyPal operated like one would expect any higher-end push cart to operate, with the extremely cool added bonus of requiring little to no energy setting up. With a basic level of other features and accessories, there is some room to grow and improve the product over time, but as it is the EasyPal could work well for anybody that currently uses or plans to use a push cart. EasyPal comes with a one-year warranty for added peace of mind. More information is available on the company's website, www.golferpal.com.