If you've ever had a club fitting before, you'll probably remember all the cool technology used to see how good (or bad) your swing was. If you're like me, you probably wished you could take some of that real time swing evaluation technology home or even to the range with you. Well now you can do just that, courtesy of the GolfSense device. Golf instructors are now using portable devices such as iPads and iPhones to teach their students and the GolfSense device utilizes this portable technology to bring swing evaluation to the golfer instead of the golfer going to the swing evaluation. Did it work in this latest round of THP testing? Check it out.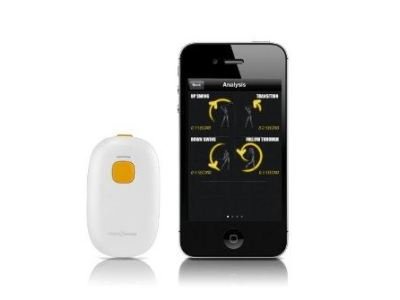 From the Company
3D Motion Capture GolfSense is the world's first portable three dimensional sensor system designed to deliver real-time feedback and analysis of your golf swing. The patented high velocity motion engine uses data from 4 discrete MEMS sensors inside the device to accurately calculate club speed, club position, swing tempo, and swing path. The revolutionary and free mobile app allows you to analyze each segment of your swing from any angle. The application can be set to automatically capture and save every swing in rapid succession or just the ones you select with a simple press of the yellow button. Turn on "impact detection" and GolfSense will ignore your practice swings and only log those that pertain to actual ball contact.
Did You Know?
When it comes to calculating club head speed, GolfSense is within 3 mph of Doppler radar systems such as TrackMan and laser systems such as GolfAchiever.
Key Features
3D view of swing plane

4 precision sensors transmit data to the GolfSense App

Provides accurate measurements over 1,000x/second of swing phases, club head speed, tempo, etc.

'Phone in Pocket' feature measures hip rotation and lateral translation during your swing

Attaches to your glove and not your club

Weighs .6 ounces

Works with iPod, iPhone, iPad

Connects via Bluetooth
Initial Thoughts
When I first received the GolfSense device for review I was immediately intrigued by it. I was impressed with the size and weight of it right out of the box. Weighing less than an ounce and not being much bigger than a dinner cracker I could tell this was going to be an easy device to test. Nothing bulky or cumbersome to worry about that's for sure and add extreme portability to the equation and you have a potential hit on your hands. Literally!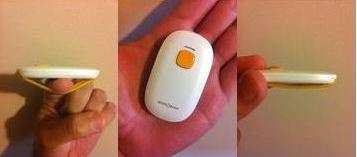 Testing/Usage
After charging up the device and downloading the free Golfsense app from iTunes I set it up to begin my testing. That didn't take long at all and all I had left to do was calibrate the device so I could start swinging. After slipping the GolfSense through the back flap of my glove I double clicked the button, waited 3 seconds, and bingo I was calibrated. I did notice a few times that I had to repeat this process as the Bluetooth sync would fail every now and then but this was more of an annoyance than an issue.
Before you start swinging a club, you get to individually pick what club you're going to be using. This is real handy to further customize your training and see which clubs you swing well and which ones you don't. This could help you focus on certain clubs and not waste your time working on ones that you already swing well. Effective time management! Your choices are driver, 3w, 5w, hybrid, 3-PW, AW, SW so there's just about every possible club for you to work on.
Once you start swinging the GolfSense your swing is captured immediately on your iPhone, iPod, or iPad for your review. Not only do you get a 'head on' view of your swing, you also get a side view, down swing view, back swing view, and a swing plane view so you're able to look at and dissect your swing from all sorts of angles. Just like an instructor. Not only can your swing and swing path be analyzed but your swing speed can be measured as well. This thing can do just about everything for you except make the swing for you.
Two of the coolest features I found with the GolfSense were the 'phone in pocket' feature and the 'impact detection' feature. The 'phone in pocket' feature measures hip rotation and lateral translation of weight through your swing. These are two areas of my game that need improvement and since I'm a visual learner, the GolfSense helps me see my progress by showing me the data immediately in real time. The second feature that I find incredibly useful is the 'impact detection' feature. When this feature is activated, GolfSense doesn't record your practice swings and only tracks a swing when you hit a ball. This is done by taking advantage of the sensors in the device that picks up on the small but instant amount of resistance from hitting the ball. No need to determine which swings were practice ones and need to be removed from the equation when determining final results. GolfSense will do that for you.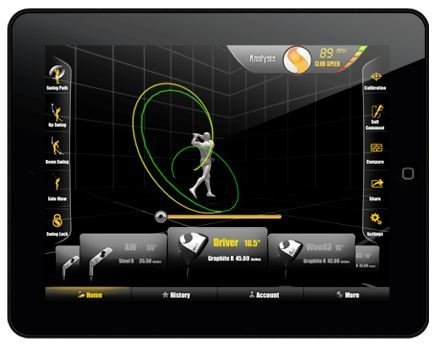 Overall
Available in white or black, GolfSense retails for $129.99. If you're looking for a cool way to track your progress from a lesson or to see why you keep slicing the ball off the planet, GolfSense offers you the chance to instantly see what you are doing with the golf club in a way that is easily understandable and fun. The ability to integrate with an iPod, iPhone, or iPad adds to the versatility of this device as well as the fun factor. For the cost of a little more than a lesson, the GolfSense certainly delivers lesson-like material in the palm of your hand. Or at least on the back of it.
T. Hanks