INTRODUCTION
Being a tester for THP is one of the best jobs I have ever had. It is fun, it is unique, and it can be very challenging. Not challenging in the sense that it is hard to find the time to dedicate to a thorough review, but hard because at some point I will receive a piece of equipment that I will inherently underrate. I hate that it happens but if I am being honest it happened when I found out I would be testing Grafalloy's ProLaunch Red and Blue Series of driver shafts. The ProLaunch Blue and Red Series of shafts from Graffaloy may be the most common and easy-to-find driver shafts on the planet. My predetermined mindset made it somewhat difficult to get excited about putting these shafts through their paces. What a terrible mistake I made in thinking that way!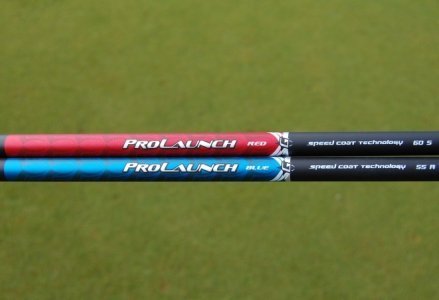 TECHNOLOGY
One of the major differences between the ProLaunch Series of old and the ProLaunch Series of today is the application of "Speed Coat" to the shafts.
From Grafalloy:
The new ProLaunch Blue and Red shafts feature Grafalloy's proprietary Speed Coat technology delivers even lower launch angles and spin rates than the original ProLaunch Blue and Red shafts. Its reduced weight leads to increased ball speeds for maximum distance. ProLaunch Red SC (Speed Coat) is designed for stronger swingers seeking a flatter, penetrating trajectory with reduced spin rates. ProLaunch Blue SC (Speed Coat) is the perfect choice for players seeking maximum initial launch angles with optimized spin control.
Gafalloy has developed a coating system, Speed Coat, which basically helps the golfer increase clubhead speed by eliminating weight and by adding something that reduces wind resistance and drag. We all know that lighter equates to faster, so ideally these should help the user see some increase in distance.
The ProLaunch Red and ProLaunch Blue were sent to me, uncut at 46'' in length. I received the Stiff flex of both models and wanted to share the specs of each here:
LOOKS
The thing that first strikes you about these shafts is that they look nothing like previous model ProLaunch Blue and Red shafts. Sure, they share the same blue and red color tone but that's pretty much where the similarities from previous editions end. What immediately strikes you is just how nasty (and I mean a good nasty) these shafts look. They are overwhelming "charcoal" in color. A lot of that is due to the Speed Coat, but I think Grafalloy did a tremendous job in blending their logo and color scheme into the shaft. It almost has a military-esque/Super Hero look to it all combined. I know that might seem odd, but really, look closely at the overall combination of color, logo, and design and everything about it is overwhelmingly fantastic looking. Like I said, very much a hip, modernization of what we're used to seeing out of the ProLaunch Blue and Red lines from the past.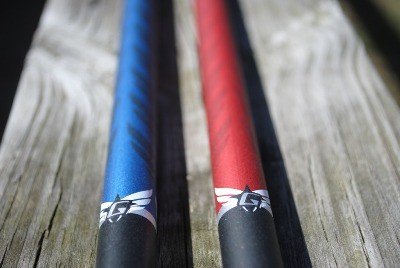 As fantastic as these lighter, faster, and design pleasing ProLaunch's look, the one major thing that cannot be ignored is the Speed Coat on the shaft itself. It is matte black or "charcoal" looking to me, and ironically, it almost feels as abrasive as charcoal. You feel like you can feel every bump of Speed Coating that was applied to the shaft. It's not off putting to the user but it is very different in terms of feel compared to any other shaft I have tested to date. To be quite frank, it's not a very pleasing texture to feel but it sure does look nice as a finish on a shaft. I also have a tough time wrapping my head around something so abrasive that touts itself as something that can "cut" through the wind to help enhance swing speed. Conventional wisdom tells me that it would create more drag, but ultimately, it's part of my duties as a tester to find out.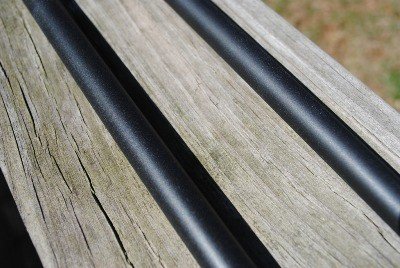 TESTING
As I mentioned earlier, I received the ProLaunch Red and Blue shafts, in stiff flex to test for THP. Both shafts were delivered to me uncut at 46''. Both shafts feature a .335 tip so I installed a tip to each shaft, butt trimmed both down to 45'' and put my old faithful Golf Pride Tour Velvet grip on both of them. All of my testing occurred in a 9.5* Taylormade R9 driver and for the sake of testing, I leave everything set on Neutral. Each ProLaunch Series shaft was in the bag for 4 rounds of golf, 4 range sessions, and I was able to put both on the Vector in order to provide some analytics.
Before I get to analytics I do want to touch on the feel and performance of these shafts on the course. Truthfully, I rarely hit driver much during my range sessions. I will hit a few shots but I prefer to base my feedback on real "on course" conditions. I was surprised at how well both of these felt in my swing and at impact. The Red Series in stiff flex weighs in at 60grams and the Blue Series in stiff weighs in at 57 grams. Both felt incredibly stable throughout my swing, but what set me back the most was just how nicely they felt. I don't know why, but I wasn't expecting them to feel as soft as they did at impact for me. As expected, the Red Series definitely offered a lower ball flight, and it was considerably noticeable on the course. Both shafts are extremely reliable and consistent, and I think that may be what makes them far superior to a lot of their competition when it comes to "bang for the buck" type value. One thing I was expecting and hoping for was a decent increase in distance on the course and I just did not see that.
I think the one thing I wanted to do more than anything with these shafts was to test the actual aspect of the Speed Coat. Did the Speed Coat actually help me increase clubhead speed? To be frank, yes, it did. I was able to put both shafts to work on the Vector and I have some very interesting data to share. I want to mention that all testing occurs in Neutral settings and with a Callaway Tour i(z) golf ball.
ProLaunch Blue SC Shaft
Clubhead Speed Avg = 113 mph

Launch Angle Avg = 16.3*

Backspin Avg = 3275 rpm's

Ball Speed Avg = 153 mph
ProLaunch Red SC Shaft
Clubhead Speed Avg = 112 mph

Launch Angle Avg = 14.9*

Backspin Avg = 2901 rpm's

Ball Speed Avg = 155 mph
Now, what I found the most fascinating thing from all of this is that the shaft does exactly what Graffaloy proclaims: it increases clubhead speed. That is great news! However, what I did not see was that clubhead speed transferring to ball speed. In fact, I saw a slight decrease in ball speed with both ProLaunch Series shafts compared to a lot of shafts I've tested prior to these. And ultimately, I think this is a lot of the reason why I wasn't seeing any noticeable distance gains on the golf course.
CONCLUSION
In the end, Graffaloy has presented the golfing public with a revamped ProLaunch Blue and Red Series of shafts. Revamped in the looks department, and revamped in the technological arena. However, one thing that remained a constant is that these can be purchased very economically. What surprised me the most was just how much I liked both of these shafts. Obviously, one worked much better for me but I could easily game either one in a heartbeat. I am extremely thankful that I had the opportunity to give these a test drive because in the end, these shafts did something that I wasn't expecting them to at the beginning, and that was to win me over!
If you are interested in more information about the ProLaunch Blue and Red shafts from Graffaloy please visit their website at, www.graffaloy.com. If you are interested in trying out either of these shafts for yourself, please contact our friends at Blind9 Golf, www.blind9golf.com .
Thanks for reading!
-TC