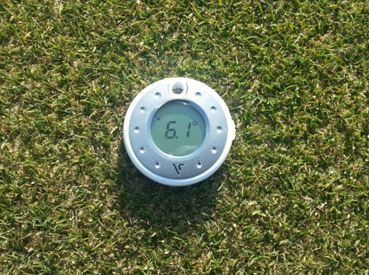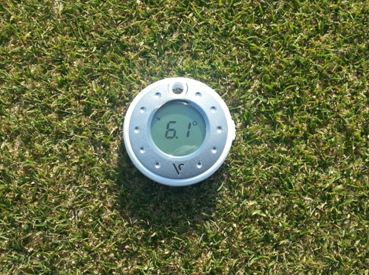 Have you ever seen a yardage book that PGA Tour Pro's use? These books the guys on Tour live and die with are very detailed in the information they have within them. Every detail of the hole is outlined on the pages of these books; even the seemingly endless breaks and valleys of the green are noted. I've never gotten to actually play a round with a yardage book quite that involved, but I've often wondered what goes into making a book with that much detail.
From the makers of VoiceCaddie is a new device that could be very beneficial to someone looking for this kind of detailed information on the greens they play. It's called the Green Caddie – a digital green reader that measures distance and gradient of the green. THP received one for review and I had quite a bit of fun using this cool little gadget.
From the company:
Green Caddie Advantages:
Smart Distance Guide

Measuring a distance to hole

Display Green Gradient

Automatic gradient display by putting it on desired place

Easy to use

Auto-transfer of move, depending on targeted angle

Sensible & Compact Design

Ultra small & light body with compact design

Automatic power mode

Automatic power off after 3 minutes of inactivity
THP Testing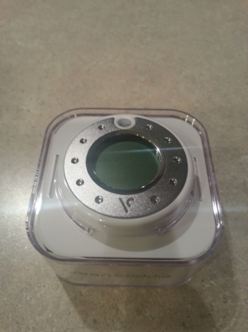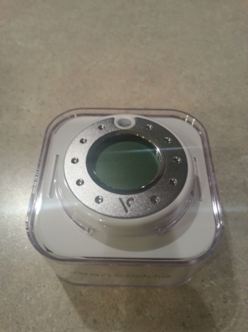 Immediately upon receiving the Green Caddie I was impressed with the packaging and how cool this device looks. It looks like a nice watch in the way it's packaged in clear plastic. It comes with everything you need to know to use the device for reading greens. The Green Caddie comes in Silver, Blue, Green, Purple, Pink and Orange. It's definitely a neat looking device that immediately sparks your interest when you see it.
Speaking of using the Green Caddie, it is very simple to use. Push the button to turn it on and set it flat on the surface that you wish to read. It literally does not get much easier than that. It also has the ability to read distance to the hole. You can do his by holding the Green Caddie upright at more than a 45 degree angle for a few seconds and lining up the hole with a sight line on the device. It measures distance in meters and is most accurate within 30m of the hole, but will measure out further as well. I personally would have preferred that it measure in yards, but I did not see anywhere that could be changed.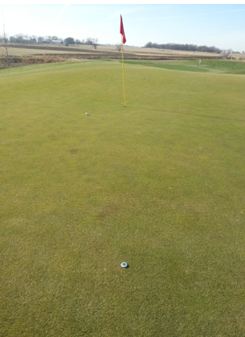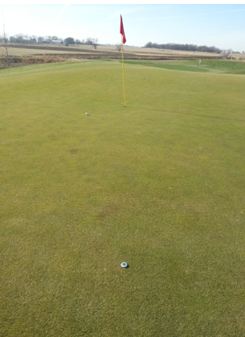 The Green Caddie is definitely very easy to use. It also seems to be quite accurate and easy to read. I had a lot of fun using it for testing; however I don't see too many golfers really using this device on a daily basis. One reason is that the gradient of the green where your ball is might not be the same half way to the hole, or even at the hole. I think it gives you a good indication of where the putt is heading, but I can't say that it gives a definitive line. While I don't see it being something many leisure golfers would use often, I do think that tournament players would get a great deal of use out of one. Someone looking to build themselves a yardage book like I mentioned above will find the Green Caddie to be extremely helpful for mapping every detail of a green.
Conclusion:
I definitely think there is a market for the Green Caddie, but I just don't see too many golfers using this on a daily basis. I would also have to think that the rules of golf wouldn't allow it for tournament play, but I'm not 100% sure about that. Regardless, the guy looking to scout out a golf course will definitely benefit from having the Green Caddie in his bag. During my testing, I was able to get more familiar with some subtle areas of the greens I play on. I'll continue to carry it in my bag and use it from time to time to learn more about my course as I go on.
At the time of this review there is no mention of the Green Caddie on the company's website www.voicecaddie.com, so I am not sure what the cost will be. Stay tuned to THP for more information soon.