Entering into the current wedge market is a not so new name, Harry Taylor. While some will recognize the name immediately, others may not, so suffice to say the man behind this release has been around and worked with/mentored some of the biggest names in wedge design. This marks his return to golf club design after a hiatus of testing the waters of the PGA Tour Champions, and what better way to do it than on his own terms with his own name front and center on the clubs.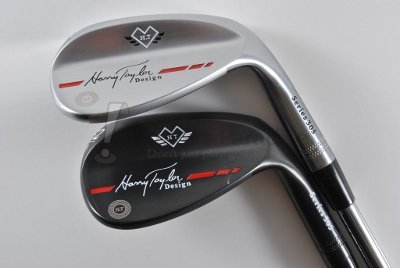 Harry Taylor on the New Wedges:
I would like to introduce you to my new line of Harry Taylor Series 305 wedges. I have spent most of my life playing competitive golf from college to the PGA Tour and on to the Champions Tour. This has inspired all of my designs for metal woods, irons, wedges and putters that have become the number one clubs on the amateur and professional tours over my career. For the first time in history, I am proud to introduce a new line of wedges bearing my name. The series 305 is my finest designed series of wedges and I am absolutely positive you will enjoy them for years to come. I have produced the heads with the utmost attention to detail including sole design, cambered leading edge and an exact flawless offset for each loft. The shaft and grip choices are the number one most played components on Tour. The club heads are from the finest soft metals, chrome plated with precision milled groves. These hand crafted wedges will perform beautifully for golfers of all abilities, from the amateur to the best of the best on the PGA Tour.
I am confident you will love these wedges and I want to thank you for trusting me with the performance and growth of your game. Have fun and play well.
Specifications: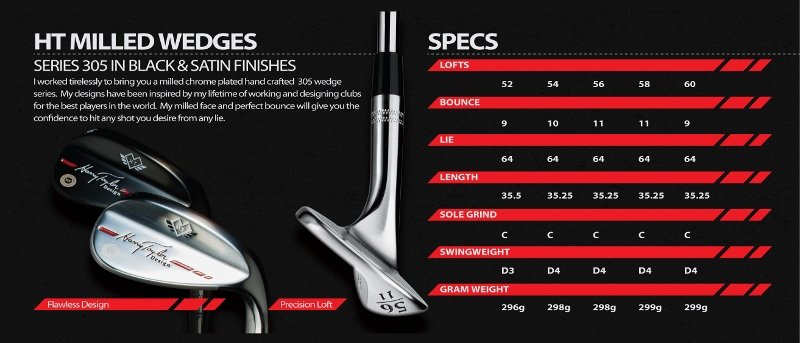 | | | |
| --- | --- | --- |
| | Spec | Tolerance |
| Scoreline Width (top) | 0.76mm | +/- 0.08mm |
| Scoreline Width (bottom) | 0.41mm | +/- 0.08mm |
| Scoreline Depth | 0.46mm | +0.03mm / -0.08mm |
| Scoreline Pitch | 3.56mm | +/- 0.05mm |
| Draft Angle | 16D | |
Aesthetics:
Let's not beat around the bush, the Harry Taylor wedges are a bit of a throwback, just like the man himself, and that is most certainly meant in a good way. From the second the wedges are in hand, the eyes are drawn to just how clean the overall shape and design appear.  The head itself is a very comfortable and familiar shape with a nice elongated hosel and blended leading edge, which isn't too rounded or too flat, rather it's something that should be comfortable to most eyes.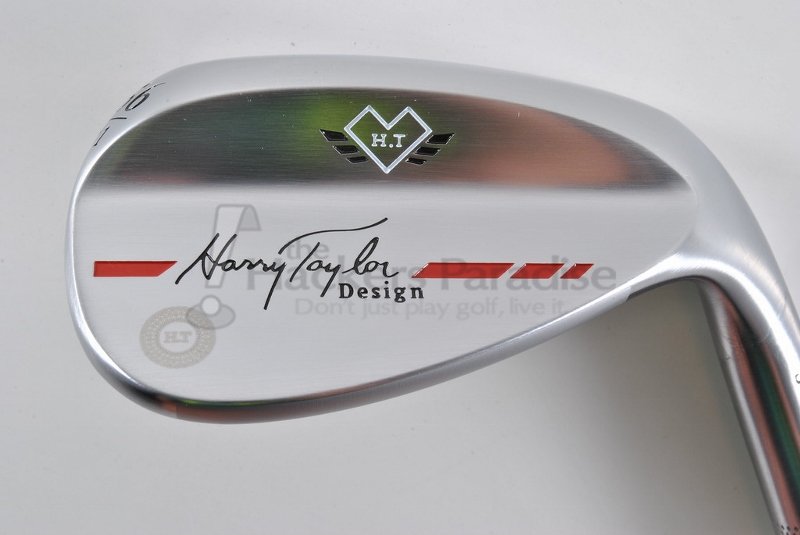 The wedges also feature a clean high-quality satin chrome or satin black finish which adds to the nostalgia that they tend to create in hand. Over the course of the review the finishes held up well, particularly the satin chrome. As it pertains to the satin black it is necessary to remember that all dark finishes (particularly on wedges given where/how they are used) will show wear on the sole and the face. With that said the Harry Taylor's dark finish held up very well compared to many darker finishes this reviewer has used.  They do show sole and face wear, but it isn't anything too drastic considering what they were put through during review.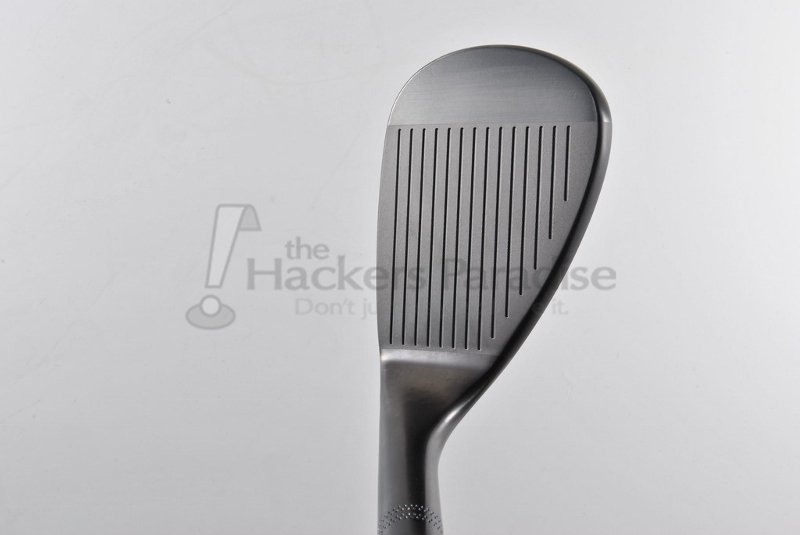 The thing that ties the entire package together is the selected graphics on the rear flange of the wedges. The Harry Taylor signature is done so that it stands out without being gaudy and around that all of the engraving has a purpose. They really throwback to the "golden age" of wedges with fine lines, accent colors that aren't too drastic, as well as a look in-hand and in-bag that shouts quality in a lot of ways.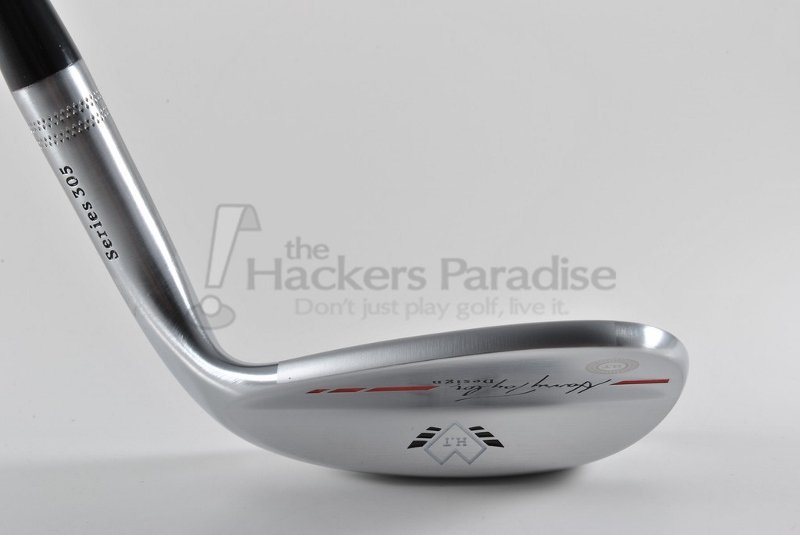 Performance:
Harry Taylor isn't offering 100 different loft and bounce combinations, instead they are taking an old school and straight forward path offering 5 different loft/bounce options paired with DG S400 wedge shafts and Tour Velvet grips, intent on maximizing playability and versatility while keeping it simple for the consumer. THP was able to spend time with the 52° and 56° HT 305 wedges and all testing was done on the range and course in order to really test the versatility.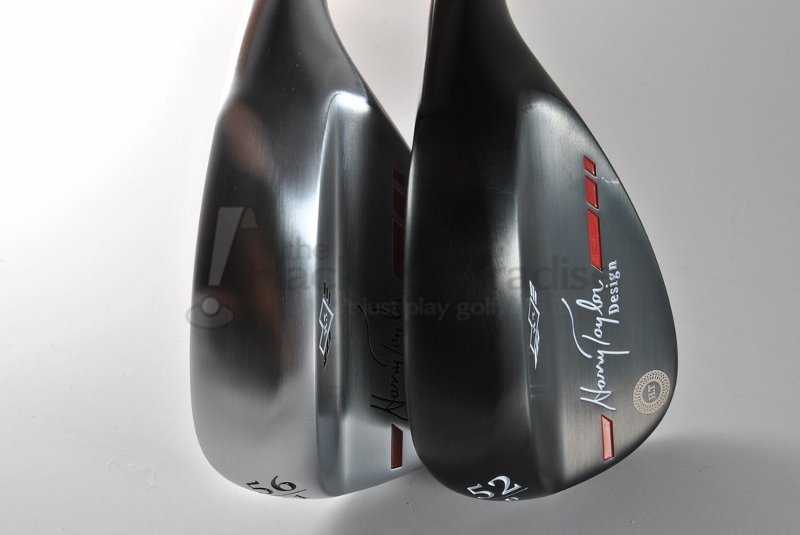 Performance wise they proved to be very solid for this reviewer as well as several individuals who were asked to try them next to their current wedges. At impact they definitely are on the more dense side of things, while there is a firmness to the tone, they are devoid of the sharp click which some other designs have, as such all of those who used them commented on the "softer feel" of the wedges.  Additionally, they showed nice flexibility in terms of both working and flighting the golf ball on different shots, something that should be expected of any bladed wedge.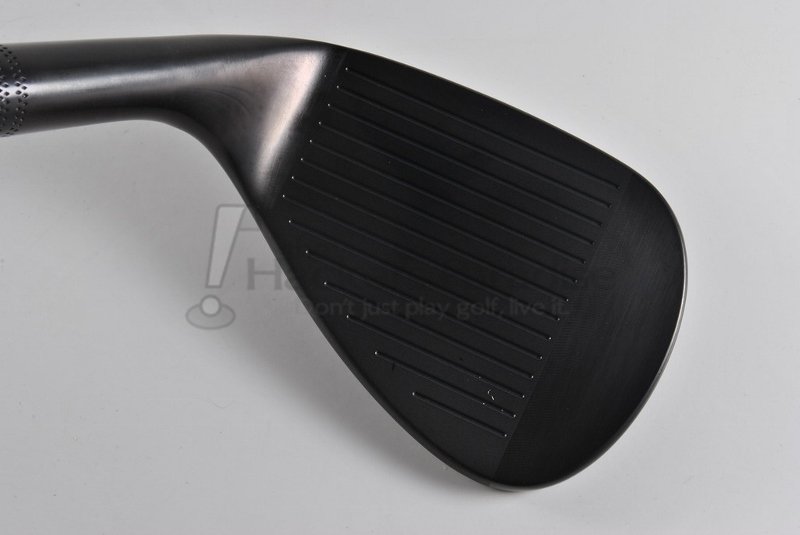 The wedges were both played from a variety of lies, and although there is only one bounce option for each loft, the shape of the soles offered enough toe and heel camber to allow for a ton of adaptability and versatility. On full swings there was no issue with digging into or through impact for this reviewer in any loft. The 56° shined particularly from the dense rough as well as greenside bunkers and the 52° was incredibly accurate from 100 yards and in on a plethora of differently flighted shots.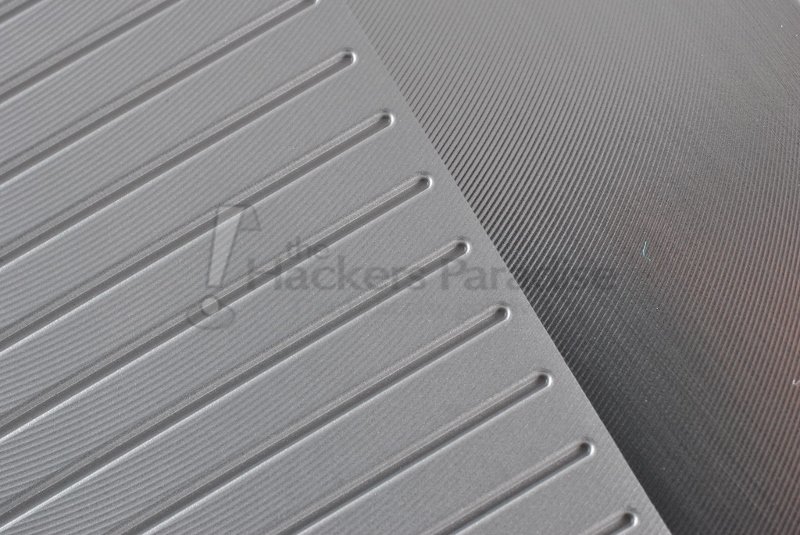 The interesting thing when it comes to reviewing wedges is that they all spin. Plus, as we know, technique is crucial in this region of the bag when it comes to maximizing the potential of any design. With that said, the HT 305 wedges showed that head to head with 5 other wedge releases they can impart just as much spin. In fact, they sat firmly in the upper region of the others with which they were put on a monitor against, both in full and partial swings. Now, individual mileage may vary there as some golfers create spin better than others, but for this reviewer one area where they were a lot of fun was actually on that low hop and hard check shot greenside, the 52° in particular was excellent here.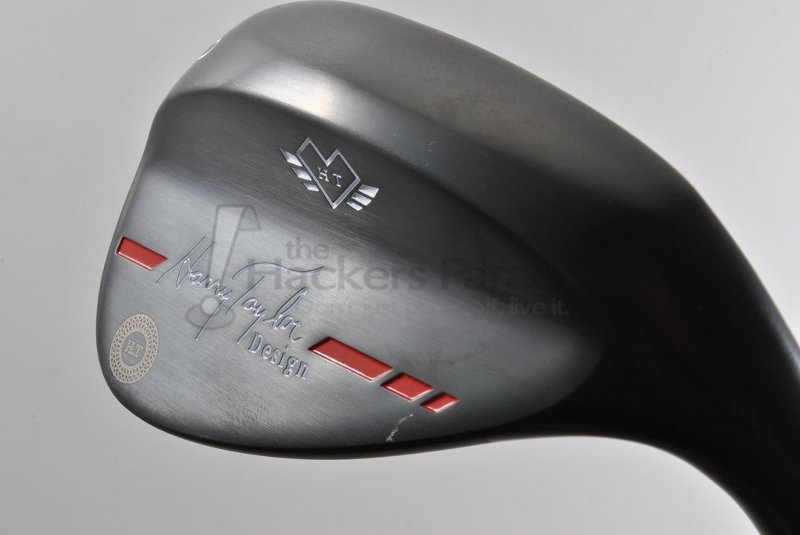 Parting Thoughts:
When it comes to wedges, one has to remember that the vast majority truly do perform very closely to each other in the basic traits we look at like workability, versatility, and spin. What will matter the most is finding the wedge that is most comfortable for you both from a shape/size standpoint as well as bounce/loft configurations. With all of that in mind, the Harry Taylor 305 wedges are very solid offerings and it would not be a surprise at all to see them impress those who try them. There lies the rub though with a new brand/release like this, the key will be how the company gets them into the hands of the consumer to try for themselves. Additionally, the wedges have a price point of $149.00 for satin chrome and $169.00 for satin black, something which might cause golfers to hesitate. While it must be made clear that the company is offering discount codes and a nice referral program, it's a message that, in the opinion of this reviewer, will be crucial to convey in order to really get people to want to try them. In the end, if they can manage each of those things, the performance of the product will then speak for itself and be another solid option for golfers.
More information on Harry Taylor the man as well as the wedges he is producing can be found at www.HarryTaylorGolf.com.