I've had a lot of experience finding out what works best for me during the time I've been an equipment tester for THP.  However, all that experience went completely out the window with my latest testing opportunity.  A company called WSH, Inc. sent over a Hello Kitty Junior Golf Set for us to get a closer look at.  An email came in wondering if one of my two daughters would be interested in helping me out with a unique testing opportunity.  I knew they would be, so I agreed to the task without telling them anything.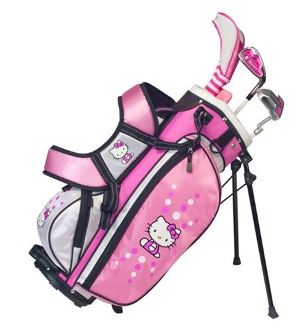 I have 2 daughters – Sammy is almost 10 and Ally is 12.  Ally recently picked up a new set of clubs, as she had out grown her junior set, so I decided I'd see if Sammy would be my helper.  On the day the package arrived, somebody in my family brought in the box from the porch and set in the dining room like they always do.  The kids usually watch me unbox whatever it is that I'll be reviewing and quickly go back to doing what kids do.  This time I got to tell Sammy that it was for her.  First she was shocked and then she tore into the packages like crazy.  Included were 3 boxes full of accessories and an entire set of youth clubs geared for ages 9-12.  It couldn't have worked out any better, and Sammy was beside herself with excitement about the opportunity. 
As I mentioned, several accessories were included in the package: 
Oversized Hello Kitty stuffed head cover

Hybrid/fairway wood head cover

Divot Repair Tool

Pink Hello Kitty golf balls

Umbrella (huge Hello Kitty logoed of course)

Hat clip/ball marker

Hello Kitty Tour Towel
 The actual set itself includes: 
Stand/carry bag

Driver w/headcover

4 Hybrid w/headcover

7 Iron

9 Iron

Putter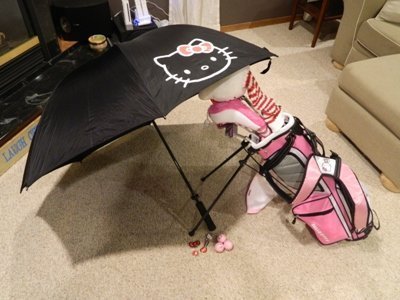 Prior to the Hello Kitty clubs, Sammy had a junior set that she was on the verge of outgrowing.  All she had was a driver, hybrid, short iron and a putter. Now she's got a new set of clubs with all these great accessories and is more than ready to take the next step in her growth as a junior golfer. 
Normally this is the point in the review where I talk about my testing and how the clubs performed for me.  That is not the point of this review, so instead let me fill you in a little bit about Sammy and her golfing career to this point.  She's in the 4th grade, and in the summers she's quite busy with softball and running around being a kid.  Something she also really loves to do is play golf with dad and grandpa.  We take her out as often as we can and she has attended junior golf camp each of the past 2 summers.  The clubs she had been using were definitely starting to become too small for her and beginning to hinder her progress with her swing.  We had talked about looking into new sets or letting her use her older sisters set she had just out grown.  You can probably guess how that conversation ended.  She wanted no part of the hand-me-downs from big sister Ally!
As I mentioned, the set that we tested is geared for golfers aged 9 to 12 years old.  Sammy is pretty tall for her age, so I was definitely glad this set is the one they chose to send.  The fit of the clubs appears to be spot on. She doesn't have to slump over anymore when swinging or addressing the golf ball.  The adjustment is something Sammy will have to get used to as they are considerably larger than her first set of starter clubs.  The putter almost seems too long for her, but part of that could definitely be her form, so we're going to stick with it and keep working on it.
The set arrived right toward the end of fall, so we didn't have much time to get the clubs out on the course, but we did manage a 9 hole round and a couple of trips to the driving range.  She seemed to do quite well with the driver especially. The added length from her old set did take some getting used to, but it wasn't anything that couldn't be fixed by choking up on the grip just a little bit.  She really liked having more options than just a short iron. She'll certainly get good use out of the 7 and 9 irons as her game develops.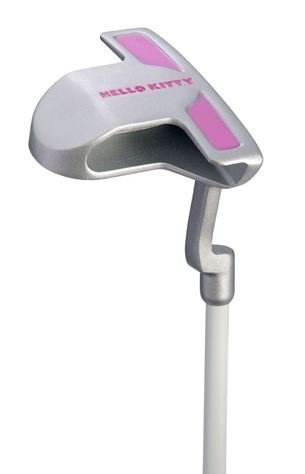 Overall, the quality of the clubs in the Hello Kitty Junior Set really impressed me.  As I mentioned, we were on the verge of getting her a new set anyway, so I had already looked around a bit. Much like her old set, the options were not really doing much for me.  She's not big enough to be able to play a women's set, but she needs more than just a kid's toy set too.  The Hello Kitty set seemed to be a really good middle-of-the-road set for her.  Her excitement told me everything I needed to know in regards to her feelings about the clubs.  She absolutely loves them and keeps the set all cleaned up, sitting neatly in the corner of her bedroom.  The accessories really got her excited too. She sees Dad with all the accessories needed and she's happy that she finally has her own.  Something tells me I'll have a golf partner anytime I play from now on.
While doing research for this review, I spent a lot of time on the company's website and the offerings they have for junior golf sets and accessories is staggering.  There are sets for age groups as young as three years old all the way up to ladies "Mix & Match" sets.  There is also every kind of accessory you could imagine.  The price of the set Sammy and I reviewed is $199. Considering everything that is included and the quality of the clubs and bag, I expected the price to be higher.  The golf club sets and accessories all seem to be very fairly priced and are available from the website www.wsh-golf.com.