It's a story that is more and more familiar every day. First, an innovative product explodes in popularity. Shortly after, dozens of similar products appear on Amazon for substantially less money. Such is the case with the HeyChy Mini Massage Gun. This handheld, battery-operated percussion massager seeks to offer all the same benefits of the brands that dominate this market segment at a fraction of the cost.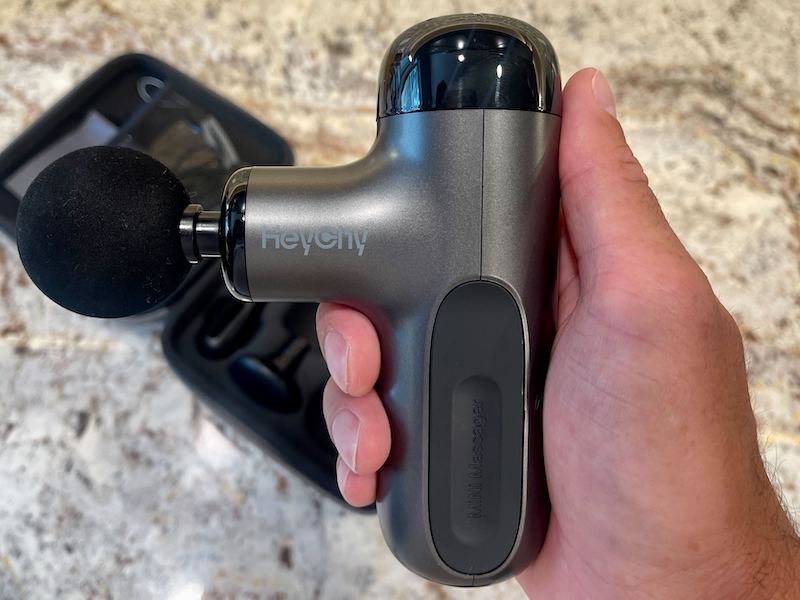 Features and Specifications
Super Mini Design for Comfort -This MINI Massage Gun with a compact design is dedicated to providing lightweight and powerful massage relaxation in the gym, office and traveling. Ergonomic T-shaped design makes it much easier to hold to reach every part of your body.
Strong Power & Stable Output – Our percussion massager gun is built with an innovative High-Torque Brushless Motor, which has powerful energy and lossless output. The percussion could reach the deep muscle tissue and bring you refreshed and relaxed massage experience.
Ultra-Superior 3C Power Battery – This Muscle Massage Gun is specially equipped with 3C Power Battery. Compared with other products, it has 3X discharge rate for power supply. At the same time, 2600mAh battery capacity allows it to be used continuously for 10 hours.
Charge Anytime, Anywhere – This percussion muscle massager gun can be charged by USB (type-c) with 5v/2a adapter (Not Included) or power bank. You don't have to worry about charging again, even when traveling.
Personalized Wellness – Our handheld percussion massager gun provides 5 different speed levels and 4 different attachments. You could freely choose any speed and attachment depending on the levels of your muscle soreness or pain by pressing the power button.
Product Dimensions ? – ? 3.38 x 1.85 x 5.7 inches
Weight – 13.6 Ounces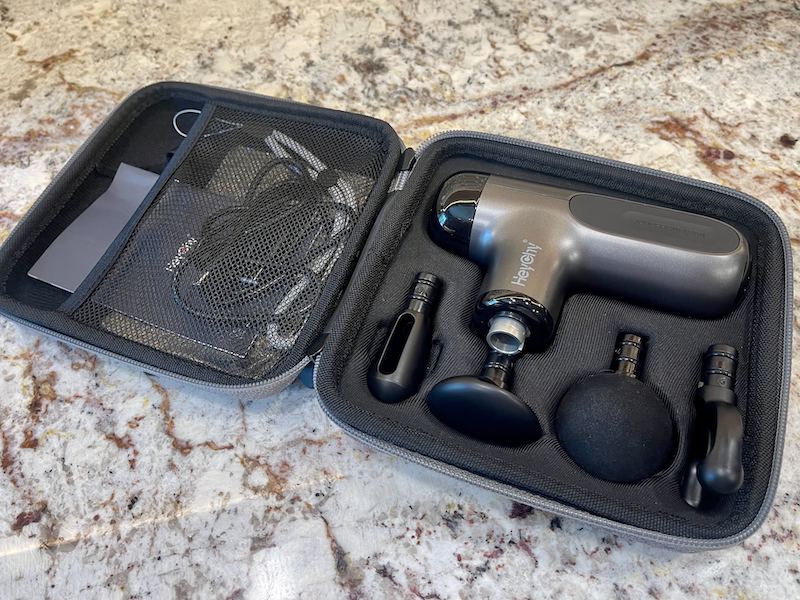 Percussive therapy has generally been accepted as a safe and effective alternative to massage therapy for increasing blood flow to target areas, reducing muscle soreness and tightness, and providing stress relief. Its acceptance has been wide-ranging, with even mainstream health organizations touting its benefits. Unfortunately, up until recently, there was a high cost, often as much as several hundred dollars, associated with these devices.
The HeyChy Mini Massager is a robust device that comes with four attachments and an attractive carrying case for right around $50. At 13oz and easily held in one hand, it's both lightweight and substantial at the same time. Though it's obvious that much of the weight felt in hand is due to the heavy-duty, rechargeable battery, the plastic casing feels relatively durable. In addition, the shaft that the attachments insert into is made of stainless steel, which should lessen the chances of the device breaking from the stress of constantly hammering away at muscles.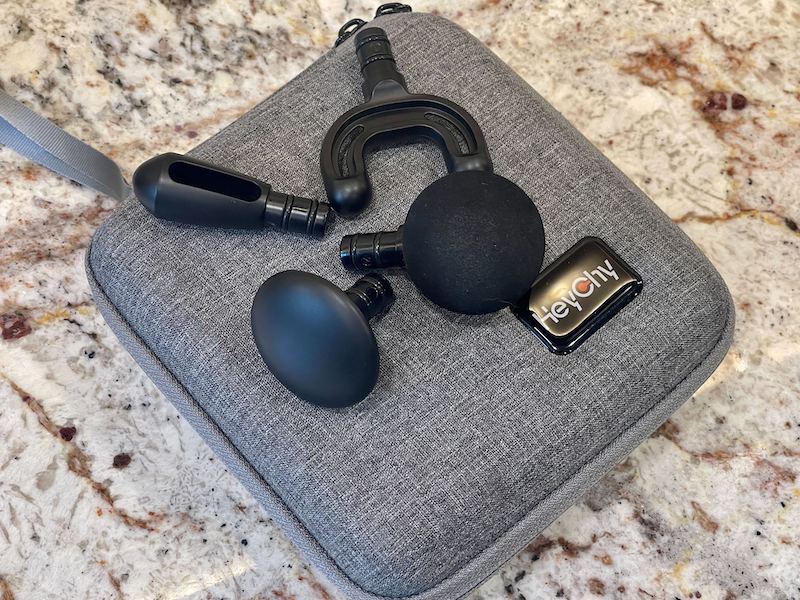 The user manual suggests an initial three-hour battery charge before use, but we found it completed much quicker than that. To date, after a great deal of use over about three weeks, the battery still hasn't required another charge. The company claims the battery can last 8-10 hours of continuous use, though we weren't able to test that to completion. Regardless, it's evident that frequent charging won't be needed, at least while the device and battery are new.
Inside the case, which will look very familiar to Rapsodo MLM2PRO users, is the massage gun, a USB-C charging cord (that will plug into a standard mobile-device brick), and four different attachments. The attachments insert easily into the stainless-steel shaft and stay in place via tacky rubber grommets. The attachments range from a benign and inviting foam ball to a very menacing looking bullet head, each with its own purpose.
Turning on the HeyChy Mini Massage gun isn't hard, but it's not exactly intuitive the first time. There's a small button on the bottom of the gun that you press for around three seconds. From there, subsequent presses increase the speed of the percussive effect through five different settings. A final press turns the unit off completely, though this can also be accomplished via another long press.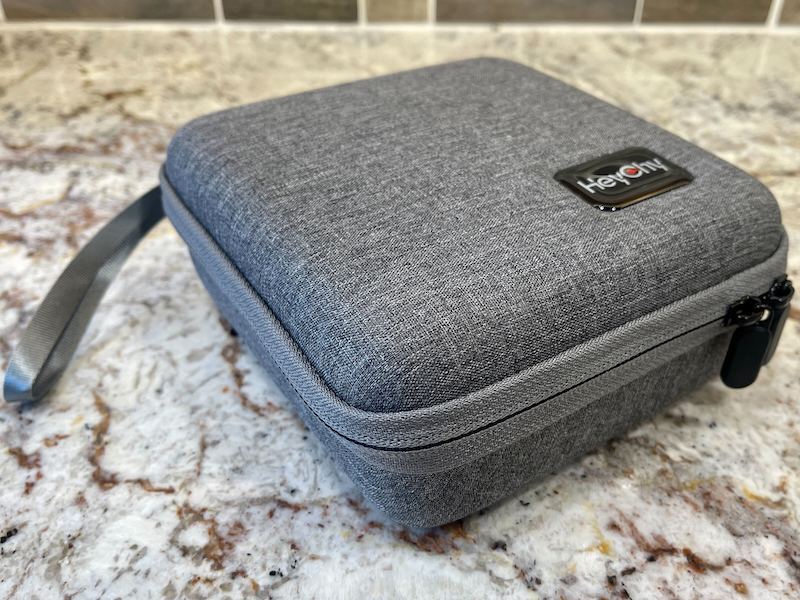 As for the percussion massaging itself, it's definitely percussive and it provides exactly what it claims to offer. Those wondering if HeyChy can provide the same relief they'd expect from a more expensive device like this should expect to be satisfied. With the varying speeds and attachments, it's easy to find a way to treat a variety of different muscle areas. Also, the ergonomic shape and small size make it easy to reach almost any region of the body. The only spot the seemed out of reach is the mid-upper back, which is solely responsible for the thriving back-scratcher industry. Yes, we completely made that up, but it goes beyond saying that reaching that area is going to be a challenge in most cases.
What remains to be seen is the HeyChy's durability over time. While low-cost alternatives to expensive products are increasingly popular, there is often a tradeoff. All we can say at this time is that there isn't anything glaringly evident to suggest it won't last over the long term, but we'll update the THP Forum if anything changes.
Details