Honma Golf will always be somewhat enigmatic to North American golfers. Some of that works in the company's favor, since their ultra-premium reputation thrives on their products being beyond the grasp of just anybody. Still, the company has put forth a concerted effort to reach out to a wider audience with offerings like the TW757 series, which THP forum members and staff writers alike enjoyed. The 2023 Beres NX series, which we previewed recently, continues this accessible approach. It comes in at a more-affordable price point and is designed (according to the company) "for young, new, senior, or seasoned players looking to get into the game."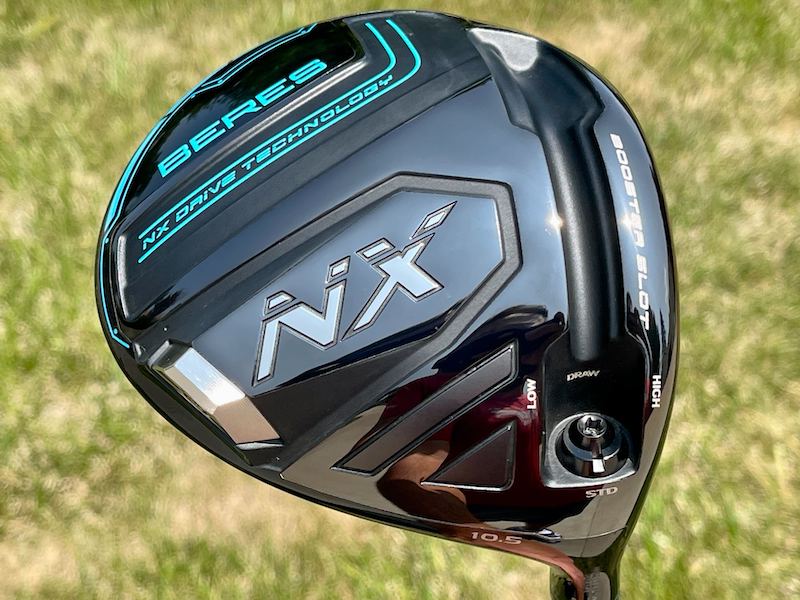 Now, as a golf writer in his mid-40's, it's obvious that I don't fit any of those labels, but looking deeper we can see that the Honma Beres NX driver does have a number of design features that go beyond demographics and directly into fitting. It's lightweight and designed to launch the ball high, with a high level of forgiveness. So, while you may not be young, old, or new to the game, it's quite possible the Beres NX could be what you are looking for, especially if you're in the hunt for something that stands out on the tee box.
Technology
The most noticeable bit of technology on the Honma Beres NX is its Solid Cross Carbon Crown, which we noted in the preview article, "frees up weight to be distributed elsewhere in the head to add forgiveness and stability at impact." There really isn't another composite crown out there that looks like this one, but time spent on both the practice tee and golf course showed that it wasn't distracting, though visual sensitivity does vary from player to player.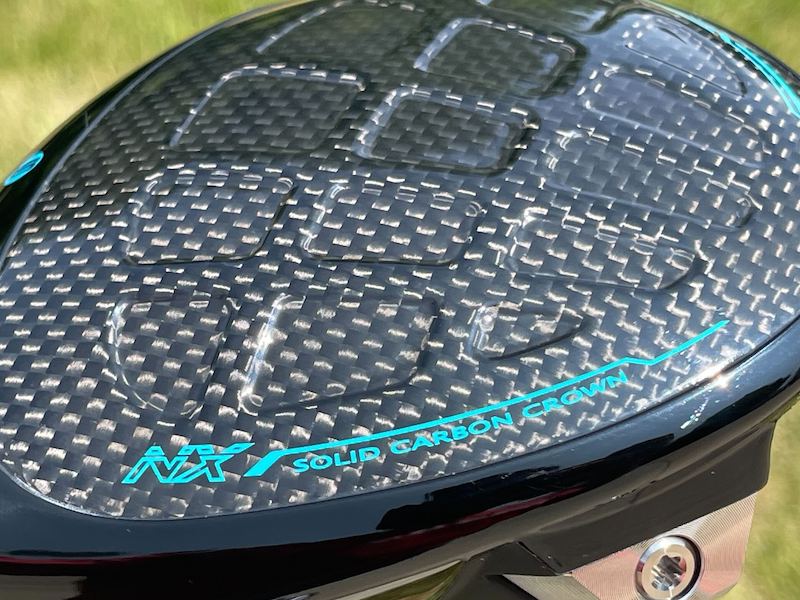 The Upper L-Cup, along with other technologies call X Lib and Evolved Radial Face, are all designed to promote maximum ball speeds on both center and off-center impacts. To further enhance ball speeds and efficiency, the sole features a familiar looking "hyper-wide" Booster Slot.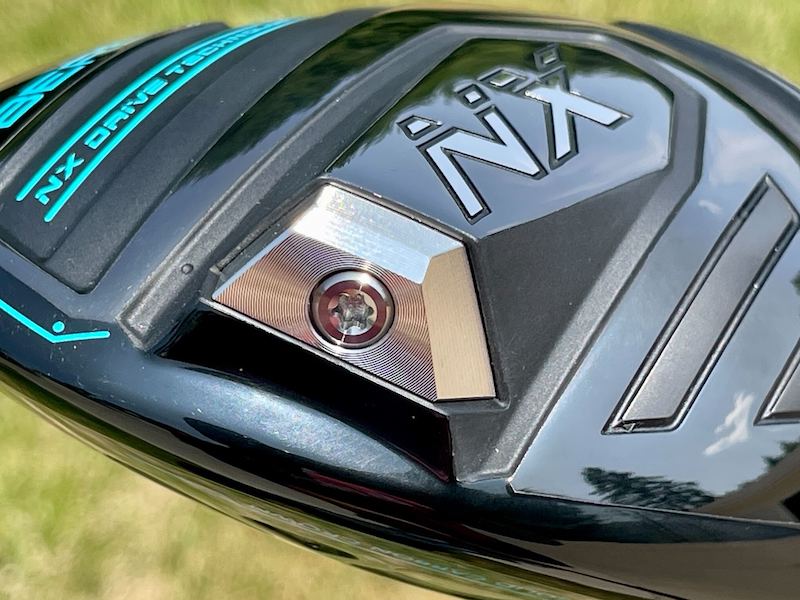 The sole's Keel Design Weight is a great visual indicator of where all that weight saved in the crown ended up. The keel extends from front to very far back in the head and is capped off with a 12g weight. This, as you hopefully know by now, should promote higher launch angles while at the same time providing stability on off center shots.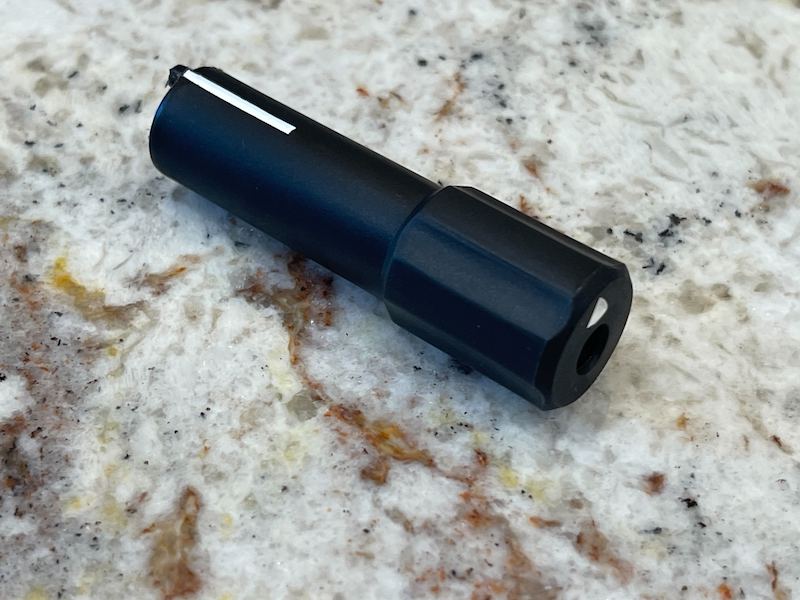 Finally, it is worth again mentioning Honma's unique loft adjustment system because it is unlike anything else we see these days. After slightly loosening the standard hosel screw, a proprietary tool is used to adjust the ring surrounding the screw. You can set the loft of the head lower or higher or into a "draw" setting. There really isn't much information out there on how to make these adjustments, but it was easy enough to figure out. The proprietary adjustment tool is made from plastic, and the small plastic nub on the end, which is vital to the adjustment process, doesn't seem particularly durable. One point of improvement we would suggest here, especially considering Honma's premium reputation, is that it be made from aluminum or something similar in the future.
Aesthetics
There is very little we could label "subdued" when talking about the Beres NX. However, it is really not meant to be subdued. The carbon crown stands out immediately, even more so in person. Light blue accents frame the rear and a blue symbol sitting atop the L Cup face serves as an alignment dot. Still, even with the bold carbon weave and basket embossment, the NX is surprisingly traditional is both size and shape at address. In fact, we'd almost go as far as to say it presents a compact look from this view. Though slightly stretched from back to front, the head gets close to the venerable "pear shape" that has always been so popular. However, one thing is clear: The Beres NX does sit slightly closed at address. This makes sense, considering the target audience and the fact that it is labeled "draw-biased" by Honma.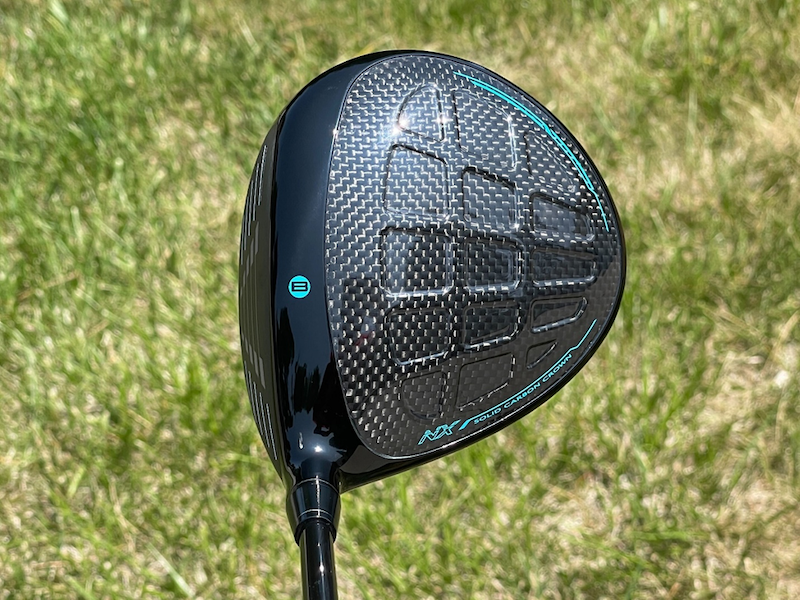 The sole is a sharp looking combination of black, silver, and light blue, with the Booster Slot prominently stretching from heel to toe. One thing that could really enhance Honma's vision of attracting new or younger golfers would be some sort of color customization. For example, how cool would it be if instead of the light blue lettering, consumers could pick their own accent colors?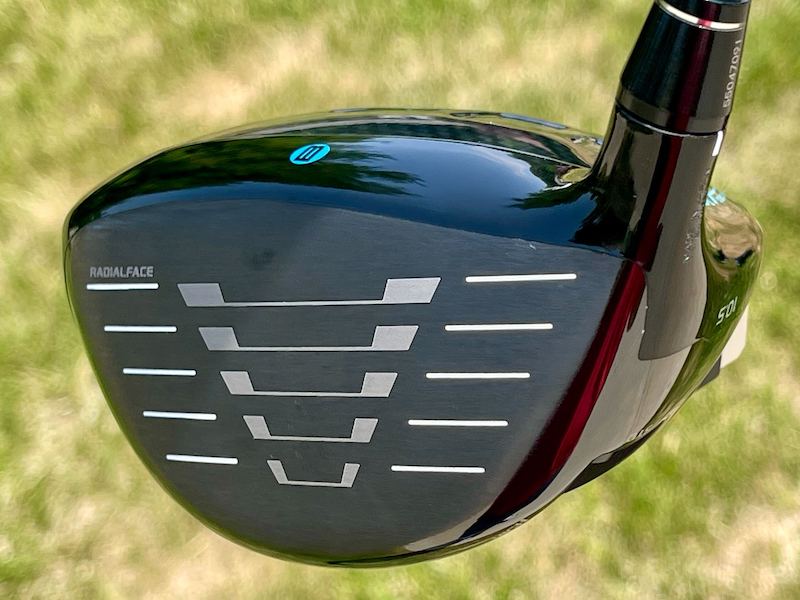 The feel at impact was a pleasant surprise, which took some time to really evaluate. With all the carbon on the crown, there was an assumption that the NX would be quite muted, but the sound was lively and metallic. The pleasant, metallic crack at impact brought back memories of the 915D, which is a very high compliment.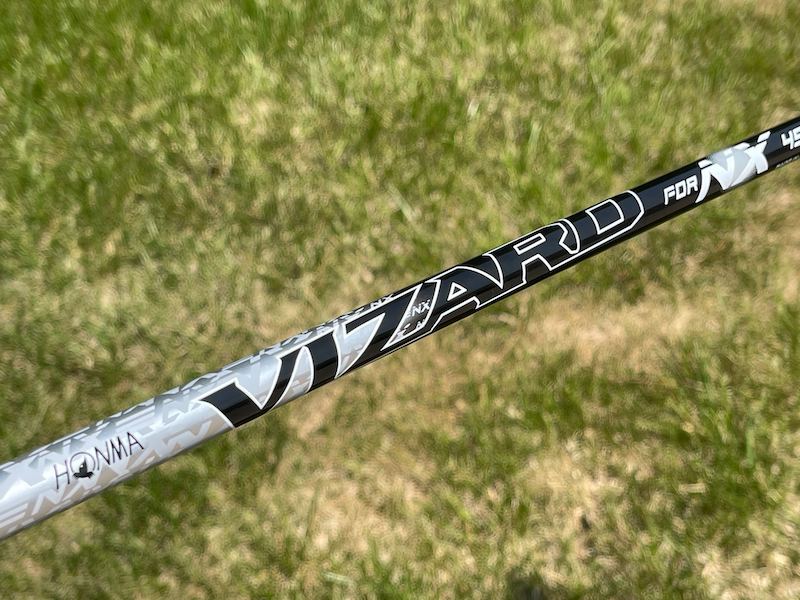 The Beres NX swings very smooth, thanks to the 45g Vizard for NX shaft. Of course, we realize that this isn't going to be an ideal setup for everybody, but found it sufficiently stable for swing speeds in the low to mid 90's.
Performance
Before diving too far into performance, it needs to be said that the Beres NX is made with certain players in mind. It's not a catch-all driver that is just going to fit everybody with a few tweaks. It's unapologetically draw biased. It's very lightweight. It's high launching. While there is obviously the opportunity to fit a player with loft adjustments and shaft changes, the basic characteristics of the head are not going to change. If you're looking to hit the ball high, gain more speed, and struggle with missing on the right side of the golf course, this could be the perfect driver to look at.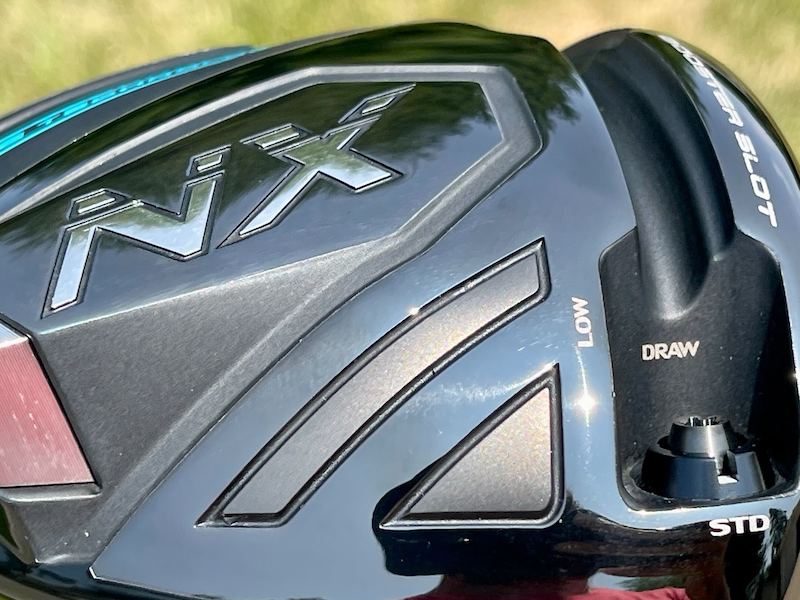 While not the highest launching 10.5 degree head we've used this year, launch angles on good swings were certainly in an acceptable window, especially after a hosel adjustment to the "High" setting. Even with launch angles on the higher end, spin rates never seemed overly high. With the slightly closed face at address and the internal weighting, it is no surprise that the Beres NX was particularly left-biased. We almost found it a struggle to keep the face from closing, which should be something golfers trying to eliminate the right miss should find attractive.
Though it only contains four shots, the chart below is very representative of both the good and the bad swings we saw with the Beres NX on the golf course and the practice tee.

As a player that struggles with shutting the face down at times, I did experience some big left misses with the Beres NX in hand. These shots were typically characterized by a drop in launch angle, drop in carry distance, a strong leftward ball flight, and significant roll out. Alternatively, shots where I was able to hold off the face were pleasingly high with almost ideal launch conditions that maximized both carry and roll.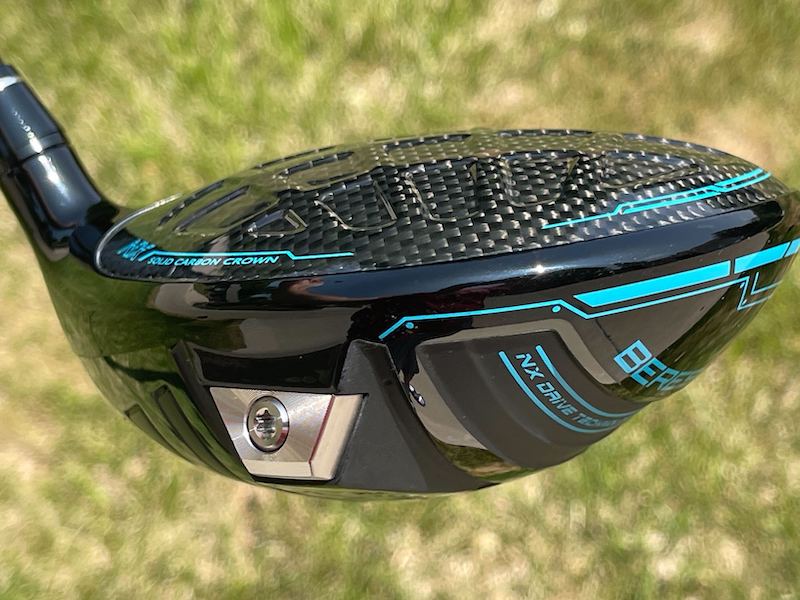 The Beres NX showed very solid ball retention on off-center impacts, but high-toe misses were quite penal from a spin perspective. Spin rates seemed to drop to the point that carry distances were impacted. Coupled with the natural leftward flight produced by high-toe misses, these shots were tough to keep in play. Conversely, low-face and heel misses seemed to be much more forgiving for my unique swing, with only modest drops in launch angle and minimal increases to spin rate.
All of this shows the importance of matching a driver to your swing. One thing is clear – the Honma Beres NX could be a fantastic option in the right golfer's hands. Better yet, it's fantastically unique and fun to show off.
Details
Retail Price $750
RH/LH available
9 and 10.5 degree lofts available
SR, R, and S flex Vizard shaft options
Available at honmagolf.com