The 2013 Morgan Cup has been announced and the dates and venue has been set. THP and the Ultimate Amateur Golf Event are returning to Myrtle Beach and the wonderful golf that is offered at True Blue and Caledonia. Have you ever wanted to feel like a Tour Pro? Well now is your chance.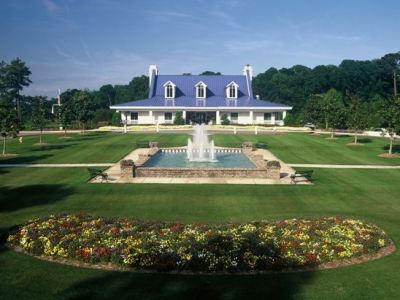 When & Where
Friday, July 26th – Sunday 28th 2013
Myrtle Beach, SC
The Courses
True Blue & Caledonia in Myrtle Beach, SC will be hosting this wonderful weekend. These two award winning golf courses embrace the southern beauty of the once thriving rice plantations and offer unique challenges that will be thrilling and invigorating for the Morgan Cup.
Match Play Team Event
Each team is complete with a team captain that will become the center piece for each roster. It will be their job to set lineups, make changes and work with their teammates to come up with the winning formula. Teams will compete in 3 rounds of golf over 2 full days.
The Companies
Callaway Golf, Cleveland/Srixon Golf, Cobra Golf and Bridgestone Golf will be sponsoring this event and each company will have 8 golfers that make up their THP staff. This is not company vs company, as all four teams will have each manufacturer represented.
Tour Experience
Each golfer that competes will be sponsored by THP in conjunction with a major company for the weekend of golf. The competing golfers will sign on with THP for the weekend and will be sponsored in full. Their contract is made up like this.
Staff Bag – Each golfer will be using a bag with the company logo.
14 clubs – Full 14 club deal is in effect. You must play all 14 clubs for the event.
Golf Ball – Playing the company branded golf ball best suited for your game.
Logo Apparel – Each golfer will be wearing the logo of their sponsor.
Like actual tour golfers, each company has a different way of doing things. Some offer certain things that others do not. Each company is required to offer the above and if you are selected, you will learn more about what they are and are not going to be bringing to the table.
Furthermore, each company will be going about things differently this time around. Much more independent freedom is being given to the sponsors to work with their players this year and there will be differences in the offerings from each company. Each golfer will be required to sign a contract with THP. At the end of the Morgan Cup, each sponsored golfer will get to keep their entire sponsorship package. You must be 18 years or older at the time of signup to be a part of the Morgan Cup.

Video & Scoring
The entire Morgan Cup is filmed and broadcasted the following week. Golfers will be on camera for every shot, be interviewed between shots and be prepared to follow along with the rules of the event.
Qualifying Criteria
While THP stands for all skill levels of golfers, an event like this must have some limitations. Therefore to qualify for this competition you must be an 18 handicap or better by the time the event takes place. While we never want to eliminate people based on level of play, this is a competition and in the end, that must take precedent. THP believes in the honor system as it pertains to handicaps and if you say you are an 18 handicap or better, we respect that and take you at your word, however please remember that the level of fair play rests in your honesty.
This is only open to forum members. If you are not a forum member, it is always fast, free and easy to signup, all you have to do is click the forum tab at the top of this screen and register. Its not about tenure or time spent on the forum in the past, its about being a part of the future and the Ultimate Amateur Golf Event. Join in and sign up for a chance of a lifetime.
There are forum obligations should you be selected and to see what those are, click here.
This is an amateur competition, if you are currently on staff with any companies through sponsorship or endorsement, you will not be able to compete in this event.
If you would like to see what is expected of you in the Morgan Cup then click here to read about post count requirements, rules for the event and more. These rules must be met to be a part of this event.
If selected to be a part of the 2013 Morgan Cup, you will also be asked to have a Facebook and Twitter account.
Media
Friday of the Morgan Cup is media day. This entails, player promo videos, interviews, speaking to the world via live webcam and more. Being a tour pro for a company like Cobra Golf, Cleveland/Srixon Golf, Callaway Golf and/or Bridgestone Golf is not just about the equipment, apparel and accessories. With the logo and contract comes commitments and those are the promos that will be done. Each golfer will be responsible for shooting multiple promotional videos shot by THP as well as many interviews during the competition conducted on the items that you are using.
Schedule
Friday Media Day: Full day of range time. Work with your new gear to get it dialed in and at the same time work with the media director to make sure all staff obligations are taken care of such as interviews, promotional videos and more.
Friday Evening: THP Dinner. This will be held at the course and will be a fun time to relax and unwind as well as talk with fellow competitors over the tour life experienced in day one.
Saturday 36 Holes: Two rounds of golf will be played and points will be accumulated for winning matches.
Sunday 18 Holes: 18 holes of golf to determine the championship team.
Sunday Post Round: The Morgan Cup trophy ceremony for the winning team.
All golfers will be playing from the same tee boxes to be determined by THP.
Cost For Event
The cost for the event is $499. This must be paid at time of selection either in full or broken down into 4 payments of $125.
Here is what is included.
All greens fees & cart fees for competitive rounds
All range balls for the weekend.
THP Dinner (yourself + 1 guest)
Trophies for the winning team
Staff Bag
All 14 clubs from staff deal
All accessories
All golf balls for competitive rounds
And much more
This cost does not include lodging. This is not a stay & play event, you are free to stay wherever you would like, although we recommend True Blue & Caledonia.
Signing Up
Signing up involves sending in two videos. Open signup begins now and ends October 20th.
Video #1 is your promo video and will be company and product specific. It will be your job to write and create a promotional video on a certain product from this list (you can choose any 1 company and only 1 product line from this list).
Bridgestone – Golf Balls
Callaway – Irons
Cobra – Drivers
Cleveland – Wedges
Your job will be to create a promo on any product that fits into the product lines listed above. Your video must be limited to 30 seconds or less, or it will not be counted.
Video #2 is your bio video.
This video is up to 1 minute in duration and should be about you the person, the golfer and the Morgan Cup hopeful. Tell us about who you are, where you are from, what got you into golf, why you want to be a part of the Morgan Cup (what does the Morgan Cup mean to you), and anything else you think makes you a candidate for the Ultimate Amateur Golf Event.
Signing up is very easy, you will send an email to golfergal@thehackersparadise.com and you will need to include this information.
Your Name
Your Shipping Address
Your Contact Phone Number
Your Forum Screen Name
Links to both of your videos (set to unlisted instead of private please)
Facebook & Twitter accounts if you have them
Signup is open until October 20th, 2012 at 11:59pm EST. All submissions must be received by then to qualify for the Morgan Cup.
Selections
The selection announcements this year will be starting after the deadline. Each night, two names will be selected to join the Morgan Cup.
THP wants to welcome everybody into the world of the Ultimate Tour Experience. If you are not part of the THP forum as of yet, there is still plenty of time to join in on the fun and get ready for this exciting weekend of competitive golf. The 3rd Morgan Cup is truly the amateur event of a lifetime.